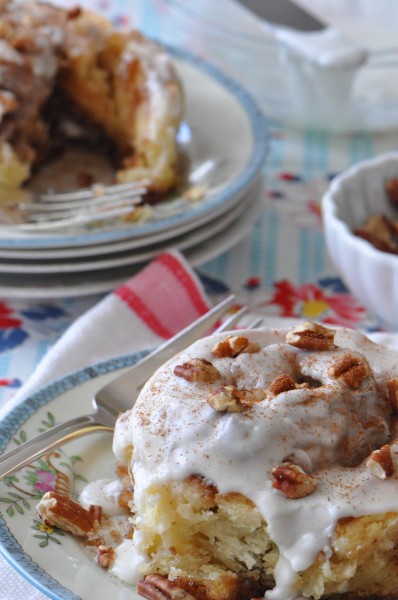 When we were growing up. my mom worked part-time at the local neighborhood bakery.  Yum!  She would leave the house in the early hours of the morning leaving my grandmother the task of rousing us from our beds, feeding us breakfast, and then sending us on our way to school.  Fortunately, our walk to school took us right past the bakery.  I still remember those freezing winter mornings, steamy condensation clouding the windows of the bakery and the amazing smell of yeast as we pushed our way into the warmth inside.  Although there were cases filled with all sorts of yummy baked goods, I always went for the same thing – a fresh out of the oven glazed yeast doughnut.  To this day I can still recall the smell and taste of that doughnut.  A memory never to be replaced.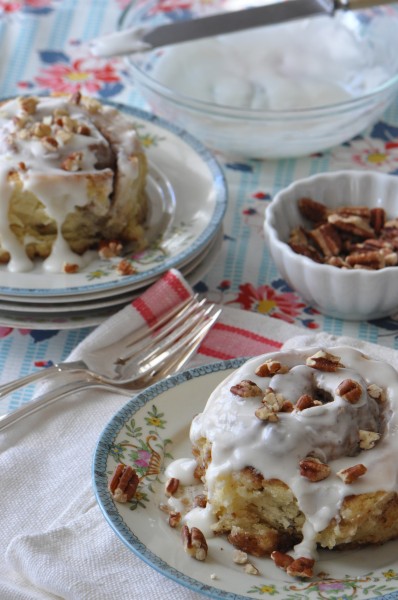 Although I am a doughnut lover at heart, a good cinnamon bun comes in a close second as my favorite breakfast treat.  Looking back, I don't remember our local bakery even making a cinnamon bun.  A prepackaged imposter from the supermarket was the closest I came to one during my childhood.   And to be honest, I probably had that at a friend's home since it just wasn't something my parents would have bought for us.  I think I was probably in my twenties before I had an authentic cinnamon bun.  During a weekend getaway to Santa Barbara, my husband and I visited a beach stand made famous off their CB reputation alone.  It DID NOT disappoint!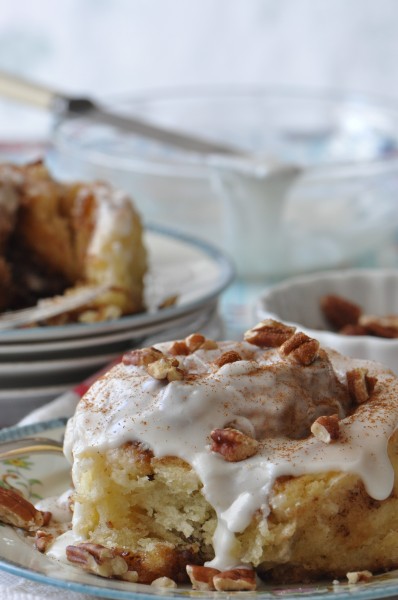 Over the years I have often made my own "from scratch" version of this cinnamon-y treat.  Being a yeast based dough, the process is a bit time consuming with long periods of rest in between rises.  Unless you begin a day ahead, it is nearly impossible to enjoy the fruits of your labor along with your morning coffee.  Until now that is.  Relying on baking powder and baking soda instead of yeast, this recipe insures a freshly baked cinnamon bun in under an hour – give or take 10 minutes.  Trust me when I say you won't miss the yeast  – or any sleep.
Note:  Combining the filling ingredients and measuring out the dry ingredients the night before is an easy time saver.
Pecan Cinnamon Buns

Filling:
3/4 cup (packed) dark brown sugar
1/2 cup pecans, toasted, chopped
1/4 cup sugar
2 teaspoons ground cinnamon
1/4 teaspoon ground cloves
1/8 teaspoon salt
2 tablespoons (1/4 stick) unsalted butter, melted
Dough:
Non-stick vegetable oil spray
2 1/2 cups (or more) all purpose flour
2 tablespoons sugar
1 1/4 teaspoons baking powder
1/2 teaspoon baking soda
1/2 teaspoon salt
1 1/4 cups buttermilk
9 tablespoons unsalted butter, melted, divided
Mascarpone Icing
Filling:
Combine brown sugar, chopped pecans, sugar, ground cinnamon, ground cloves, and salt in medium bowl.  Stir in melted butter (filling will be dry and crumbly).
Dough:
Preheat oven to 425 degrees F.  Spray 10-inch-diameter cake pan with 2-in-high sides with nonstick spray.  Whisk 2 1/2 cups flour, sugar, baking powder, baking soda, and salt in large bowl.  Stir buttermilk and 6 tablespoons melted butter into dry ingredients until blended.  Transfer dough to lightly floured surface and knead until smooth, adding more flour by teaspoonfuls if dough is too sticky, about 8 turns.
Roll dough out on lightly floured surface to 12×10 inch rectangle.  Brush dough with 1 tablespoon melted butter.  Sprinkle filling evenly over dough, leaving 1 inch plain border on 1 long side.  Press filling gently into dough to adhere.  Beginning at long end opposite plain border, roll up dough jelly-roll style.  Pinch border of dough to seal.  Cut dough crosswise into 8 equal slices.
Place 1 bun in center of prepared cake pan; surround with remaining 7 buns, spacing apart (buns will expand to fill spaces during baking).  Brush tops of buns with remaining 2 tablespoons melted butter.  Bake buns until golden brown, about 23 minutes (some filling may come out sides of buns).  Cool buns in pan on rack 5 minutes.  Drizzle icing over warm buns, then serve warm or at room temperature.
Mascarpone Icing:
Whisk 1 cup powdered sugar, 2 tablespoons mascarpone cheese (cream cheese is a fine substitute) and 2 tablespoons buttermilk in medium bowl until smooth.
Source: Bon Apetit Magazine