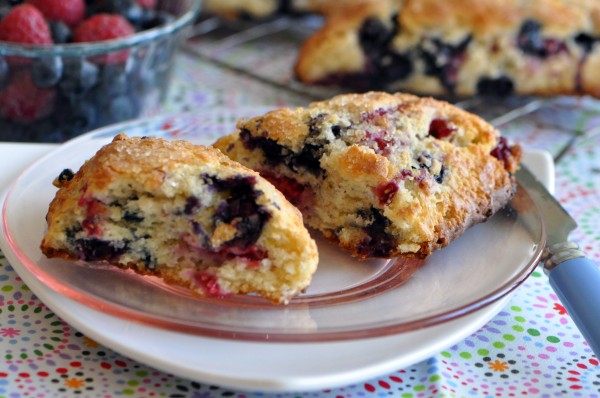 I'm the early riser in the family.  Our house is sparsely populated these days.  With J away at school, that only leaves me, H, and our furry friend -both of them preferring to snooze in on Sunday mornings.  I on the other hand, don't like to waste those quiet, peaceful, early morning hours as the sun is rising and the day is coming into its own.  Those hours are my favorite for baking.  Especially on Sundays, I like to pop out of bed, sneak off to the kitchen, and prepare something special for us to have with our morning coffee.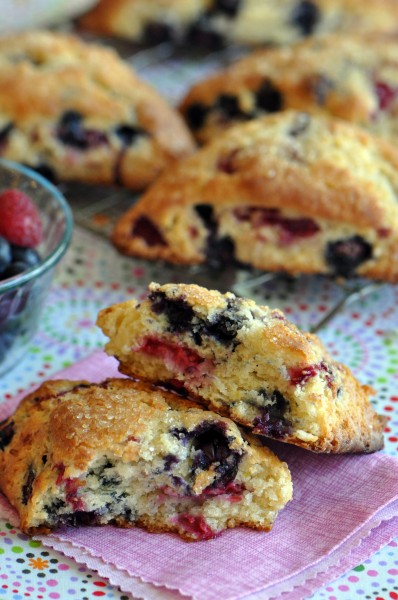 On the mornings that I am on my game and manage to pull something from the oven at a reasonable hour, I usually share a bit of the fruits of my labor with my ever so grateful neighbors. Imagine opening your door on a Sunday morning to a platter of warm from the oven scones or muffins. Delivery knock on the door, they open it to find me cloaked in a tattered robe, hair tousled on top of my head, and Uggs on my feet.  I imagine I must remind them a bit of Miss Hannigan from the movie Annie.  They never complain, or even snicker.  They just accept my baked goods with a smile and a genuine thank you – which starts my day out just fine.
This past Sunday morning I found myself tearing through my biscuit/scone file for a recipe for Blueberry Scones I have been hanging onto for a while.  H put in a special request months ago – yep, you read that right, months – for blueberry scones.  It just so happened that I found some great looking, and organic nonetheless, berries at the market on Saturday.  I knew if I didn't use them up immediately, the week would arrive and there they would sit in the refrigerator for days until I had an opportunity to turn my attention back to the oven.  After some serious file digging I located the recipe.  It originated from the Cook's Illustrated website and entailed a method I had been curious to try.  The butter in this recipe is grated.  I have used that process with a pie crust but never in a scone.  The rolling instructions for these scones are also a bit more involved but well worth the couple extra steps.  Combining these two methods made for a fine textured and tasty scone.
Blueberry Raspberry Scones
16 tablespoons unsalted butter (2 sticks), frozen whole *
1 1/2 cups fresh berries ** (Any combination of blueberries, raspberries, blackberries or strawberries may be used.)
1/2 cup whole milk
1/2 cup sour cream
2 cups unbleached all-purpose flour (10 oz), plus additional for work surface
1/2 cup sugar (3 1/2 oz), plus 1 tablespoon for sprinkling
2 teaspoons baking powder
1/4 teaspoon baking soda
1/2 teaspoon table salt
1 teaspoon grated lemon zest
Adjust oven rack to middle position and heat oven to 425˚F.  Line a baking sheet with parchment paper.  Score and remove half of wrapper from each stick of frozen butter.  Grate unwrapped ends on large holes of box grater (grate a total of 8 tablespoons).  Place grated butter in freezer until needed.  Melt 2 tablespoons of remaining ungrated butter and set aside.  (Save remaining 6 tablespoons butter for another use.)  Place berries in freezer until needed.
Whisk together milk and sour cream in medium bowl; refrigerate until needed.  Whisk flour, 1/2 cup sugar, baking powder, baking soda, salt, and lemon zest in medium bowl.  Add frozen butter to flour mixture and toss with fingers until thoroughly coated.
Add milk mixture to flour mixture; fold with spatula until just combined.  With rubber spatula, transfer dough to liberally floured work surface.  Dust surface of dough with flour; with floured hands, knead dough 6 to 8 times, until it just holds together in a ragged ball, adding flour as needed to prevent sticking.
Roll dough into approximate 12 inch square.  Fold dough into thirds like a business letter, using a bench scraper or a metal spatula to release dough if it sticks to rolling surface.  Lift short ends of dough and fold into thirds again to form approximate 4-inch square.  Transfer dough to a plate lightly dusted with flour and chill in freezer 5 minutes.
Transfer dough to floured work surface and roll into approximate 12-inch square again.  Sprinkle berries evenly over surface of dough, then press down so they are slightly embedded in dough.  Using bench scraper or a thin metal spatula, loosen dough from work surface.  Roll dough, pressing to form tight log.  Lay seam-side down and press log into 12 by 4-inch rectangle.  Using sharp, floured knife, cut rectangle crosswise into 4 equal rectangles.  Cut each rectangle diagonally to form 2 triangles and transfer to prepared baking sheet.
Brush tops with melted butter and sprinkle with remaining tablespoon sugar.  Bake until tops and bottoms are golden brown, 18 to 25 minutes.  Transfer to wire rack and let cool 10 minutes before serving.
*   Although the recipe calls for 2 whole sticks of butter, only 10 tablespoons are actually used.
** An equal amount of frozen berries can be substituted.  Keep frozen until ready to use.  Cut larger berries into 1/4 to 1/2 inch pieces.
Source: Adapted from Cook's Illustrated