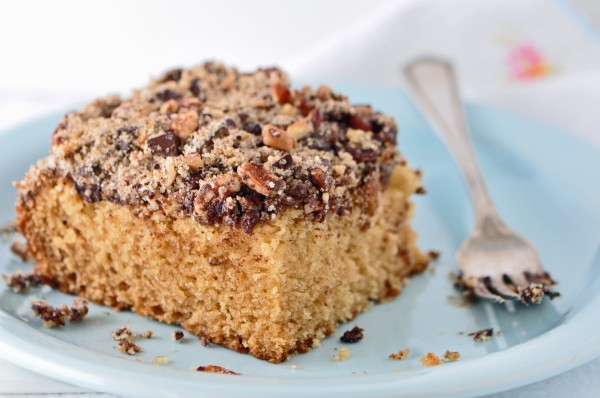 What's old is new again – and since I'm in love with everything retro and vintage I am very happy about that.  In the past couple of years there has been a wave of dessert and baking books with a focus on good ole, all American, baked goods.  I think I probably own every one of them.  When given a choice of sweets to eat or bake my preference will always be pie, cake, cookies, brownies or bars.  My taste for desserts certainly stretches beyond these things but this is where my sweet tooth finds the most comfort.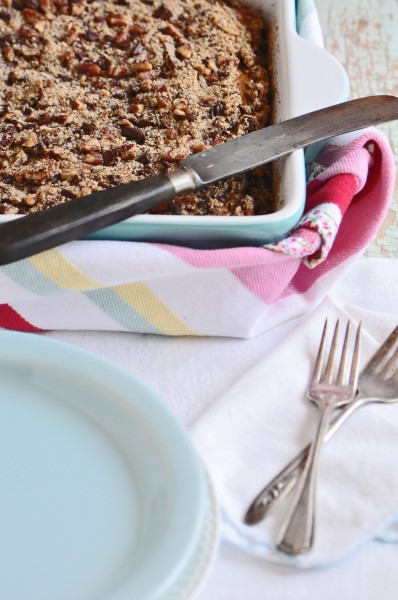 A few weeks back, one of my closest friends moved away from our neighborhood.  We met when our daughters were in third grade together.  Over the years we have been there for each other through all the expected highs and lows of life – the struggles, milestones, and triumphs of our children, health scares, the fallout from a failed economy, and sadly, we have both lost a parent.  So, when Stacy told me she was moving away – far away – I was pretty much devastated.  I recognize that we are fortunate to live in a time when technology is such that at a touch of a button we can be face to face sharing the latest news and updates on our lives, but that's just not the same as having her here, around the corner, for celebrations, dinners together, and those hugs that say "everything is going to be okay".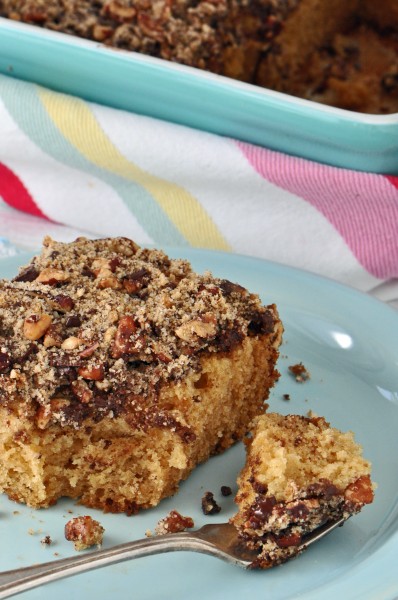 It was only days after Stacy arrived in her new home in North Carolina (more about that later) that she sent an email telling me to watch the attached video.  It was a video announcing the release of The Back in the Day Bakery Cookbook by Cheryl and Griffith Day.  The authors/bakery owners Cheryl and Griffith Day's book celebrates their Savannah, Georgia bakery's 10 anniversary.  Even before looking inside this book I knew I was going to want it.  Immediately after watching the video I ordered it and waited patiently for its arrival.
What a CHARMING book!  It has that sweet simplicity that I expect to find in this type of book.  The photography is beautifully enticing and the recipes straight-forward and inviting.  Cheryl and Griffith have added their own personal twist to some of the more traditional favorites without veering too far off course.  If looks could tell the whole story then a knew I had a winner on my hands.  However, as we all can agree, the real test of a book is in the success of its recipes.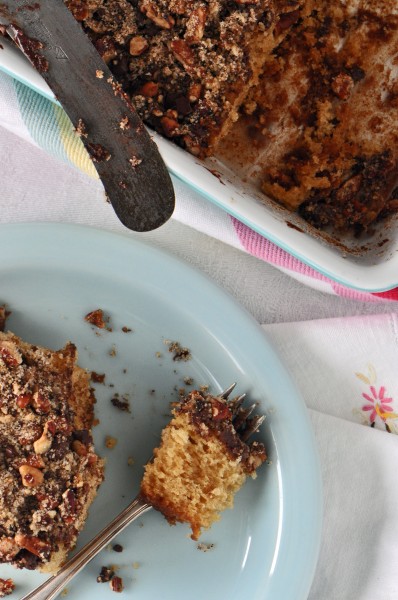 As much as I wanted to jump right in and immediately make something from the book, at the time it landed in my mailbox I was in the throes of getting my blog launched which meant very little time for much else.  Yesterday, while pondering a delicious treat I could bake for the blog and also enjoy with my morning coffee, I remembered mentally dog-earring this recipe with a note to make as soon as time allowed.  If the success of an entire book can be measured by only one recipe, then I am thrilled to announce this book successful!  This recipe hit all the high notes.  It was quick and easy to prepare,  had a tender and moist crumb, and a balanced topping to cake ratio.  Although certainly not necessary, the next time I make this – and there will definitely be a next time – I will add a bit of cinnamon into the crumb topping.  (What can I say, bakers just can't leave "well enough" alone.)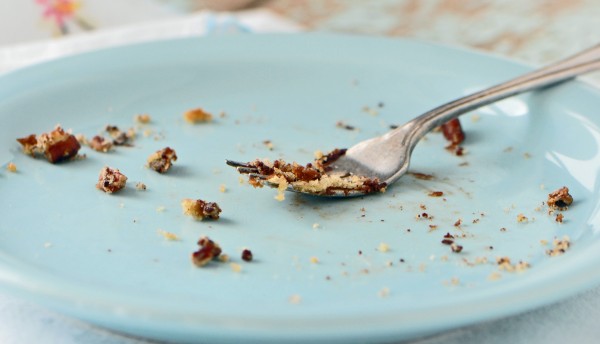 As the days go by I miss Stacy more and more.  Enough time has passed and it's obvious she isn't just away on a business trip or vacation.  Our friendship has now morphed into a long distance relationship with calls, emails and texts our only avenues to staying current with one another.  Fortunately, our friendship lasted long enough and grew deep enough that the distance between us is only in the miles.  I am grateful for the closeness we continue to share even though we now live on opposite coasts.  Did  a mention the silver lining in all of this?  Stacy now lives in North Carolina – a place I have been dying to visit for years.  With a place to stay and my own personal tour guide – it's not all bad – now is it!
Pecan-Chocolate-Espresso Coffee Cake
2 cups unbleached all-purpose flour
1 cup packed light brown sugar
1/2 cup granulated sugar
8 tablespoons (1 stick) unsalted butter, at room temperature
3/4 teaspoon salt
3/4 cup chopped pecans, toasted*
3 ounces bittersweet chocolate, finely chopped
2 teaspoons espresso powder**
1 teaspoon baking soda
1 cup buttermilk
1 large egg
1/2 teaspoon pure vanilla extract
1/2 teaspoon pure almond extract
Position a rack in the lower third of the oven and preheat the oven to 350˚F.  Spray a 9-inch square baking pan with vegetable oil spray and line the bottom with parchment.
In the bowl of a stand mixer fitted with the paddle attachment (or in a large mixing bowl, using a handheld mixer), mix together the flour, both sugars, the butter and the salt until the mixture resembles coarse meal.
To make the crumb topping, transfer 3/4 cup of the mixture to a small bowl and stir in the toasted pecans, chocolate, and espresso.  Set aside.
Sprinkle the baking soda into the remaining butter-sugar mixture, add the buttermilk, egg, vanilla, and almond extract, and mix just until combined.  Scrape the batter into the prepared baking pan, spreading it evenly.  Sprinkle the crumb topping evenly over the batter.
Bake for 40 to 50 minutes, until the top is golden brown and a cake tester inserted in the center of the cake comes out clean.  Remove to a wire rack and allow to cool in the pan.
*   To toast pecans, place on a baking sheet and bake in a 350˚F oven for 5 to 6 minutes, stirring once half way through.
** If you find yourself without espresso powder, replace it with 1 teaspoon cinnamon for an equally delicious cake.
Source:  Adapted from The Back in the Day Bakery Cookbook