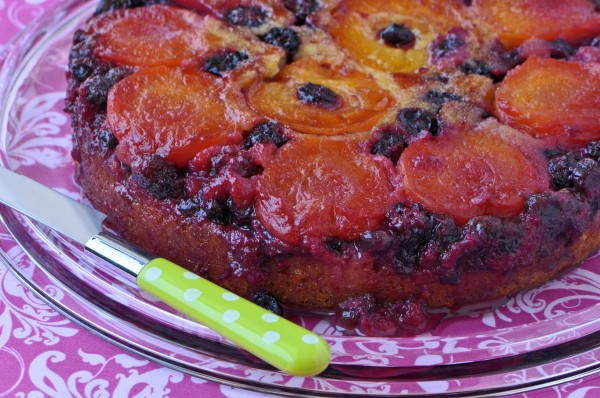 Stone fruit season has arrived in Southern California.  Oh My!  My friend Ann and I ventured to the farmer's market today and found ourselves surrounded by vendors selling the first of the season cherries, apriums, apricots, nectarines, plums, and more.  My tongue came alive and my mouth literally watered at the vivid and tantalizing colors dancing before my eyes; the blush and marigold yellow of the apricots; the peachy pink to deep red of the sweet cherries; and the fandango purple of the early season plums.  Free samples are offered generously by most growers so it didn't take long for my tummy to fill and my arms to weigh heavily with fresh produce.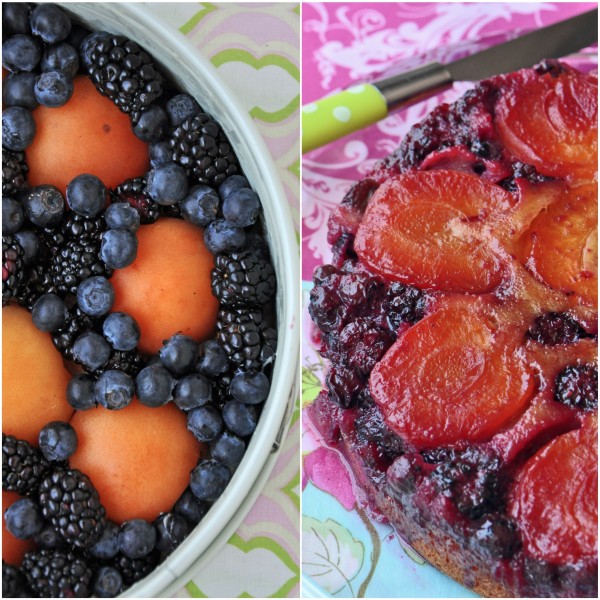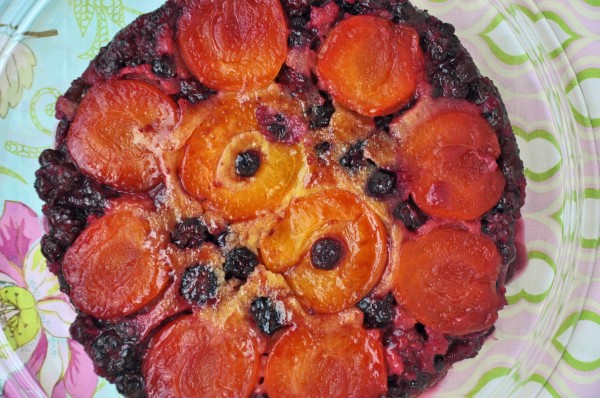 Shopping at the farmer's market ignites an even more than usual desire/need I have to bake and cook.  As I meandered from stand to stand, my creative juices began to flow.  I conjured up images of new recipes and tried to recall recent posts that I mentally tagged with the intention of making them when time allowed.  I looked for any reason to buy the fresh and vibrant veggies and fruit that covered the table-lined stalls.  As I loaded the many bags into my car, it suddenly occurred to me that I probably purchased more than I could humanly cook, or eat, in the time I had available to dedicate to such tasks over the next few days.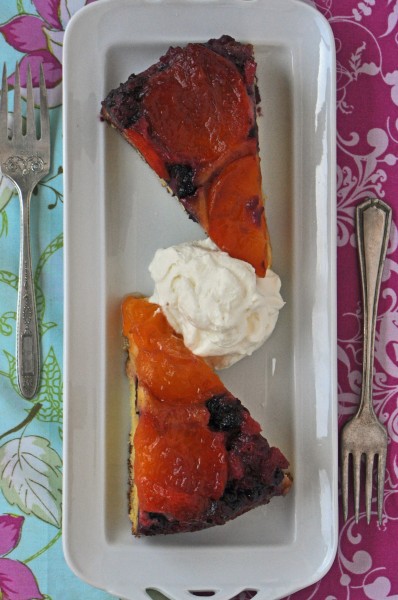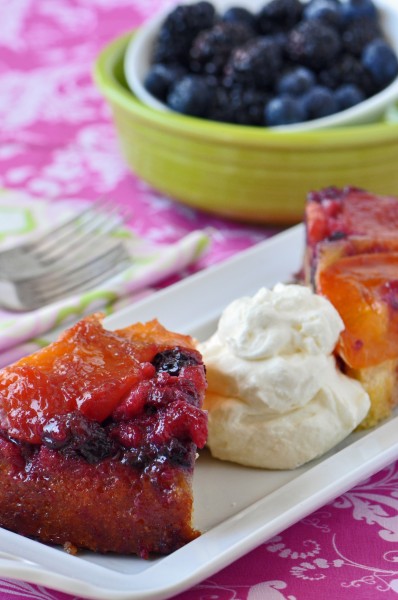 When it came to the apricots, blueberries and blackberries that spoke to me during my compulsive market buying spree – well I knew exactly what I was going to make with them.  I wanted to repeat for all of you a dessert that I had made for a Mother's Day dinner I attended at my  brother and sister-in-law's home this past Sunday.  It was a cake worth repeating.  There wasn't much I changed about the original recipe which came from the Martha Stewart's Baking Handbook.  She used apricots and cherries, and although I have every intention of putting that combination in play sometime soon, in my version, I swapped the cherries for blueberries and blackberries.  The first time I made this I included raspberries which also complimented the fruit flavors.  The only other adaptation I thought could possibly improve an already outstanding cake was replacing the sugar that gets mixed with the softened butter and then spread on the bottom of the pan from white to golden brown.  And finally, I don't own an 8 by 3-inch cake pan so I used a 9-inch and it baked just fine.
This cake is delicately and pleasingly sweet-tart due to the combination of the apricots with the berries.  A gentle tang follows every bite.  The cornmeal added to the batter lends a rustic flare.  Whether served for dessert, as a snack, or even at breakfast – anytime is the perfect time to enjoy this cake.  Don't pass this one up!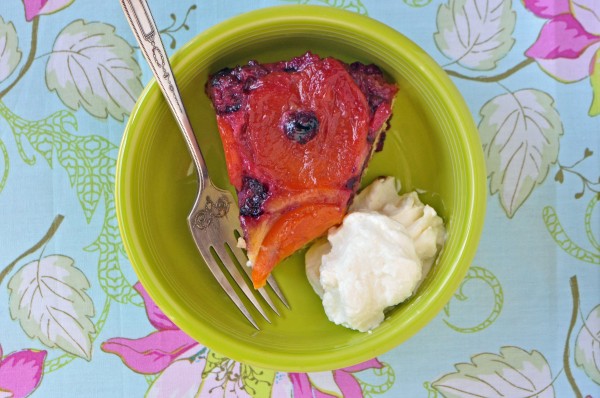 Apricot-Berry Upside-Down Cake
1 stick (1/2 cup) unsalted butter, room temperature, plus more for pan
1/4 cup packed light-brown sugar
1 cup sugar
5 to 6 medium fresh apricots (about 1 pound), halved and pitted
6 ounces blueberries
6 ounces blackberries
3/4 cup all-purpose flour
1/4 cup plus 2 tablespoons fine yellow cornmeal
1 teaspoon baking powder
1/2 teaspoon salt
1/4 cup almond paste (not marzipan), crumbled
3 large eggs, separated
1/4 teaspoon vanilla extract
1/2 teaspoon almond extract
1/2 cup milk
Preheat the oven to 350˚F.  Butter an 8-by-3-inch or 9-by 3-inch round cake pan, and line bottom with parchment paper.  In the bowl of an electric mixer fitted with the paddle attachment, beat 2 tablespoons butter with the light brown sugar on medium speed until light and fluffy, about 2 minutes.  Spread evenly over bottom of prepared pan.  Arrange apricot halves, cut sides down, in pan.  Fit blueberries and blackberries into any gaps between apricots.  Pack down the fruit slightly with your hands; set aside.
In a medium bowl, whisk together flour, cornmeal, baking powder, and salt; set aside.  In the bowl of an electric mixer fitted with the paddle attachment, beat remaining 6 tablespoons butter until smooth, about 1 minute.  Add almond paste and 3/4 cup sugar, and beat until light and fluffy, about 2 minutes, scraping down the sides of the bowl as needed.  Add the egg yolks, and beat until well combined.  Beat in vanilla and almond extracts.  Add the flour mixture in two parts, alternating with the milk and beginning and ending with the flour; beat until combined, and set aside.
In the clean bowl of an electric mixer fitted with the whisk attachment, beat egg whites on medium speed until foamy.  Gradually sprinkle in the remaining 1/4 cup sugar, and beat until soft peaks form.  Fold a third of the egg-white mixture into the batter with a spatula.  Gently fold in remaining egg whites.
Spread batter over fruit, smoothing with an offset spatula.  Bake, rotating pan halfway through, until a cake tester inserted in the center comes out clean, 1 hour to 1 hour 10 minutes.  Transfer pan to wire rack to cool slightly, about 20 minutes.  Run a knife or small offset spatula around the edges to loosen, and invert cake onto a serving plate to cool completely.  Cake can be kept at room temperature, loosely covered with foil, for up to 3 days.
Source:  Adapted from Martha Stewart's Baking Handbook