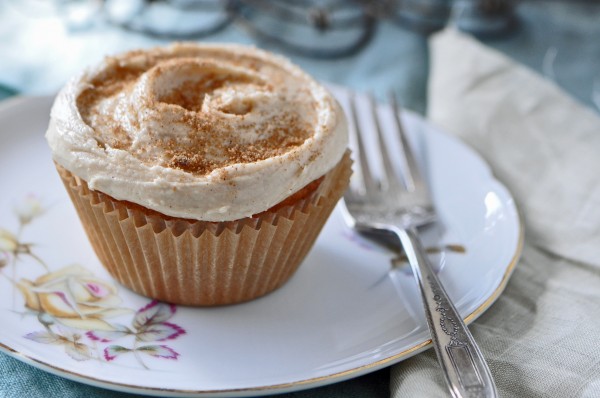 From the opening of New York's first Magnolia Bakery in 1996, to the ever famous Sprinkle's Beverly Hills hitting the scene in 2005, I think it is safe to say that as of 2012 cupcakes are no longer to be considered just a fad.  We all may have become immune to the novelty they once were but our love of them has not waned.  Quite often I've pondered what the fascination is with that little round piece of cake sitting below a rather out of proportion mound of frosting.  And right there, may be one of the answers.  Many cupcakes these days sport a nearly equal ratio of frosting to cake.  Maybe the appeal is in their individual portion size which eliminates the need for self-discipline on our parts.  Whatever the reason, I believe they are here to stay.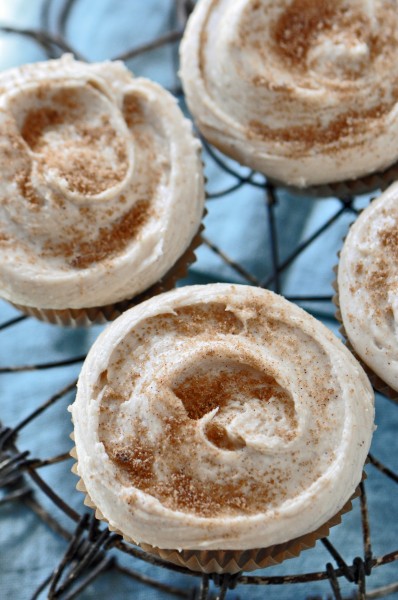 Not intending to sound like a snob about the whole thing, but I rarely get bowled over by a bakeshop cupcake.  (Excluding of course the two mentioned above.)  They are usually more visually appealing than satisfying in delivery.  Snob might be fair, but I prefer the word connoisseur.  I have tasted my way through more cupcake shops than … well, let's just leave it at a lot.  True – I bake.  And, yes, I can make a descent cupcake.  But it is so nice when I get to enjoy one without turning on my oven or expending the energy that goes with it.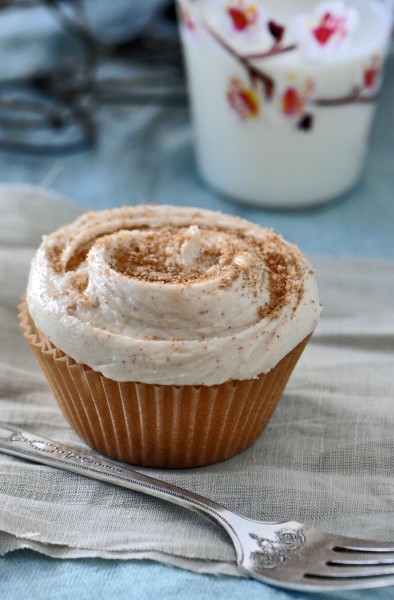 Every once in a while a gem crosses my path and I get all excited about it.  Well, this past weekend I encountered a cupcake worthy of mentioning.  Actually, make that four.  Off the beaten path, in the quaint beach town of Carpinteria, CA, I happened into Crush Cakes & Cafe.  Unlikely that I would be finding myself back to this little town any time soon, I took the opportunity to do my homework on the spot.  I tasted four of their cupcakes.  (Note that I said "tasted" – not finished.)  All are worthy of mentioning, however, the one that most impressed me was the Buttermilk Crumb Cupcake.  I knew that upon arriving back home, I would have to devise my own recipe in an attempt to replicate it.  I believe I got pretty darn close.  I present it here for your tasting pleasure.  I hope you enjoy it as much as I did.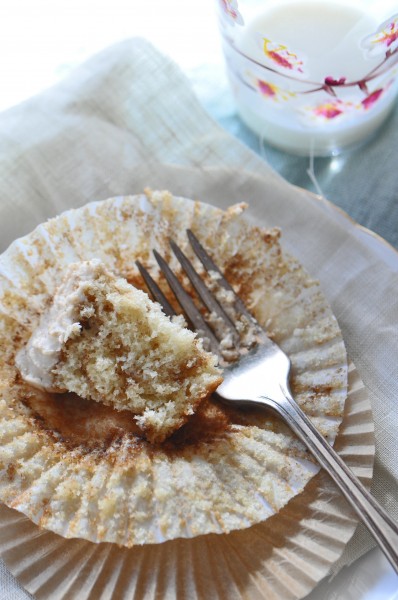 Get your breakfast coffeecake fix and your afternoon snack all at the same time in this buttermilk cinnamon swirl cupcake.
Buttermilk Streusel Cupcake with Brown Sugar Cinnamon Frosting
Streusel
1/2 cup packed dark brown sugar
1 tablespoon cake flour (all purpose can be substituted)
1 heaping teaspoon cinnamon
Pinch of salt
In a small bowl using a fork or small whisk combine all ingredients and set aside.
Cupcakes
3/4 cup cake flour
3/4 cup all purpose flour
1/2 heaping teaspoon baking powder
1/4 teaspoon baking soda
1/2 teaspoon salt
3/4 cup butter – at room temperature
1 cup sugar
2 whole eggs – at room temperature
2 egg yolks – at room temperature
2 teaspoons pure vanilla extract
1/2 cup buttermilk
Preheat oven to 350˚F.  Line standard muffin tins with 16 liners.
In a small bowl whisk together both flours, baking powder, baking soda, and salt.  Set aside.
In the bowl of an electric mixer cream together the butter and sugar until light and fluffy.  One at a time add the whole eggs followed by the egg yolks, mixing until incorporated.  Scrape down the sides of the bowl in between each addition.  Mix in the vanilla.
Add the flour mixture and the buttermilk  into the butter mixture in three additions, beginning and ending with the flour.  Scrape down the sides of bowl in between each addition.
Fill each cupcake liner half full with batter.  Tap cupcake pan on counter a few times to level batter.  Sprinkle 1 heaping teaspoon of streusel on top of batter.  (Reserve any remaining streusel for topping the frosted cupcakes.)  Add remaining batter to liners, filling approximately three quarters full.  Using a bamboo skewer or toothpick, gently swirl the streusel throughout the batter.  This should take just a few stirs.  The streusel should not completely disappear into the batter.
Bake in the middle of the oven for 16-18 minutes, or until a cake tester inserted into the middle of a cupcake comes out clean.  Remove to a rack and cool for 15 minutes.  Remove cupcakes from the pan and cool completely.
Brown Sugar Cinnamon Frosting
1/2 cup (1 stick) butter
1/2 cup packed dark brown sugar
1/3 cup buttermilk – at room temperature
1/2 teaspoon cinnamon
Pinch of salt
4 to 5 cups sifted confectioners sugar
In a small saucepan melt the butter and the sugar until the sugar is dissolved.  Transfer to the bowl of a mixer and cool to room temperature.  (You can speed up the cooling process by mixing on low speed until cooled.)  Add the buttermilk, cinnamon and the salt and mix on medium speed to combine.  Reduce speed to low and add the confectioner's sugar, one cup at a time, mixing until thoroughly combined and scraping down the sides of the bowl as necessary.  Continue to add the confectioner's sugar until the frosting is light, fluffy and of spreading consistency.  You may not need to use all of the confectioner's sugar.  Frost the cupcakes as desired and sprinkle with the reserved streusel.
Yield:  Approximately 14-16 cupcakes.