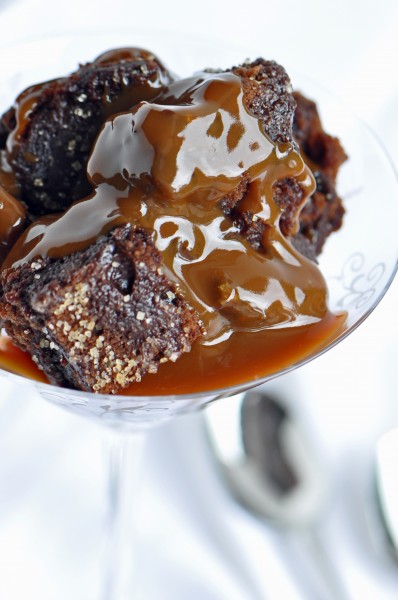 Last we were together here on this blog I was lamenting about the "less than impressive" chocolate snack cake that Chloe and I had made.  Just to clarify, it wasn't at all "BAD", it was just okay.  It's saving grace was that we decided to slather it with  a chocolaty glaze – and let's be honest – what isn't delicious smothered under chocolate glaze?  With enough redeeming qualities that it deserved another try, I wanted to come up with a way to use this cake as the star in a completely different dessert.   My first idea was to make a trifle by layering cubes of cake in between layers of pastry cream dotted with fresh berries and then lavishly topping it with fresh whipped cream.  Not a bad way to go.  I think it was the "cubed" cake that actually got me to this bread pudding.  I honestly can't remember my exact thought process.  Luckily, on the first try I was successful in coming up with something I felt was absolutely delectable.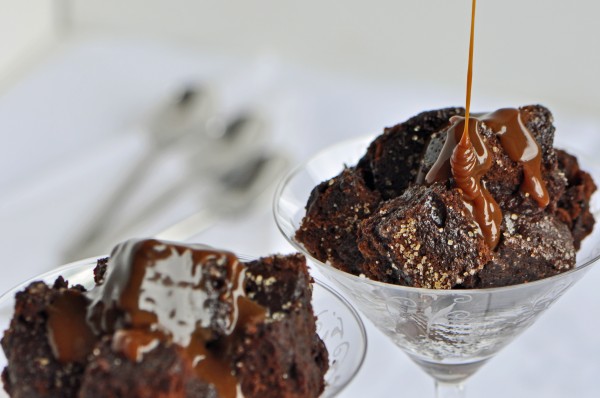 There is nothing complicated about this sweet pudding recipe and I wanted to keep it that way.  While scouring dozens of recipes for bread pudding, most I found were topped with some type of sauce.  My initial choice was caramel since it is a natural fit with chocolate.  Wanting to stay with my goal of uncomplicated I decided against that given the extra steps and time involved with making caramel from scratch. Hum, it was clear that I needed to give this a bit more thought.  A search through the kitchen pantry can sometimes be inspiring and yep! – there it was – a jar of Dulce de Leche.  Add bourbon, sea salt and cream and you have an instant hit on your hands, or in this case, on your chocolate bread pudding.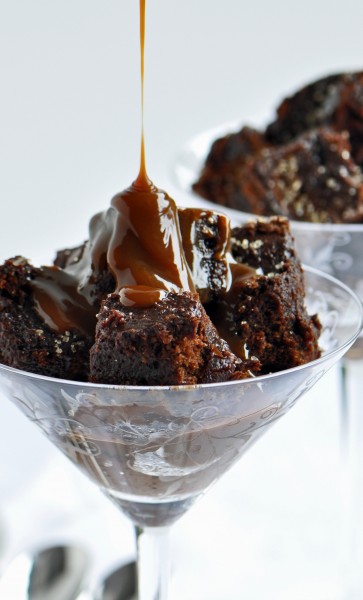 This recipe is perfect for when you have friends or family for dinner.  The cake can be baked days ahead (my cake was three days baked before I got around to using it) and the final dish can be assembled before company arrives.  Just pop it into the oven as the doorbell rings and you will have a warm and luscious dessert to serve your guests.  I will even share that after baking mine earlier in the day so I could photograph it, I warmed it again in the oven for dessert later that night.  It was just as delicious as were the first bites before reheating.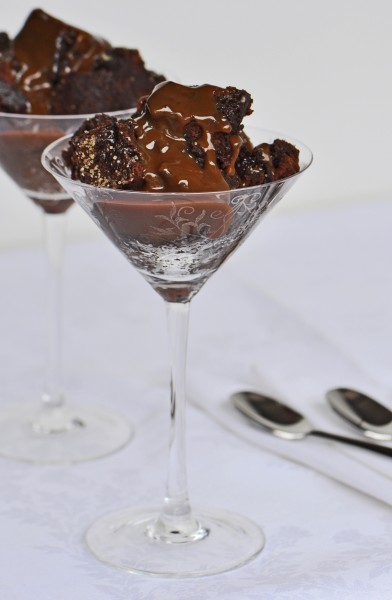 A cross between a bread pudding and a souffle, cake stands in for bread in this lighter than air version of a classic.  Go ahead and add a dollop of whipped cream.  I won't tell anyone if YOU don't.
Chocolate "Cake" Bread Pudding with Dulce de Leche Bourbon Sauce
Chocolate Snack Cake (without glaze) -recipe below
10 ounces Bittersweet Chocolate Wafers, Chips, or chopped chocolate
1 1/2 cups whole milk
1 cup heavy cream
3 large eggs
3 large egg yolks
1/2 cup granulated sugar
1 teaspoon pure vanilla extract
1/2 teaspoon almond extract
1/2 teaspoon salt
3 tablespoons turbinado or granulated sugar
Dulce de Leche Bourbon Sauce for serving.  (Recipe below)
Butter an 8 x 11 inch glass or ceramic baking dish.  Preheat oven to 325˚.
Slice the chocolate snack cake into 1 inch slices and then cut the slices into 1 inch cubes.  Place cubes in an even layer in the prepared dish.
In a medium glass bowl, microwave the chocolate on high power in 30 seconds intervals until melted, stirring between intervals.  Set aside.
In a medium saucepan, bring the milk and cream to a simmer over moderately high heat.  In a large bowl, whisk the whole eggs and yolks with 1/2 cup of sugar, the vanilla and almond extracts, and salt.  Slowly whisk the hot milk mixture into the egg mixture, then whisk in the melted chocolate.  Pour the chocolate custard over top of the cake cubes.  Sprinkle with 3 tablespoons turbinado or granulated sugar.
Set the baking dish in a roasting pan and fill the pan halfway with hot water.  Bake the pudding for 50 minutes.  Remove the dish from the water bath.  Let cool 20 – 30 minutes and serve warm or at room temperature topped with the Dulce de Leche Bourbon Sauce.
Chocolate Snack Cake
1 1/8 cups cake flour
1/2 cup cocoa
1/2 teaspoon salt
1/8 teaspoon baking powder
1/8 teaspoon baking soda
1/2 cup (1 stick) butter, softened
1 cup granulated sugar
1/2 cup (firmly packed) dark brown sugar
3 large eggs
1/4 teaspoon almond extract
2/3 cup sour cream
Chocolate Glaze (recipe below)
Preheat oven to 325˚.  Butter a 12 x 4 inch or 9 x 5 inch baking pan and line the bottom with parchment paper.
In a medium bowl whisk together the flour, cocoa, salt, baking powder, and baking soda.  Set aside.
In the bowl of an electric mixer beat together the butter, granulated sugar and dark brown sugar until light and fluffy.  Beat in eggs one at a time.  Add almond extract and sour cream and mix until combined.  Add flour mixture in thirds, beating after each addition until batter is smooth.
Transfer batter to prepared pan and bake until a wooden skewer inserted into the center of the cake comes out clean, about 1 hour if using the 12 x 4 inch pan and 1 hour 10 minutes if using a 9 x 5 inch pan.  Cool cake on rack 20 minutes before removing from pan to cool completely.  Finish with chocolate glaze (recipe follows) topped with sliced almonds, chocolate sprinkles or topping of your choice.  Or keep it simple with a sprinkling of powdered sugar.
Chocolate Glaze
Stir together 1/2 cup sifted confectioner's sugar and 3 tablespoons cocoa powder and a pinch of salt.  Stir in 3 to 4 tablespoons heavy cream and 1/4 teaspoon almond extract until smooth.
Dulce de Leche Bourbon Sauce
Half of a 16 ounce jar of Dulce de Leche ( This is the brand I used.)
3 tablespoons heavy cream
3 tablespoons bourbon
1/2 teaspoon course sea salt or substitute whatever salt is on hand
Stir together all ingredients in a small glass bowl and microwave 15 to 30 seconds or until warm.
Source:  Chocolate "Cake" Bread Pudding Inspired by Food & Wine's Chocolate Bread Pudding with Bourbon Caramel Sauce.  Chocolate Snack Cake Adapted from  Country Living's Chocolate Tea Cake