Whew – the title of this post is a mouthful, isn't it.  I just didn't want to leave out any of the details describing this cupcake.
I'm fully aware that these cupcakes are cookie impostors but I don't think you are going to mind.  Let me explain exactly how it is that I got around to this recipe and why it had to be a cupcake.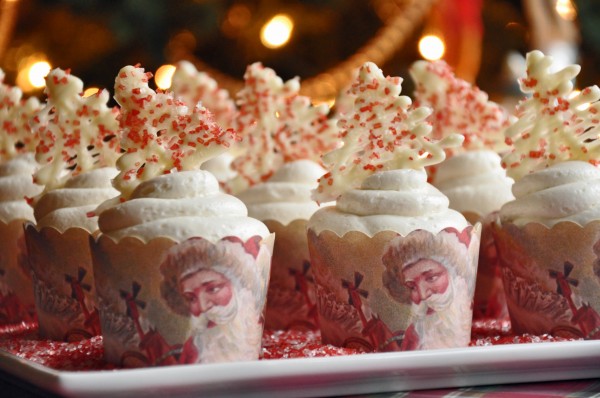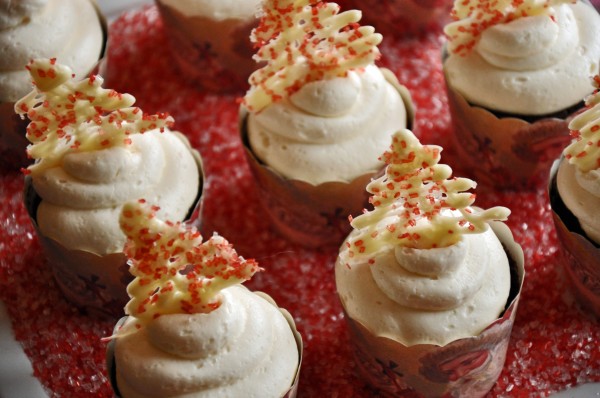 I was out the other day amongst all the other holiday shoppers who were praying that they would happen upon the perfect gift for Aunt Whomever, or Cousin You Know Who, when I spied these adorable Santa baking cups.  In fact, I found tons of fun and unique baking cups all of varying sizes and shapes, some of which had the cutest designs I have ever seen.  I grabbed these Santa cups along with nine other packages of cupcake liners.  I was as happy as a kid in a candy store.  My sister was nearby in the store doing some of her own shopping and I couldn't wait to show her my find.  As I spilled them into the cart, excitedly displaying them to her one by one, I glanced up to find the most peculiar look on her face.  Given that we have been sisters for ** years, I knew instantly why my excitement wasn't being met with warm and reciprocal enthusiasm.  She, too, had happened upon these cute little cake cups and I had managed to spoil one of the holiday gifts she had planned for me.   I don't think it is very nice to call someone names but in this case I can see why she just shook her head at me and called me a "ding dong" (a sisterly term of endearment).  It's comforting and reassuring the way we get each other.  She knows there will be the annual ornament under the tree for her from me.  And I anticipate from her a baking book for my collection.  We have given each other a pair of flannel pajamas every year at Christmas for as long as I can remember, and I don't think this year will be any exception.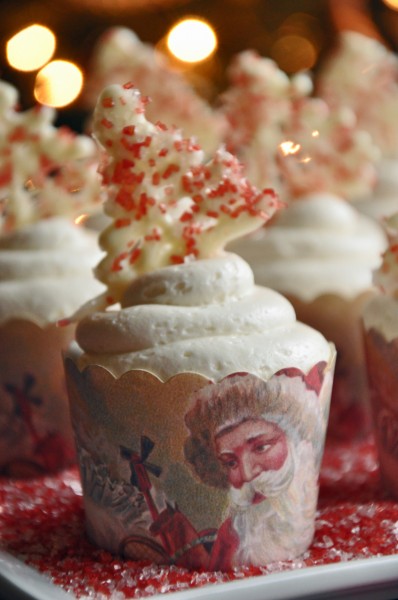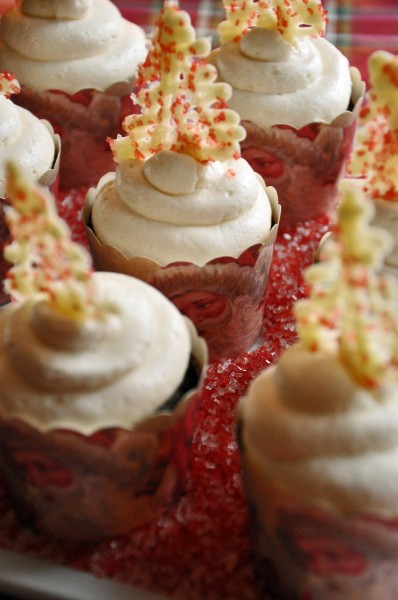 Circling back to why my cookie post actually had to be a cupcake, well,  I just fell in love with these Santa wrappers.  As much as I love the jolly, white bearded, Ho Ho Ho, Santa that became popularized in the 1930s by the Coca-Cola Company, I have always held a fondness for the Old World Santa of earlier times.  So when I found these cute papers, my mind started to spin ideas for a spirited holiday cupcake.  I remembered seeing a bottle of Spiced Rum on my sister's bar and from there it all came together quite easily.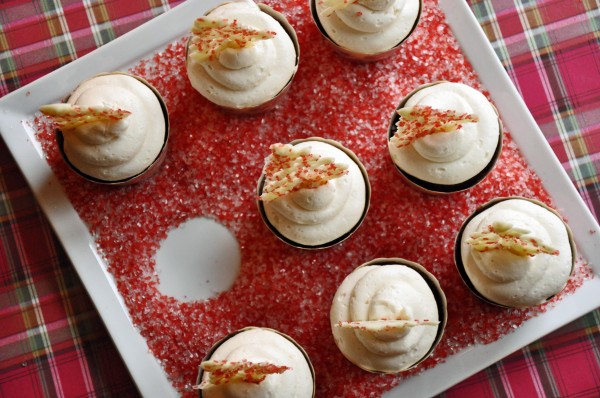 Cinnamon, ginger, and nutmeg lend spicy notes to these tipsy chocolate Holiday cupcakes.
Spiced Rum Chocolate Cupcakes with Spiced Rum Buttercream
Cupcakes
1 ¾ cups all-purpose flour
2 teaspoons baking powder
¾ teaspoons baking soda
¾ teaspoons salt
11 tablespoons (1 stick, plus 3 tablespoons) butter, at room temperature
1 ½ cups granulated sugar
2/3 cup natural or Dutch-processed cocoa
2 teaspoons pumpkin pie spice
2 large eggs
1 teaspoon vanilla extract
2/3 cup Spiced Rum
2/3 cup hot water
Spiced Rum Buttercream Frosting (recipe below)
Position a rack in the center of the oven and preheat the oven to 325˚F.  Line 2  standard 12-cup muffin tins with cupcake liners.  Set aside.
Sift together the flour, baking powder, baking soda, and salt into a medium bowl.  Whisk until well blended, and set aside.
In the bowl of an electric mixer, using the paddle attachment, beat the butter at medium speed until creamy, about 1 minute.  Gradually add the sugar and beat at high speed until the mixture is pale and well blended, about 3 minutes.  Add the cocoa powder and the pumpkin pie spice and beat at medium speed for 1 minute, scraping down the sides of the bowl with a rubber spatula as necessary.  Beat in the eggs, one at a time, beating well after each addition.  Beat in the vanilla extract.  Pour the Spiced Rum into the hot water.  At low speed, add the flour mixture in three additions, alternating it with the warm rum/water liquid in two additions, beginning and ending with the flour.  Scrape down the sides of the bowl and mix at low speed for 30 seconds.  Distribute the batter between the 24 liners, filling them ¾ full.
Bake the cupcakes for 18 to 20 minutes or until a cake tester inserted into the center of a cupcake comes out clean.  Cool the cupcakes in the tin on a rack for 15 minutes before removing them from the tin to cool completely.  Frost with the Spiced Rum Buttercream.
Spiced Rum Buttercream
¾ cup (1 ½ sticks) butter, at room temperature
¼ cup whipping cream, at room temperature
¼ cup Spiced Rum
5 cups sifted confectioners' sugar
Pinch of salt
In the bowl of an electric mixer on medium speed, beat the butter to lighten, about 3 minutes.  Add 2 cups of the confectioners' sugar and beat on low speed until incorporated.  Turn the mixer to medium and continue to beat until well blended.  Add the whipping cream and Spiced Rum and beat until smooth.  Add the pinch of salt and the remaining sugar, one cup at a time, beating well after each addition, until the desired consistency is reached.  Use immediately or cover and refrigerate for up to two days.  If refrigerated, bring to room temperature and beat lightly before using.
Yield:  24 cupcakes
Source:  Cupcake adapted from Tish Boyle's Cake Book.  Spiced Rum Buttercream is my own recipe.