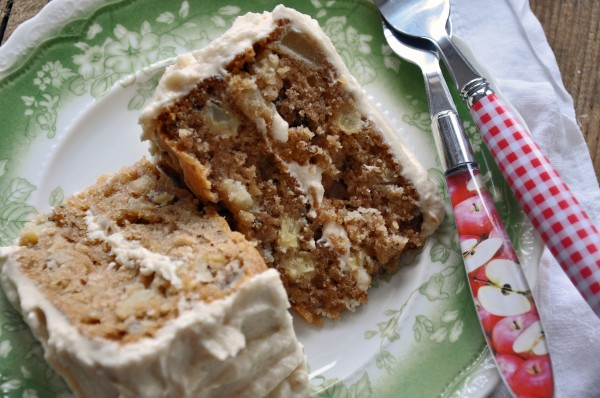 A small, square, glass jar sits tucked away in the corner of my kitchen counter.  Both the jar and the recipes inside belonged to my Grandma.  I also have her little black book in which there are pages filled with ingredients and instructions, written in her most identifiable penmanship.  And there is an envelope, stuffed to capacity with recipes clipped from the newspaper, labels snipped from jars and cans, and other hand written treasures that are worth gold to me.  When I'm missing her, I can find her among these pages and papers.  She comes alive there, and together we travel back in time to the little nook in her kitchen where she spent endless hours kneading dough, mixing batter, and preparing the most delicious food, effortlessly and with quiet grace.
I have poured through her recipes countless times, and yet, each time something new catches my attention.  Most recently it was this cake.  Next to the name Apple Cake in the title, Grandma had written (Mae's).  I don't know who Mae was.  My mom has no memory of her being a relative.  Maybe she was a co-worker or an acquaintance from the neighborhood hair salon.  In any event, I felt it was important to credit her with the recipe – after all, Grandma thought enough of her to do so as well.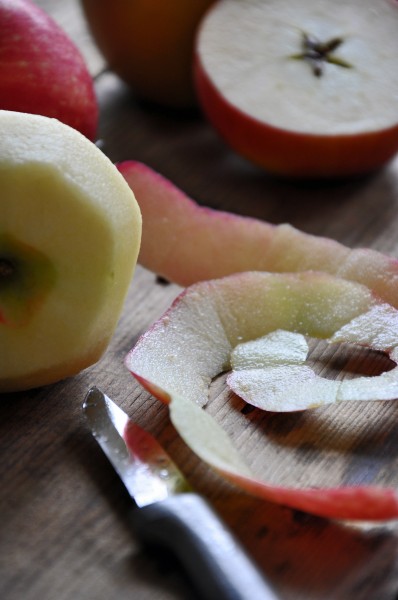 As I prepared to bake this cake, it occurred to me just how similar it was to a carrot cake. Curiously, there were no spices at all in the list of ingredients, so I included some cinnamon, ginger, and mace to compliment the flavor of the apples.  I also reduced the amount of sugar.  The directions as written were limited and vague and I had questions that were impossible to have answered.  If only I could commune with Grandma to find out how she had served this cake.  Since it made two 9-inch layers, I assumed it was supposed to be stacked and frosted,  but then the recipe included instruction for making a Brown Sugar Glaze  - presumably for spreading over the tops of each layer.  And once out of the oven, there was more evidence that the two cakes were most likely intended to be served as single layers.  The tops of the cakes were mottled with dimples formed from chunks of apples and nuts.  I could imagine the brown sugar glaze settling into those dimples just as butter melts into the nooks and crannies of a toasted english muffin.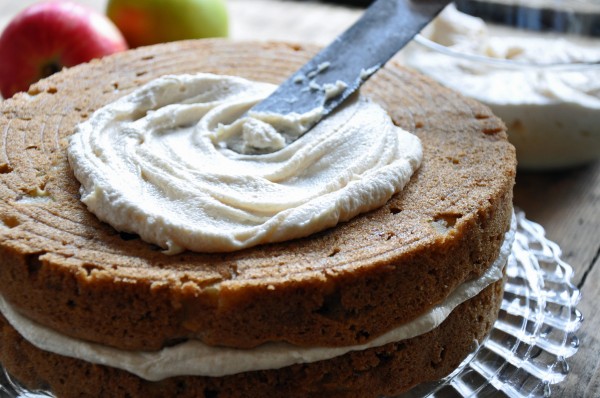 In the end, I chose to stack the layers and ice them with a brown butter frosting.  The browned butter lent a "maple-y" essence that was a perfect compliment to the apples and walnuts.  Along with the frosting recipe, I have also shared the recipe for the glaze.  I wanted to retain the originality of the cake as it was passed from Mae, to Grandma, to me, and ultimately to you.
While sifting around the internet today, I easily happened upon more than one version of apple cake almost identical to this one.  Admittedly,  this isn't the most original cake floating around the blogosphere.  But originality isn't  the point of my post. It's about sharing and connection and honoring and preserving the memory of those who shared a piece of their lives with us by documenting their experiences in the kitchen.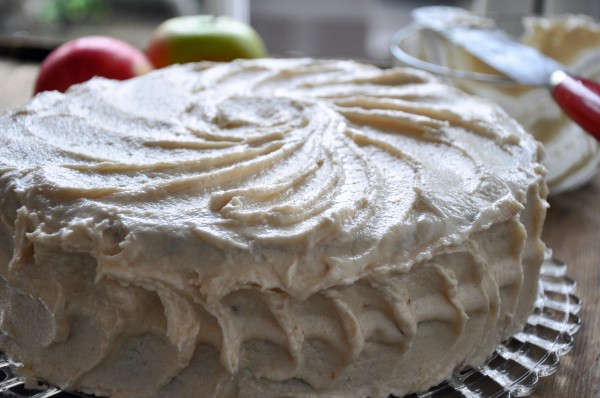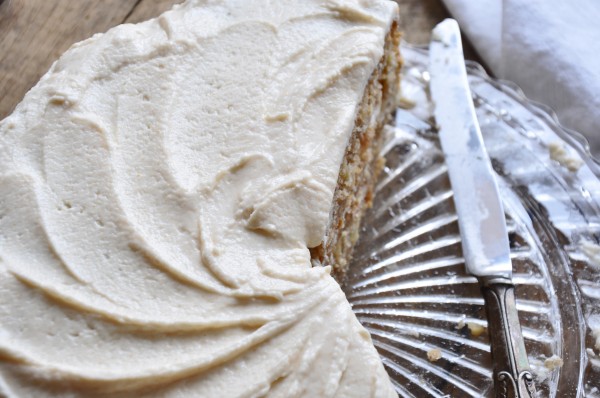 This is old fashion apple cake at it's best.  Every bite delivers a mouthful of tender, toothsome chunks of apple subtly spiced with cinnamon, ginger, and mace.  Ice with Brown Butter Frosting layer-cake style, or simply glaze the individual layers with Brown Sugar Glace for a simpler snack cake option.
Mae's Apple Cake
Cake
3 cups all-purpose flour
1 teaspoon baking soda
1 teaspoon salt
1 teaspoon ground cinnamon
1/2 teaspoon ground ginger
1/2 teaspoon ground mace
3 eggs
1 1/2 cups granulated sugar
1 1/4 cups vegetable oil
2 teaspoons vanilla extract
3 cups finely diced apples – such as Honeycrisp, Granny Smith, or Braeburn
1 cup chopped toasted walnuts
Note:  This cake starts in a cold oven.
Grease and flour two 9×2-inch cake pans, or coat with cooking spray.  Set aside.
In a medium bowl, whisk together the flour, baking soda, salt, cinnamon, ginger, and mace.  Set aside.
In the bowl of an electric mixer, beat the eggs on medium speed to combine.  Add the sugar and beat well to combine.  With the mixer running, drizzle in the vegetable oil.  Add in the vanilla extract.
Add the dry ingredients and mix on low speed to combine.  Stir in the apples and walnuts.
Divide the batter evenly between the prepared pans.   Place in a cold oven and immediately turn the temperature to 325˚F.  Bake for approximately 45 minutes or until a cake tester inserted into the center of the cake comes out clean.  Remove to a cooling rack and allow to cool for 15 minutes.  Run a knife around the edge of the pans and turn the cakes out, flipping them right side up.  Allow to cool completely before frosting.
Brown Butter Buttermilk Frosting
8 ounces (2 sticks) butter, cut into cubes
5 cups of sifted confectioners' sugar
1/2  cup buttermilk, room temperature
2 teaspoons vanilla extract
Generous pinch of salt
In a medium saucepan, melt the butter over medium heat  until it takes on a golden brown color.  Remove from the heat and set aside to cool for 30 minutes.
Meanwhile, measure the confectioners' sugar into the bowl of an electric mixer.  Add the salt to the bowl.  When the butter has cooled, add it to the bowl with the sugar and beat on low speed until incorporated.  With the mixer running, slowly pour in enough buttermilk until the desired spreading consistency has been reached.  Add the vanilla extract and beat until fully incorporated.
Brown Sugar Glaze
1/2 cup (1 stick) butter
1 cup packed light brown sugar
1/4 cup evaporated milk  (cream or half and half  may be substituted)
Pinch of salt
1 teaspoon vanilla extract
In a medium saucepan, combine the butter, brown sugar, evaporated milk and salt and bring to a boil over medium heat.  Reduce the heat to low and boil for 2 minutes.  Cool to luke warm.  Stir in the vanilla.
Yield:  12 servings if prepared as a layer cake, or 16 servings if prepared as two single cakes