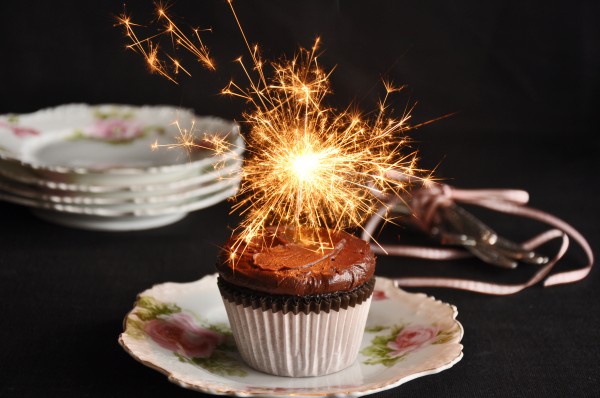 My heart swells with gratitude as Sifting Focus turns "1".  You, my readers, have offered up such kind words of encouragement during this past year.   Your thoughtful comments make the sharing of this personal baking journal all the more meaningful.  I have learned much in so many different areas of blogging, and growth feels wonderful.  I have definitely faced some challenges, mostly in the area of technology.  Baking comes naturally to me  – Facebook and Twitter – not so much.  It seems silly not to have thought of this earlier, but I was months into blogging before I realized what a wonderful gift I am creating for J.  Just as a hand stitched quilt becomes an heirloom for future generations, through recipes, words, and photography I am creating a baking legacy for my daughter.  If for no other reason, that makes it all worthwhile.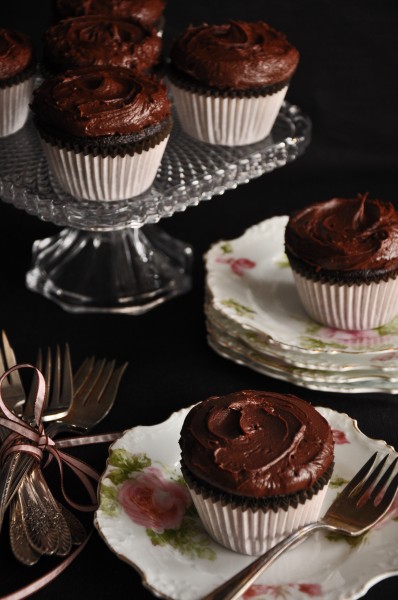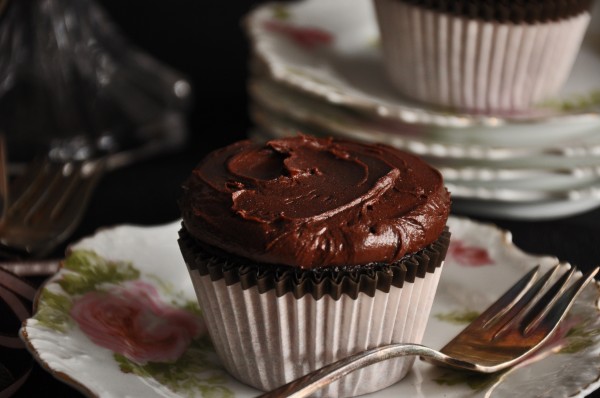 I am throwing myself a little party and I would like you all to be my guests.  Help me celebrate by joining me in a verse of Happy Birthday.  Light a sparkler, and sink your teeth into a deep dark devil's food cupcake topped with mascarpone chocolate frosting.  No need to bring a gift.  Your love and support is present enough.  As I close my eyes and make a birthday wish, it is for another year of more.  More sharing, more growth, and more of the delight I experience from doing what I love most – baking.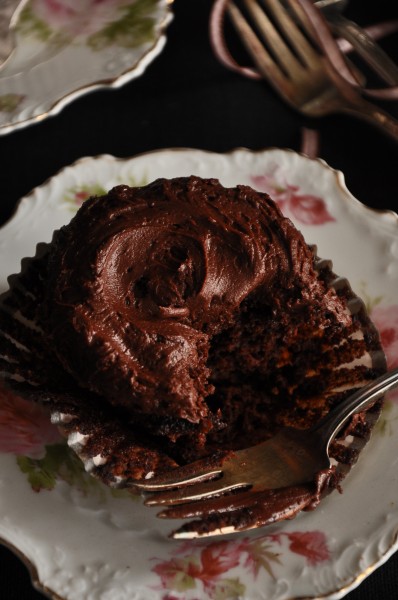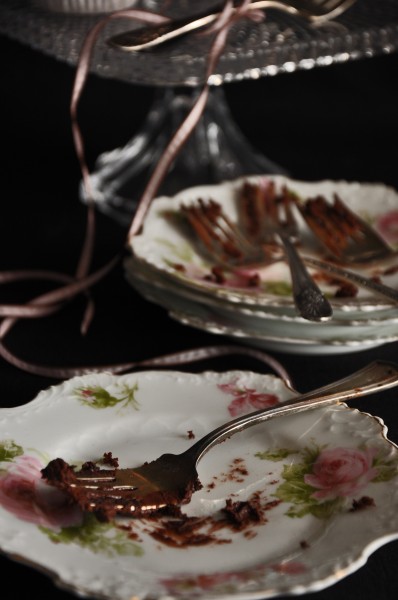 These may sound like your ordinary chocolate cupcakes, but oh, they are so much more than that.  Lightly scented with cinnamon, enriched with the flavor of coffee, and as deeply chocolate as devil's food can get, these cupcakes hit all the high notes.  A tried and true recipe that you will find yourself returning to over and over again.
Cinnamon Scented Devil's Food Cupcakes
2 2/3 cups all-purpose flour
1 1/2 cups unsweetened cocoa powder
1 tablespoon ground cinnamon
1 1/2 teaspoons baking powder
1 1/2 teaspoons salt
1 teaspoon baking soda
3 1/4 cups sugar
3 tablespoons espresso powder or instant coffee
1 1/4 cups hot water
1 1/4 cups buttermilk
3 /4 cup vegetable oil
2 large eggs
2 large egg yolks
1 tablespoons vanilla extract
Preheat oven to 325˚F and place racks in upper and lower third of oven.  Line 30 muffin cups with paper liners and set aside.
Sift flour, cocoa, cinnamon, baking powder, salt, and baking soda into a large bowl.  Stir the espresso powder into the hot water until dissolved.  Set aside to cool.  Combine sugar, cooled espresso, buttermilk, oil, eggs, egg yolks, and vanilla in another bowl.  Using electric mixer, beat egg mixture until blended.  Add dry ingredients.  Beat on medium speed until blended, scraping bowl occasionally, about 4 minutes.
Spoon batter into liners, filling 2/3 full.  Bake cupcakes until just firm to the touch, or until a cake tester inserted into the center of a cupcake comes out clean, about 24 minutes.  Transfer the cupcakes to a rack to cool for 10 minutes then remove them from the pan to a rack to cool completely.
Frost cupcakes with Chocolate Mascarpone Frosting.  Can be made up to one day ahead.
Chocolate Mascarpone Frosting
8 ounces mascarpone, room temperature
1 cup (2 sticks) butter, at room temperature
2/3 cup unsweetened cocoa powder
6 tablespoons half and half, at room temperature
1 tablespoon vanilla extract
1/4  teaspoon salt
8 cups (2 pounds) confectioners' sugar, sifted
Combine the mascarpone, butter, cocoa powder, half and half, vanilla, and salt and half of the confectioners' sugar in a large bowl.  Using an electric mixer, beat on low speed until well combined.  Add the remaining confectioners' sugar and beat until smooth.  Use immediately or cover tightly and store in the refrigerator for up to two days.  If refrigerated, bring to room temperature before using.
Yield:  30 Cupcakes
Source:  Cupcakes – Adapted from Bon Appetit Magazine