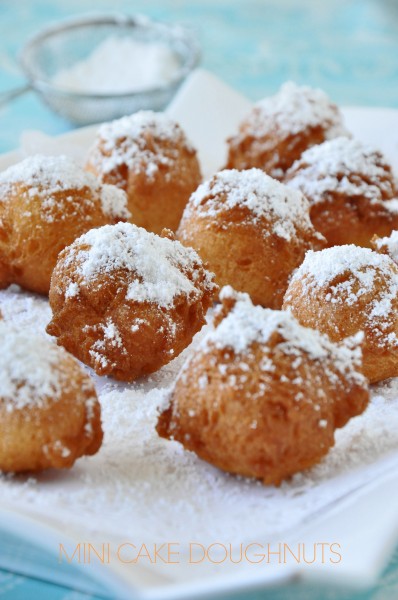 Sometimes it is the most uncomplicated of things that are the most enjoyable. Take these little cake doughnuts for example. As if performing slight of hand magic, a few ingredients are stirred together in a bowl, spoonfuls dropped into hot fat, a sprinkling of sugar, and poof!…you have the most satisfying of crispy fried cakes. Add a cup of coffee, jammies, a magazine, and a comfy outdoor love seat smothered in feather filled pillows and - well, life just doesn't get much better than that on a warm September Sunday morning at my house.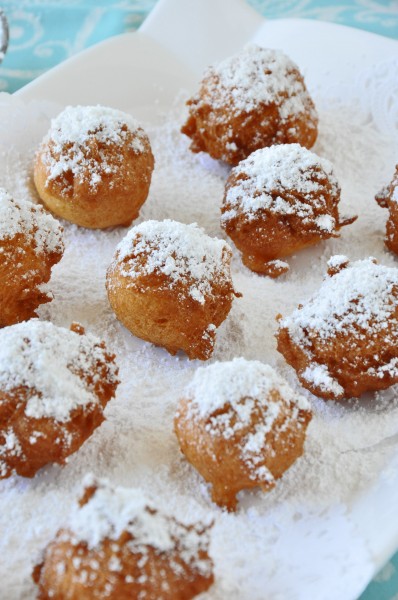 Cake doughnuts have a few redeeming characteristics that the more delicate yeast risen doughnuts lack. When the main goal is to satisfy a doughnut craving as quickly as possible, the cake variety is the way to go. No waiting for the dough to rise. Lickety split they are ready to take a plunge into their swimming pool of hot fat. In addition to the ease and speed by which they can be made, they have that crispy shell created by wet dough hitting sizzling oil. The very best part?…sinking my teeth into that crunchy outer layer only to be met by the tender cake inside.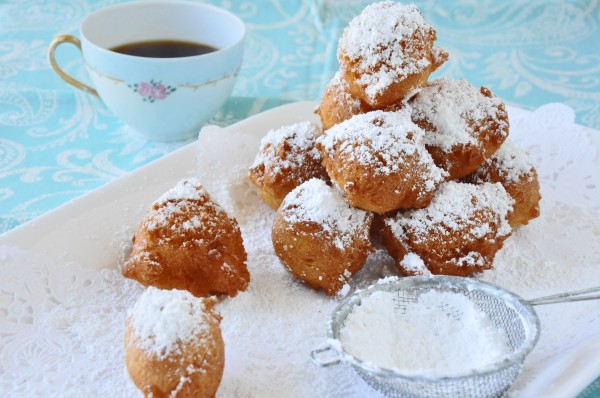 This recipe is adapted from the King Arthur Flour Baker's Companion book. The King Arthur people named them beignets, but to me they are cake doughnuts. In my mind, beignets are those billowy little squares of yeast risen dough served at Café Du Monde in New Orleans. In doing a bit of research for this post, I read that the actual definition for beignet is 'fritter or doughnut'. So technically, yeast is not the determining factor as to whether a deep fried piece of dough is a beignet. Still, I decided to rename them since to me they are more reminiscent of the little cake doughnuts I use to get at my favorite childhood bakery.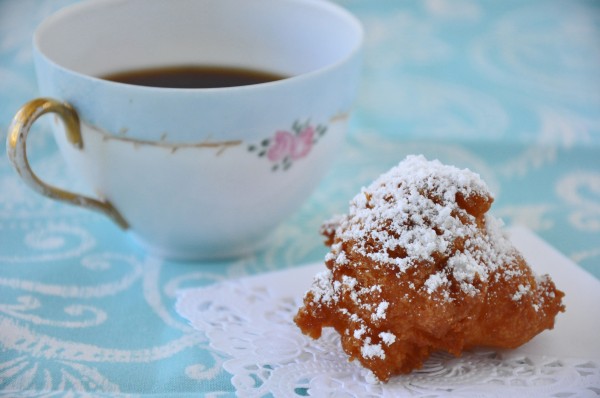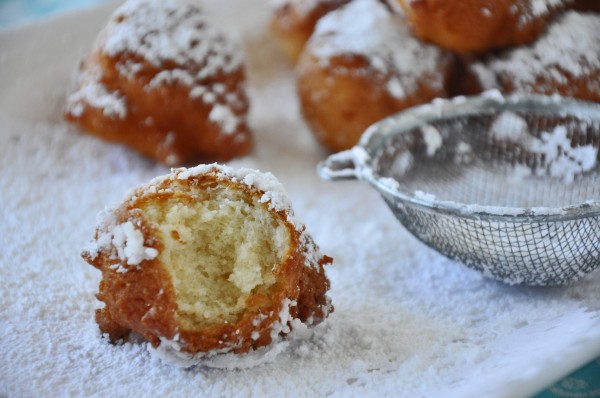 Confectioners sugar is only one of the possible toppings for these cake doughnuts. Let you imagination run wild. From maple syrup to lemon curd, there is no end to the possibilities.
Mini Cake Doughnuts
64 ounces (8 cups) vegetable oil, for deep frying the doughnuts
2 cups all-purpose flour
2 tablespoons granulated sugar
1 1/2 tablespoons baking powder
1 teaspoon salt
1 cup whole milk
1/4 cup butter (1/2 stick) melted and cooled
1 egg
1 teaspoon vanilla extract
1/2 cup confectioners sugar, for sprinkling the fried beignets
Heat the oil in a deep heavy pot to 350˚. Have ready a baking sheet lined with paper towels.
In a large bowl, whisk together the flour, sugar, baking powder, and salt.
In a medium bowl, whisk together the milk, butter, egg, and vanilla.
Make a well in the center of the flour mixture. Add the milk mixture and whisk until just combined. Do not over mix the batter.
Once the oil has reached 350˚, drop spoonfuls of dough into the hot oil, 4 to 5 at a time, taking care not to overcrowd the pot. Fry doughnuts for 3 to 4 minutes, or until golden brown, turning the doughnuts half way through frying. Most of the doughnut will automatically turn over on their own. Flip over any that are being stubborn. Remove them from the oil onto the prepared baking sheet. Sprinkle with confectioners sugar and serve warm.
Yield: 1 to 1-1/2 dozen doughnuts, depending on the size
Source: Adapted from the King Arthur Flour Baker's Companion