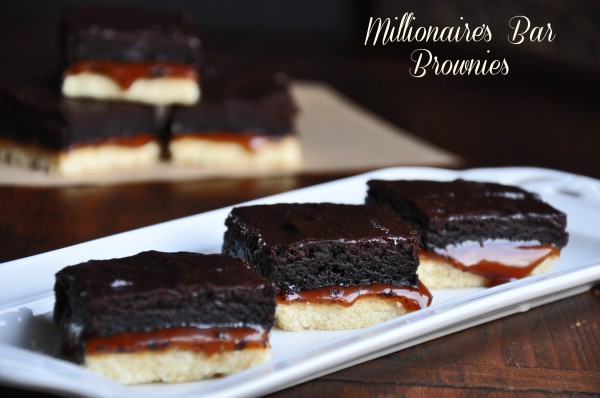 Millionaire's Bars have been around for a very long time. So named since they are rich with butter, caramel, and chocolate goodness. They are said to taste like a million dollars. In an attempt to acquire information about Millionaire's Bars for this post, I wasn't able to come up with much specific history. They purportedly are of Scottish origin, presumably since the base of a Millionaire's Bar is shortbread. Many of the recipes I read had a filling derived from caramelizing sweetened condensed milk. Traditionally the bars are topped with a thin layer of dark chocolate.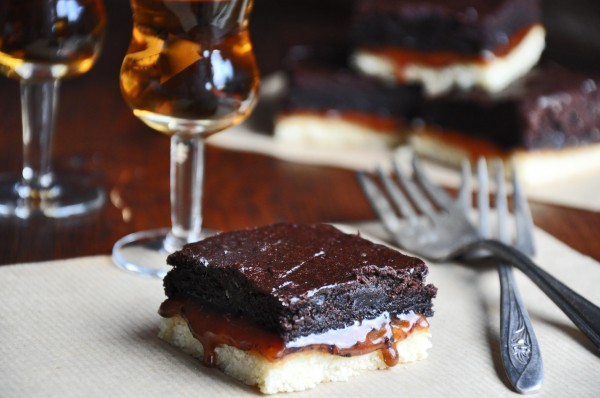 I decided to turn up the volume just a bit on this classic. I stayed traditional and started with a shortbread cookie base. Then, instead of using caramelized sweetened condensed milk for the middle layer, I made a very easy caramel filling from scratch. You will love how easy it is to make this caramel and I'm convinced that once you make it, you will be stirring up batch after batch to use in a myriad of ways. My favorite adjustment to the original bar was to replace the traditional final layer with a deeply rich chocolate brownie.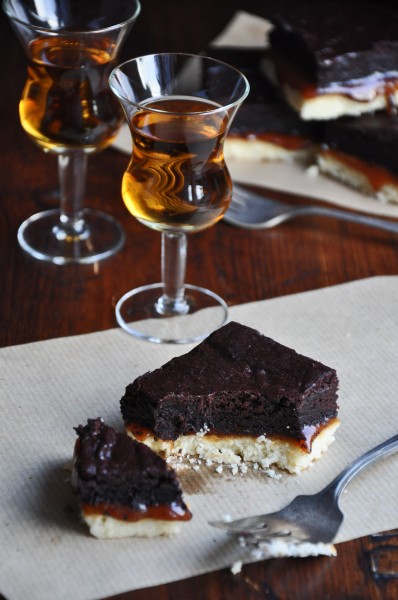 Umm, these bars are a winner. They have been taste-tested by three people so far – two friends and the hubster – and all three testers gave them two thumbs up. Even if you shy away from making caramel from scratch, I encourage you to make this recipe for your first attempt. It is not fussy or temperamental at all, and no special equipment like a thermometer or pastry brush to wash down the sides of the pan is required. I discovered this method years ago while preparing a cake from the Food Network archives. I've made my own adjustments over the years but the method is tried-and-true.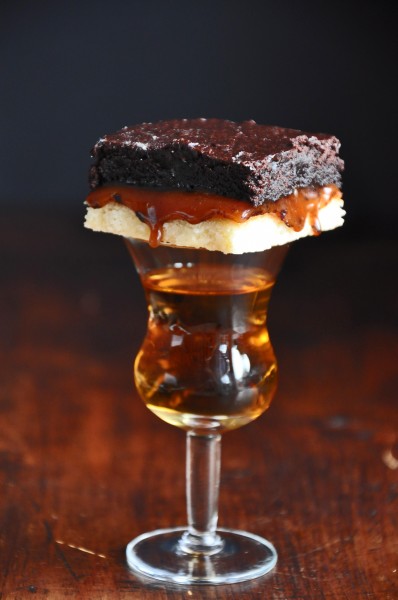 These brownies will make your taste buds think they just won the Million Dollar Lottery.
Millionaire's Bar Brownies
Shortbread Base
1 cup (2 sticks) butter, at room temperature
1/2 cup granulated sugar
1/2 teaspoon salt
2 cup all-purpose flour
Caramel
1 1/2 cups of granulated sugar
2 tablespoons light corn syrup
1 teaspoon Fleur de Sel, or other salt
1 teaspoon vanilla extract
2 tablespoons butter
1/2 cup heavy cream
Brownie
1 cup (2 sticks) butter
1 cup granulated sugar
1 cup brown sugar
1 cup cocoa
1 teaspoon baking powder
1 teaspoon salt
4 eggs, at room temperature
2 ounces unsweetened chocolate, chopped and melted
2 teaspoons vanilla extract
1 3/4 cups all-purpose flour
Preheat the oven to 350˚. Line a 13x9x2-inch pan with foil, leaving at least a 2 inch overhang on all sides.
Make the Shortbread Base: Using an electric mixer, or by hand, mix together the butter, sugar, and salt, until thoroughly combined. Mix in the flour. Press mixture into the prepared pan. Bake for 20 to 25 minutes, or until lightly browned. Cool while preparing the caramel.
Caramel: Spread the sugar in the bottom of a heavy-bottomed skillet. Drizzle the corn syrup over the sugar. Begin to melt the the sugar over medium heat. Once the edges of the sugar begin to melt and take on color, stir frequently, moving the sugar around the skillet to allow for even melting and browning. When the sugar is completely dissolved and golden amber in color, reduce the heat slightly and carefully stir in the salt, vanilla, and butter. Add the cream and continue to stir until the cream is completely incorporated, approximately 3 minutes more. Remove from the heat and allow to cool for 5 minutes.
Pour the cooled caramel over the shortbread base, spreading to cover completely. Place in the refrigerator to harden the caramel, at least 1 hour.
Make the Brownie Base: Sift together the cocoa, salt, and baking powder.
In a medium saucepan, set over low heat, melt the butter. Stirring constantly, slowly add the sugar to the melted butter until well combined. Continue to heat the butter/sugar mixture for another minute, then remove from the heat.
Add the cocoa mixture, stirring until smooth. Stir in the melted chocolate and vanilla. Whisk in the eggs one at a time. Add the flour and stir until smooth.
Pour the batter over the caramel layer, spreading to make a smooth even layer.
Bake for 23 to 25 minutes, or until a cake tester comes out with barely a crumb.
Cool brownies completely. Using the over-hanging foil as handles, lift the brownies from the pan. Cut into squares.
Yield: 30 to 36 bars, depending on size
Source: Mary Weinberg - Sifting Focus
Caramel - Adapted from Food Network Archives