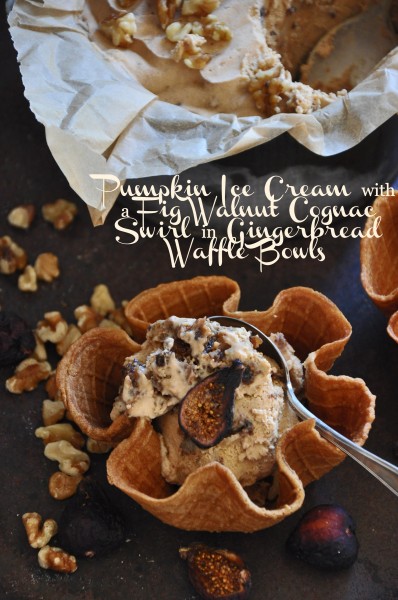 Can we talk about Thanksgiving dessert for just a minute? Aren't most of us moaning and groaning from fullness once we have consumed our Thanksgiving meals? Who among us, when faced with glistening golden turkey, gravy, stuffing and sweet potatoes, is actually disciplined enough to leave room for dessert? Admittedly, as much as I am a 'sweets eater', I usually need several hours to digest before moving onto pie. I think Thanksgiving should actually be celebrated as a two day holiday, the first day we eat the meal and on Friday we have a day dedicated just to our favorite Thanksgiving desserts. I might be onto something, right?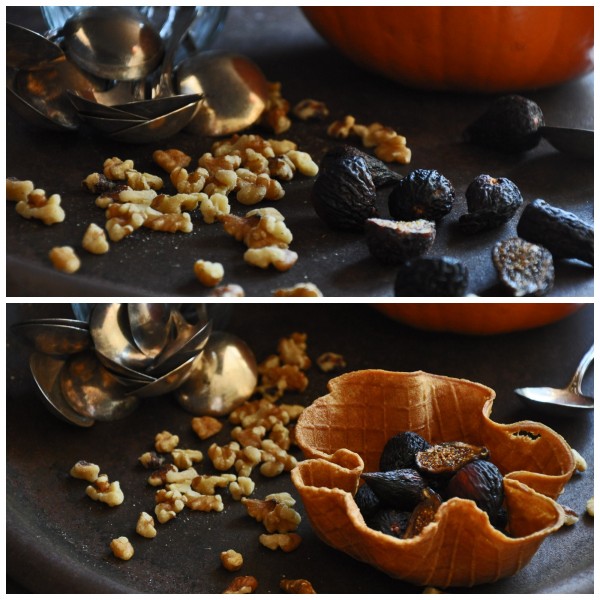 We all have our favorite traditional or family recipes that we make year after year for our Thanksgiving Day dessert tables. Regardless of whether I have baked pumpkin pie, pecan pie, spice cake, or all three, (which is usually the case) I love to have a homemade ice cream to accompany those desserts. In past years it's been cinnamon, or caramel, or just plain vanilla – which is far from plain when infused with intense vanilla flavor from beans steeped in cream, their seeds scraped into the custard before churning.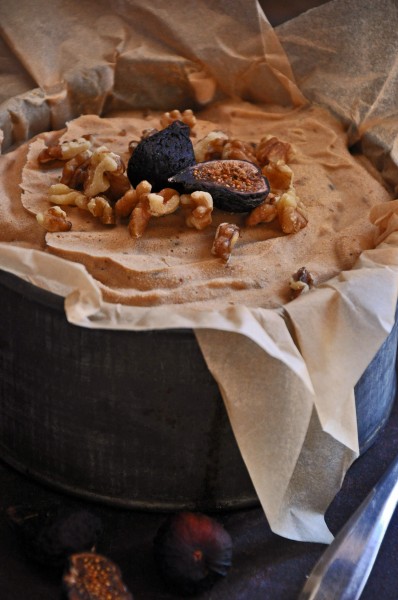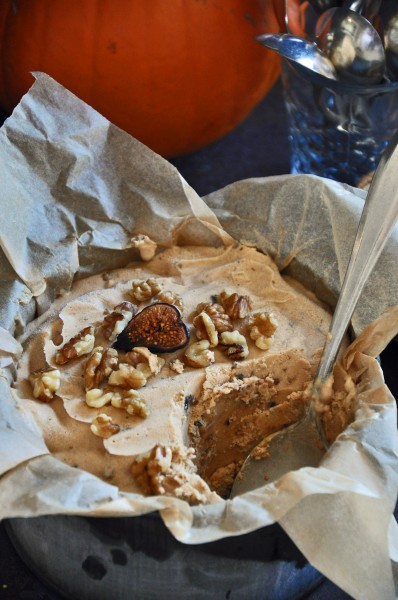 Since we are smack in the middle of pumpkin season and only weeks away from Turkey Day, I couldn't resist creating a sophisticated ice cream worthy of any holiday dessert buffet. Packed with cognac infused figs and studded with walnuts, pumpkin has found its perfect pairing in this ice cream. Add a hint of all those familiar spices found in a pumpkin pie and this ice cream becomes two desserts in one.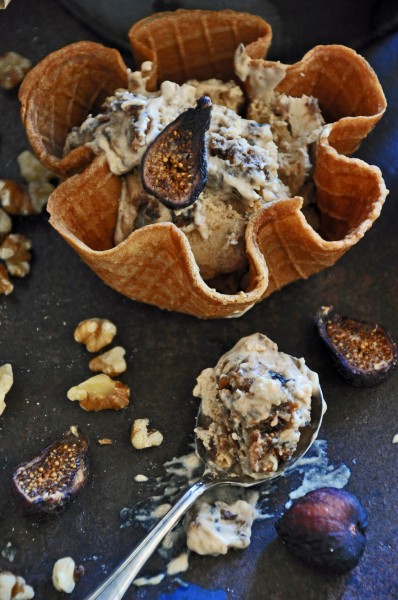 I used two of my favorite ice cream books for inspiration when developing this recipe. The base of the ice cream is a riff on a recipe from Jeni's Splendid Ice Creams at Home. The Gingerbread Waffle Cups, with a tweak or two, hail from Sweet Cream and Sugar Cones. Although I used my ice cream cone maker for the bowls, the original recipe gives directions for baking the cones in the oven. Even if you don't own your own maker, you can still enjoy a homemade cone. And Jeni's Ice Creams, well, if I could only have one ice cream book in my library it would be Jeni's. I have made many of her recipes and one was more delicious than the next. Her pumpkin ice cream was no exception.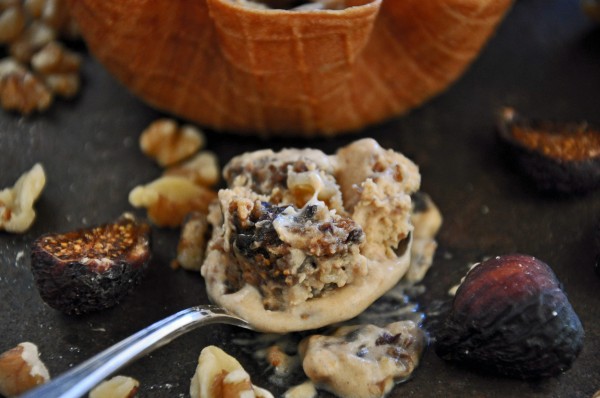 I cannot imagine a better way to enjoy pumpkin than in this ice cream. Add figs and cognac and you have a truly complex and sophisticated tasting frozen treat.
Pumpkin Ice Cream with a Fig Walnut Cognac Swirl in Gingerbread Waffle Bowls
Pumpkin Ice Cream
2 cups whole milk
1 tablespoon, plus 1 teaspoon cornstarch
3 tablespoons cream cheese, at room temperature
1/4 teaspoon salt
3/4 cup brown sugar
1 1/4 cup heavy cream
3/4 cup canned pumpkin puree
2 tablespoons light corn syrup
1 tablespoon Pumpkin Pie spice
1 recipe Fig Walnut Cognac Swirl
Ice Cream
Mix about 2 tablespoons of the milk with the cornstarch in a small bowl to make a smooth slurry. Whisk the cream cheese and salt in a medium bowl until smooth. Add the pumpkin puree and whisk until smooth.
Fill a large bowl with ice and water.
Combine the remaining milk, the cream, brown sugar, corn syrup, and Pumpkin Pie spice in a 4-quart saucepan. Bring the mixture to a rolling boil over medium-high heat, and boil for 4 minutes. Remove from the heat, and gradually whisk in the cornstarch slurry.
Bring the mixture back to a boil over medium-high heat and cook, stirring with a wooden spoon or heatproof spatula, until slightly thickened, about 1 minute. Remove from the heat.
Gradually whisk the hot milk mixture into the pumpkin mixture until smooth. If freezing right away, strain the mixture into a gallon-sized Ziplock freezer bag and submerge the sealed bag in the ice bath. Let stand, adding more ice as necessary, until cold, about 30 minutes. (Alternatively, strain the mixture into a medium bowl, cool for 15 minutes, cover and chill until ready to freeze.)
Follow manufacturer's instructions for your ice cream maker to freeze the ice cream base. Spoon the pumpkin ice cream into a freezer safe container, alternating with spoonfuls of the Fig Walnut Cognac mixture (recipe below). Swirl the ice cream by running a wooden spoon or rubber spatula through the mixture two or three times. Cover the ice cream with a sheet of parchment paper or wax paper, cover and chill until firm, at least 4 hours. Serve in Gingerbread Waffle Bowls (recipe below).
Fig Walnut Cognac Swirl
3/4 cup chopped dried figs
1/3 cup brown sugar
1/4 cup Cognac, (or other brandy) plus 1 to 2 tablespoons for processing
1/4 cup water
Pinch salt
3/4 cup walnut pieces
In a medium saucepan, combine the figs, brown sugar, Cognac, water, and salt. Bring to a simmer over medium-low heat. Continue to simmer, stirring frequently, until it has reached a moist jam-like consistency. Remove from the heat and cool to room temperature. Place the mixture in the bowl of a food processor. Add the walnuts, and an additional tablespoon or two of Cognac. Pulse several times, just enough to incorporated the walnuts and Cognac. Use immediately or store in the refrigerator for later use.
Gingerbread Waffle Ice Cream Bowls
1 1/4 cups confectioner's sugar, measured then sifted
1/2 cup egg whites (from approximately 3 to 4 eggs)
3/4 cup, plus 2 tablespoons unbleached all-purpose flour
1 teaspoon Pumpkin Pie spice
1/2 teaspoon ground cinnamon
1/2 teaspoon ground ginger
1/2 cup (1 stick) butter, melted and cooled
2 tablespoons unsulphured molasses
Prepare and heat ice cream cone maker following the instructions for your particular brand.
Whisk together the confectioner's sugar and egg whites in a medium bowl. Whisk together the flour, Pumpkin Pie spice, cinnamon, and ginger. Add the flour mixture to the sugar mixture and mix to blend. Add the melted butter and molasses, mixing until all ingredients are thoroughly combined and the mixture is smooth.
Make cones following the manufacturer's instructions for your cone maker. While still warm, tuck a finished cone inside a bowl similar in size to the size of the waffle bowl you desire. The cone will naturally ruffle as you press it into the bowl. Allow to cool completely before removing it from the bowl.
Yield: Ice Cream – Approximately 1 quart | Waffle Bowls – 8 to 10 Bowls
Source: Ice Cream – Adapted from Jeni's Splendid Ice Creams at Home | Gingerbread Waffle Bowls – Adapted from Sweet Cream and Sugar Cones