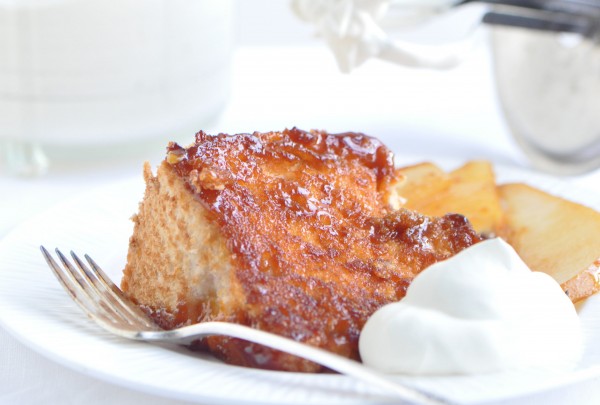 Oh my, buckle your seat belts and get ready to experience one of the best desserts 'I've' ever tasted. I'm not kidding. It takes a lot to knock my socks off when it comes to desserts since I am a baker who spends much of my time developing, testing, and eating sweets. It isn't often that I am truly 'WOWed' by a recipe, especially one as simple to make as this. You begin with an already baked (or purchased) angel food cake. I can admit it now, I had an ulterior motive when I created the Blood Orange Chocolate Chip Angel Food Cake recipe I shared in my prior post. But wait, I'm getting ahead of myself.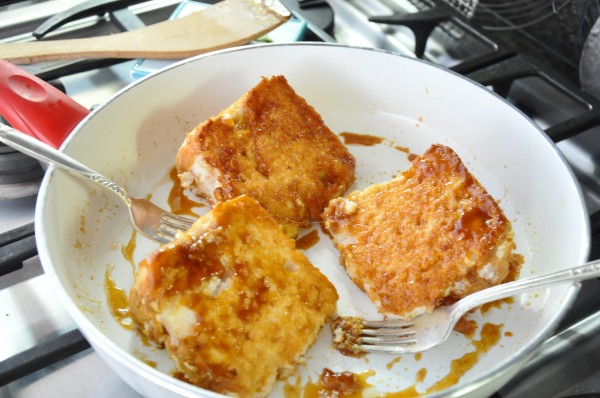 I have always considered myself a Midwestern girl. Technically speaking, I am actually from the South. I was born and raised in Kentucky, at the extreme tip of the state, only a stone's throw from the Ohio border. Geographical lines get blurry in that part of the country and so depending on which way the wind is blowing, some days I'm a Southern girl, and some days I'm feelin' my Midwestern roots. Today's post is all about my Midwestern tendencies.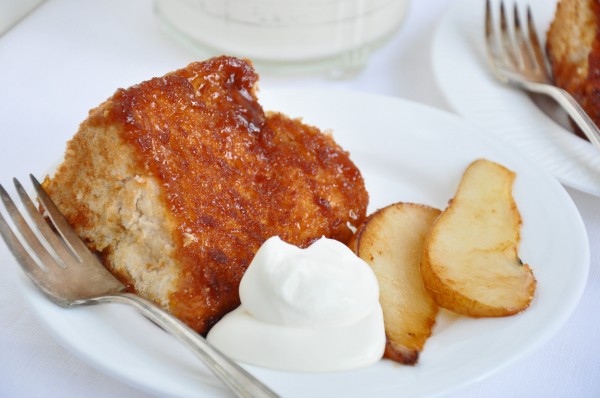 A few weeks back when I brought you this post and a recipe for Glazed Streusel Coffee Cake, I promised I would tell you all about another new addition to my cookbook collection. Please allow me to introduce to you, Amy Thielen. Amy is a professionally trained Mid-western chef with extensive credentials in many food related areas. Most recently, she launched her own show on FoodNetwork. I was hooked after watching the first episode. When I heard she had recently published a cookbook, well, you know me, I had to have it. Turns out, my sister was the perfect little 'Secret Santa' and there it appeared on Christmas morning. I spent the day after Christmas, lying by the fire, getting lost in her anecdotal writings and creative recipes. One recipe in particular had my mouth watering and my sweet tooth aching for a taste. I knew I couldn't rest until I tried Amy's recipe for Lacquered Day-Old Angel Food Cake with Pears. Ohhh Myyyyy Gooodddd! I'm not kidding. Sometimes it is the simplest things that are the best, and I'm telling you, this recipe is not only easy, but it is life changing. Tender slices of angel food cake are fried in caramelized sugar and butter. The crispy, crunchy, dark amber sugar crust that forms on each cake slice is evocative of the same glass-like pane of sugar topping crème brûlée. Are you on board now?! And, as if the caramel fried cake needs any further adornment, slices of pear are tossed about in the caramel remaining in the pan and served alongside the cake. Wait….a dollop of whipped cream rounds out the entire experience, and there you have it. Truly, this is one of the most delicious desserts I have ever tasted. Believe you me!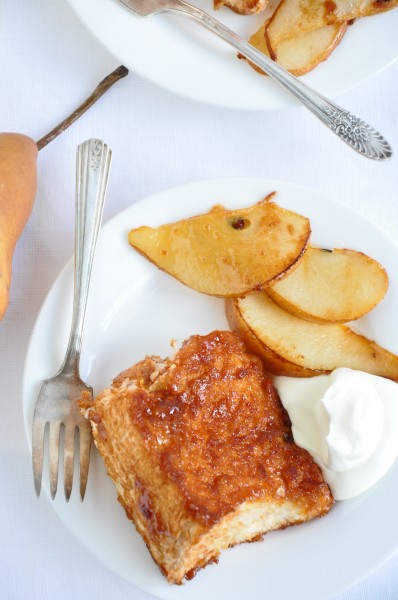 Notes: I'm sharing this recipe in a very informal way. It is intended to be a homey, last minute solution for using up left-over angel food cake. I used my Blood Orange Chocolate Chip Angel Food Cake, minus the chocolate, but any angel food cake will do.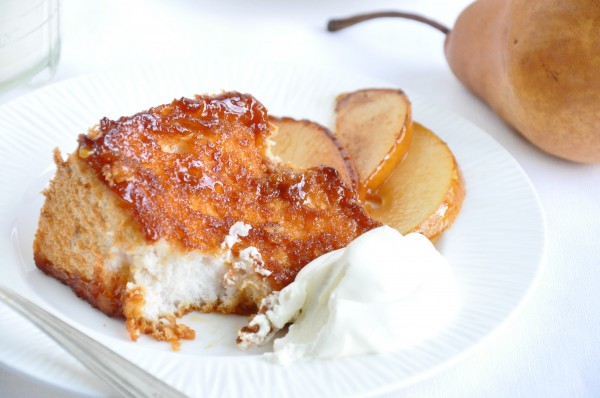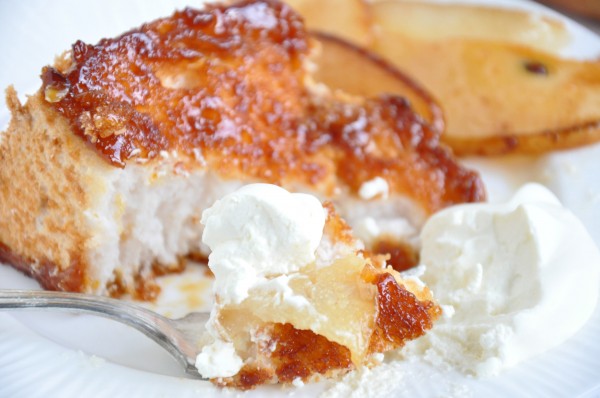 Lacquered Angel Food Cake
Left-over slices of Angel Food cake
Granulated sugar
Butter
Slices of pear or apple (optional)
Whipped Cream
Heat a large skillet over medium-high heat until hot. Sprinkle about 6 tablespoons of granulated sugar into the skillet. Shake the pan to evenly distribute the sugar across the surface of the pan. Once the outer edge of sugar has started to melt and turn amber in color, stir with a wooden spoon until all the sugar has dissolved.
Add about 2 tablespoons of butter to the skillet and stir to combine. Add 3 or 4 slices of angel food cake to the pan and reduce the heat to medium-low. Cook, turning the cake slices over and over, using a second utensil along with the wooden spoon, until the cake is fully coated with a dark amber glaze. This will take approximately 2 to 3 minutes.
Remove the cake slices to serving plates. If serving with fruit, add the slices of pear or apple to the skillet. Over medium-high heat, quickly cook the fruit until it softens slightly and picks up some of the remaining caramelized sugar from the bottom of the pan. Serve immediately alongside the cake slices and some whipped cream.