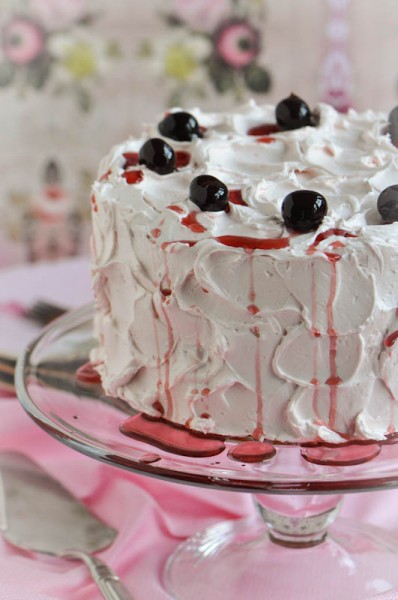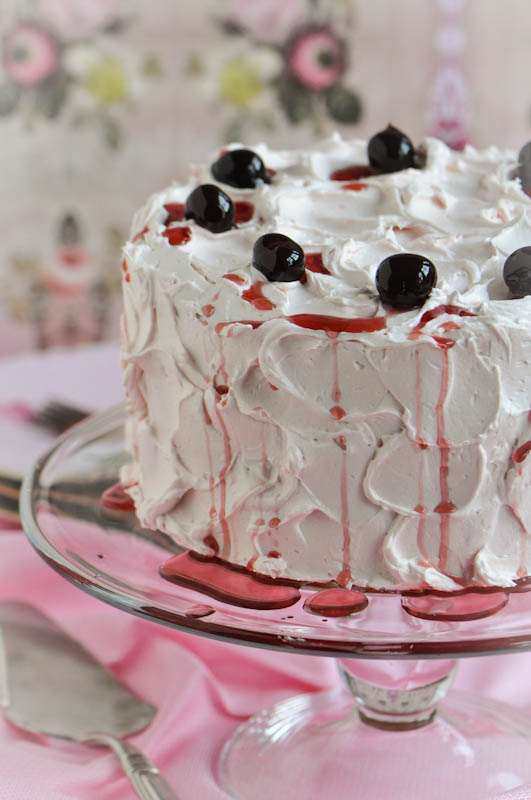 I love cherry cake, and I'm talking about the kind you make from a mix. That cake takes me back to my childhood and with a host of memories attached. Straight from the box, unadulterated, and with vanilla frosting is the way I like it. Oh, but wait, the frosting has to be spiked with maraschino cherry juice. It's been years since I've had that cake, and I can't quite tell you why it came to mind recently. What I can tell you is that once it did, I knew I needed to satisfy the craving. Does that ever happen to you? I frequently have food cravings, and I can't even blame it on being pregnant. A food will come to mind and I can't rest until I get it in my hands and into my mouth. H remains constantly surprised by how much I premeditate my food consumption. I plan ahead hours, if not days, what I am going to eat at the next meal, or even a dinner three days later. I wonder if that's weird. Possibly, but I suspect I'm not the ONLY one. Anyway, about the cherry cake. I was all set to head to the market to pick up a box of cake mix when I had a thought. Why not try to re-create my memorable cherry cake from scratch. So that is exactly what I did.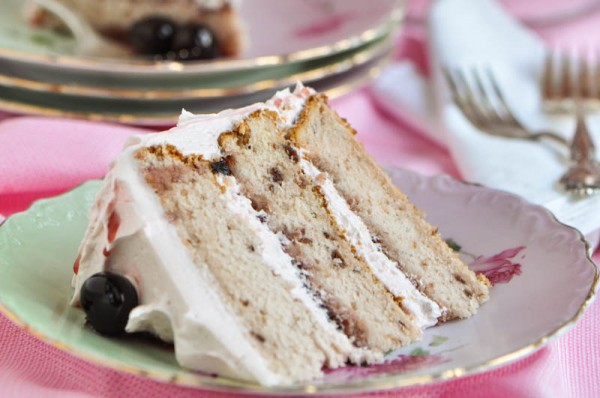 In some ways, the two cakes didn't resemble each other at all. I chose to frost my version with a decadent Swiss meringue buttercream. Also, I used candied Italian (Amarena) cherries in place of those bright red maraschino cherries that have such a bad reputation. (I'm not judging, and when one of those little guys shows up adorning my whiskey sour or gracing the top of my hot fudge sundae, in my mouth it goes.) The cake from 'back then' had just two layers, but I couldn't resist adding a third to make this cake extra special.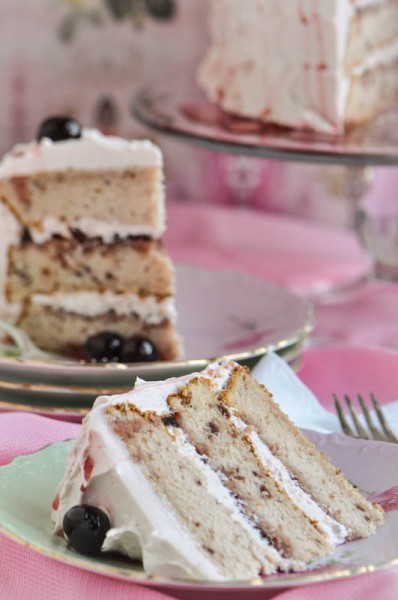 All that said, in the most important way I hoped the two cakes would compare, they did. That cherry flavor I was so craving boldly stood out. The texture of my cake was also similar – light, moist, and delicate.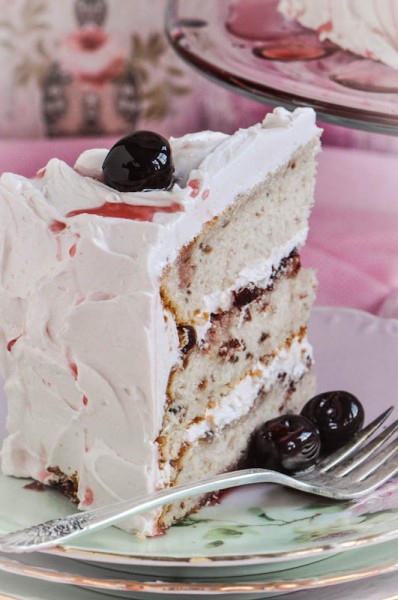 Admittedly, this cake is more involved than opening a box and then stirring together butter and confectioners sugar for a frosting. But what a spectacular celebration cake it is! So worth the time and extra expense. (Amarena cherries can be pricey.) So, put on your apron, dice up some cherries, and make a cake worth talking about.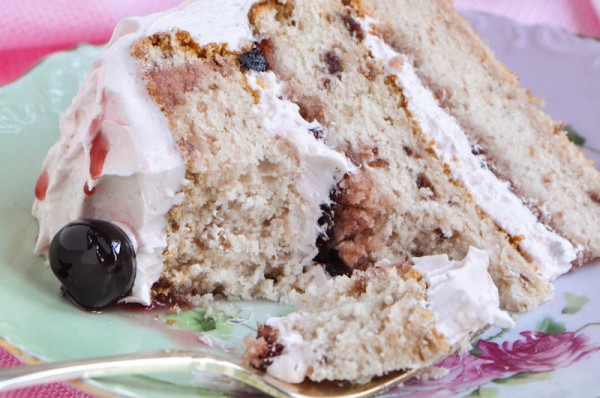 Note:
* Amarena cherries can be found in many markets, as well as at Amazon.com. I was lucky enough to find mine sold in bulk at a local specialty food store.
* I used the tiniest bit of pink gel food color to tint the cake and frosting.
When you are looking for a celebration cake that says 'you deserve the very best', this is the cake to make.
Candied Cherry Cake with Cherry Buttercream
3 1/4 cups sifted cake flour
3 1/2 teaspoons baking powder
1/2 teaspoon salt
8 egg whites, at room temperature
1 3/4 cups granulated sugar, divided
1 cup butter (2 sticks), at room temperature
1/4 cup Amarena cherry syrup, from a jar of Amarena Cherries
1 teaspoon almond extract
1 cup whole milk, at room temperature
3/4 cup Amarena cherries, patted dry of syrup, diced fine in a food processor
To Finish the Cake
Cherry Buttercream – recipe below
3/4 cup of Amareno cherries, chopped fine with 2 tablespoons cherry syrup
Additional cherries for garnish
Preheat oven to 375˚F. Position shelf in the lower third of oven. Butter three 8-inch round cake pans, dust with flour, and line with parchment paper.
In a medium bowl, whisk together the flour, baking powder, and salt.
In the bowl of a stand mixer, or using a hand-held mixer, beat the egg whites just until the whites begin to hold soft peaks. With the mixer on medium-high, slowly add 1/4 cup of the granulated sugar, and continue to beat until stiff peaks form.
In another large bowl, add the butter and remaining sugar and beat until light and creamy. Add the cherry syrup and almond extract and mix to combine.
With the mixer on low speed, alternately add the flour mixture and the milk to the butter mixture, beginning and ending with the flour. Gently fold in the diced cherries.
Using a rubber spatula, gently stir in 1/3 of the whipped egg whites. Fold in the remaining egg whites.
Divide the batter evenly among the prepared pans. Spread the batter slightly from the center towards the edges of the pan. (This will contribute to the cake layers rising evenly.) Bake for 22 to 25 minutes, or until a cake tester inserted into the center of each layer comes out clean. Cool the cakes in their pans for 15 minutes. Run a knife around the edge of each layer and turn out onto a wire rack to cool completely.
Finishing the Cake: If necessary, slice off the tops of the layers to create an even surface. Place one layer, bottom side down on a cake plate. Spread with half of the cherry and syrup mixture. Spread with an even layer of the Cherry Buttercream. Repeat with another layer. Top with the third layer, bottom side up. Frost top, then sides of the cake. Garnish with additional cherries.
Cherry Buttercream
5 egg whites
3/4 cup granulated sugar
1/4 teaspoon salt (If using unsalted butter, use 1/2 teaspoon salt)
2 cups butter, diced into tablespoon sized pieces
1/3 cup cherry syrup
1 teaspoon almond extract
Combine the egg whites, sugar, and salt together in a bowl. (Make sure the bowl is very clean and free from any residual fat.) Bring a pan of water to a gentle simmer. Place the bowl of egg whites over the simmering water, making sure the bottom of the pan does not come in contact with the water.
Whisk the egg until the sugar has melted, then stir frequently until the egg whites have reached a temperature between 145˚ and 150˚ on an instant read thermometer.
Remove the bowl from the pan and place on a stand mixer. Using the whisk attachment, beat the whites on medium-high speed until stiff peaks form. Continue to beat until the whites are completely cool. Test this by feeling the bottom of the bowl. It should feel completely cool to the touch.
Turn the mixer down to medium-low and begin adding the butter, a piece at a time. Once all the butter has been added, scrape down the side of the bowl and whisk for a few more seconds. With the mixer on low speed, drizzle in the cherry syrup and almond extract, and whisk until combined.
Yield: 10 servings
Source: Mary Weinberg | Sifting Focus