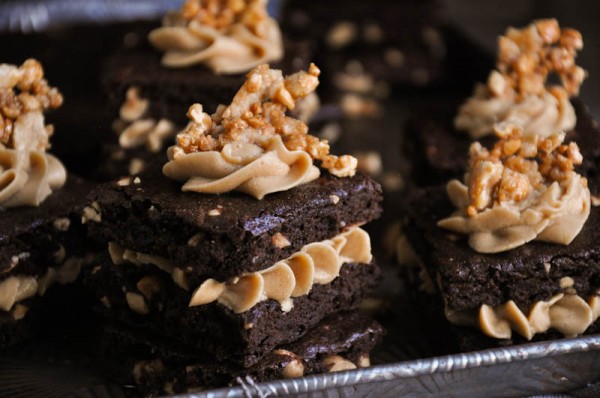 Sometimes a girl needs a peanut butter and chocolate fix. One day last week, that want was spurred on by the purchase of twenty Reese's Peanut Butter Hearts I bought at the store. Noooo, they weren't for me. I can very proudly say, I didn't eat a one of em. (They are a weakness of mine and I def could have eaten them all.) They weren't for a recipe either. They were for my nieces and nephews, and along with a Valentine, off they went in the mail. I had such regrets after sealing the last package that I hadn't kept at least one for myself. It nagged at me to the point where I decided to make my own chocolate and peanut butter treat. I guess I could have just run to the store and bought myself a peanut butter heart, but truth be told, I was being lazy. Besides, once I stumbled upon the idea of making these brownies, I knew I could make them almost as quickly as if I had made another trip to the market. All the ingredients were in my pantry, and they are probably in your pantry too.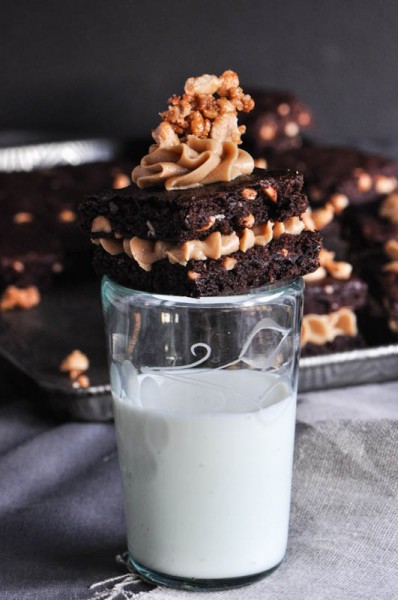 Oh my gosh, just when I thought I was being so disciplined by not gorging myself with Reese's Peanut Butter Hearts, well, you probably can guess what happened. These little sandwiches are fudgy, and chocolatety, and umm, that peanut butter center sweetened with sugar and enriched with butter. I think you probably have the picture. Oh well, the best of intentions…..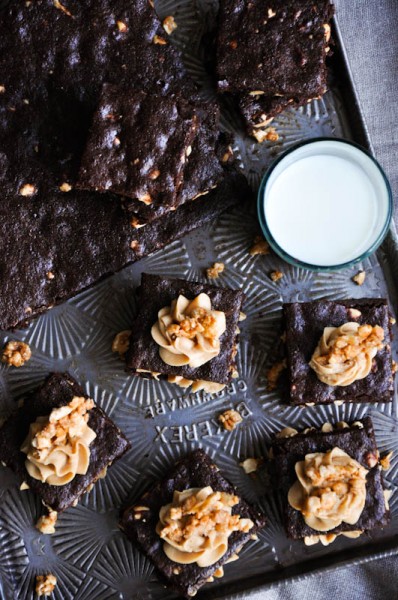 I considered adding bittersweet chocolate chips to the brownies but in the end decided not to. Maybe the next time I make these brownie sandwiches I will. Feel free to add chips to your sandwiches, and if you do, please let me know what you think. This is such a quick, easy, and intensely satisfying treat, there is absolutely no reason NOT to make them; unless of course, you don't like peanut butter. In that case, think Nutella or Dulce de Leche as an alternative for the filling.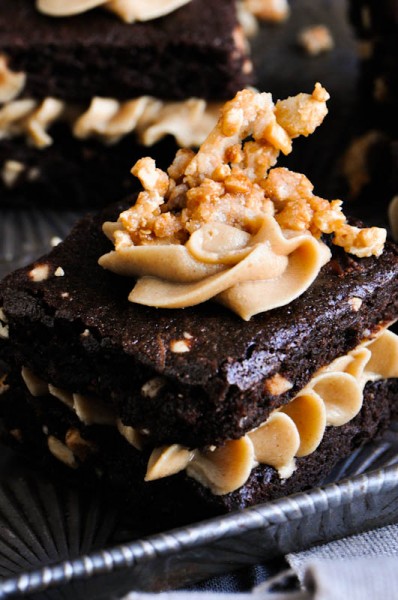 All dressed up with peanut butter filling and adorned with salty-sweet brittle, these brownies are anything but ordinary.
Peanut Butter Brownie Sandwiches
Brownie
1 cup (2 sticks) butter
2 ¼ cups granulated sugar
1 ¼ cups Dutch process cocoa powder
1 heaping teaspoon salt
¾ teaspoon baking powder
1 tablespoon vanilla extract
4 large eggs
1 ½ cups all-purpose flour
1 ¼ cups dry roasted peanuts, smashed *
Preheat oven to 325˚F. Lightly grease a 12x16x1-inch baking sheet. Line with parchment paper and grease the paper.
In a medium sized saucepan, over medium heat, melt the butter. Reduce the heat to low, add the sugar and stir for 1 minute. Remove the pan from the heat and stir in the cocoa, baking powder, vanilla, and salt. Whisk in the eggs, stirring until smooth. Add the flour and nuts, stirring to combine.
Pour the batter into the prepared pan, spreading into an even layer. Bake for 20 to 22 minutes, or until a cake tester inserted into the center comes out clean or with a few crumbs attached. Do not over bake. Cool the brownies on a rack. Flip the brownies out onto the back of another baking sheet. Remove the parchment, then flip back over onto the back side of the pan they were baked in. Cut the brownies into forty-eight 2-inch squares. Turn half of the squares over and place approximately a tablespoon of the Peanut Butter Filling onto each of the squares. Top with remaining squares. Garnish with additional filling and Peanut Brittle.
Peanut Butter Filling
1 cup creamy peanut butter
6 tablespoons butter, at room temperature
1 1/3 cups confectioners sugar
½ teaspoon vanilla extract
Pinch of salt
In a medium bowl, combine all the ingredients and stir until smooth.
Peanut Brittle Garnish
¾ cup dry roasted peanuts, smashed *
4 tablespoons granulated sugar
¼ teaspoon salt
Heat a medium non-stick skillet over medium heat until hot. Add the smashed peanuts and toast until fragrant. Sprinkle two tablespoons of the sugar over the nuts and continue to toss the nuts as the sugar melts and just begins to turn golden. Sprinkle the remaining two tablespoons of sugar and the salt over the nuts and stir until the all the sugar has melted and turned golden. Immediately spread onto a piece of aluminum foil. The nuts should be in a thin layer but touching. Once cool, break into small pieces and use as a garnish.
* To smash the nuts, place them in a quart-sized ziplock bag and smash with a meat mallet or rolling pin.
Yield: 24 Sandwiches
Source: Mary Weinberg | Sifting Focus