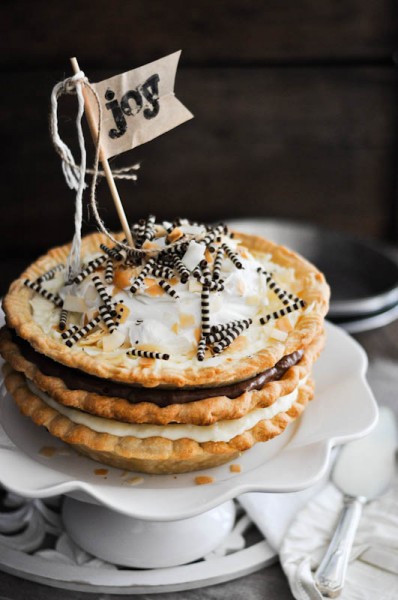 It seems as though the hands on the clock went round especially fast these past twelve months. Wasn't it just yesterday I was posting about my one year Blog-iversary? I felt like such a new-by, and compared to so many seasoned bloggers, I still am. Yet, another year later, I continue to experience such joy and fulfillment sharing my love of baking with all of you. This baking journal began as nothing more than a hobby, but it has turned out to be more rewarding than I could have imagined. Every comment I receive from each of you propels me forward, carrying me back to the kitchen with the hope of creating a recipe that in turn inspires you in some way. With each new 'Like', Sally Field comes to mind as she accepts her Oscar for Norma Ray. "They like me. They really like me." So thank you for your loyalty and kindness. It couldn't be more appreciated.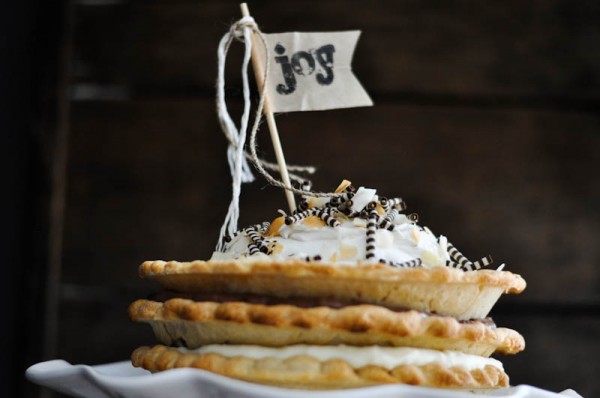 As I turn my attention to the coming year. I have tons of ideas and stacks of recipes I can't wait to share with you. I invite you to join me on this culinary journey. It won't be nearly as fun without you.
And with that, I bring you a recipe I have been wanting to make for literally years. Why, oh why, did I wait so long? Buried deep in my 'pie folder' of clipped recipes, resides a torn page from a magazine I can no longer recall. What I can remember is how my eyes grew as large as Kumquats when I surveyed the image of three lemon curd pies stacked one on top of the other. I turned giddy with excitement at the concept. We think nothing of layering cakes, but PIE? Brilliant!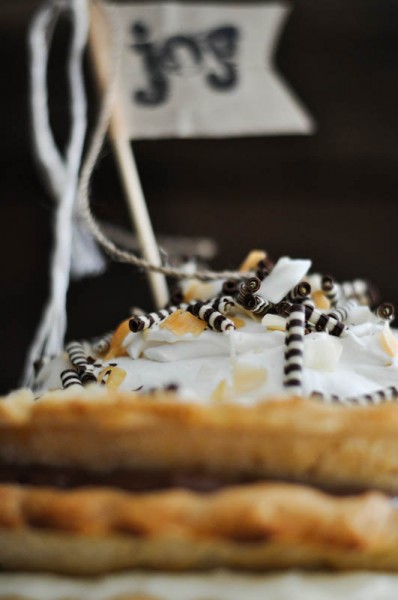 With the arrival of my second blogging anniversary I decided it was high time to resurrect that patient and enduring clipping from my files and see just exactly what stack pie was all about. Enter Google search. Imagine my delight when I read that stack pies probably originated in my home state of Kentucky. Surrounding folklore and legend there is much written about this baking triumph. Articles I read about stack pie are filled with theories trying to explain why they gained localized popularity during the 1930s and 40s. It is thought that perhaps they were engineered as a space saving technique developed to transport numerous pies to church socials and community gatherings. Other stories point to its celebratory nature. As guests would arrive at weddings and other special occasions, they came bearing pies, stacking them one by one, offering thin slices as dessert. The true origin could be nothing more than the innovativeness of a baker who in a moment of brilliance hit upon what in my opinion is the best thing that ever happened to pie. As a blogger and recipe developer, I find that to be just as logical of an explanation as any other. Isn't that what so many of us are striving for in the world of food today. Take something great, and make it even better. Can you say Cronut!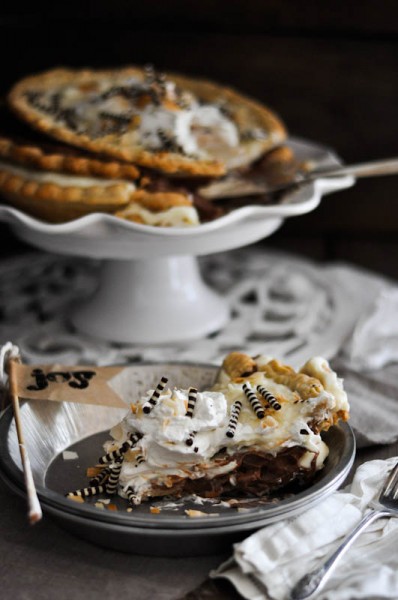 Now, as I round second, heading towards third, I ask you to celebrate with me another year of blogging under my belt. From this Kentucky Girl I bring you my version of stack pie. I believe you will be just as enamored with it as I was when first I laid eyes on that magazine photo all those many years ago.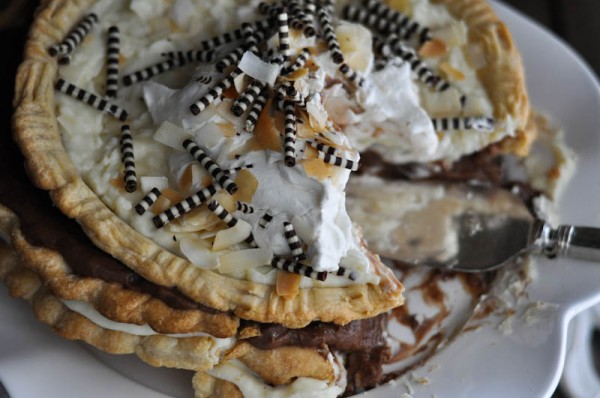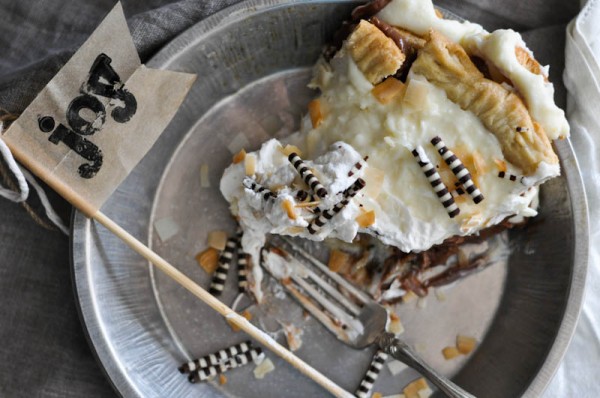 You won't have to choose between coconut, chocolate, or banana when you have a slice of this cream pie. Each are decadently represented in this stacked pie creation.
Coconut Chocolate and Banana Cream Stack Pie
Pie Shells
4 cups all-purpose flour
4 teaspoons granulated sugar
1 1/2 teaspoons salt
1 cup (2 sticks) butter, well chilled, cut into 1/2-inch cubes
1/2 cup chill vegetable shortening, cut into 1/2-inch cubes
7 – 8 tablespoons ice water
Have ready three 8 or 9-inch pie dishes.
Blend flour, sugar, and salt in a food processor. Add butter and shortening, and pulse until the mixture resembles coarse meal with some pea-sized pieces remaining. Turn the processor on and slowly drizzle in ice water until the dough begins to come together. Stop short of the dough forming a ball in the processor. (You may not need to use all the ice water.) Remove the dough to a lightly floured surface, and divide it into 3 equal pieces. Shape each piece into a ball, wrap in plastic wrap, and chill for at least 1 hour.
Remove one disk of dough from the refrigerator and place it on a lightly floured surface. With a floured rolling pin, roll the dough into a circle approximately 10-inches in diameter. Roll the dough around the rolling pin and unroll it over the pie dish; crimp the edges. Chill for 30 minutes. Repeat the process with the remaining 2 disks of dough.
While the pie shells are chilling, preheat the oven to 425˚
Remove the unbaked shells from the refrigerator. Prick the bottom of each shell, line with foil, and fill with pie weights or dried beans. Bake the shells for 15 minutes, then remove the foil and pie weights. Continue to bake another 5 to 8 minutes, or until the shells are golden brown. Remove to a rack and cool completely before filling.
Coconut and Banana Cream Fillings
4 tablespoons cornstarch
4 tablespoons water
2 teaspoons vanilla extract
2 1/2 cups whipping cream
1 cup sugar
2 sticks butter, cut into 8 pieces
2 cups sweetened flaked coconut
1/2 cup sour cream, divided
In a small bowl, stir together the cornstarch, water, and vanilla. Bring the cream, sugar, and butter to a boil in a heavy medium saucepan. Add cornstarch mixture and bring to a boil. Remove from the heat, and divide the mixture between two medium bowls. Add the coconut to one of the bowls and stir to combine. Cool both fillings completely. Mix 1/4 cup of sour cream into each bowl of filling. Cover and refrigerate several hours or overnight.
Chocolate Cream Filling
1 cup granulated sugar
1/4 cup cornstarch
1/4 teaspoon salt
2 cups whole milk
3 egg yolks, slightly beaten
2 ounces unsweetened chocolate, finely chopped
1 ounce bittersweet chocolate, finely chopped
2 tablespoons bourbon
1 tablespoon butter
2 tablespoons cocoa nibs
Mix sugar, cornstarch, and salt together in a medium saucepan. Gradually stir in the milk. Cook the mixture over medium heat, stirring constantly, until the mixture thickens and boils. Boil and stir 1 minute. Stir at least half of the hot mixture gradually into the beaten egg yolks. Blend into the remaining mixture in the saucepan. Boil and stir for 1 minute more. Remove from the heat and stir in the chocolate, butter, and bourbon. Pour the filling into a bowl and cover the surface with plastic wrap. Chill for several hours or overnight.
Caramelized Bananas
3 medium bananas, sliced into 1/3-inch thick slices
3 tablespoons butter
3 tablespoons firmly packed light brown sugar
2 tablespoons bourbon, (optional)
Melt butter in a large skillet over medium heat. Add the brown sugar and stir until melted and just beginning to bubble. Add the sliced bananas in a single layer. Saute the bananas until golden brown and caramelized on both sides. Add the bourbon and continue to saute until it has mostly cooked off, about 1 minute. Remove from heat and set aside to cool.
Assembling the Pies
Remove the fillings from the refrigerator. Remove the pie shells from the pie dishes. Line one of the pie shells with the caramelized bananas. Spoon the plain vanilla filling over the bananas. Sprinkle the cocoa nibs over the bottom of the second pie shell, and spoon in the chocolate filling. Spoon the coconut filling into the third pie shell.
Place the banana pie on a serving platter. Stack the chocolate pie on top of the banana pie, followed by the coconut pie on top of the chocolate pie. Cover and refrigerate for at least 1 hour.
For Serving
1 cup whipping cream
2 tablespoons granulated sugar
1/2 teaspoon vanilla extract
Toasted coconut and chocolate shavings
Whip the cream in a medium bowl until it begins to thicken. Add the sugar and vanilla and continue to beat until it holds soft peaks.
Remove the pie from the refrigerator. Top with the whipped cream. Sprinkle on the coconut and chocolate shavings.
Yield: 10 to 12 servings
Source: Mary Weinberg | Sifting Focus Coconut Cream Filling adapted from Epicurious.com