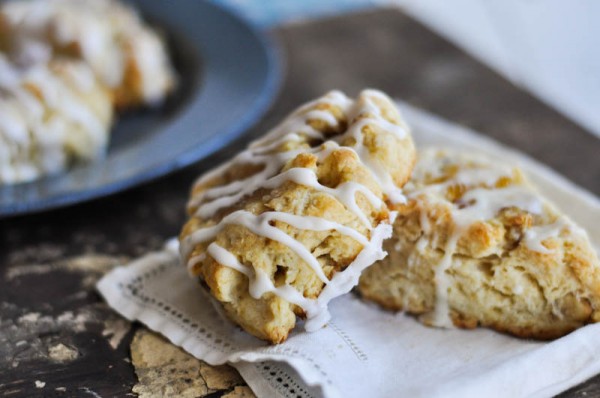 I thought I had done just about everything possible with a scone. Sweet and savory. Nuts, dried fruits, and herbs. Chocolate, coffee, glazed, and filled with streusel. However, I had never thought to make a depression in the top and add a touch of jam. Alice Currah of Savory Sweet Life did. Alice was recently interviewed for Where Woman Cook Magazine where she shared a glimpse into her very busy life as a blogger, PBS Digital cooking show host, author, photographer, mother, wife…basically a woman who successfully wears many hats. Although I have been following Alice's blog for quite a while, I enjoyed learning a little more about her, her past, and what she cited as the reasons she is so passionate about developing recipes that are cost and time effective, without compromising taste. Her basic philosophy is, keep it simple but delicious. That is exactly what she accomplished with these flaky, buttery scones.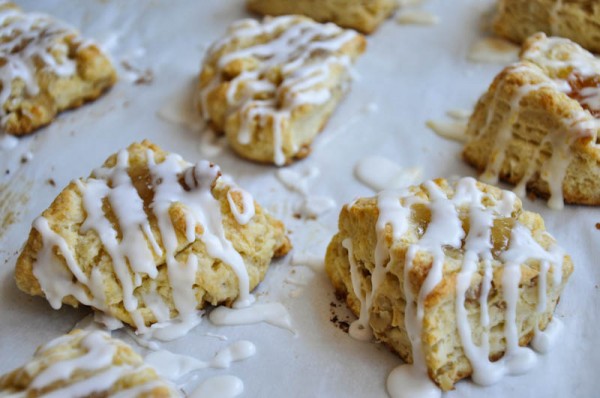 Who among us hasn't baked, or at least eaten, a thumbprint butter cookie filled with jelly or jam? Well, Alice took that sweet little cookie one step further and made thumbprint scones. How's that for thinking outside the box. Scone lovers will be celebrating Alice's ingenuity. I know I am. The beauty of a well developed recipe is that it lends itself well to adaptation. I have made these scones more than once, putting a new spin on them each time. The first time I made them I kept it really simple. No changes to Alice's recipe, and I used a basic cherry jam. The second time I made them, I added walnuts, filled them with orange marmalade, and added orange zest to the glaze. The third version charmed my taste buds further and quickly became my favorite. All the credit goes to the flowery Vanilla Bean and Pear Jam by Shady Acres that I nabbed when I was at Baked Bakery a couple of weeks ago. It's a killer jam. I just wish I would have brought a few more jars home with me. Luckily, it's available online.

If you are a scone lover, you will want to dog-ear this recipe. I'm certain you will want to refer back to it over and over again as the foundation for any scone you can dream up. O my, I just thought of another yummy combination while typing this paragraph. For a savory take on an otherwise sweet biscuit , fold in scallions and goat cheese, filling the center with a piquant pepper jelly. Yes, I must try that one soon.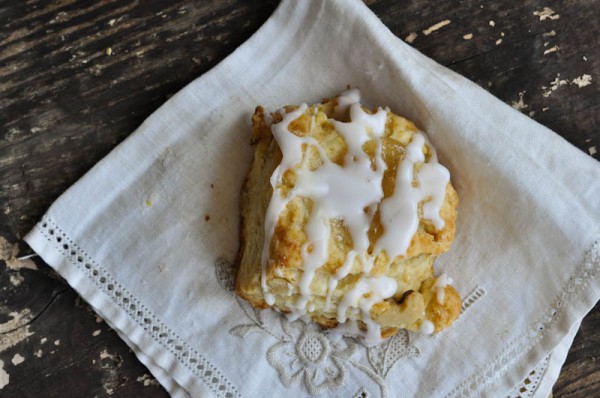 Vanilla Bean and Pear Jam Scones
2 1/2 cups all-purpose flour
1 tablespoon baking powder
1/3 cup light brown sugar
1/2 teaspoon salt
6 tablespoons Kerrygold butter, cold, cubed (regular butter may be used as a substituted)
1 cup heavy cream
1 egg, slightly beaten
2 teaspoons pure vanilla extract
2/3 cup chopped walnuts
1/3 cup Vanilla Bean and Pear Jam (or flavor of your choice)
1 cup confectioners' sugar, sifted
1/4 cup whole milk, at room temperature
1/2 teaspoon pure vanilla extract
1/4 teaspoon almond extract
Preheat oven to 400˚F. Prepare a cookie sheet with parchment paper.
In a food processor, add the flour, baking powder, brown sugar, salt, and butter. Pulse until a coarse meal forms. Transfer everything to a large mixing bowl. Add the heavy cream, egg, and vanilla, and knead dough inside the bowl. Just before the dough comes together, add the walnuts and knead them into the dough. Divide dough into 4 balls.
On a floured surface, flatten each ball of dough into 3/4-inch thick disks. Cut each disk into 4 smaller, equal quarters. Place each scone on the prepared cookie sheet.
Gently make a small indentation on top of each scone with your thumb. Spoon a teaspoon of jam into each indentation. Bake for 15 minutes, or until bottom are golden brown. Transfer scones to a wire rack to cool.
While scones are cooling, make glaze. In a small microwave-safe bowl, heat milk for 15 to 20 seconds. Slowly whisk in confectioners' sugar and extracts until glaze is free of lumps. Dip a spoon into glaze and drizzle over scones.
Yield: 16 Scones
Source: Alice Currah of Savory Sweet Life via Where Women Cook Magazine