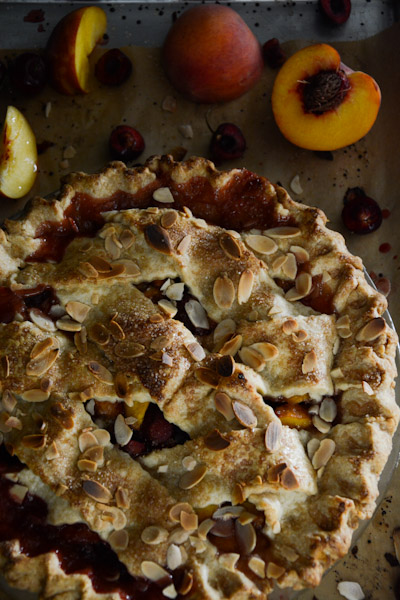 YAY! I'm back!! A very long and event-filled 8 weeks has passed since last I posted. During those weeks there was a Houseboat family vacation, a trip to Europe, a long weekend in Palm Springs celebrating Auntie Lil's 90th birthday, and houseguests galore! WHEW! I will have plenty to share about all those wonderful things in a coming post but for now, let's talk PIE!!!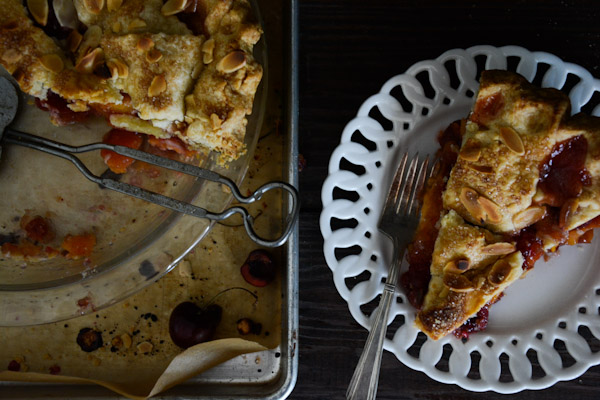 While I was in Europe, I ate my way through more pastries than the average vacationer. As a baker I felt it my obligation to do some research while I had the opportunity. But in truth, it was mostly about how much I love sweets and baked goods. And, when I wasn't eating pastries, I was doing a face plant into scoops of gelato. Yes, I love ice cream/gelato even more than pastries and so I ate it at every stop, sometimes even twice a day. True confession – one day I had two big scoops of gelato before noon. No excuses, apologies, or regrets. 🙂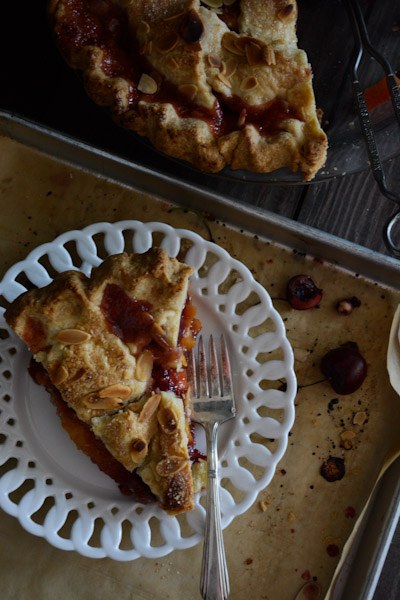 All that said, by the time I re-entered the States, I was more than ready for some good old-fashioned American desserts. The farmers market stalls were brimming over with ripe stone fruits, making it impossible to choose just one as the star of this pie. This is absolutely my favorite 'fruit' time of the year. I could eat plump, meaty cherries all day long. Since nectarines and peaches are also right up there at the top of my list of irresistible summer cravings, I decided to feed that craving with a single pie, harnessing the juicy, sweet-tart lovely-ness of all three fruits.
Quick, get to the market while cherries, nectarines, and peaches are at their best. Then make pie!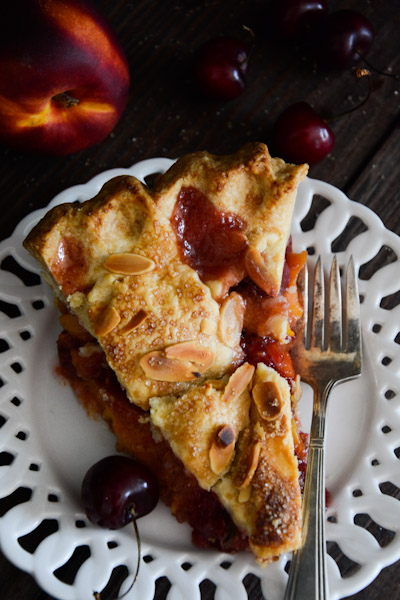 Notes: I do not peel the nectarines but feel free to peel away. The 1/3 cup sugar added to the fruit is approximate. I prefer to allow the fruit and natural sugars to shine and so I opt for less sugar. If your fruit is lacking in sweetness or you prefer a sweeter pie, add 1/2 cup sugar to the fruit. This pie crust recipe is very generous, making enough dough for a double crusted 9 1/2-inch pie. If using a 9-inch pie dish, use the extra pie dough scraps for cinnamon and sugar pie crust cookies.
Peach Nectarine Cherry Pie
Pie Crust
3 1/2 cups all-purpose flour
2 tablespoons granulated sugar
1 teaspoon salt
12 tablespoons butter, well chilled, cut into 1/2-inch cubes
10 tablespoons vegetable shortening, frozen, cut into 1/2-inch cubes
8 to 10 tablespoons ice water
In a food processor, combine flour, sugar, and salt, and pulse to combine. Add the butter and shortening and pulse until the mixture resembles coarse meal with some pea size pieces of butter and shortening remaining.
With the processor running, slowly drizzle in ice water until the dough just begins to come together. Stop adding water just as it begins to form a ball in the processor. You might not need to use all the water; add it slowly and sparingly. Remove the dough from the processor, divide it into two pieces, one piece being slightly smaller than the other. Shape the smaller piece into a 6-inch disk. Divide the larger piece into two equal pieces and shape each into a 6-inch long rectangle. Wrap all three pieces of dough in plastic wrap, and chill in the refrigerator until firm, at least 1 hour.
Preheat the oven to 400˚F. Have ready a 9 1/2-inch glass pie dish.
Just prior to rolling out the pie crust, prepare the filling.
Filling
2 1/2 pounds peaches, peeled, cut into 1/2-inch thick slices
2 1/2 pounds nectarines, cut into 1/2-inch thick slices
3/4 pounds bing cherries, stemmed, pitted, cut in half
Juice of 1 small lemon
1/2 teaspoon almond extract
1/3 cup granulated sugar
4 tablespoons quick-cooking tapioca
1/4 teaspoon ground ginger
1/4 teaspoon ground cinnamon
Pinch of salt
2 tablespoons butter, divided into 8 pieces
1 tablespoons cream
2 tablespoons raw or granulated sugar
Sprinkling of sliced almonds
Combine all three fruits in a large bowl. Sprinkle the lemon juice and almond extract over the fruit.
In a small food processor or spice grinder, add the sugar, tapioca, ginger, cinnamon and salt. Process for 1 minute, until well combined. Sprinkle the sugar mixture over the fruit and gently stir to combine, being careful not to break down the fruit.
Remove the larger disk of dough from the refrigerator and place it on a lightly floured surface. With a floured rolling pin, roll the dough into a circle approximately 12-inches in diameter. Roll the dough around the rolling pin and unroll it over the pie dish, gently fitting it into the dish. Spoon the filling into the pie shell. Dot the top with the pieces of butter.
Remove the remaining two pieces of dough from the refrigerator. Working with one at a time, roll each piece of dough into a 12×5-inch rectangle. Trim the edges and cut each rectangle into 3 strips. Follow these instructions for forming a lattice top crust. Trim the overhanging crust to 1/2-in beyond the edge of the pie dish, turn under and crimp using a fork or your fingers. Brush the top of the pie with the cream and sprinkle with the sugar. Sprinkle with the almonds, if using.
Place the pie on a parchment lined rimmed baking sheet and bake in the center of the oven for 50 to 60 minutes, until the crust is golden brown and the fruit juices are bubbling up through the top crust. If the edges of the crust begin to brown too quickly, cover them with foil.
Remove pie to a rack to cool completely before cutting.
Source: Mary Weinberg – Sifting Focus