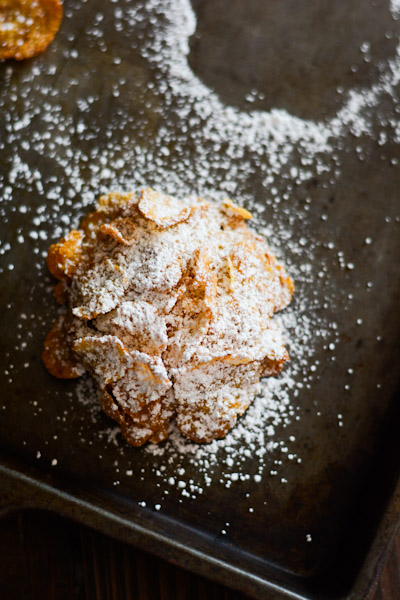 It was the 'snow' covered look of these festive cookies that stole my heart. I felt certain that whatever surprise was hidden inside, it would be just as enticing as the powdery flakey exterior.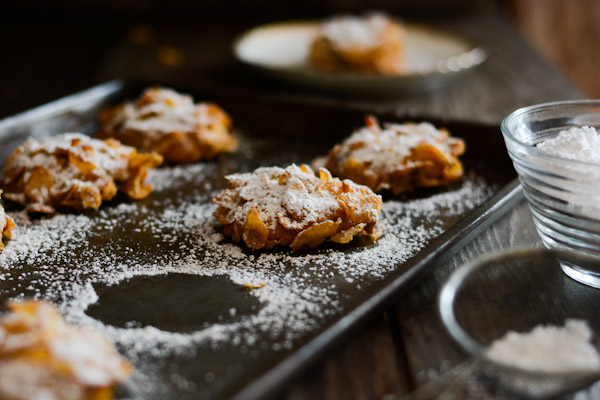 Snowflakes rarely dance about in Southern California, but that doesn't mean we can't get our snowflake fix in other ways. When I spied these darling cookies in Saveur this month, I was immediately smitten. Who knew the folks of Umbria like cornflakes just as much as we Americans. In fact, everything about these cookies is more American to me than Italian. Seems they took the basic chocolate chip cookie and fancied it all up with cornflakes. The cereal plays double duty here; crushed and added to the batter, and whole flakes on the outside.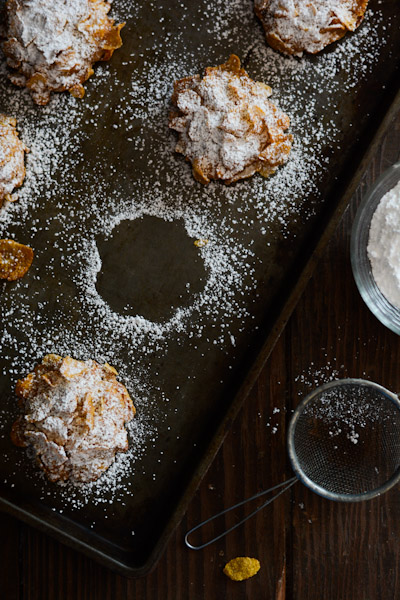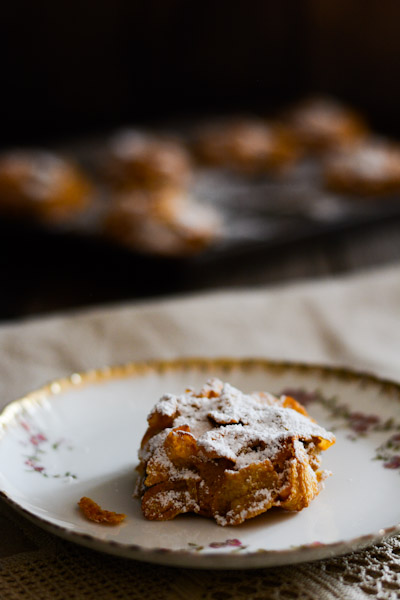 Our only snowflakes around here might be an hour's drive away in our local mountains, but until I make it to the real snow, I can get my snowflake fix by sneaking into my stash of these cookies hidden inside the freezer. Shhh!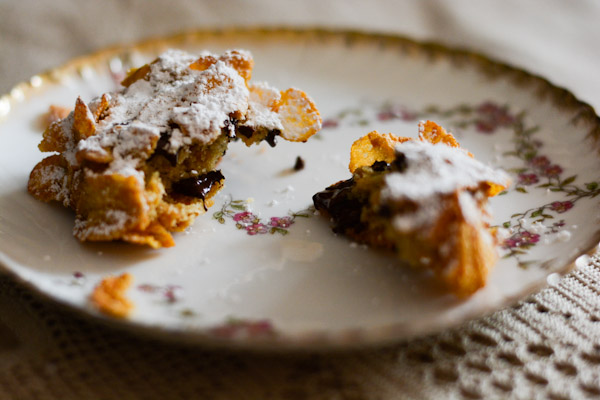 These are perfect cookies to make with the kiddos. They will have such fun rolling balls of dough around in mounds of crispy cornflakes. And I can guarantee you that they will love eating them even more.
Umbrian Snowflake Cookies – Biscotti ai Cereali
2 1/2 cups all-purpose flour
1 teaspoon baking powder
1/2 teaspoon salt
10 tablespoons butter, softened
3/4 cup granulated sugar
1/2 cup packed light brown sugar
3 eggs
1 teaspoon pure vanilla extract
1/2 teaspoon almond extract (optional)
8 cups cornflakes cereal (2 cups lightly crushed, 6 cups whole)
1 cup bittersweet chocolate chips (semi-sweet will work)
1 cup chopped nuts – pecans, walnuts, almonds, or hazelnuts
Confectioner's sugar, for garnish
Heat oven to 350˚. Have ready 2 parchment-lined baking sheets. Place the 6 cups of whole cornflakes in a bowl.
Whisk flour, baking powder, and salt in a medium bowl.
In the bowl of a stand mixer, cream the butter, granulated sugar, and brown sugar until fluffy. Add eggs, one at a time, beating well after each addition. Add the vanilla and almond extracts, and mix to combine. Add dry ingredients; mix until dough forms. Using a rubber spatula or wooden spoon, fold in the crushed cornflakes, chocolate chips, and nuts if using.
Using approximately 2 tablespoons of dough, shape dough into balls, then roll in the whole cornflakes. Place on the prepared baking sheets. Bake until golden brown, 20-22 minutes. Let cookies cool on baking sheet for 10 minutes before moving them to a rack to cool completely. Dust cookies heavily with confectioners sugar.
Makes approximately 30 cookies
Adapted from Saveur Magazine