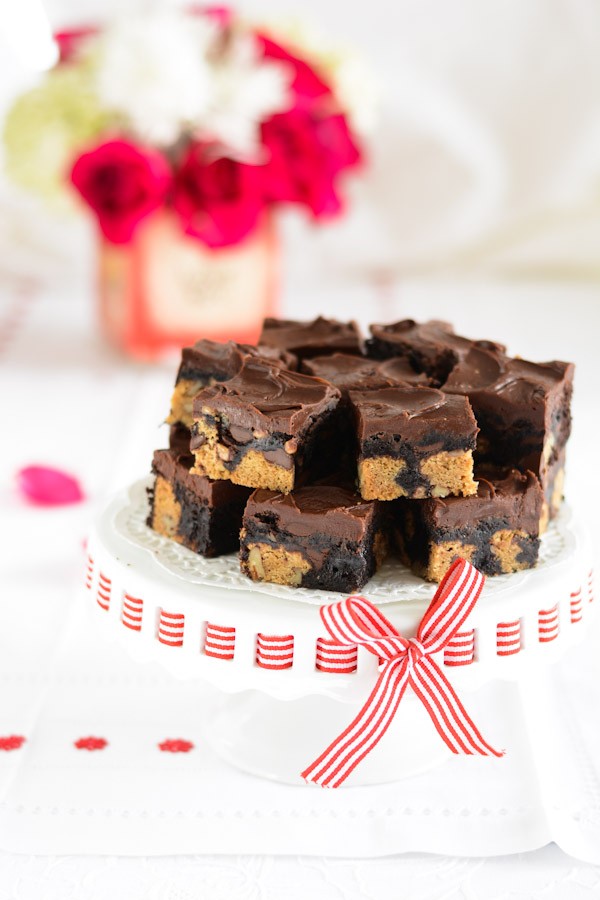 My sister arrived from Ohio today, and I am thrilled! Our next few days will be filled with all those things sister do when they spend time together. And believe it or not, although we are both bakers, we won't be spending much time in the kitchen. I have her all to myself for five days, and it just so happens the weather in LA is incredible this week. If anyone is looking for us, we can be found at the beach, or an outdoor cafe, or perhaps a boutique or two.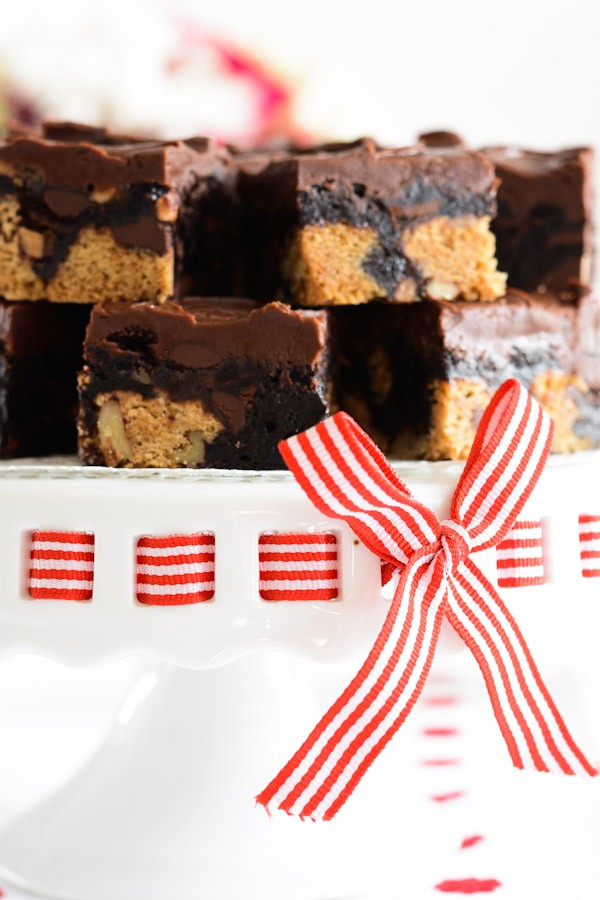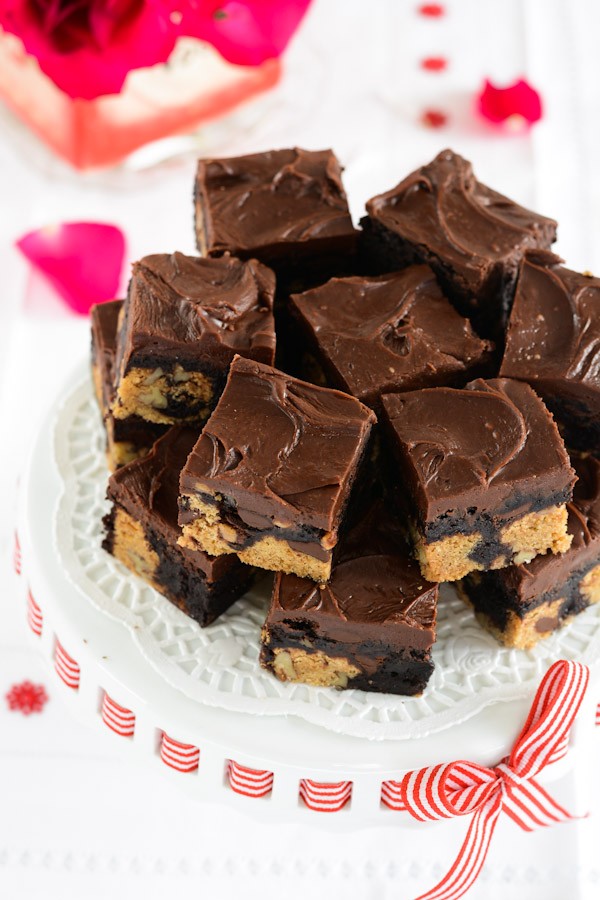 So, before I head out for fun and frolic with my Sis, I have a little treat for all my Valentines. I've had a relentless craving for brownies lately, which is a little unusual for me, but nevertheless, a craving I was 'forced' to satisfy. For anyone who loves both chocolate chip cookies and brownies, you are going to love these. They are layered with lots of chocolate chips, nuts, toffee chips and…wait for it… a layer of fudge frosting, adding a decadent finish. These brownie squares are actually little chunky candy bar impersonators. Warning: cut them into smallish squares – they're intense!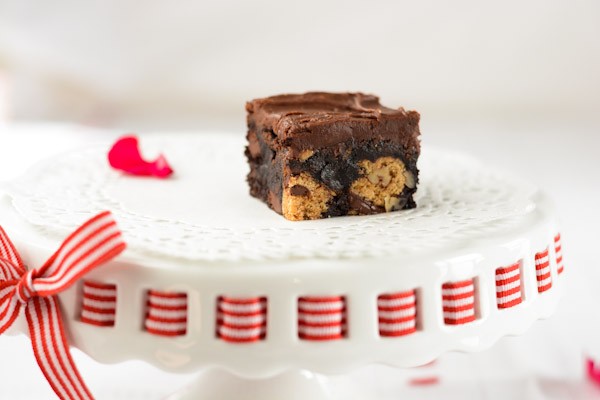 Chocolate Chip Cookie Fudge Brownies
1 recipe Chocolate Chip Cookie Bars (recipe below)
1 cup English Toffee Bits
1 recipe Fudge Brownies (recipe below)
1 recipe Chocolate Fudge Frosting
Chocolate Chip Cookie Bars
1 cup (2 sticks) butter, cut into chunks
2 1/4 cups all-purpose flour
1 teaspoon salt
1/2 teaspoon baking soda
1 cup light brown sugar
1/2 cup granulated sugar
1 large egg
1 large egg yolk
2 teaspoon pure vanilla extract
1 cup pecans, toasted, broken into pieces
1 cup bittersweet chocolate chips
Heat oven to 325˚F. Line a 13×9-inch metal pan with foil; the foil should extend a couple inches over the long edges of the pan.
In a medium heavy-bottomed skillet, heat the butter until melted. The butter will foam up and then the foam will subside. Light brown specks will begin to appear on the bottom of the skillet. Once the specks appear evenly browned, remove the skillet from the heat. Allow the browned butter to cool slightly. Pour the melted butter into a glass measuring cup, leaving the browned bits behind. You should have 3/4 cup browned butter.
Whisk together the flour, salt, and baking soda.
In a large bowl, mix together the browned butter and both sugars. Add the egg, egg yolk, and vanilla and mix well. Fold the dry ingredients into the egg mixture just until combined. Fold in the chocolate chips and pecans. Spread the batter into the prepared pan.
Bake until the top is lightly browned, 25 to 27 minutes. Allow to cool on a rack for 30 minutes. (Can be made a day ahead) Remove bars from pan by lifting foil overhang. Break the bars into large chunks, approximately 1 to 1 1/2-inch in size. (You will only need to use about 2/3 of baked bars for the finished brownies .)
When the pan has cooled, re-line the pan the same as above. Scattered the chocolate chip cookie chunks into the bottom of the pan. Sprinkle 1/2 cup of the toffee bits on top of the cookie chunks.
Fudge Brownies
2 ounces bittersweet chocolate, melted
1 cup (2 sticks) butter
2 1/4 cups granulated sugar
1 1/4 cups good quality cocoa powder
1 teaspoon baking powder
1 tablespoon vanilla extract
4 large eggs
1 1/2 cups all-purpose flour
1 cup bittersweet chocolate chips
Heat oven to 350˚
In a medium saucepan set over low heat, melt the butter, then add the sugar and stir to combine. Return the mixture to the heat briefly, just until it's hot.
Stir in the cocoa, salt, baking powder, and vanilla. Whisk in the eggs, stirring until smooth. Stir in the melted chocolate, then add the flour and chips, again stirring until smooth. Spoon the batter into the prepared pan, spreading it over the chocolate chip cookie chunks. Sprinkle the remaining 1/2 cup toffee bits over the batter.
Bake the brownies 25 to 27 minutes. Remove to a rack and cool completely.
Prepare the Chocolate Fudge Frosting and spread it over the cooled brownies. Remove brownies from pan using the foil overhang. Cut into 1 1/2-inch squares.