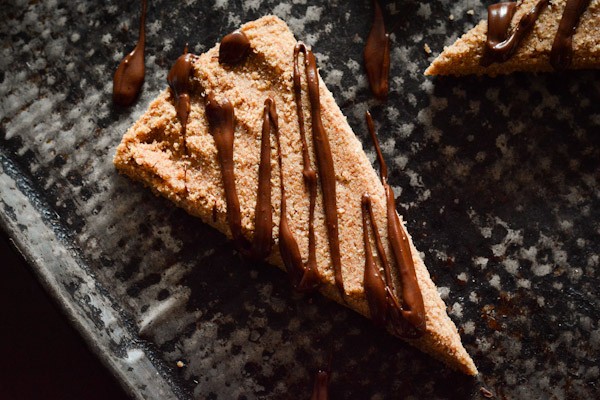 I'll admit, I'm a bit tardy getting this recipe to you. As apparent from the warm colors and Fall leaves on the background linen, I shot these photos pre-Thanksgiving. Ignoring the seasonal feel of the photos, this recipe easily transitions right into a cookie perfect for the Winter holidays. In fact, as far as I'm concerned, this is a year-round keeper.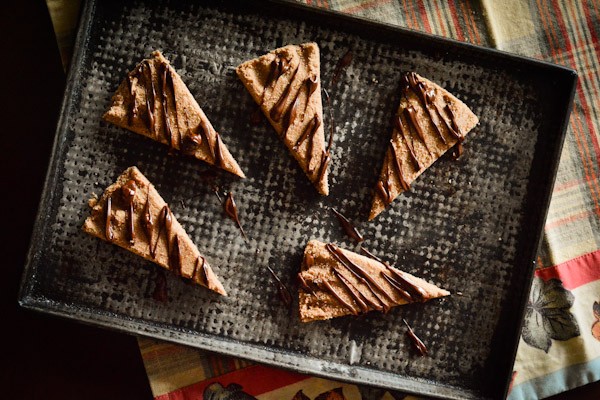 I adapted this recipe from Country Living Magazine, taking the liberty of making a change that I feel definitely enhances this shortbread. I added the flavor of orange. I added two teaspoons of orange peel powder to the dough, and drizzled Lindt Excellence Intense Orange Dark chocolate over top of the cooled cookies. During a recent trip to New York, my daughter took me to a marvelous spice shop. I went a little crazy, scooping up armfuls of anything unique or unusual that I didn't already have in my extensive spice cabinet. (I collect spices like some women collect shoes.) That spice shop is where I found the orange powder I used in this recipe. Not to fret if you don't have this ingredient, just add a teaspoon of grated orange peel in its place.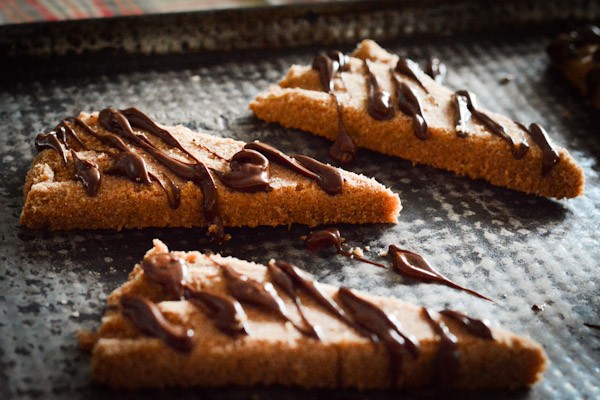 I'm not a calorie counter, nor do I focus on 'healthy' when it comes to the sweets I eat. However, I'm going out on a limb here and considering this a nutritious cookie since its main ingredient is whole wheat flour. Maybe 'nutritious' is a bit of a stretch, but with that familiar crispy crunchy bite of shortbread, a helping of warm spice, and a hint of citrus, this shortbread cookie has it all going on.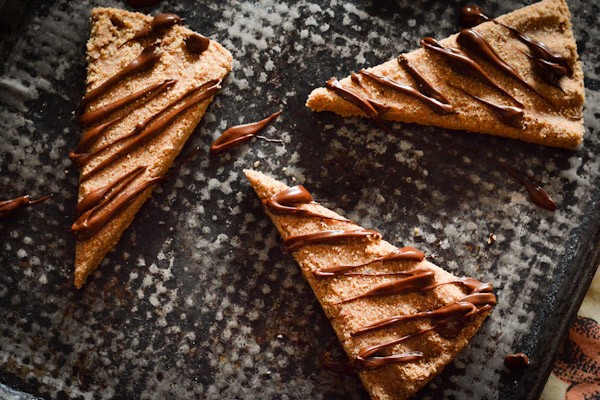 Spiced Shortbread Cookies
1/2 cup (1 stick) cold butter, cut up, plus more for the pan
1 1/2 cups whole-wheat flour
1/2 cup packed dark brown sugar
1 1/2 teaspoons ground ginger
1 1/2 teaspoons ground cinnamon
1/4 teaspoon salt
2 teaspoons orange peel powder, or 1 teaspoon grated orange zest (optional)
3.5 ounces Lindt Excellence Intense Orange Chocolate, or same amount of bittersweet chocolate, chopped (optional)
Butter a 9-inch cake pan, line bottom with parchment paper; butter parchment.
Place flour, sugar, ginger, cinnamon, salt, and orange peel powder or zest (if using) in the bowl of a food processor and pulse to combine, 3 to 5 times. Add butter and pulse until mixture looks like wet sand, 40 to 50 times.
Press mixture evenly into prepared pan. Prick dough, leaving a 1-inch border, with the tines of a fork; freeze 30 minutes.
Preheat oven to 350˚F. Bake until set and just beginning to brown around the edges, 30-35 minutes.
Place pan on a wire rack and immediately use the handle of a wooden spoon to press a scallop pattern into the edge of shortbread and a sharp knife to score into 12 wedges. Cool 10 minutes. Run a knife around the edges of the shortbread to loosen; invert onto a wire rack to cool completely. Cut along scored lines using a sharp knife.
Microwave the chopped chocolate following the directions here. Drizzle melted chocolate over cooled cookies.