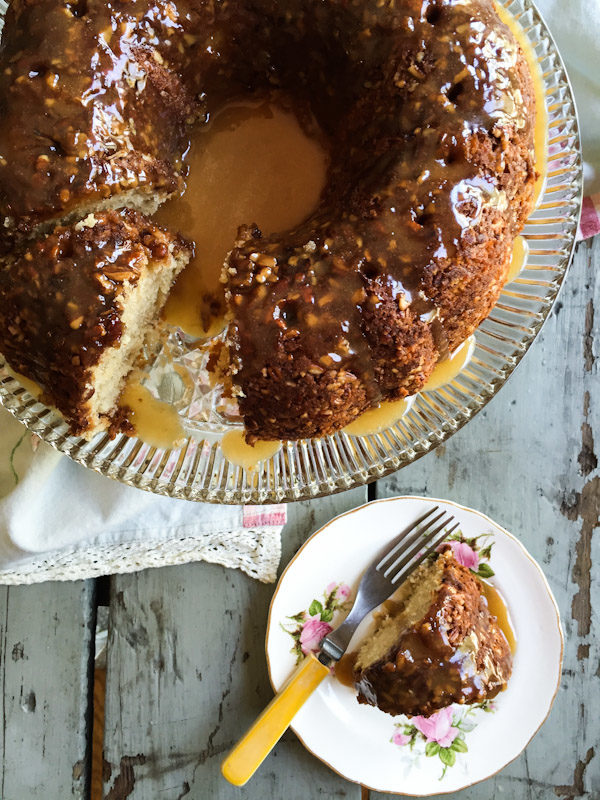 I acquired a love of Pecan Pie at a very young age. I'm sure my first encounter must have been a slice following one of my family's Thanksgiving meals. My grandmother was a fierce pie baker and is likely the person responsible for my first encounter. Over the years, I've eaten Pecan Pie in every possible form, be it a tart, tassie, cookie, or bar, every form except cake. When I happened upon this recipe in the Fall issue of Bake, I pondered whether a cake could ever truly mimic the flavors we equate with pecan pie. I'll be honest, I was skeptical. The only way to know for sure was to give the recipe a try. Well, let me just say, the folks over at Bake From Scratch knocked it out of the park with this one. I seriously don't know if I will ever bake a pecan pie again, it was that delicious, and easy. No crust required!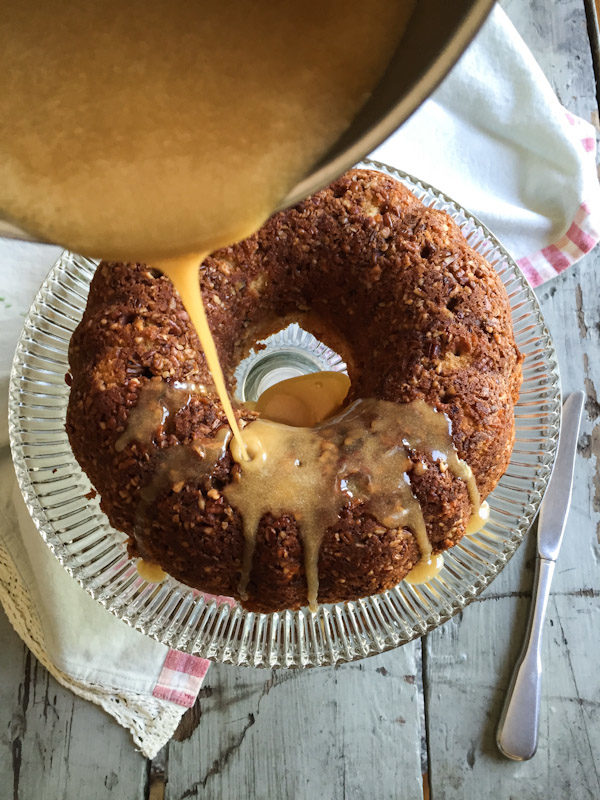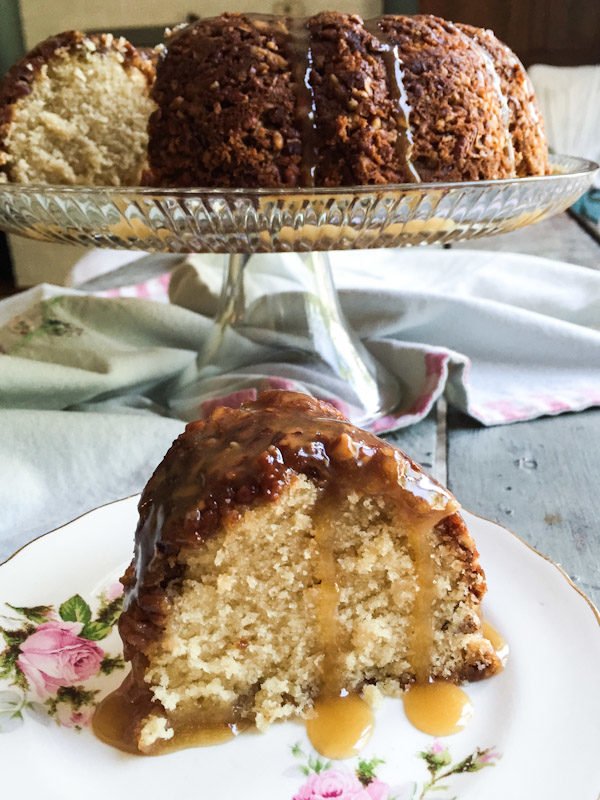 Pecan Pie Bundt Cake
Cake:
2 tablespoons all-vegetable shortening
1 cup finely chopped pecans
1 cup (2 sticks) butter, softened
1 3/4 cups granulated sugar
2 teaspoons pure vanilla extract
4 large eggs
2 cups all-purpose flour
1 teaspoon baking powder
1/2 teaspoon salt
3/4 cup dark corn syrup
1/2 cup buttermilk
Drizzle:
3/4 cup firmly packed brown sugar
6 tablespoons butter
3 tablespoons half-and-half
Generous pinch of salt
Preheat oven to 325˚F.
Cake:
Grease a 10-cup Bundt pan with shortening. Sprinkle pecans in pan, and swirl pan to coat. Leave remaining pecans in bottom of pan.
In a large bowl, beat butter, sugar, and vanilla with a mixer at medium speed until fluffy, 4 to 5 minutes, stopping to scrape sides of bowl. Add eggs, one at a time, beating well after each addition.
In a medium bowl, whisk together flour, baking powder, and salt. In a small bowl, stir together corn syrup and buttermilk. Gradually add the flour mixture to butter mixture alternately with buttermilk mixture, beating just until combined after each addition. Spoon batter into prepared pan.
Bake until a wooden pick inserted near center comes out with a few moist crumbs, about 1 hour. Let cool in pan for 10 minutes. Invert cake onto a wire rack and continue to cool while preparing the Drizzle.
Drizzle:
In a small saucepan, bring brown sugar, butter, half-and-half, and salt to a boil. Remove from heat.
Using a wooden skewer or dowel, poke holes into the top of cake and slowly pour approximately two-thirds of the drizzle over the cake, using the remaining drizzle to spoon over slices of cake.
Adapted from Bake From Scratch, Fall, 2016