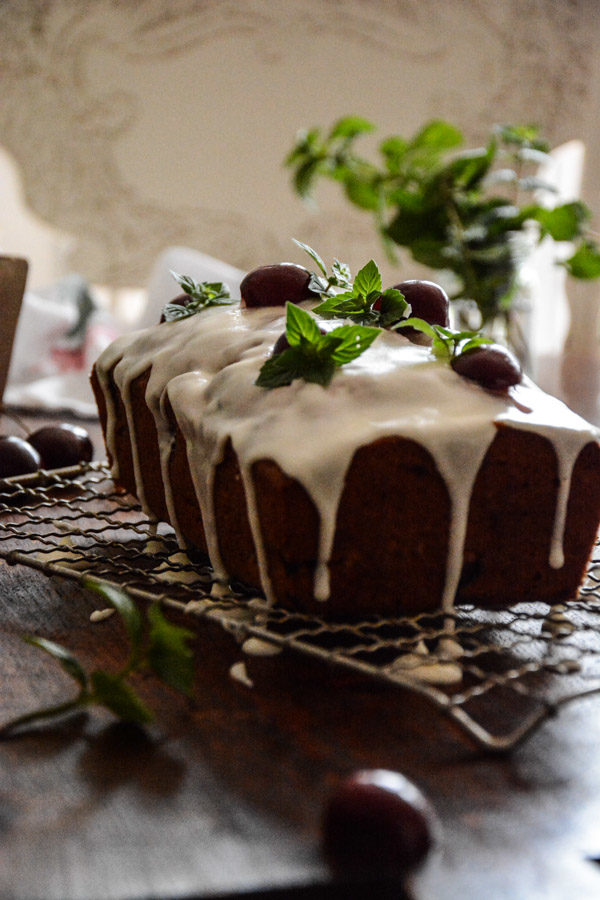 A quick bread recipe based on the ingredients found in a cocktail? You betcha! It's got to be good, right? And it is!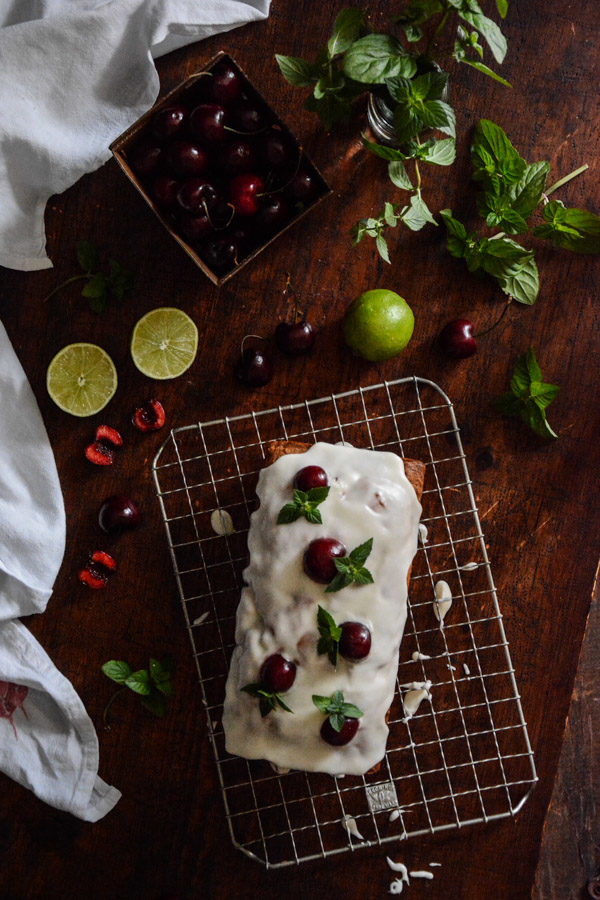 Earlier this summer I dog-eared a recipe for a Cherry Bomb Cocktail I happened upon in one of my favorite cooking magazines. It sounded so good, fruity and refreshing. A drink right up my alley. There is a myriad of Cherry Bomb Cocktail recipes out there, and they differ widely. But the particular version I had seen in the magazine was similar to two of my favorite cocktails, the Kentucky Mule and a Whiskey Sour – sub rum for bourbon.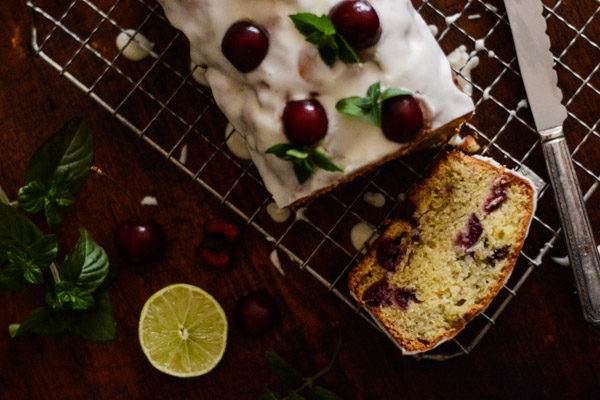 The other day I found myself with an abundance of cherries on my hands. Scouring my recipes for a way to use them before they went bad, I had a stroke of genius. I took the cherries, lime, and rum from the Cherry Bomb Cocktail recipe and spun them into a quick bread recipe. It's moist, and tangy, and sweet with cherry flavor. And while the bread is still warm from the oven, it is drizzled with a boozy rum glaze. What a 'quick' way to have my drink and eat it too. 😊 Now go grab yourself some cherries before they are gone for the season!
Cherry Bomb Quick Bread
1/2 cup butter, softened
3/4 cup granulated sugar
2 large eggs
1/2 cup sour cream
1 tablespoon + 1 teaspoon grated lime zest
2 tablespoons cherry liquor
1 3/4 cups all-purpose flour
1/2 teaspoon baking powder
1/2 teaspoon baking soda
1/2 teaspoon salt
3/4 cup pitted, quartered Bing Cherries
Fresh mint and halved cherries for decorating (optional)
Glaze
1 cup confectioners' sugar, sifted
1 tablespoon butter, softened
Pinch of salt
1 tablespoon Dark Rum + more if needed
Preheat oven to 350˚. Grease a 8×4-inch loaf pan.
In a large bowl, cream butter and sugar until light and fluffy. Beat in eggs. Add in the sour cream, lime zest and cherry liquor.
In another bowl, whisk together flour, baking powder, baking soda, and salt. Gradually add it to the creamed mixture, beating just until combined. Fold in the cherries.
Spoon batter into the prepared pan. Bake for 50-55 minutes or until a cake tester inserted in the center of the bread comes out clean. Cool 10 minutes, then remove bread from pan to a wire cooling rack. While it is cooling, make the glaze.
Combine the confectioners' sugar, butter, and salt in small bowl. Add 1 tablespoon dark rum, and whisk until smooth. Add additional rum if necessary to reach desired consistency.
Spoon glaze over the top of the bread while it is still warm.
Makes one 8×4-inch loaf
Inspired by Key Lime Bread – Modern Comfort Magazine