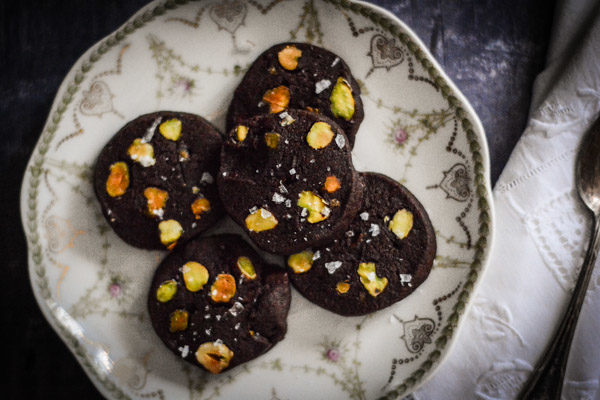 Now that the hustle and bustle of the holidays is over, I finally have time to bake all the things I pushed to the side when the season's commitments, far too often, took me out of my kitchen. These early days of January are quieter and I finally have time to re-visit all the recipes I had ear-marked back in December. The rain began to fall today in Southern California and it made for the perfect weather to bake these chocolatey sablé cookies dotted with vibrant green pistachios and a flourish of flaky sea salt.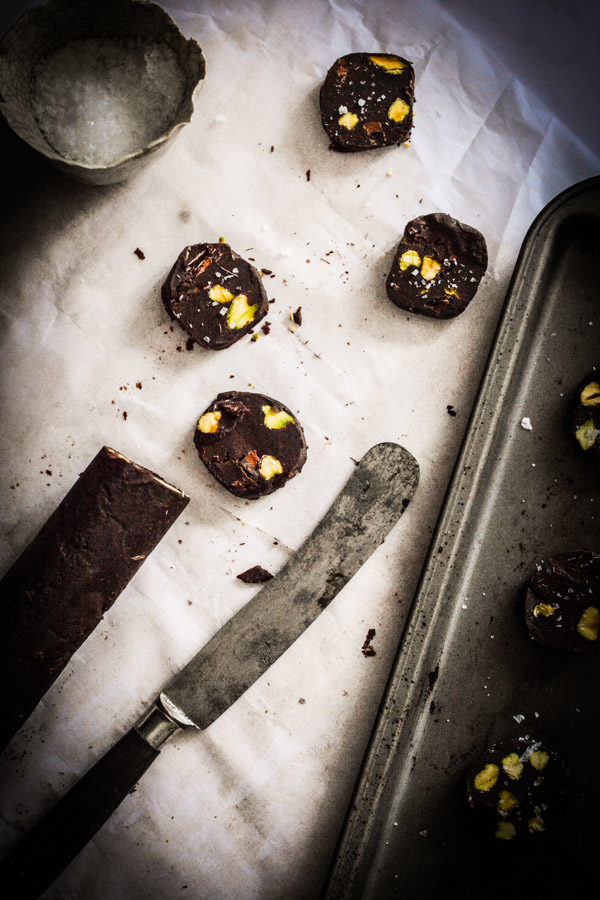 What exactly is a sablé? Well, it is a French cookie that dates back to the mid sixteen hundreds. In French, sablé translates to sand, and in a butter cookie, that is a very good thing. The French sablé cookie is similar to the Scottish shortbread cookie. Whereas traditional shortbread consists of only butter, sugar, and flour, a sablé often includes baking powder/soda (but not always) and either an egg, egg yolk, or egg white in its list of ingredients. It is to be expected that over time, as is often the case with recipes, there have been great liberties taken with both of these centuries-old cookies.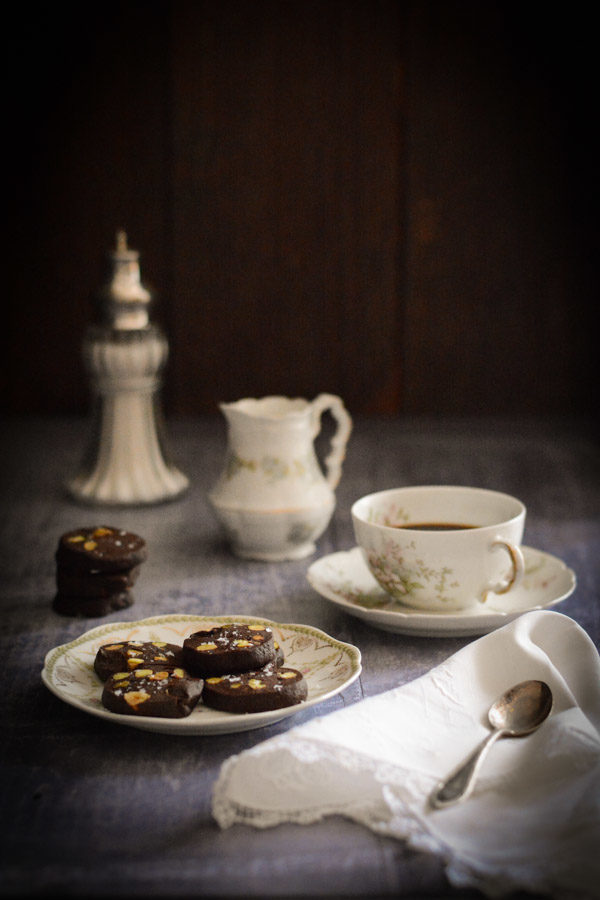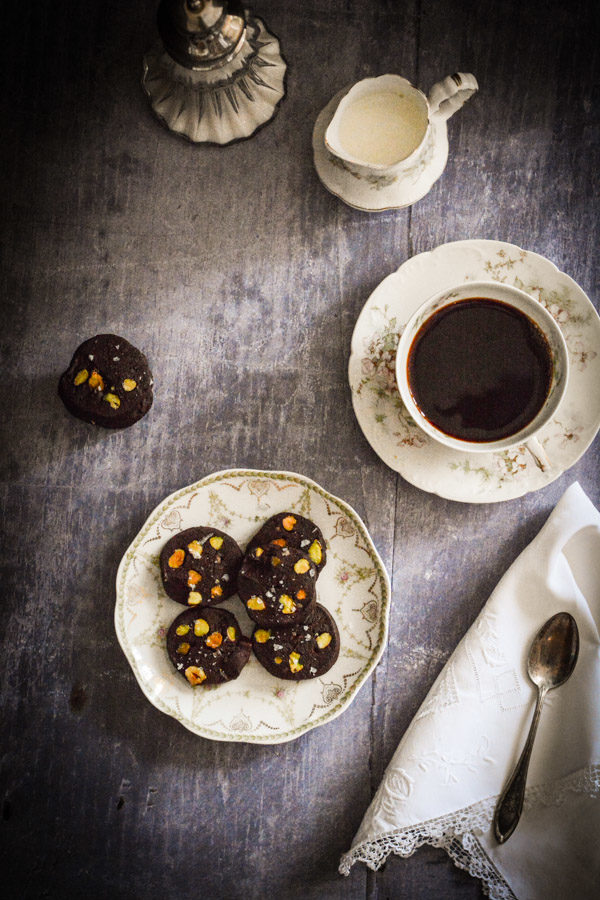 This recipe makes a lot of cookies. Bake some now and keep a log or two in the freezer and slice and bake as needed. (No defrosting necessary.) Don't skimp on the quality of cocoa you use in this recipe. As always, I recommend using high quality cocoa, especially in this cookie where you want the luscious taste of chocolate to shine through. There really is a difference!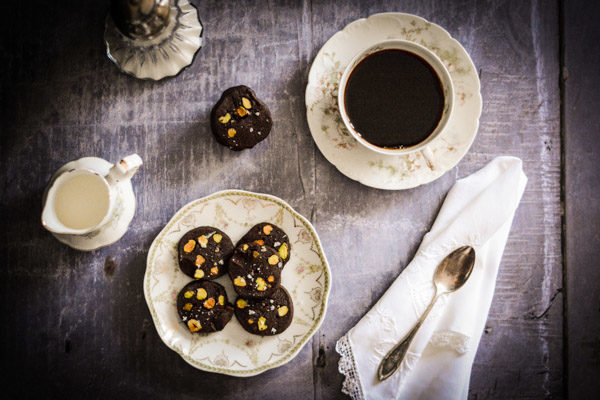 Chocolate Pistachio Sablés
2 1/2 cups all-purpose flour
1/2 cup unsweetened cocoa powder
3/4 teaspoon salt
1/4 teaspoon baking soda
1 1/4 cups butter, room temperature
1 1/4 cups (lightly packed) light brown sugar
1 teaspoon vanilla extract
1 large egg white
5 ounces bittersweet chocolate, chopped
1 cup unsalted, shelled raw pistachios, chopped
Flaky sea salt (such as Maldon)
In a medium bowl, whisk together flour, cocoa powder, salt, and baking soda.
Using an electric mixer on medium speed, beat butter until smooth. Add the brown sugar and vanilla, increase speed to medium-high, and beat until light and fluffy. Reduce speed to low and gradually add dry ingredients. Mix just until combined. Add the egg white and beat to incorporate. Fold in chocolate and pistachios.
Divide dough into 4 pieces. Roll each piece into an 8-inch long log about 1 1/2-inches in diameter. Wrap tightly in parchment paper and chill until firm, at least 4 hours and up to 1 month. Here is a link to instructions on the best way to roll Slice and Bake cookies. (If you use this process for rolling your logs of dough, you might have to push the dough together and give it a few firm rolls before wrapping it in parchment paper.)
Place racks in lower and upper thirds of oven; preheat to 350˚. Working with 1 log of dough at a time and using a serrated knife, cut logs into 1/4-inch rounds and transfer to 2 parchment-lined baking sheets, spacing 1/2-inch apart.
Sprinkle cookies with sea salt and bake, rotating baking sheets halfway through, until set around edges and centers look dry, 10-12 minutes. Transfer to wire racks and let cool.
Makes approximately 96 cookies.
Slightly adapted from Bon Appetit/December 2013