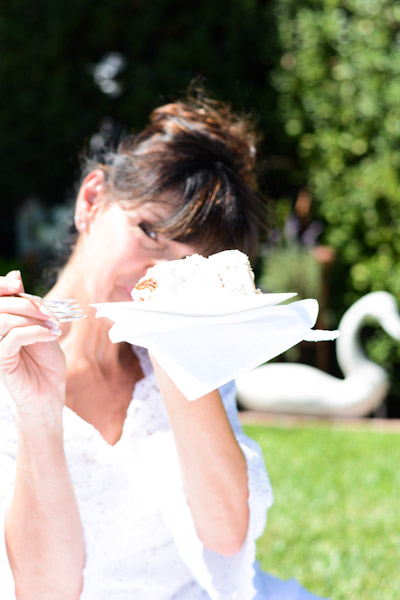 I'm Mary, the writer, baker and photographer behind Sifting Focus. I am currently living in Los Angeles but my roots began in Kentucky, where a piece of my heart will always remain. I was lucky to have been raised in a family of great cooks and bakers – my Mom and my Dad and both of my grandmothers. With eleven children in my family, there was always something in the oven at our house. HA! Money was scarce but great food wasn't. I learned a lot at the hands of my parents and grandparents; sharing that knowledge with others I view to be both a privilege and an obligation.
You might be wondering what brought me to L.A. from Kentucky. Well, that would be love – then marriage. Then came, yes you guessed it, a baby carriage and a beautiful baby girl. Alas, babies grow up and then they leave for college, which leaves an empty nest to be filled and the question of – what next?
From time to time I still suffer the pangs of "Empty Nest". Whenever my Girl returns to school after a visit home, it takes a day or two for me to regain my footing. I don't think that will ever change. However, I have found that the salve best used to heal that wound is time spend in my kitchen baking away.
At first I was hesitant about writing a baking blog – what did I have to contribute that wasn't already being said and done on all the wonderful baking blogs already out there. Then it occurred to me that a personal journal about baking wasn't about being competitive or the "best". My musings and photos here only needed to fulfill me and offer a place where I could connect with others about something I love so much.
So here I am – blogging away and loving it. I can hardly believe that it has been three years since my first post. Sifting Focus has provided me a space where I can be creative in the ways I most enjoy – baking, writing, and my latest passion photography. Along the way I have met some wonderful people and made new friends; some in faraway places, some right in my own backyard. These new friendships have been the ultimate blessing of this blog.
Welcome to Sifting Focus and I hope you find something here that delights your sweet tooth. Glad you stopped by and please come again. We can share a virtual cup of tea along with some recipes, stories and the latest in food gossip.
Happy Baking – or doing whatever it is that makes YOU happy!
Mary