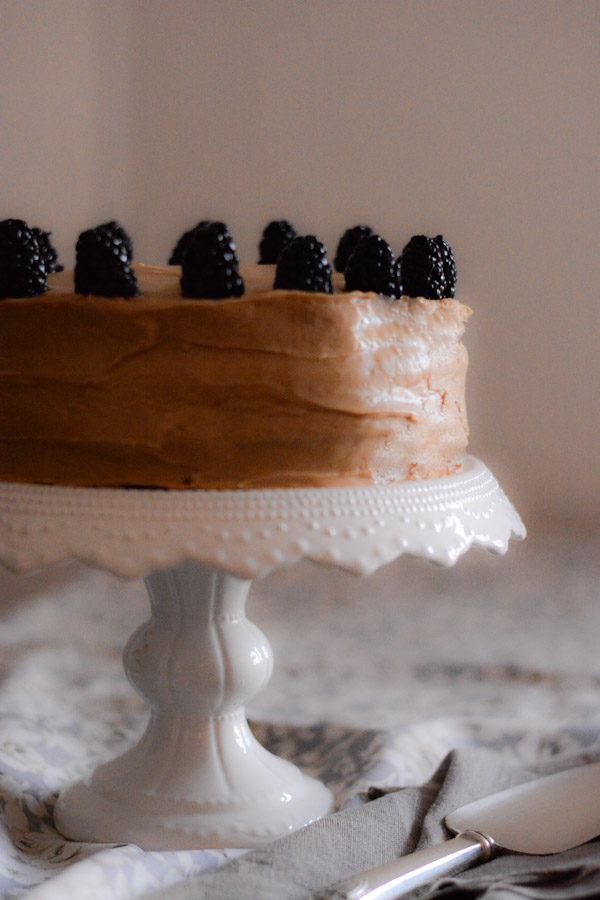 We lost our Mom in August of 2015. Mom didn't leave behind very much, she was a woman of few possessions and content to be that way. What she did leave me and my ten siblings was her collection of recipes, which holds value beyond words. Several months following her passing, I went about the task of organizing her recipes. I had brought them back to California with me following her funeral. It was too soon. Holding her recipes in my hands, three thousand miles from her Kentucky kitchen, felt surreal and empty. I was still deep in the early stages of grieving and struggling to deal with the permanence of her being gone. I gathered together the recipes, mindful of keeping them in the exact order she had left them, and put them away for some future time when I would make another attempt.
There is so much history and tradition buried in the hundreds of recipes Mom collected over her lifetime. They tell stories of Sunday gatherings, weekend breakfasts, holiday meals, church bake sales, and the countless weeknight dinners shared sitting around our oversized kitchen table. No value can be placed on the endless handwritten pieces of paper that fill more than four recipe boxes, several gallon-sized ziplock bags, and even a pink elephant cup that had sat atop her kitchen counter. Any container could be home to one of her recipes, and many of them were found among the pages of books left stacked as high as a fence surrounding her favorite chair.
I often wonder if the days of hand writing recipes are over. In today's world, it is much easier to share these things via social media, and even I am guilty of rarely 'writing' down a recipe. Mom believed strongly in keeping the written word alive and did her part as often as possible, whether it was through a birthday card to a loved one, a note to a friend, or an ingredients list followed by instructions jotted down on a 3×5-inch card. Going through this process has inspired me to write down my own treasured recipes, the ones that might matter to my daughter one day.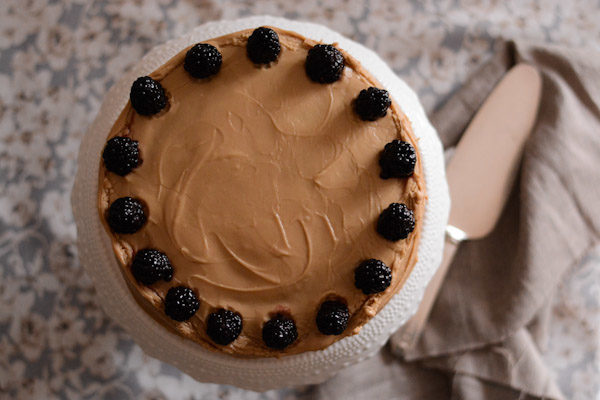 With the start of the New Year I was inspired once again to re-visit the project of archiving my Mom's recipes. Coincidentally, at the same time, I was thoroughly engrossed in a new cookbook titled American Cake by Anne Byrn. I actually 'read' my cookbooks and my favorites are the ones that are steeped in historical context. American Cake is one such book. Along with an intriguing history of the evolution of cake in America over the past two hundred plus years, her book is brimming with beautiful photos and enticing recipes sandwiched from cover to cover. One cake in particular caught my attention and transported me back to my Kentucky Girl childhood. It was a version of the famous Kentucky Blackberry Jam Cake. By the time I closed the back cover of the book, I knew I wasn't going to rest until I sank my teeth into a bite of spiced cake, enriched with blackberry jam and coated in caramel frosting.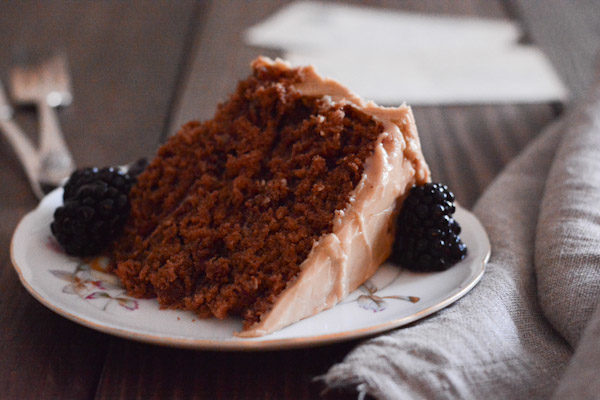 As lovely as the Jam Cake in Anne's book was, for nostalgic reasons I wanted to make our family's version of the cake. I remembered it vividly from my childhood and was convinced that a copy of it must be buried somewhere among my Mom's recipes. Without hours and hours of searching, I knew it would be nearly impossible to put my hands on it. Desire and determination led me back to the mission of getting her recipes in order. What happened next was nothing short of a miracle. The third recipe I put my hands on was for Kentucky Blackberry Jam Cake penned in my Mom distinctive handwriting. Chills shot down my spine and an ear to ear smile came over my face as I felt a big heavenly hug from Mom. It was the nudge I needed to carry on with the project of securing her recipe legacy for generations to come. Instead of feeling loss and grief, I felt connected and joyful.
The project is coming along beautifully. The hundreds of recipes are organized and ready to be scanned. I'm taking suggestions on great recipe archiving software, so if you know of one I welcome your suggestion.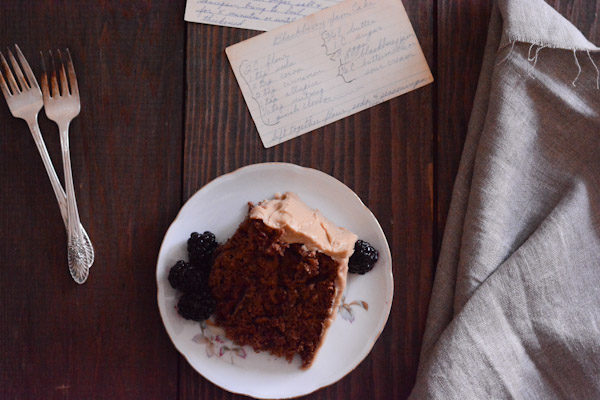 Note: I wanted to keep this recipe as true to the original as possible. I slightly increased the spices, and clarified what I found to be vague instructions. I also spread the bottom and middle layers with a heaping tablespoon of blackberry jam before topping with the caramel frosting. That was not part of the original recipe, however I think Mom would have approved. Pecans and raisins are often found in recipes for Kentucky Jam Cake but were not among the ingredients in Mom's recipe. I love nuts so I add them to my cake. Each to their own taste.)
Kentucky Blackberry Jam Cake
2 cups all-purpose flour
1 teaspoon baking soda
2 teaspoons cocoa powder
2 1/2 teaspoons cinnamon
1 1/4 teaspoons allspice
1/2 teaspoon of freshly ground nutmeg
1/4 teaspoon of cloves, or to taste
1/2 teaspoon salt
3/4 cup butter, at room temperature
1 cup granulated sugar
3 large eggs, at room temperature
1 cup seedless blackberry jam, whisked smooth
1/2 cup buttermilk, or sour cream
1 cup chopped pecans (optional)
Preheat oven to 350˚. Butter and flour three 8-inch cake pans. Line with parchment paper.
Sift together the dry ingredients. In another bowl, cream together the butter and sugar. Add the eggs and mix thoroughly. Add the flour mixture and liquid alternately. Fold in the pecans and blackberry jam evenly. Bake at 350˚ for 23 to 25 minutes, or until done. Use 'toothpick test'. Cool cake in pans for 10 minutes. Turn out and continue cooling. Frost with Caramel Frosting.
Caramel Frosting
1 1/3 cups golden brown sugar
8 tablespoons milk (I used half and half)
1/4 teaspoon salt
3 cups 10x (confectioners) sugar, sifted
3 tablespoons butter
1 teaspoon vanilla extract
Combine brown sugar, milk or half and half, and salt in a saucepan and bring to a boil. Cook slowly for 5 minutes or until slightly thickened. Remove from heat, add butter and vanilla. Cool slightly. Add the 10x/confectioners sugar and beat until smooth. If too thick, add a few drops of milk. If too thin, add more sugar. Use immediately as the frosting will thicken as it cools.
Note: If frosting three layers, make one and a half times the recipe.
Source – Mullikin Family Recipes and Mary at siftingfocus.com