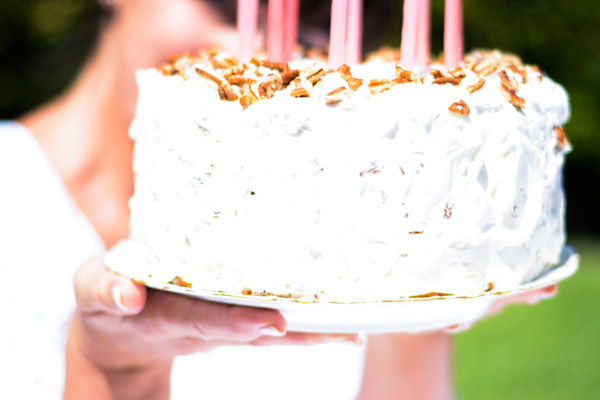 This birthday is not a milestone birthday for the reason you might think. It isn't the beginning of a new decade for me. No, it's much more significant than that. Ten years ago, just a day or two before my forty-seventh birthday, I received my first chemotherapy treatment for breast cancer. On that birthday, I wasn't thinking much about my age. I wasn't thinking much about anything except fighting for my life. The passage of time had taken on new meaning Instead of dreading the thought of getting older, each year's passing brought me out of the darkness of fear and into the light of recovery.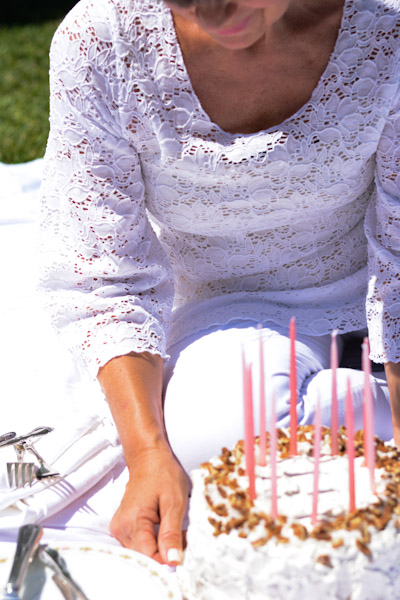 By the time I reached my middle years, I had grown wise enough to realize the importance of living in the present moment. Never one to wish away time, I was suddenly fixated on the future. Jael was only thirteen at the time, and so often I found myself lost in "what if" thinking. Those thoughts were unbearable, but they were also what fueled my fight.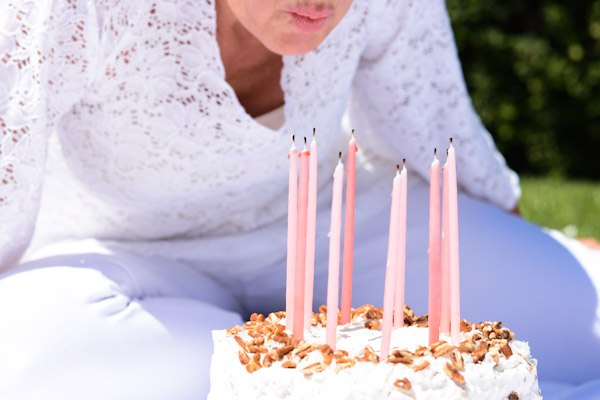 So here I am! Ten years later!! Celebrating bigger than ever this birthday. The passing of years has brought peace of mind and an odd sense of accomplishment. To be sure, I did not win my fight through will alone. With the love and support of family and friends, and the good fortune to have had great doctors, I am a survivor. And as trite as it may sound, I am grateful for my journey. The gifts along my road to recovery have been countless.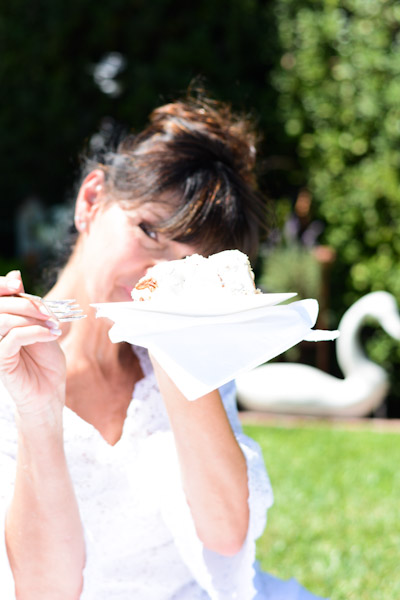 So today I am celebrating by baking myself a birthday cake. Do you know why I am baking my own cake? Because I can! Because getting back to my oven was a motivator when I was struggling through chemotherapy. And because this year is special.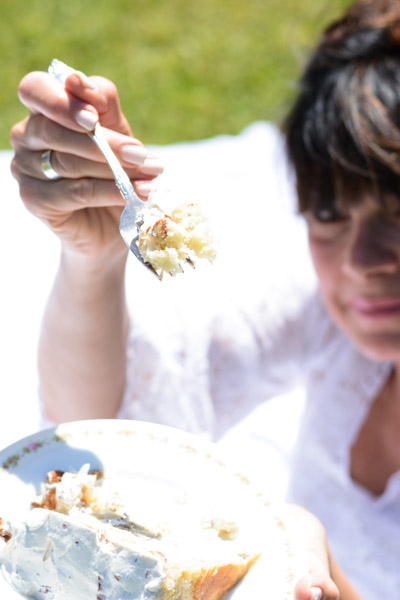 This cake isn't particularly fancy, but it suits my taste perfectly. I have been intrigued with its origin for a very long time and so I did a little research. Turns out its name is a little misleading since there isn't anything Italian about it. It hails from the South, which was a happy coincidence since I am a KY girl. Each golden layer is laced with flaky coconut and studded with chopped pecans. More pecans are folded into what is traditionally a cream cheese frosting. On a quest to put some legitimate 'Italian' into my cake, I topped it with a Mascarpone Buttercream instead. The final creation was a cake more than worthy of such a special occasion.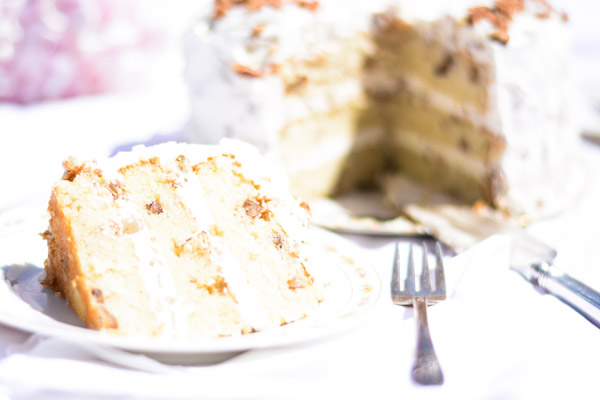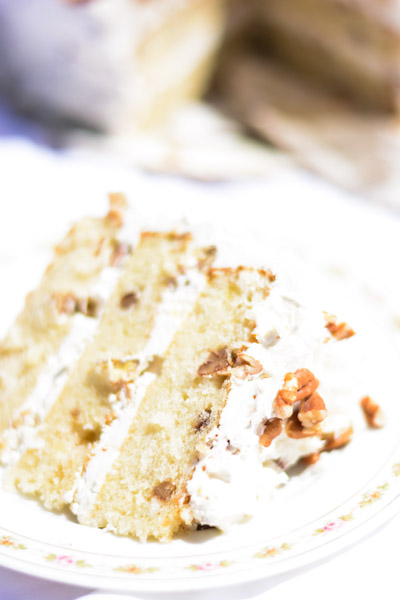 Sending a special thank you to my husband for bearing with me during shooting these photos. It was incredibly hot, and I probably gave more instructions from in front of the camera than he would have liked. 'Thank you, Hun, for your patience and your love!' Below is the poem he wrote for me for my birthday. Such a talented man.
My Love -
You
have between heartbeats
present and solid as stone
yielding and ephemeral.
You
are a constancy
as time flows.
My experience
of you
is that you are my coming
and going
You
are placed center
as life rises and falls.
My neshma
My breath
as I breathe in and out
rocking forward
then still
as the pulse of life
beats on.
Steady, here, present
as we swirl and dance
grasp for stars
or simply gaze at them burning
grateful
that life placed us
close together
to spend it -
such precious currency
in this little shop
of our entwined experience.
Now, a birthday,
a moment to count
how well it has been expended
Rich are we both
in love.
Italian Cream Cake with Mascarpone Buttercream
2 cups (10 ounces) all-purpose flour
3/4 teaspoon baking soda
1/2 teaspoon salt
1 1/2 cups granulated sugar
1/2 cup (4 ounces) butter, at room temperature
1/2 cup canola oil
2 teaspoons pure vanilla extract
4 eggs, room temperature
1 cup buttermilk, at room temperature
1/2 cup heavy cream, cold
1 1/2 cups lightly packed sweetened shredded coconut, plus 1/2 cup for decorating the cake
3/4 cups toasted pecans, chopped, plus 2 cups for finishing and decorating the cake
Mascarpone Buttercream (recipe below)
With rack in center of oven, preheat the oven to 350˚F. Grease three 8-inch cake pans, line with parchment paper or wax paper, then grease the paper.
Whisk together the flour, soda, and salt in a bowl, making sure the ingredients are well blended.
In the bowl of a stand mixer fitted with the paddle attachment, cream the sugar and butter together on medium-high speed until fluffy, about 4 to 5 minutes, scraping down the bowl frequently. With the mixer on low speed, drizzle the oil and the vanilla into the mixture and mix until well combined. Blend in the eggs, one at a time, scraping down the bowl between each addition.
With the mixture on low speed, add the flour mixture in three parts, alternating with the buttermilk in two parts, beginning and ending with the flour. After each addition, mix until just barely blended and stop and scrape down the bowl. Stop the mixer before the last of the flour has been incorporated and complete the blending by hand with a rubber spatula to ensure you do not over beat the batter.
In a separate bowl, using either a hand whisk or an electric mixer, beat the heavy cream to soft peaks. Gently fold the cream into the cake batter, followed by the shredded coconut and the pecans.
Divide the batter evenly between the prepared cake pans and smooth the tops. Bake until the center springs back when lightly touched, 25 to 30 minutes. Remove the pans from the oven and run a thin knife around the edges of the pans. Cool the cakes in their pans on a wire rack for 30 minutes. Remove from pans and cool completely, top side up.
Bring buttercream to room temperature if made ahead. Fold in 1 1/2 cups of the remaining chopped pecans
To assemble the cake, lay one layer top side up on a cake platter or flat plate. Spread the top with approximately one cup of the buttercream. Place another layer, top side up on the previous layer, again spreading it with one cup of buttercream. Lay the third layer, bottom side up, and spread with approximately 1 1/2 cups of buttercream. Cover the sides of the cake with any remaining buttercream.
Sprinkle the cake with the remaining 1/2 cup of pecans, and 1/2 cup of coconut.
Enjoy at once or keep refrigerated. Bring to room temperature before serving.
Mascarpone Buttercream
5 egg whites
3/4 cup granulated sugar
1/4 teaspoon salt (If using unsalted butter, use 1/2 teaspoon salt)
2 cups butter, diced into tablespoon sized pieces
2 teaspoons pure vanilla extract
3/4 cups (6 ounces) Mascarpone cheese, at room temperature
Combine the egg whites, sugar, and salt together in a bowl. (Make sure the bowl is very clean and free from any residual fat.) Bring a pan of water to a gentle simmer. Place the bowl of egg whites over the simmering water, making sure the bottom of the pan does not come in contact with the water.
Whisk the egg until the sugar has melted, then stir frequently until the egg whites have reach a temperature between 145˚ and 150˚ on an instant read thermometer.
Remove the bowl from the pan and place on a stand mixer. Using the whisk attachment, beat the whites on medium-high speed until stiff peaks form. Continue to beat until the whites are completely cool. Test this by feeling the bottom of the bowl. It should feel completely cool to the touch.
Turn the mixer down to medium-low and begin adding the butter, a piece at a time. Once all the butter has been added, scrape down the side of the bowl and whisk for a few more seconds. Add the Mascarpone cheese and mix until incorporated.
Refrigerate until needed, up to 3 days, or in the freezer for longer storage.
Source: Mascarpone Buttercream | Sifting Focus
Note:
I researched many recipes before choosing the cake component from
Vintage Cakes
by Julie Richardson. If you have a fondness for heirloom recipes, you will want to pick up a copy of her book.