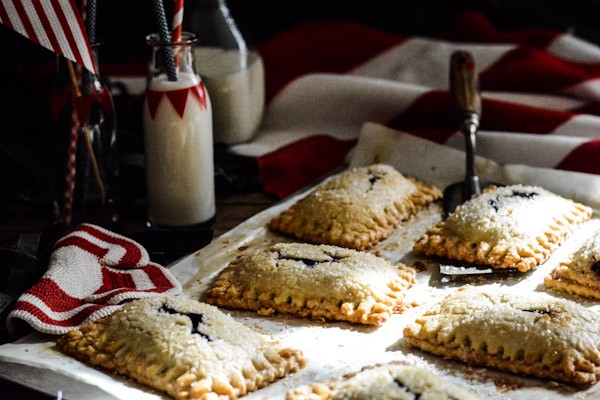 I know, I promised you the recipe for these lovely little hand pies a very long time ago. My apologies! I got distracted, and busy, and wrapped up into many other things that kept me from posting. Did I mention that my computer went on the fritz? Yes, that happened too. Fortunately, I'm getting the recipe to you in plenty of time to make these little cuties for your upcoming Red, White, and Blue holiday celebrations.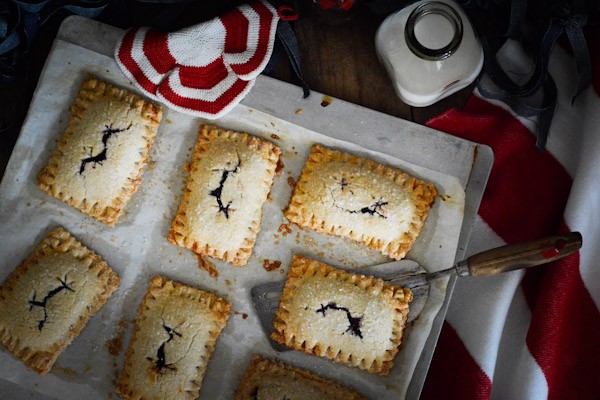 My passion for pie runs deep. Stellar pie makers can be found among relatives on both sides of my family, and over many generations. Thanks to my Grandmother and Dad, I was invited into the process from the time I was a young girl. I will assume that you are as fond of pie as I am, but if by some very 'strange' reason you aren't, well then, these down-sized versions of an all-American favorite might just convert you.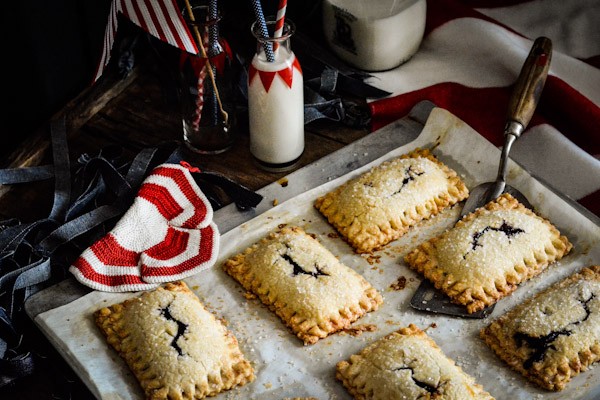 Quite often, pie lovers fall into one of two categories. Either they favor the crust, or the filling. I fall squarely in the 'crust is the reason to eat pie' group. I have made no bones about that here on the blog. Yes, pie fillings have their redeeming qualities, however, my idea of a great pie is when the crust to filling ratio is weighted way in the direction of the crust. Yay for hand pies, where the crust is the star!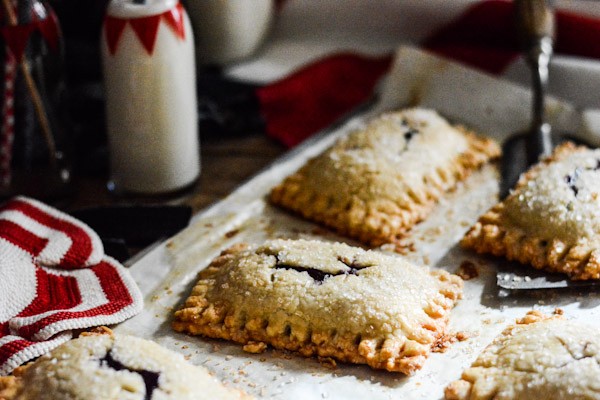 From time to time I have posted recipes for various hand pies here, like this one, and this one . It would be difficult to choose my favorite among them all, but this Blueberry and Cream Cheese version stole my taste buds from that first flakey, juicy, creamy bite. Hidden beneath a layer of 'from scratch' blueberry filling lies a blanket of lemon scented, cheesecake-like filling that takes these little gems to another level. Imagine, if you will, a mini slice of blueberry cheesecake sandwiched between two sheets of golden brown, crunchy, flaky pastry. Yeah, now you know what I'm talking about!
I definitely made my little pies with the 4th of July holiday in mind, but I most certainly won't be limiting them to just one special occasion a year. They are just too darn good for that.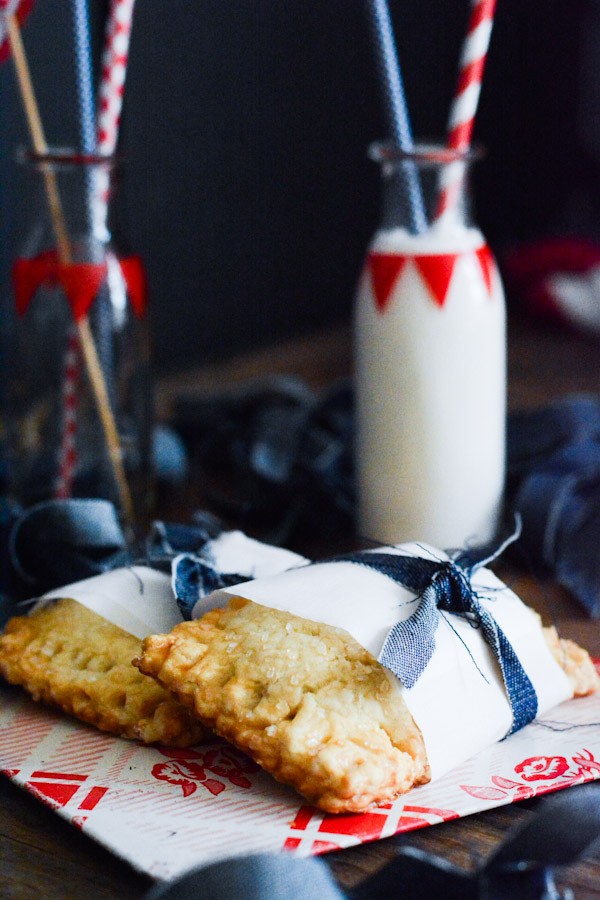 Blueberry and Cream Cheese Hand Pies
Crust
2 1/2 cups all-purpose flour
1/2 cup cake flour
1 tablespoon granulated sugar
1 teaspoon salt
1/2 cup (1 stick) butter, cut into 1/2-inch pieces, well chilled
1/2 cup vegetable shortening, frozen, cut into 1/2-inch pieces
6 to 8 tablespoons ice water
In the bowl of a food processor, combine both flours, sugar, and salt. Pulse several times to combine. Add the chilled butter and pulse several times. Add the frozen vegetable shortening and pulse until the butter and shortening are incorporated, with pea-sized pieces remaining. With the motor running, begin to slowly drizzle in the ice water. You may not need to add all the ice water. Just as the dough begins to come together, stop adding water, and pulse until a ball forms in the bowl of the processor.
Remove the dough from the processor, divide into two equal pieces, and shape each piece into a 4×6-inch rectangle. Wrap individually in plastic wrap and chill for 1 hour. Working with one piece of dough at a time, place chilled dough on a floured surface and roll into a rectangle, slightly larger than 10×12-inches. Trim edges of dough to make even. Cut the dough into 8 rectangles, each one measuring 3×5-inches, and place them on a parchment lined sheet. Repeat the process with the second piece of dough. Chill while preparing the fillings. The dough can be made up to a day ahead.
Blueberry Filling
2 cups fresh blueberries, rinsed, stems removed
1/4 cup granulated sugar
Pinch of salt
2 teaspoons lemon juice
1 1/2 teaspoons cornstarch
Pinch of cinnamon
Place the berries, sugar, and salt in a medium saucepan. Bring to a simmer over medium-low heat. Continue to simmer, stirring frequently, until the berries have begun to pop and give up their juices, about 10 to 15 minutes. Mix together the lemon juice and corn starch, and stir it into the berries. Cook for an additional few minutes until the filling has thickened and taken on a shiny appearance. Remove from heat and set aside to cool to room temperature. The filling can be made several days ahead and kept refrigerated.
Cream Cheese Filling
4 ounces cream cheese, at room temperature
2 tablespoons sour cream, at room temperature
2 teaspoons granulated sugar
1 teaspoon lemon juice
Zest of half a lemon
In a small bowl, stir together all the ingredients until smooth. Use immediately and chill for longer storage. If chilled, bring back to room temperature before assembling the pies.
To Assemble and Bake the Pies
1 large egg, whisked with 2 teaspoons water
Sugar of choice for sprinkling on pies
Have ready a large parchment lined baking sheet.
Place 8 chilled rectangles of dough on prepared baking sheet. Divide the cream cheese mixture evenly between them, spreading slightly, leaving 1/2-inch border all around. Top the cheese filling with a generous tablespoon of blueberry filling. Brush the borders of each pie with egg wash, and cover with a second rectangle of dough. Seal each pie all around using the tines of a fork. Chill for 30 minutes.
While the pies are chilling, preheat the oven to 375˚. After 30 minutes, brush each pie with egg wash, and sprinkle with sugar. Cut a small slit in the top of each pie. Bake for 35 to 40 minutes, until golden brown. Transfer to a cooling rack. Serve warm or at room temperature.
Recipe created by Mary Weinberg