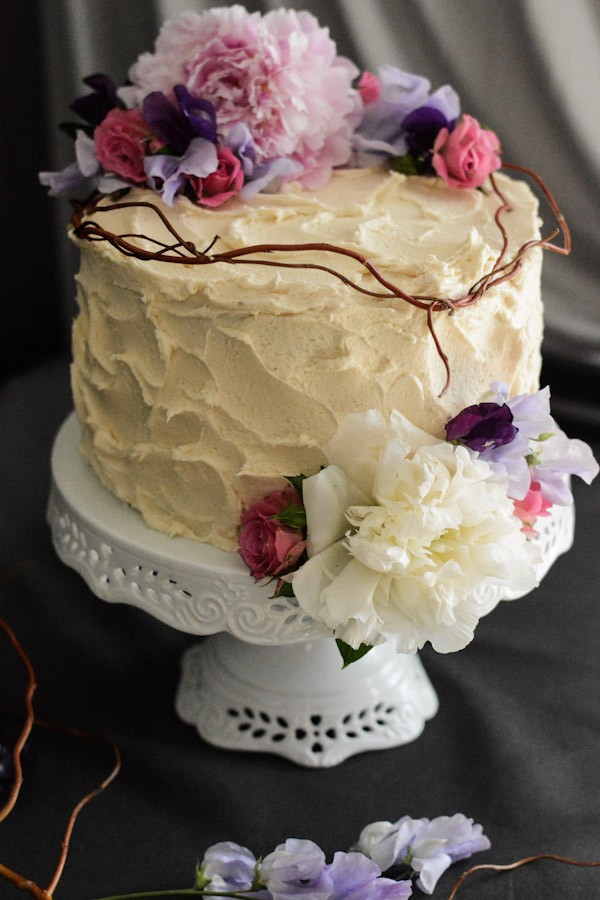 It's official! I finally had my first beer – in a cake that is.

In all the hundreds of cakes I have eaten to date, not one had beer in it. My Dad was an incredible cake baker, and although he was forever pulling one from the oven, I don't ever remember him baking one with beer. Which is ironic since my Dad loved his beer. I vividly remember begging sips of brew from him as he enjoyed a can or two after a long day's work at the factory. Dad was a perfectionist when it came to the glass he used for his beer. Not the shape, rather the cleanliness. Once, he even gave me a demonstration on the proper way to clean a beer glass. 'You have to clean it really well with hot soapy water, then rinse it with cold water. Cold water kills the suds. Any soap residue left on the glass will make the beer go flat, and a great glass of beer has to have a nice head of foam'. Those were his precise instructions.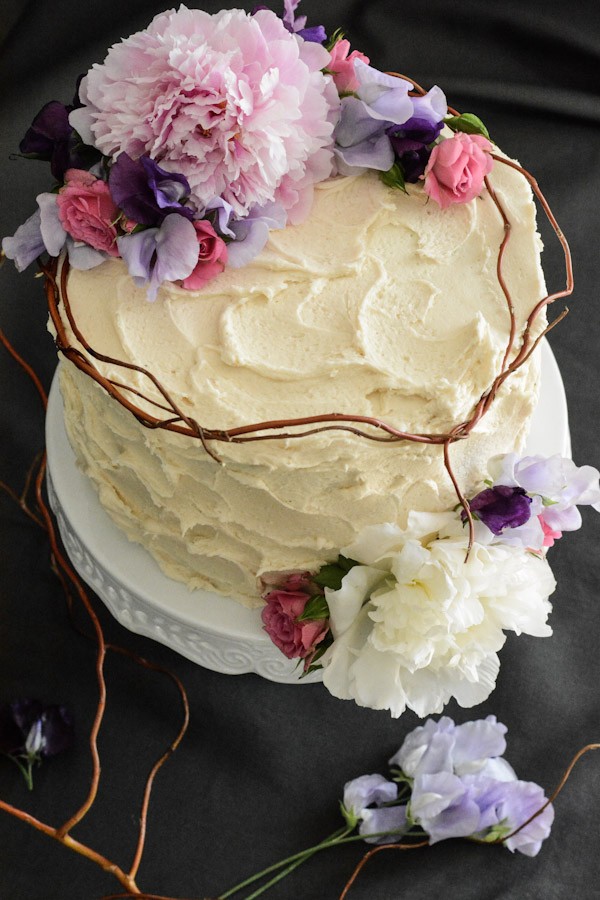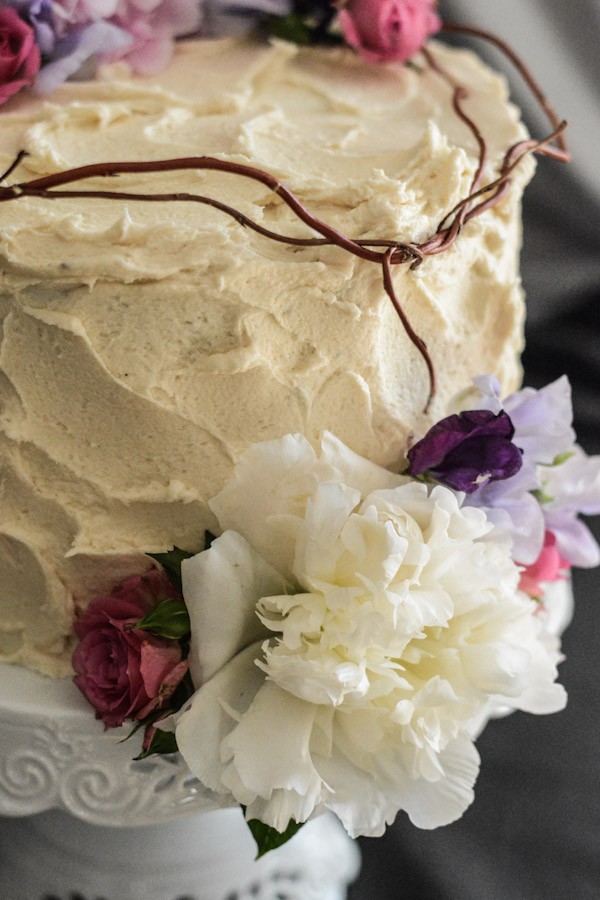 Anyway, back to cake!
A cake craving hit the other day and I just knew I wasn't going to rest until I had a slice. I quickly scoured a half dozen of my baking books and jumped around on the internet until I hit upon a recipe that sounded irresistible. Improvisation was required if I was going to sate my craving speedily. The original recipe called for Stout but I only had a more demure pale lager on hand. Since my objective was to find a cake deeply rich and decadently chocolate, I wasn't as concerned about how much flavor the beer would impart. In general, I wanted to end up with a 'wow' cake that required very little time and effort. In that vein, when it came to the salted caramel sauce, I used purchased from a jar.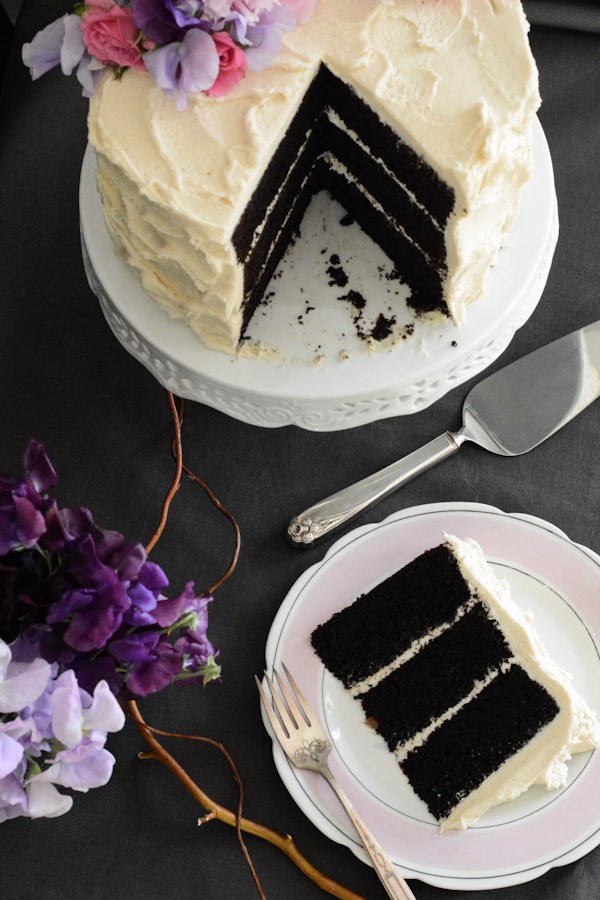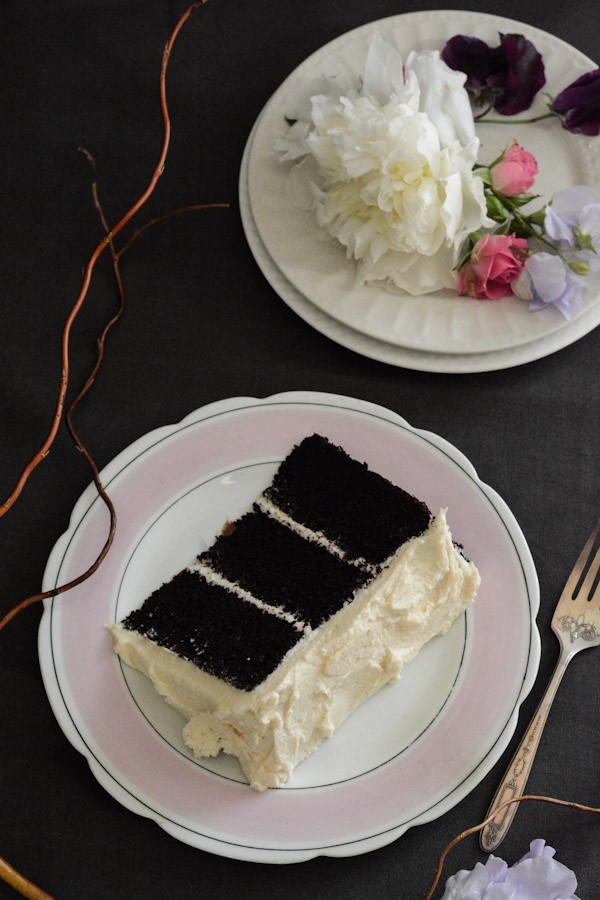 Baking a 'Looker of a Cake' doesn't need to be complicated. This chocolate wonder is easy enough for novice bakers and impressive enough for any special occasion. And if decorating a cake isn't among one of your many talents, go with flowers. Flowers are magical! They elevate even the ordinary into something quite spectacular.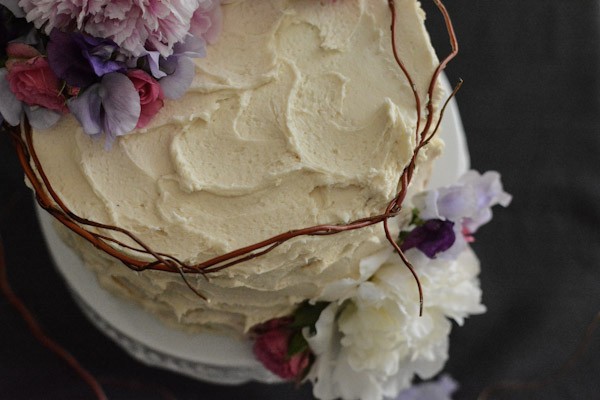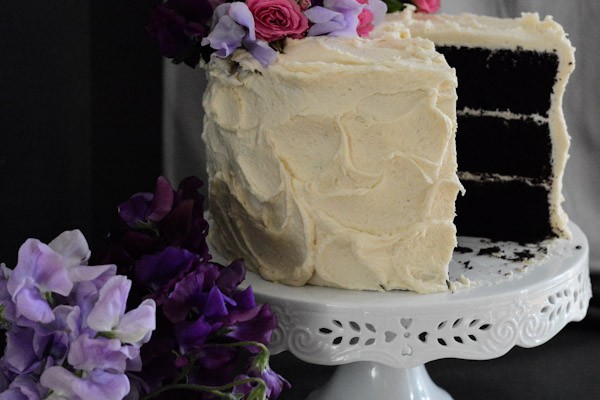 Dark Chocolate 'Beer' Cake with Sour Cream Caramel Frosting
Cake
2 cups Beer
2 cups (4 sticks) butter
3/4 cup unsweetened cocoa powder
3/4 cup Black cocoa *
4 cups all-purpose flour
3 1/2 cups granulated sugar
1 tablespoon baking soda
1 1/2 teaspoons salt
4 large eggs
1 1/3 cups sour cream (full fat)
2/3 cup good quality salted caramel sauce
Frosting
1 cup (2 sticks) butter, at room temperature
7 – 7 1/2 cups sifted confectioners' sugar
1/2 cup sour cream, at room temperature
1 teaspoon pure vanilla extract
Generous pinch of salt
1/4 – 1/3 cup good quality salted caramel sauce
* If Black cocoa is unobtainable, use 1 1/2 cups total of unsweetened cocoa powder
Cake
Preheat oven to 350˚F. Butter three 8-inch round cake pans with at least 2-inch high sides. Line with parchment paper. Butter the paper.
Bring beer and butter to a simmer in a large heavy-bottomed saucepan over medium heat. Remove from heat and add the cocoa powders and whisk until smooth. Cool slightly.
Whisk flour, sugar, baking soda, and 1 1/2 teaspoons salt in a large bowl to blend. Using an electric mixer, beat eggs and sour cream in another large bowl to blend. Add the beer and chocolate mixture to the egg mixture and beat just to combine. Add the flour mixture and beat briefly on low speed. Using a rubber spatula, fold batter until completely combined. Divide batter equally among prepared pans. Bake cakes until tester inserted into center of cakes comes out clean, about 35 to 40 minutes. Transfer cakes to a rack and cool for 20 minutes. Turn cakes out onto rack and cool completely.
Frosting
Using an electric mixer, whip the butter until smooth. Add 4 cups of the confectioners' sugar and mix on low speed until combined. Scrape down the side of the bowl and add the sour cream, vanilla, and salt; mix to combine. Add the remaining three cups of confectioners' sugar, 1 cup at a time, mixing on low speed. Scrape the side of the bowl in between each addition. Add 1/4 cup salted caramel sauce and beat on low speed until incorporated. Turn the mixer to medium-high and beat for several minutes, until light and fluffy. If the frosting is too thin, add additional confectioners' sugar. If too thick, add more caramel sauce.
Frost the Cake
If domes formed as the cakes baked, slice off the domed tops to create a flat level surface. To frost the cake, place one cake layer top side up onto a serving platter. Spread 1/3 cup salted caramel sauce on cake, stopping 1/2-inch short of the edge. Spread with 3/4 to 1 cup frosting. Repeat process with second layer. Place the third layer top side down. Frost top and sides of cake with remaining frosting. Decorate with flowers**, or as desired.
** Not all flowers are food safe. Check with a reliable source before decorating a cake with flowers.
Makes one 8-inch three layer cake.
Recipe adapted from Ovenly by Agatha Kulaga and Erin Patinkin, and Bon Appetit