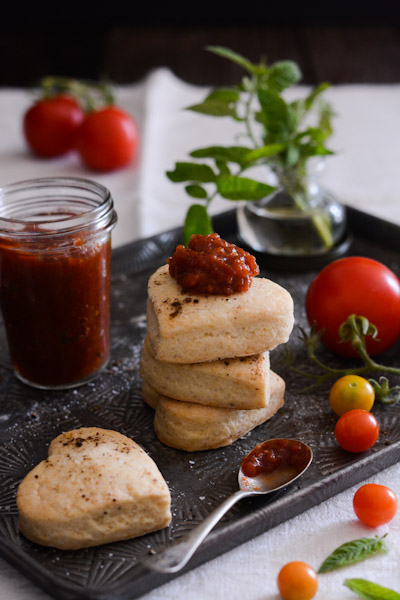 Frying chicken is an art, and one which my Dad had more than mastered during his lifetime. Dad made the best-ever fried chicken! I don't think he ever tired of that labor intensive task, possibly because of how much he loved to eat it, but most likely it was because he did it to please others. Endless hours were spent at the stove frying dozens of breasts, legs, thighs, and wings, three cast iron skillets going at the same time. Whether it was destined for Sunday brunch, a picnic, or an ordinary weekday meal, it was a special day when fried chicken was on the menu. Creamy mashed potatoes, milk gravy, and flakey biscuits most often were among the supporting cast of sides when golden, crispy fried chicken made an appearance at our table.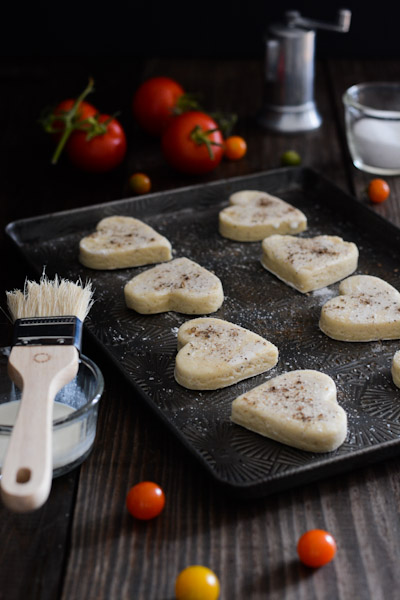 A couple of weeks ago, J's significant other Michael (who was visiting us from NY) requested a fried chicken dinner before heading back to school. It had been quite some time since I last pulled out the old iron skillets for the purpose of frying some birds. Michael, who purports to be a better cook than me - (Wink Wink), offered his help and together we made succotash, mashed potatoes, gravy, and biscuits – all the required side dishes necessary to fully enjoy a fried chicken dinner. Dad would have been proud.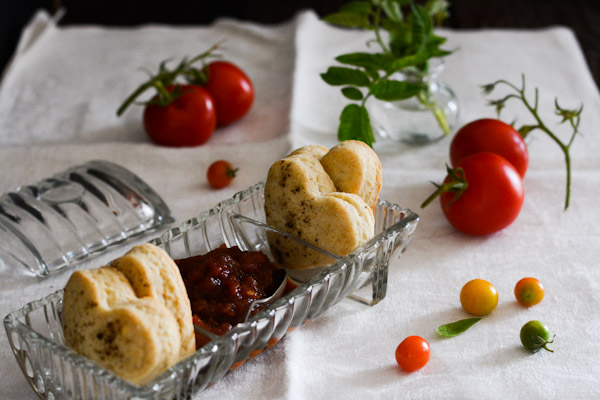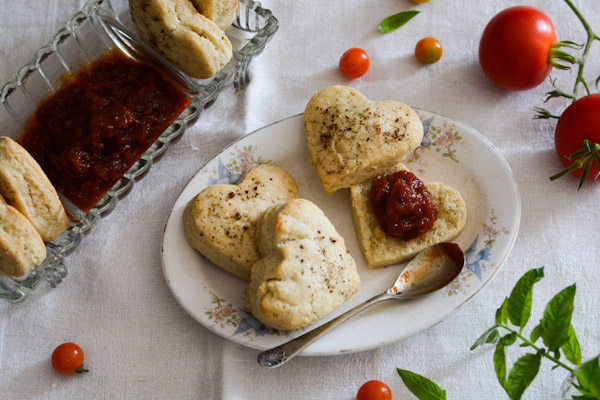 I have made countless biscuit recipes over my baking lifetime, and although many have been very good, I haven't completely fallen in love with any particular one to deem it my 'favorite'. I am on a constant search for a biscuit that replicates those that my Grandma and Dad use to make. Although the recipe I am sharing here is nothing at all like the one of my memories, it is a darn good biscuit, and one I know I will be making over and over again. The first time I baked these little gems was the night we made our chicken dinner. Wow, is all I can say! They were so tender and buttery that they didn't even need the gravy. Of course that didn't stop me from ladling it all over the top of the biscuits anyway. For quite awhile now, I have had Duck Fat Biscuits queued up on my list of recipes to develop. Well, finally, here it is. A simple substitution of duck fat for the butter, and an even more fabulous biscuit was born.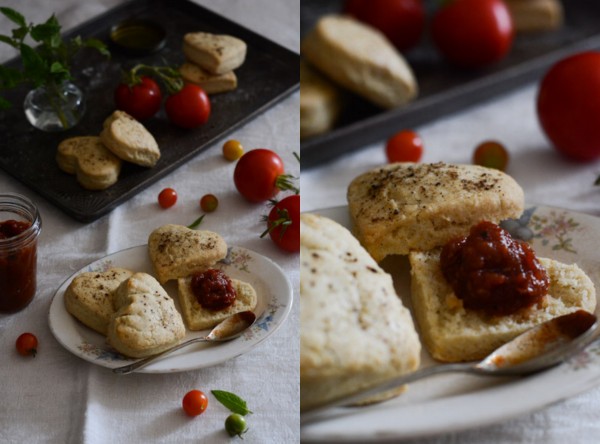 As for the tomato jam, it too has been on my list of recipes to develop. Last week while working on the recipe for these biscuits, I became the serendipitous recipient of tomatoes from my friend's garden. She asked me to water her plants while she was on vacation, and offered in return all the tomatoes that were going to come ripe on the vines while she was away.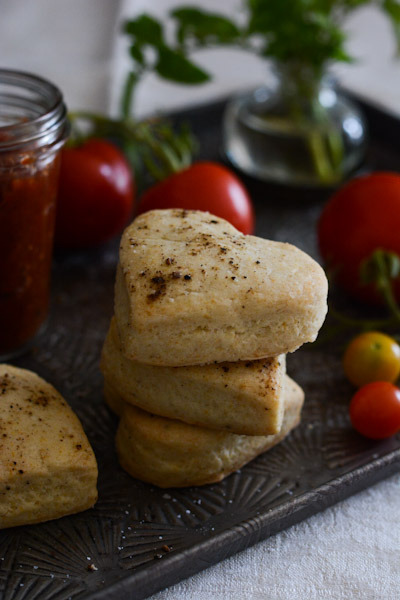 Don't you just love when a taste you have in mind for a recipe you are making turns out exactly as anticipated. Such is the story with this jam. A blend of Middle Eastern spices impart a savory warmth to the tomatoes, while the heat from dried Aleppo and Ancho chilies lend a spicy edge. This jam reminds me very much of a chutney. Jam/Chutney, either way, it proved to be the perfect topping for these biscuits. I think you will agree that the way they compliment each other is just 'Ducky'. ( Ha, I couldn't resist.)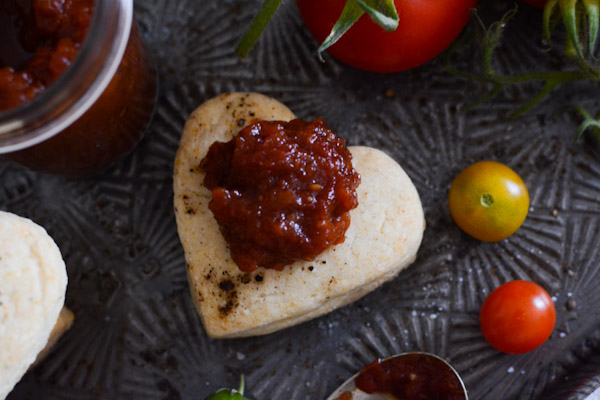 Duck Fat Biscuits with Spicy Tomato Jam
Biscuits
2 cups all-purpose flour
2 1/2 teaspoons baking powder
1 teaspoon salt
1/2 teaspoon freshly ground pepper
6 tablespoons frozen duck fat*
1 cup heavy cream, plus 1 tablespoon for brushing biscuits
Coarse or flaky salt, and pepper for sprinkling on the biscuits
Preheat the oven to 400˚F. Have ready a parchment lined baking sheet
In the bowl of a food processor, add the flour, baking powder, salt, and pepper. Pulse several times to combine. Add the duck fat and pulse until nearly incorporated and the flour appears crumbly. Add the cream all at once and process just until the dough starts to come together. Remove to a surface sprinkled with flour and form the dough into a ball. Using a floured rolling pin, roll the dough into a circle, approximately 3/4-inch thick. Cut out as many biscuits as your desired sized biscuit cutter allows. Gently gather the scraps and cut remaining biscuits. Place biscuits on the prepared baking sheet. Chill in refrigerator for 15 minutes.
Brush the tops with the remaining 1 tablespoon cream, and sprinkle generously with salt and pepper. Bake for 10 to 12 minutes or until golden brown on the bottom. Serve while warm with Spicy Tomato Jam.
*If the duck fat is too hard directly from the freezer, allow to soften slightly, measure, and then refreeze until firm.
Yield: A baker's dozen, depending on size of biscuit cutter used
Spicy Tomato Jam
5 cups diced peeled and seeded tomatoes, or 5 cups canned diced tomatoes
3/4 cup light brown sugar, packed
4 tablespoons freshly squeezed lemon juice
2 cloves garlic, finely minced
2 cinnamon sticks
1 1/2 teaspoon salt
1 teaspoon ground ginger
1 teaspoon ground coriander
1 teaspoon aleppo pepper
1 teaspoon ground ancho chili pepper
1/2 teaspoon ground cumin
1/2 teaspoon freshly ground pepper
1/2 teaspoon allspice
1 1/2 tablespoons freshly squeezed lemon juice
In a food processor, pulse the tomatoes until finely chopped, with small chunks of tomato remaining.
In a 4 or 5 quart, non-reactive, saucepan or preserving kettle, combine all the ingredients except the 1 1/2 tablespoons lemon juice. Bring to a boil over high heat. Reduce the heat to medium-high. Cook, stirring occasionally until the liquid has reduced and the tomato mixture has started to thicken, about 20 to 30 minutes. (The timing will depend on several factors; the juiciness of the tomatoes, the cooking vessel, and the cooking temperature.) Continue to cook an additional 15 to 20 minutes, stirring more frequently to prevent the jam from burning. Once the mixture takes on a glossy appearance and a jam-like consistency, remove it from the heat and allow it to cool to room temperature. Stir in the remaining 1 1/2 tablespoons lemon juice.
Spoon the jam into clean jars. Refrigerate for up to two weeks, or freeze for longer keeping.
Yield: Approximately 4 cups
Source: Biscuits adapted from Heartland by Marcia Adams / Spicy Tomato Jam adapted from a recipe by Adam Ried