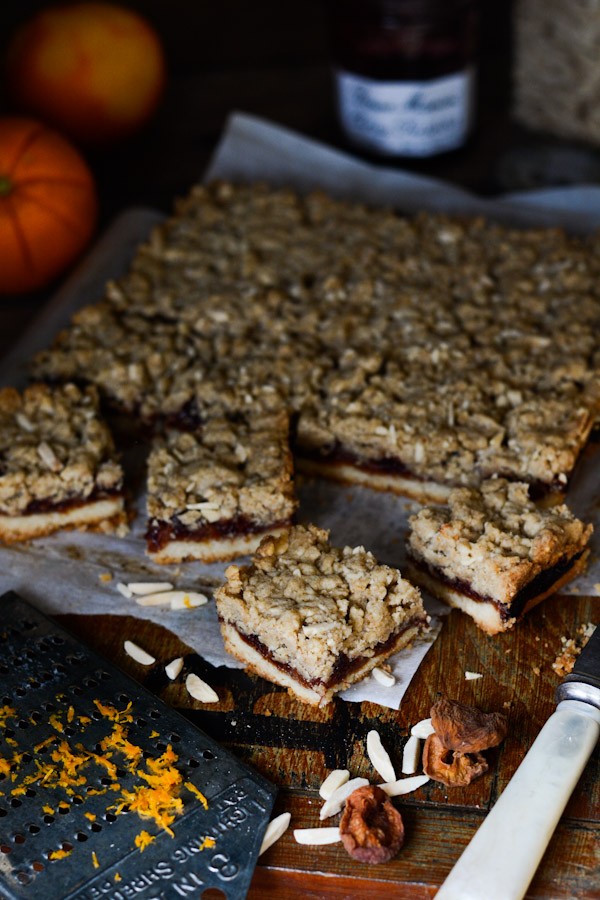 Even though I live three thousand miles away from my family, I see them a lot! I journey to Kentucky four or five times a year, and when I'm very blessed, one of my family members makes it to California to visit me. Having a brother, sister, niece, or nephew in MY home is a precious gift. There were trade-offs in choosing a life in Los Angeles, living so far from family has been the most difficult by far.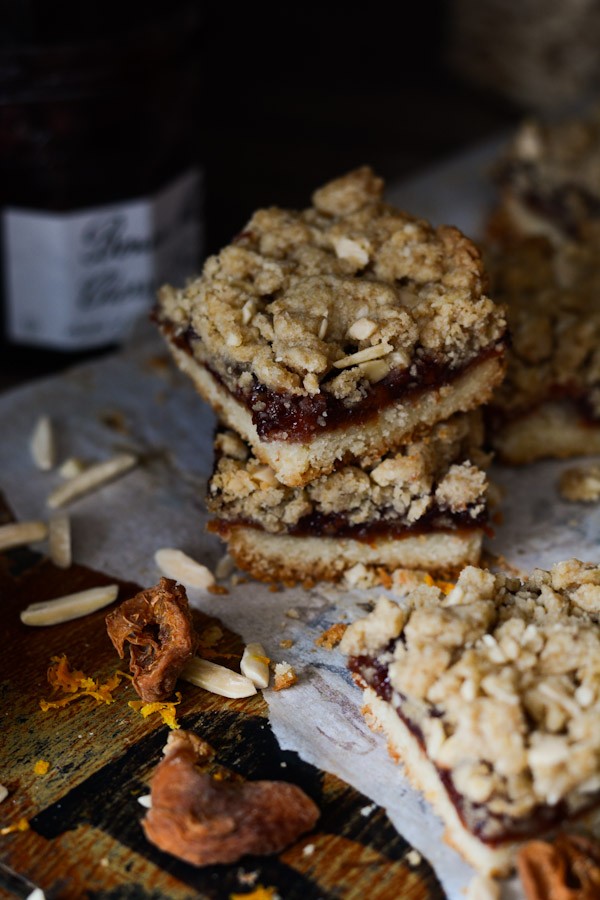 My youngest sister was here with me over the long Valentine/President's Day weekend. The weather was a glorious 80+ everyday and we really did nothing more than kick back and eat. She was content just to relax and put life on pause for a bit. As it turned out, we never managed to do the only thing I really wanted to do with her, which was to photograph her making one of her famous recipes for my blog. We talked endlessly about food, and recipes, and baking, but we didn't get much further than that.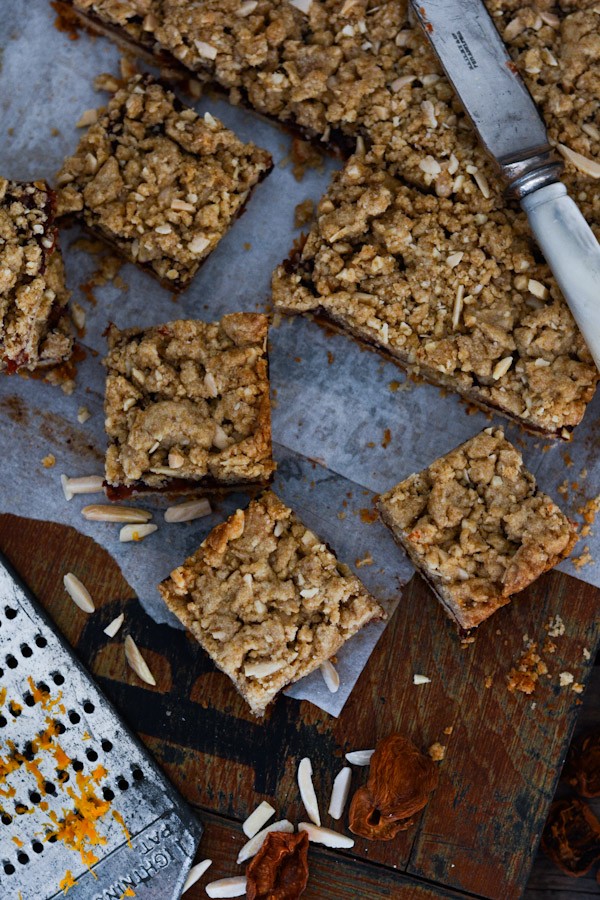 Finally on the last day of her mini vacation, she became intrigued by a fruit bar recipe she found in one of my gazillion cookbooks. I'm not sure exactly why that particular recipe caught her attention but before long we set about getting a batch into the oven. I worked on the crust and topping while she cooked the fruit filling. Becky is a wonderful baker. She has an innate intuition as to what is needed to improve a recipe, and she is always right. I joke with her that never in her life has she ever made a recipe as it was originally written. And, her tweaks are always spot on. My heart was smiling as I watched my sister flutter about my kitchen, making it her own. I felt our simpatico baking styles as we mixed, beat, and stirred the bars together. I seized the moment and borrowed from her baking expertise.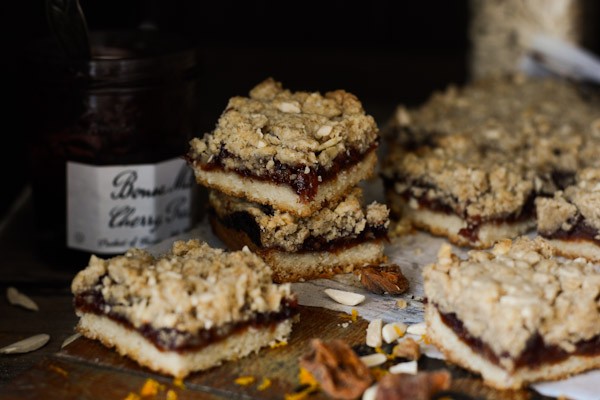 The bars were very good, but almost immediately after tasting one we began to toss ideas back and forth on how we could make a better bar; on what worked, and what stood improvement. Soon we had come up with a recipe for our very own crumb bar. My Sis had to leave the next morning but the minute I returned from dropping her at the airport I went to work making a batch of 'our bars'. As she flew, I baked. I sent her a text that was waiting for her when she landed. "I made the bars, and they're delicious!"
So here you have it, two sisters' (M & B) Apricot Cherry Crumb Bars.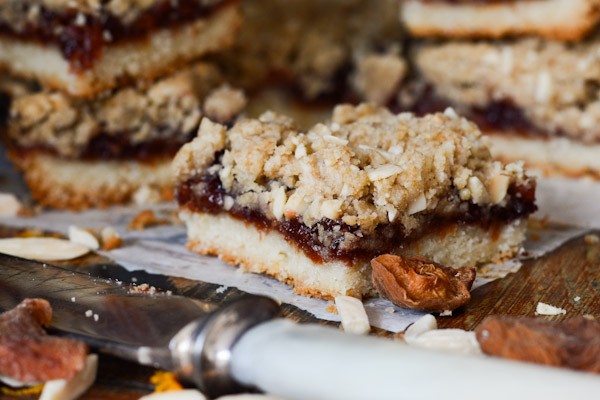 Apricot Cherry Crumb Bars
Crust
1 1/4 cups all-purpose flour
1/2 cup almond flour
1/2 cup confectioners sugar
1/2 teaspoon salt
12 tablespoons butter, cold, cut into 1/2-inch cubes
1/2 teaspoon pure vanilla extract
1/2 teaspoon almond extract
Filling
1 cup dried apricots
1 cup water
1 teaspoon grated orange peel
pinch salt
3/4 cup cherry preserves
Crumb Topping
1 cup all-purpose flour
1/2 cup dark brown sugar
1/2 teaspoon salt
5 tablespoons butter, at room temperature
1/2 teaspoon pure vanilla extract
1/4 teaspoon almond extract
1/2 cup toasted almond slivers
Preheat oven to 350˚. Spray a 9×9-inch square pan with cooking spray and line it with parchment paper, leaving an overhang on each side of the pan.
Crust: In the bowl of a food processor, add the flour, almond flour, confectioners sugar, and salt, and pulse several times to combine. Add the butter cubes and both extracts, and process until the butter is incorporated and the mixture looks like fine crumbs. With floured hands, press the mixture into the bottom of the prepared pan, forming a firm even layer. (Do not wash the processor bowl.)
Bake the crust for 25 to 30 minutes, or until golden brown. Remove to a rack to cool while preparing the filling.
Filling: In a medium saucepan, combine the apricots, water, orange peel, and salt. Bring to a simmer over medium-low heat. Continue simmering until the water has cooked off and the apricots have softened. Set aside to cool while preparing the crumb topping.
Crumb Topping: In the bowl of the processor, combine the flour, sugar, and salt, and pulse several times to combine. Add the softened butter and extracts, and process until the butter is evenly distributed throughout the flour mixture. Add the almonds and pulse 3 to 4 times. Remove the crumb topping to a bowl and wipe the processor bowl clean.
Assemble and Bake: In the bowl of the processor, combine the apricot mixture and the cherry preserves. Pulse several times to combine. Do not completely puree the fruit mixture; some pieces of fruit should remain.
Spread the fruit mixture overtop the cooled crust. Add the crumb topping by squeezing together handfuls of the crumbs, breaking them apart with your fingers, and scattering them over the filling. Lightly press the crumbs into the filling.
Bake for 30 to 35 minutes, or until the crumb topping is golden brown. Cool on a wire rack. Lift the bars from the pan using the parchment paper overhang. Cut into desired sized bars.
Recipe by Mary Weinberg – siftingfocus.com