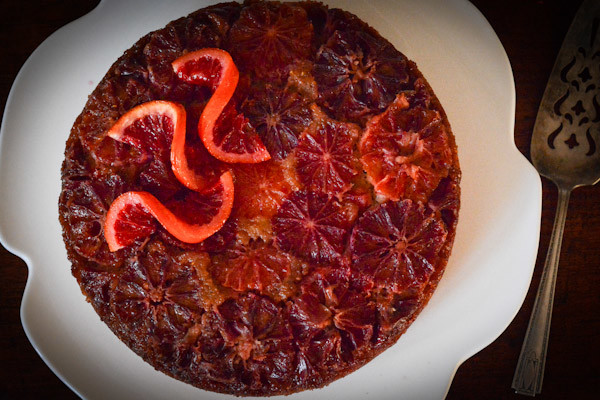 The markets are spilling over with lavish amounts of spritely citrus, and I am taking full advantage of the abundance. I love them all but I will admit that I have a secret (or not so secret) love affair with blood oranges. As an artist, I am drawn to their electrifying color, and as a baker I am inspired by their citrusy sweetness. Each time I cut into a blood orange, I am smitten all over again. Just beneath its mottled orange and red peel, segments of crimson pulp burst with vibrant pink juice. If you haven't experienced a blood orange, you don't know what you're missing.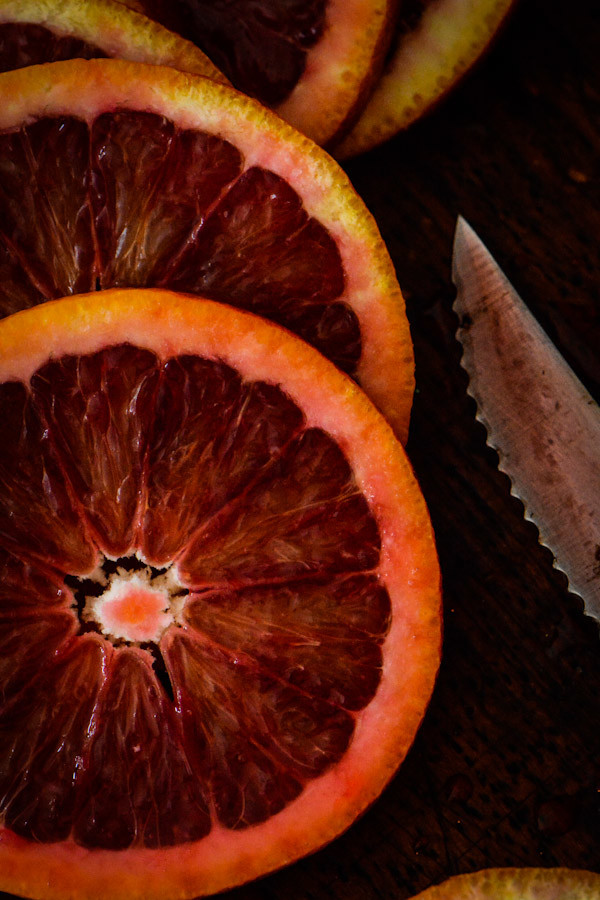 This cake allows the exotic blood orange to shine. It's rainbow of warm color sits atop a tender and exceptionally moist cake. Polenta delivers a rustic bite while complimenting the tangy essence of the citrus.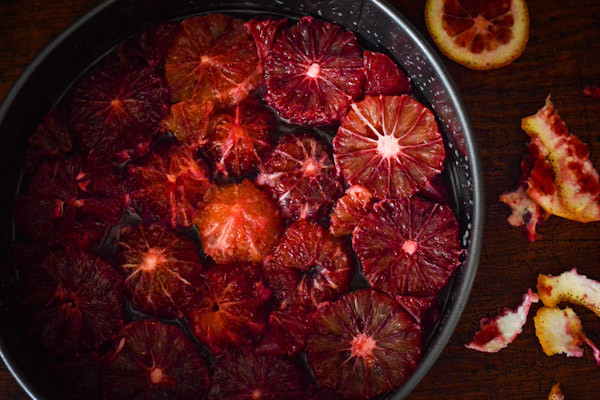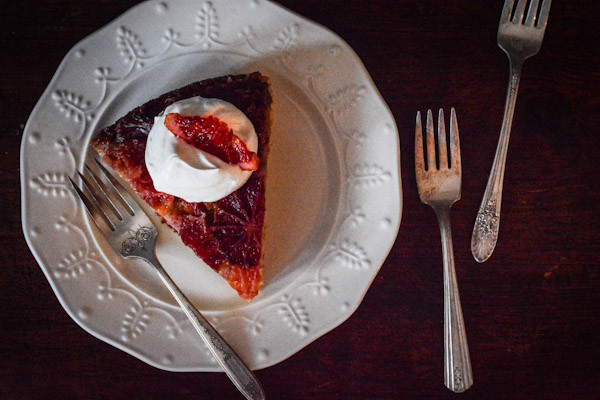 There is a bit of preparation in readying the fruit for this cake, but with a well sharpened knife, it goes pretty quickly. The only other advice I have for you is to be extra vigilant in removing all the white pith from the oranges. The smallest amount can result in a bitter bite of cake. And one last thing, this cake is delicious and most beautiful when served warm from the oven. By the second day, the oranges loose their shine and become a touch withered.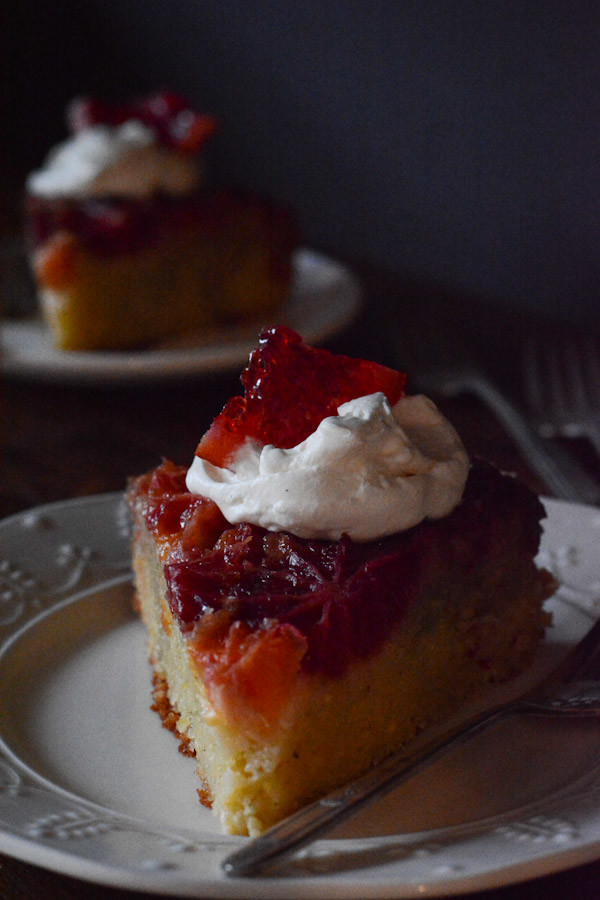 Upside-Down Blood Orange Polenta Cake
3/4 cup packed light brown sugar
3/4 cup (1 1/2 sticks) butter, room temperature, divided
6 blood oranges, peel and white pith removed, each sliced into 4 rounds, seeds removed
1 1/2 cups all-purpose flour
3 tablespoons polenta (not quick cooking)
1 1/2 teaspoon salt
1 1/2 teaspoon baking powder
1/2 teaspoon baking soda
1 cup granulated sugar
1 vanilla bean, split lengthwise, or 1 teaspoon vanilla bean paste, or 1 teaspoon vanilla extract
4 large eggs, room temperature
3/4 cup buttermilk, room temperature
Preheat oven to 350˚F. Coat a 9-inch springform pan with nonstick spray and place on a foil-lined rimmed baking sheet.
Cook the brown sugar, 1/4 cup butter, and 2 tablespoons water in a small saucepan over medium heat, stirring, until sugar is dissolved and mixture is smooth. Bring to a boil and cook, without stirring, 2 minutes (it should be slightly thickened). Pour caramel into prepared pan and let rest until set, about 5 minutes.
Arrange orange slices in concentric circles in a single layer over caramel. (Start with larger slices around the outside, then use the smaller ones as you work toward the center. Cut up leftover citrus to fill in the gaps.)
Whisk flour, polenta, salt, baking powder, and baking soda in a medium bowl. Place granulated sugar and remaining 1/2 cup butter in a large bowl; scrape in vanilla seeds and save pod for another use. Alternatively, add the vanilla bean paste or vanilla extract if using. Using an electric mixer on high speed, beat until light and fluffy, about 4 minutes. Add eggs one at a time, beating to blend between additions; beat until mixture is very fluffy, about 3 minutes.
Reduce mixer speed to low, Add dry ingredients in 3 additions alternating with buttermilk in 2 additions, beginning and ending with dry ingredients; mix just until batter is smooth. Scrape batter into prepared pan (be careful not to disturb orange slices) and smooth surface with an offset spatula.
Bake cake until golden brown and a tester inserted into the center comes out clean, 50-65 minutes. Transfer pan to a wire rack and let cake cool 10 minutes. Run a knife around edges of cake to loosen, then unmold. Invert cake onto rack and carefully remove bottom of pan. Let cool completely.
Note: I used this recipe for Candied Orange Slices to decorate the cake.
Adapted from Bon Appetit