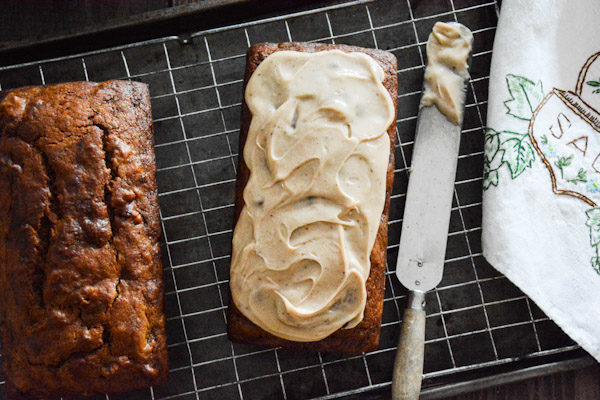 This pumpkin bread almost didn't happen. It was destined to be an utter failure. I messed up big time when I was executing what is actually a very straight-forward recipe. I'm willing to wage a bet that you too have made the same mistake I made when stirring together the ingredients for this awesome bread. I inadvertently omitted the baking soda. Yikes! Five minutes after placing the loaf pans into the oven, I took a peak to see how things were looking. Something seemed off. Call it baker's intuition. I quickly realized that the only leavening agent I had added to the batter was egg, and with years of baking experience under my belt, I knew that couldn't be right. In a panic, I rushed to my recipe and quickly scanned the list of ingredients. And there it was, staring right back at me in black in white – 1 1/2 teaspoons of baking soda.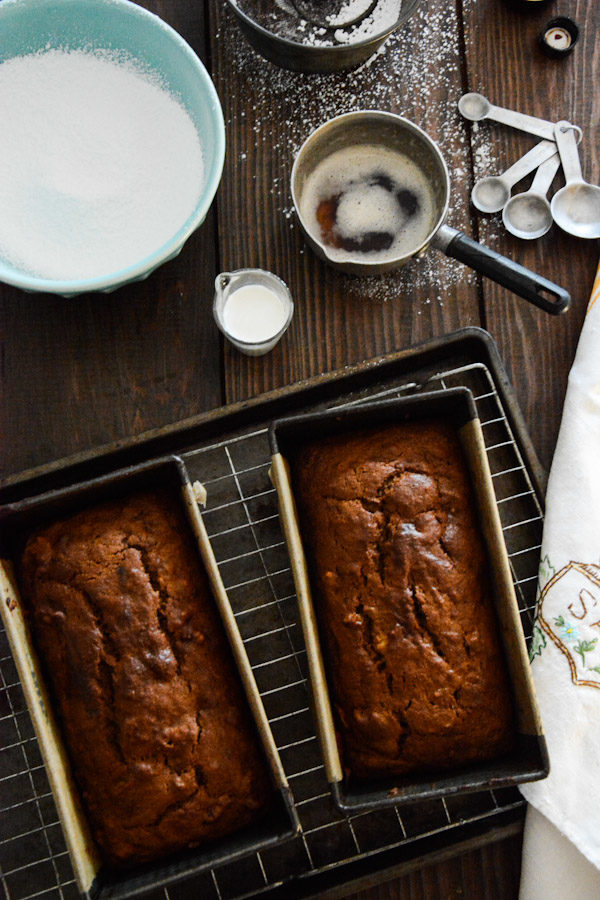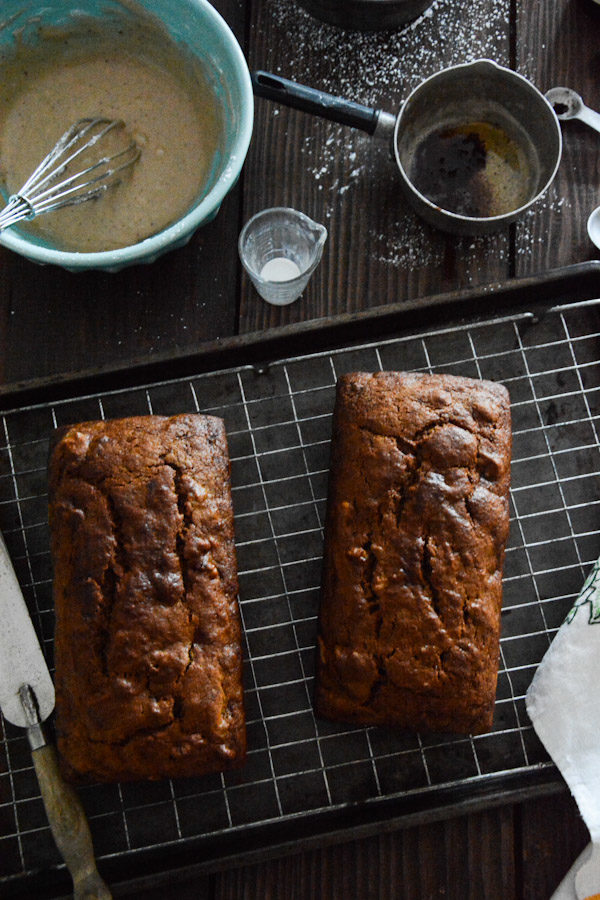 What to do? In a last ditch effort to salvage the ingredients and the time and effort that went into those two loaves of pumpkin bread, I did what every baker would do. I pulled the pans from the oven, dumped the batter back into a mixing bowl, stirred in the baking soda, divided the batter between the pans once again, and popped them back into the oven. Whew! But did it work? Surprisingly, yes it did! As I sunk my teeth into a warm, lightly spiced and nutty slice of bread, I was glad I took the risk. Of course, adding forgotten ingredients to a recipe once it has begun the baking process isn't always going to work. However, if you ever find yourself in that situation, be bold! What do you have to lose?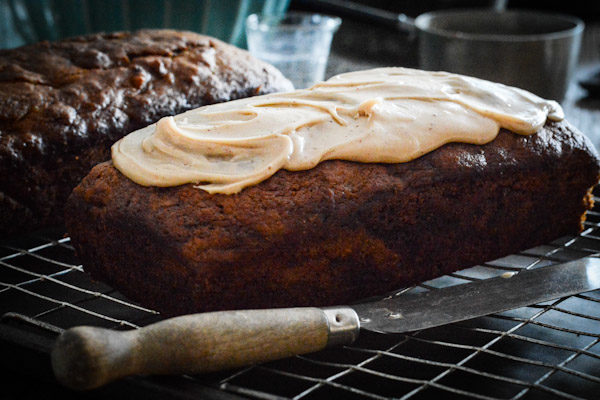 Pumpkin Bread with Brown Butter Maple Glaze
2 cups all-purpose flour
1 cup firmly packed dark brown sugar
1 cup granulated sugar
1 1/2 cups coarsely chopped walnuts
3 teaspoons pumpkin pie spice
1 1/2 teaspoon baking soda
1 teaspoon salt
3 large eggs
1 3/4 cups canned pumpkin
3/4 cup vegetable oil
Preheat oven to 350˚F. Oil two 8 1/2 by 4 1/2-inch loaf pans. (I lined the pans with parchment as well.)
In a large bowl, whisk together the flour, sugars, nuts, baking soda, pumpkin pie spice, and salt.
In another bowl, whisk together the eggs, pumpkin, and oil until well blended.
Add wet ingredients to the dry ingredients and stir just until combined. Pour batter into prepared pans.
Bake until a wooden skewer inserted into the center of a loaf comes out clean, 50 to 60 minutes. Remove to a rack and allow to cool for 15 minutes. Run a knife around the edge of the pan to loosen the bread. Invert onto racks and let cool completely. Cover in Brown Butter Maple Glaze if desired.
Brown Butter Maple Glaze
4 tablespoons butter
1 1/2 cups confectioners sugar, sifted
2 tablespoons half and half, at room temperature
2 teaspoons maple flavor
Pinch salt
Melt the butter in a small saucepan over medium heat. Once melted, continue to cook until the butter turns golden brown in color. Pour into a medium bowl and let cool. When the butter is completely cooled, add the sugar, half and half, maple flavor, and salt. Whisk to combine.
Makes 2 Loaves
Inspired by: Farmer John's Favorite Pumpkin Bread