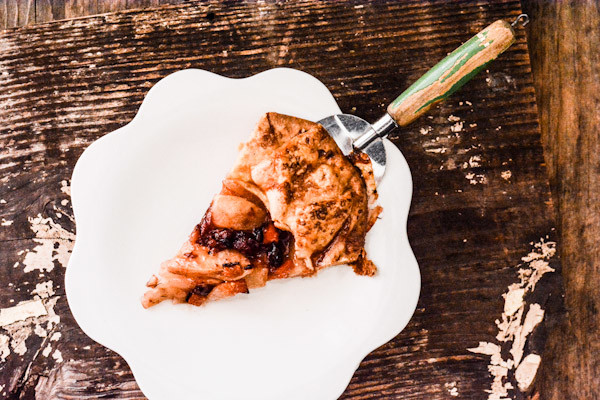 With the rush rush and hurry up pace that is my life most days, I find myself especially appreciative when I awake to find an empty calendar block staring back at me from my computer. Today was one such day. I stayed in jammies, and did what I do most days when I find I have no errands to run, chores to perform, or appointments to keep. I baked.
With a well stocked pantry and a bowl of perfectly ripe pears, I revisited a recipe I dog-earred earlier this month while doing research for Pi Day. I chose this savory tart to post for Pi Day but I knew I would return to this galette recipe at another time. There was no resisting a flaky, buttery crust cradling juicy pears and sweet-tart apricots.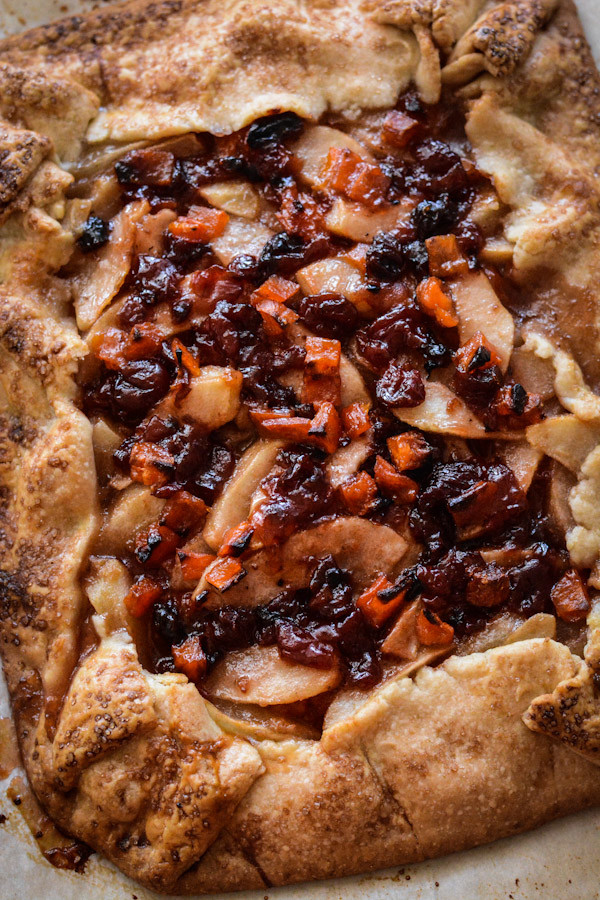 This galette was harvested from the book Pie*ography, which is a treasury of 42 varying recipes, inspired by 39 different women, each sharing their 'pie story' and a favorite recipe. One such story is shared by Rebecca Pelfrey. Just as Rebecca's oldest daughter was entering kindergarten, she decided to trade in her career as an art director for life on a farm. As a farmer raising lambs, hogs, chickens, turkeys and more, she began to cook and bake more from scratch. Rebecca wanted to perfect her pie baking skills, believing that "a good farm woman should not be intimidated by mere pie". This galette is her riff on a recipe she found in Julia and Jacques Cooking at Home. I have left my own imprint by further adapting it to suit my tastes and ingredients on hand.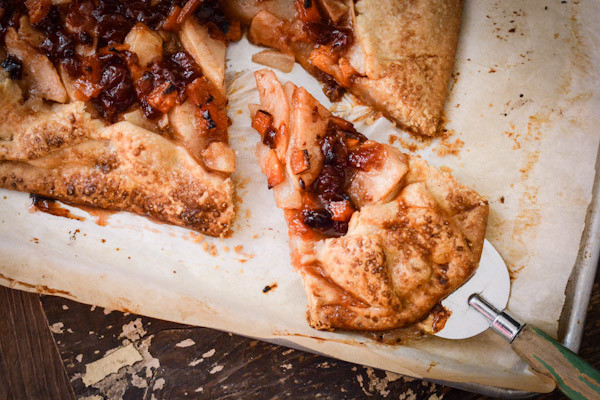 Pear Apricot and Cherry Galette
Flakey Tart Dough
2 cups all-purpose flour
2 teaspoons granulated sugar
1/2 teaspoon salt
12 tablespoons (1 1/2 sticks) butter, cut into small pieces and chilled in freezer
2 tablesoons vegetable shortening, chilled in freezer, cut into small pieces
3 tablespoons ice water, plus more if needed
In the bowl of a food processor, pulse together the flour, sugar, and salt. Add the butter and vegetable shortening and pulse until incorporated, with pea-sized pieces remaining. With the motor running, slowly drizzle in the ice water. Stop the processor just as the dough begins to form a ball. Remove the dough to a lightly floured surface and shape into a rectangle. Wrap in plastic wrap and chill for 1 hour.
Pie Filling and Assembly
5 to 6 medium, ripe pears
1/2 cup dried apricots, diced
2 tablespoons granulated sugar
1/4 teaspoon ground cinnamon
1/4 teaspoon freshly ground nutmeg
4 tablespoons cookie crumbs, or dried bread crumbs
2 tablespoons butter, cut into small pieces
1 egg, whisked together with 1 teaspoon water
Coarse sugar
1/2 cup cherry preserves
1 tablespoon brandy
Preheat oven to 400˚F.
Peel, core, and slice the pears. Stir in the apricots, reserving 2 tablespoons for sprinkling on top of galette during baking. Whisk together the sugar, cinnamon, and nutmeg, and add to the fruit. Toss to combine.
Roll out tart dough until it measures approximately 13″ x 16″. Transfer to a parchment lined rimmed baking sheet. Sprinkle center of pastry with cookie crumbs.
Pour fruit into center of pastry and spread into thick, even layer, leaving the outer 2 inch edge of pastry exposed. Dot with butter. Brush exposed edge of pastry with the egg wash. Fold pastry up around edges of fruit and brush with additional egg wash. Sprinkle with coarse sugar. Bake galette for 45 minutes.
While the galette is baking, in a small bowl, stir together the cherry preserves and brandy. Microwave for 20 seconds and stir again.
After 45 minutes of baking, remove galette from oven. Dollop the cherry preserve mixture over top of the pears. Spread gently so as not to disturb the pears. Sprinkle reserved diced apricots over top. Return to oven and continue to bake for an additional 15 minutes. Allow to cool for an hour before serving.
Serves 8 to 10