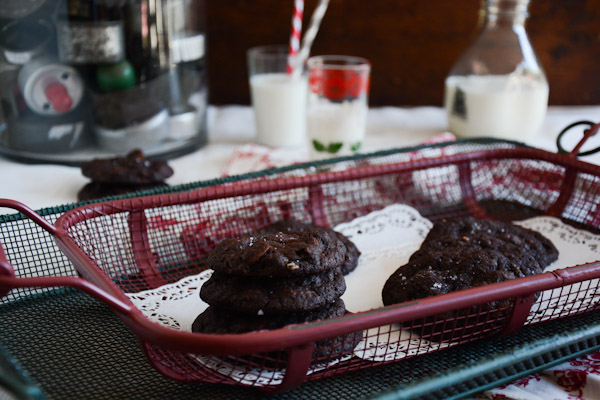 Allow me to share a few things about these cookies. First…they scream for milk! Second…they are deeply and irresistibly chocolatey. And third…they are named after the 'Turtle' candy made famous by the Johnson's Candy Company way back in 1918. We've all eaten them, right? Caramel and pecans drenched in milk chocolate. Well, I took liberties with that famous little candy and turned it into a stellar version of a cookie. The 'piece de resistance' is the chopped up Lindt Excellence Dark Caramel with a Touch of Sea Salt chocolate that plays the roll of chocolate chips in this cookie. Add pecans and loads of decadent Valrhona cocoa, and well…this cookie may just make the Turtle famous all over again.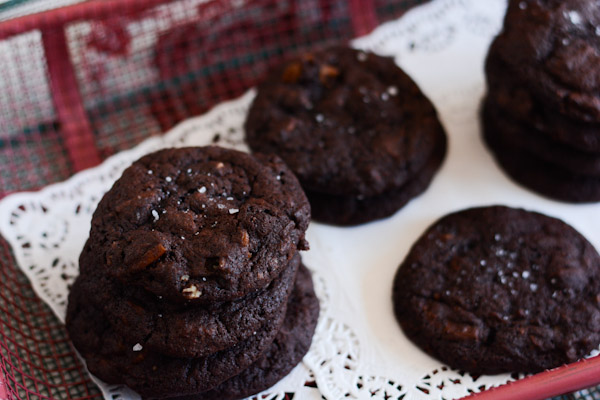 I was on a very special mission when I created this cookie. In early November I was invited to take part in the 4th Annual Great Food Blogger Cookie Swap hosted by the lovely ladies over at Love and Olive Oil and The Little Kitchen. To participate, the only requirements were a passion for cookies and a nominal donation to Cookies For Kids' Cancer, a national non-profit organization committed to funding new therapies used in the fight against pediatric cancer. What better reason to bake! Along with four generous brand partners: OXO, Dixie Crystals, Brownie Brittle, and California Olive Ranch, we were able to raise a blessed $12,335 for CFDC. Whoo Hoo!!! I'm so proud to have been part of this Swap.

Cookie Swaps are such fun! I was like a little kid with my nose pressed up against the window as I 'im'patiently waited every day for the mailman to deliver my cookies. It made me giggle to imagine the hundreds of boxes of cookies traversing the country over the last week or so. In addition to receiving a box of cookies from three different bloggers, I in turn sent a box of my Chocolate Salted Caramel Turtle Cookies to three other participants. Take a look at the tasty selection of goodies that came my way.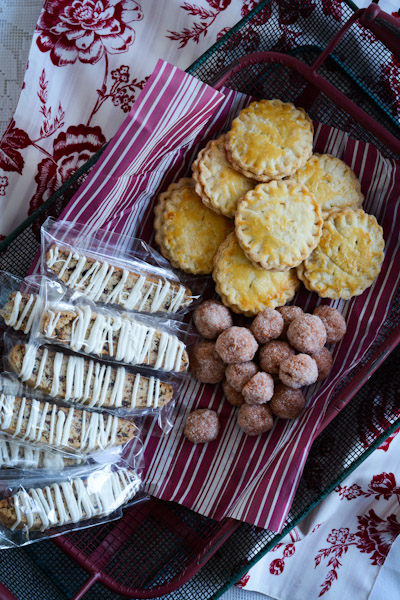 Kelsey from A Taste For Trouble sent the dainty Candied Cranberry Cookies. I love their diminutive size, so irresistible! Robin, over at A Shaggy Dough Story sent the all fancied up White Chocolate Cranberry Biscotti. Such a beautiful presentation Robin! Then, there's those cute little Raspberry Jam Pie Cookies from Sonja of Ginger and Toasted Sesame. I wonder if she knew how crazy I am about pie?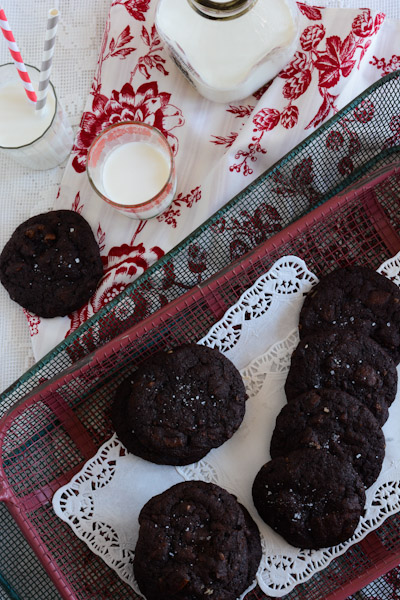 I'm already looking forward to next year's swap. In the meantime, I'll keep myself contented by working my way through my three boxes of cookies.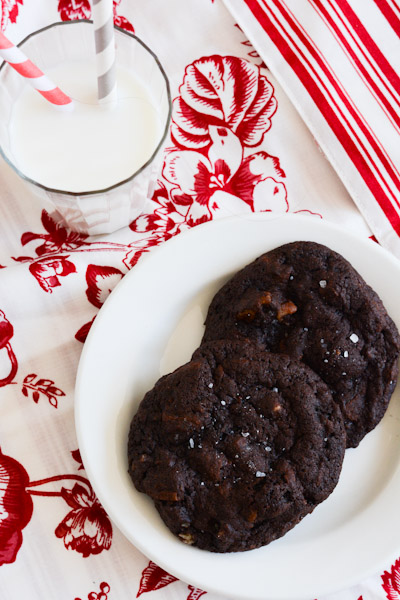 Chocolate Salted Caramel Turtle Cookies
2 cups all-purpose flour
3/4 cup unsweetened cocoa
1 teaspoon baking soda
1 teaspoon salt
1 cup butter, at room temperature
3/4 cup granulated sugar
3/4 cup brown sugar , lightly packed
2 large eggs
1 teaspoon vanilla extract
10.5 ounces (3 bars) Lindt Excellence Dark Caramel with a Touch of Sea Salt, chopped into 1/4 to 1/2-inch pieces
1 cup pecans, lightly toasted and chopped into large pieces
Preheat oven to 350˚F. Line 2 to 3 baking sheets with parchment paper.
In a medium bowl, sift together the flour, cocoa, baking soda, and salt.
In the bowl of a stand mixer, cream together the butter and both sugars. Add the eggs and vanilla, and mix to combine. Add the dry ingredients and mix to combine. Using a wooden spoon or rubber spatula, fold in the chopped chocolate and pecans. Chill the dough for at least 2 hours and up to 2 days.
Using a 2-inch ice cream scoop, drop dough onto prepared baking sheet, spacing 2 inches apart. Bake for 14 – 15 minutes. Cookies will be very soft right from the oven. Allow to cool for 10 minutes on the baking sheet before removing to a rack to finish cooling.
Yield: Approximately 30 cookies
Source: Mary Weinberg – siftingfocus.com