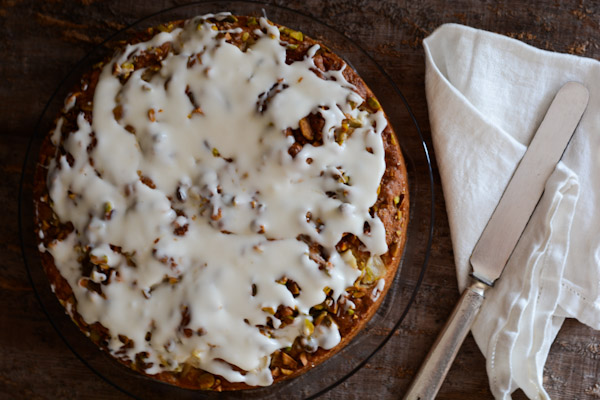 Do you know how frustrating it can be when baking is your passion and you don't have an oven? VERY!!! Two weeks ago, just as I was rolling out the pastry for Howie's birthday pie, my oven 'short circuited'. Literally. The control panel fritzed out and the room filled with an electrical burning smell. But that wasn't the worst. The worst was the ear piercing beeping sound blaring from the oven. Might I just mention that for safety reasons there is no way to turn the beeping sound off. I had eight people coming for dinner in less than five hours and I had no oven. Yes, there are worse things, but at that moment I was struggling to think of one. Hours later a repair person arrived and informed me that my oven panel was shot. What a surprise! The only good news – he was able to shut off the oven's main circuit breaker which stopped the annoying beeping. I baked the pie at my neighbor's house, finished the dinner on the barbecue, and everyone had a lovely evening in spite of the broken oven.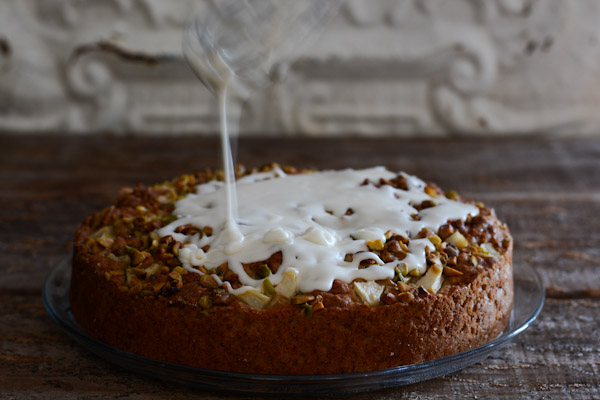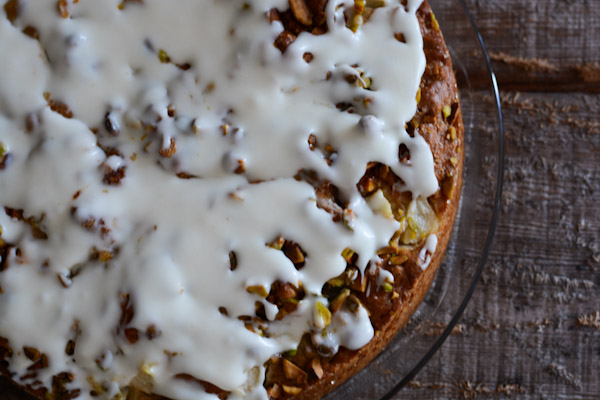 Then I left town. Not because my oven was broken, but because I went to spend some time with my Mom. I returned home this past week raring and ready to embrace the Fall weather and to get back to baking and blogging. And then I was told my new oven wouldn't be installed for at least two more weeks. GRRRR!!! Then a light bulb came on in my head. I have a really nice, and really large toaster oven. It fits up to a 13×9-inch pan. Heck, I can accomplish a lot of baking in that size space. With the warm weather still lingering in Southern California, there was actually an advantage to not turning on a big oven. Under the heading of 'where there is a will, there is a way', I am just going to bake away in my little (large) toaster oven until my brand spanking new one is delivered. And with that, I bring you coffeecake.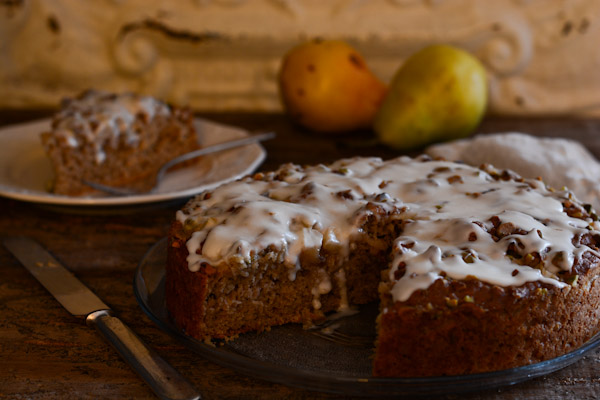 This cake was inspired by a recipe I saw on the Southern Living website. I changed quite a bit in the recipe to get to the one you see here. I was more than surprised by how well it turned out. I was especially surprised by how well my toaster oven baked. I think I might be onto something here. Look for more toaster oven recipes in the future.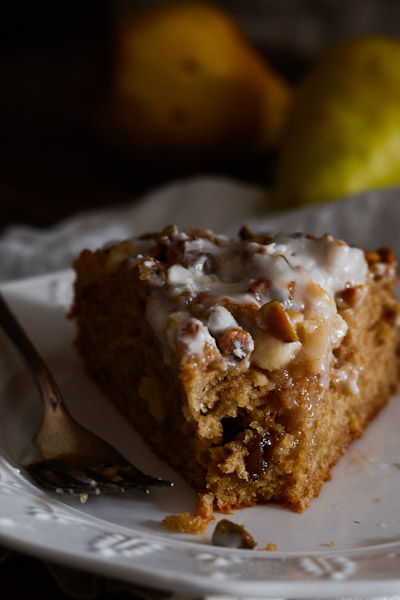 Fig Jam, Pear and Pistachio Coffeecake
Let your imagination run wild with the limitless variations of jam, fruit and nut combinations possible in this cake. Adjust the spices accordingly.
1 stick (8 tablespoons) butter
2 cups all-purpose flour
3 teaspoons baking powder
1/2 teaspoon baking soda
1/2 teaspoon salt
1/2 teaspoon ground cinnamon
1/4 teaspoon cardamom
1/4 teaspoon ground ginger
1/4 teaspoon freshly grated nutmeg
2 large eggs
1 cup buttermilk
1/2 cup, lightly packed, brown sugar
1/3 cup fig jam
1 cup, 1/2-inch dice, pears
1/2 cup chopped toasted pistachios
1 tablespoon raw turbinado (or granulated) sugar
1 1/2 cups sifted confectioners sugar
1 to 2 tablespoons buttermilk, room temperature
Pinch of salt
Heat the oven to 350˚F. Lightly grease a 9×2-inch round cake pan.
In a small lightly colored saucepan, melt butter over low heat. When it has completely liquefied, turn heat to medium to brown the butter. It will bubble, and brown bits will form on the bottom of the pan. When the sputtering stops, pour off the butter liquid into a small bowl, leaving the butter solids in the pan. Set aside to cool.
In a medium bowl, whisk together the flour through nutmeg. In a large bowl, whisk together the eggs, buttermilk, brown sugar, and 4 tablespoons of the browned butter. Stir the flour mixture into the egg mixture.
Pour the batter into the prepared cake pan. Dollop the fig preserves by teaspoonfuls over the batter. Using a knife, swirl the preserves throughout the batter. Sprinkle the diced pears and pistachios over the batter. Sprinkle with the sugar.
Bake for 40 to 45 minutes, or until a cake tester inserted in the center of the cake comes out clean. Cool cake for 15 minutes, then remove to a serving platter.
In a medium bowl, whisk together the confectioners sugar, salt, remaining browned butter, and enough buttermilk to achieve a drizzle consistency. Drizzle the glaze over the cake. Serve warm or at room temperature.
Serves 8
Source: Mary Weinberg | siftingfocus.com