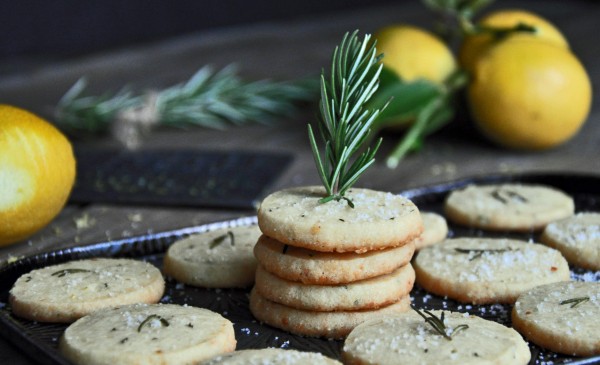 My oven has been going full blast for the past few days, pumping out batch after batch of cookies, with many more still to be baked. Cookbooks lie spread across the kitchen table, hand written recipes are strewn about, and stacks of cookie sheets are at the ready. I'm in the midst of preparing for my annual Girlfriends Soup and Cookie Party . I began the tradition a few years ago as a way to show my girlfriends how grateful I am to have them in my life.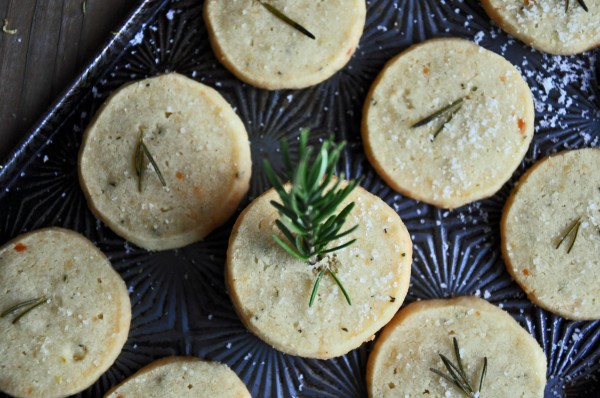 The soup portion of the evening is superfluous, but I feel a need to warm their tummies in preparation for the sweets to come. It is a night intended for complete indulgence. Stacking plates are overflowing with cookies, each and every one baked with love. Whatever cookies aren't consumed during the party go with them, my way of extending the love to husbands and children at home.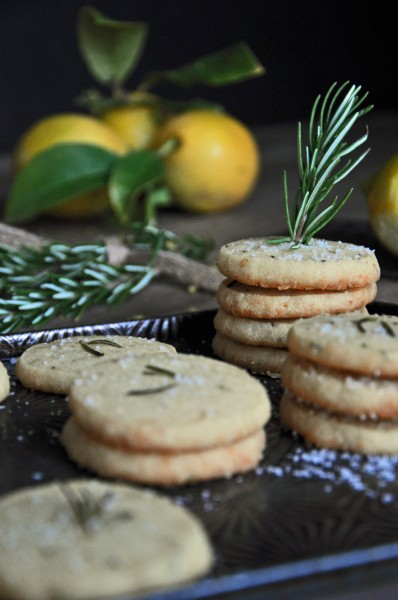 These Rosemary and Cheese Cookies straddle up splendidly next to a bowl of hot soup, and are much more interesting than your typical slice of bread or cheese and cracker. The original recipe relies on a cookie press to pipe the dough, but realizing not everyone has one, I tweaked it here and there and came up with this 'slice and bake' adaptation. It is a bit more rustic that the cute little flower shaped cookies you get from a press, but with much less equipment and clean-up required.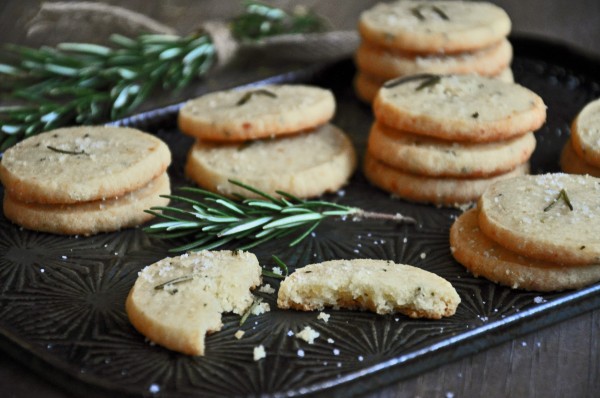 If you are looking for a quick and easy, do-ahead savory cookie for your upcoming holiday party, you have found it. These cheese cookies can be made weeks in advance and frozen. Last minute, just pull as many as you need from your stash in the freezer and you are good to go.
Savory Rosemary and Cheese Cookies
1 ¾ cups all-purpose flour
¾ cup finely grated Pecorino cheese*
½ cup finely grated Parmesan cheese*
1 tablespoon sugar
2 teaspoons minced fresh rosemary leaves
½ teaspoon salt
Pinch freshly grated nutmeg
1 cup (2 sticks) butter, at room temperature
1 teaspoon finely grated lemon zest
1 large egg yolk
5 tablespoons heavy cream
Additional rosemary leaves for garnish, optional
Course salt for garnish, optional
Whisk the flour, cheeses, sugar, rosemary, salt, and nutmeg together in a bowl.
Beat the butter and lemon zest with an electric mixer at medium speed until smooth, about 30 seconds. Slowly beat in the egg yolk and cream.
Gradually add the flour mixture into the butter mixture. Scrape down the side of the bowl, then beat on medium speed until completely combined.
Divide the dough in half. Place each half on a sheet of parchment paper or waxed paper. Shape into a log approximately 1 ¼ to 1 ½ -inches in diameter. Wrap logs tightly in the paper and refrigerate until completely chilled, at least two hours or overnight.
Preheat oven to 325˚. Line baking sheet with parchment paper.
Working with one log at a time, slice each log into 1/3-inch thick slices. Space them 1 inch apart on the prepared baking sheet. Garnish each cookie with a leaf or two of rosemary and a light sprinkling of course salt. (If using the course salt to garnish, cut the salt in the recipe to ¼ teaspoon.) Bake for 18 to 20 minutes, or until just golden at the edges. Allow to cool on the baking sheet for 5 minutes before removing to a rack to cool completely.
*Note – This recipe was tested using pre-grated Pecorino and Parmesan cheeses that come in containers at the market. Freshly grated cheese has not been tested in this recipe and may result in an inferior cookie.
Yield: Approximately 5 dozen cookies
Source: Food Network