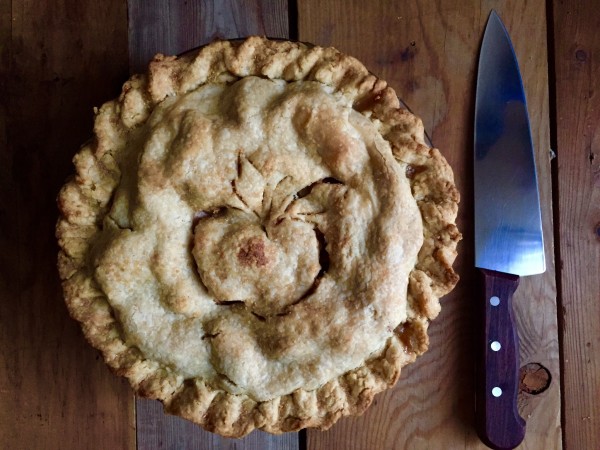 It doesn't take much to make this city girl happy. The crackling sound of fallen leaves beneath my boots. A carpet of red, green and golden orbs beneath trees whose limbs are releasing their precious fruit to my care. Air crisp enough to don a scarf and lightweight jacket, adding to the Fall-ish atmosphere of a day of apple picking, and I'm happy!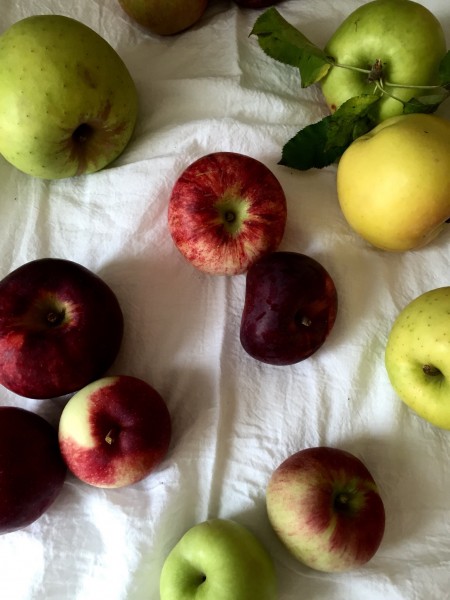 The love of country living runs deep in my veins. For as long as I can remember, I have been charmed by rural life. My fondest childhood vacation memories are of trips to my great-grandmother's farm in the mountains of West Virginia. As a child, I delighted in the gathering of fresh eggs from the hen house and picking sun ripened tomatoes right from the garden. My siblings and I entertained ourselves for hours catching salamanders in the brook just over the hill from the house. For many years, the old farm house was without indoor plumbing which meant daring, fright-filled adventures to the out-house in the middle of the night. For this little Girl, life on the farm was the greatest show on earth. No circus or carnival held the possibility for more entertainment and amusement.
Once as a teenager, I remember riding along with my boyfriend as he delivered wood to a young family who lived in a farm house at the end of a winding country road. It was late December and a pure blanket of white covered the road and adjacent fields for as far as the eye could see. The husband and wife welcomed us inside where we were offered freshly baked bread warm from the oven, slathered with preserves from the past summer's bounty. Nothing more than a wood-burning fireplace heated the house, yet I had never felt so warm. We left their home dreaming of the day we would have our own land and farm house, so we too could live such an 'idyllic' life. Ah, young love.
I'm sure there are plenty aspects of country/farming life far less romantic than the memories I hold from my youth. Reading 'Bean Blossom Dreams' and 'The Dirty Life' set me straight on that account. But when I can, I welcome the opportunity for any adventure that takes me on a bucolic journey. Last week, one such adventure came in the form of apple picking in upstate New York.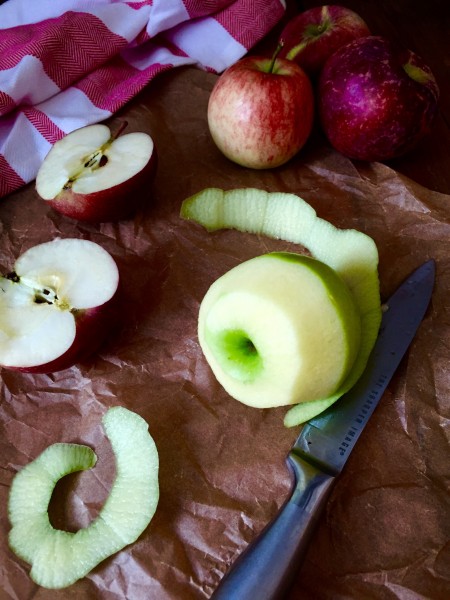 At many U-pick farms, apple picking has become as commercial as Christmas. After all, it's a business and I guess they are smart to make the most of it. We forewent the moon bounce and corn maze and headed straight for the orchard, but not before stopping to buy bags for our apples. At this farm you begin with empty pre-purchased small or large bags that are sold at a fixed price. The goal is to cram as many apples into the bag as one can fit. When I suggested we 'start with' four bags, the look on H's face prompted an immediate downsizing to a measley three bags. Come to find out, the small bags hold WAY more apples than I realized. Row after row of apple trees, varieties of which I cannot get on the West Coast, sent me right to apple heaven. New to me this year, I discovered the huge, green skinned, Mutzu apple. Although perfect for baking and cooking, it is my new favorite eating apple. We also filled our bags with Cortlands, Romes, and Macouns – my best discovery during last year's picking.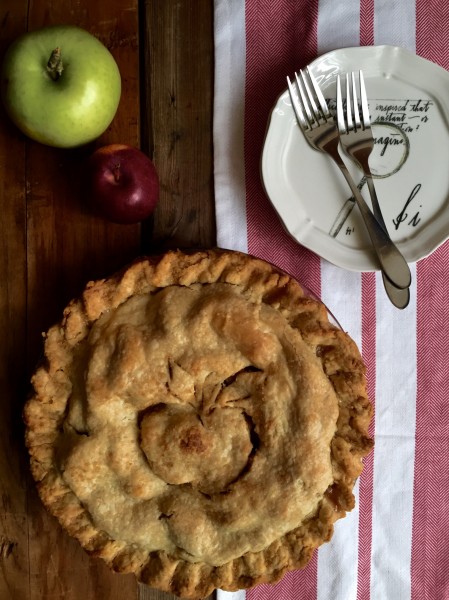 Once back at J's tiny studio apartment, I was raring and ready to bake. Her postage stamp sized kitchen presented a few challenges along the way but I thought, if Deb of Smitten Kitchen can do it, so can I! A little ingenuity, and a whole lot of patience proved to be the recipe for success. With no food processor or pastry blender, I made the crust using nothing more than a fork and it turned out perfectly. A little reminder for me to step away from all the gadgets and gismos from time to time and get re-acquainted with the basics.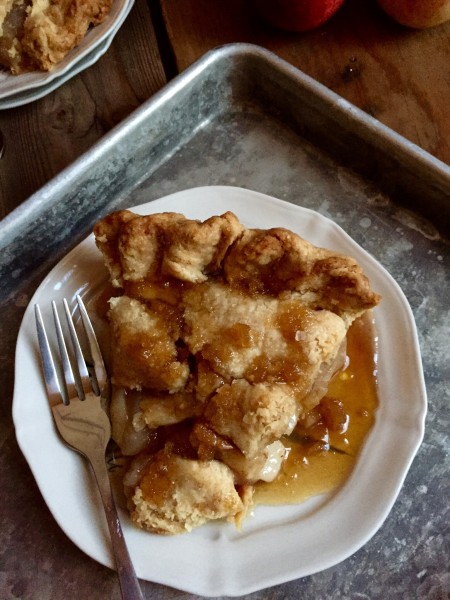 The secret to this apple pie lies in replacing most of the sugar with maple syrup that has been boiled down to a thickened consistency. Boiling the syrup intensifies its flavor and add a caramel-y richness. So delicious is this concentrated syrup, I just couldn't help myself from drizzling it over the finished pie as well.
Apple and Maple Syrup Pie
For the pie crust:
2 1/2 cups all-purpose flour
1 tablespoon granulated sugar
1 teaspoon salt
8 tablespoons butter, well chilled
8 tablespoons vegetable shortening, frozen
4 to 6 tablespoons ice water
For the filling:
Juice of 1 lemon
8 baking apples, or a combination of apples (I used Mutzu, Cortland, and Rome)
1/4 cup granulated sugar
3 tablespoons all-purpose flour
1/2 teaspoon cinnamon
1/2 teaspoon allspice
1/2 teaspoon salt
1/4 teaspoon freshly ground nutmeg
1/4 cup thickened maple syrup (method below), plus more for serving
2 tablespoons butter, cut into 8 pieces
1 tablespoon raw or demerara sugar, for sprinkling on the pie
Have ready a 9-inch pie dish.
Prepare the pie dough: In a food processor, combine flour, sugar, and salt, and pulse to combine. Add the butter and shortening and pulse until the mixture resembles coarse meal with some pea size pieces of butter and shortening remaining.
With the processor running, slowly drizzle in ice water until the dough just begins to come together. Stop short of it forming a ball in the processor. You might not need to use all the water. Remove the dough from the processor, divide it into two pieces, one piece slightly larger than the other. Shape each piece into a 6-inch disk, wrap in plastic wrap, and chill in the refrigerator until firm, at least 1 hour.
Preheat oven to 425˚F.
Prepare the filling: Put the lemon juice in the bottom of a large bowl. Peel, core, and slice the apples. Add them to the bowl, tossing them with the lemon juice as you go.
Whisk together the sugar, flour, salt, and spices. Sprinkle the mixture over the apples and toss to coat.
Remove the larger disk of dough from the refrigerator and place it on a lightly floured surface. With a floured rolling pin, roll the dough into a circle approximately 12-inches in diameter. Roll the dough around the rolling pin, then unroll it over the pie dish. Tightly arrange the apples over the dough, mounding them slightly higher in the center. Drizzle the maple syrup over the apples. Dot filling with butter pieces.
Roll out the top pie shell to a round measuring 11-inches in diameter following the instructions same as for the bottom crust. Place the dough overtop of the filling. Trim the overhanging crust to 1/2-in beyond the edge of the pie dish, turn under and crimp using a fork or your fingers. Cut decorative slits into the top crust using a sharp knife. Sprinkle top of pie with the sugar.
Place the pie in the oven on a foil lined baking sheet. Reduce the oven temperature to 375˚F. Bake for 1 hour and 15 minutes, or until the crust is golden and the juices are bubbling. (If the edges of the crust begin to brown too quickly, cover them with a pie rim or foil.)
Let cool completely before serving. Drizzle slices with additional maple syrup.
Method for thickening Maple Syrup
In a medium saucepan, bring 1 1/2 cups pure maple syrup, 1/2 teaspoon cinnamon, and a pinch of salt to a boil over medium heat. Lower heat and simmer until syrup has thickened, approximately 30 minutes. Cool to room temperature. Can be made ahead and stored in the refrigerator. If the syrup crystalizes, re-warm over low heat, stirring frequently until crystals dissolve.
Source: Mary Weinberg | siftingfocus.com