I'm a huge fan of muffins, and an even bigger fan of blueberries. Based on those two facts, you would think I was also a fan of blueberry muffins. Not so! I have rarely met a blueberry muffin that was worth my time. Here's why. Nine times out of ten, they usually amount to little more than an unfrosted yellow cupcake with blueberries scattered throughout. No thank you!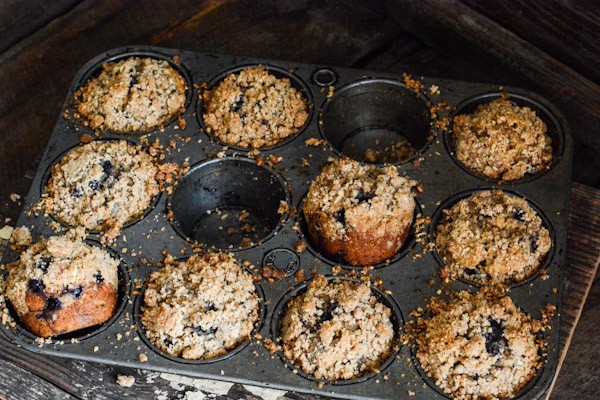 In an attempt to get my blueberry fix in an 'on the go' breakfast cake, I began to test various recipes. I focused on whole-grain because I love the chewiness and depth of flavor whole-grains contribute. And, besides the health benefits of a 'whole' muffin, I have no guilt when I dive into a cupcake for dessert.

But the real reason for choosing whole-grain was to get as far away from a 'yellow cake' type muffin as I could get.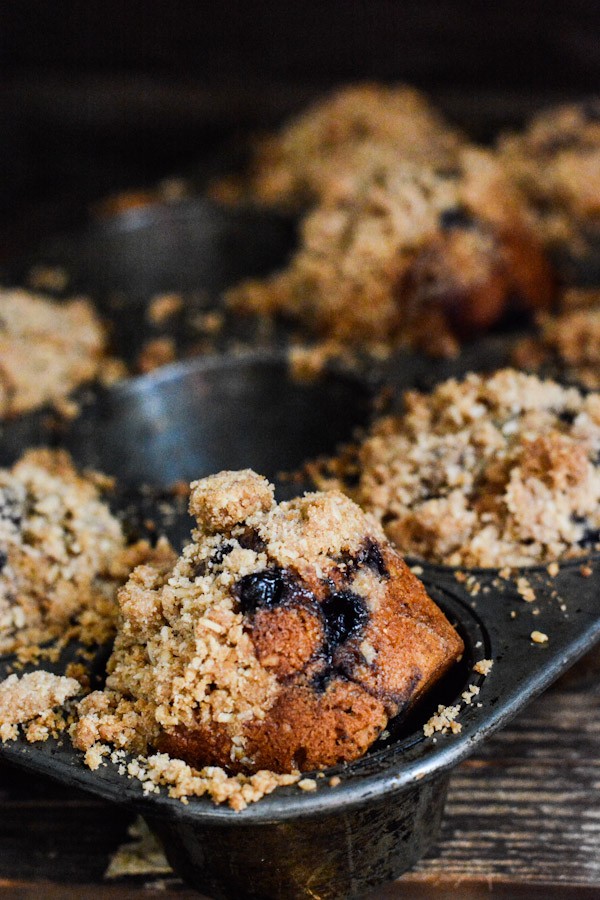 The finished product wasn't a winner right out of the gate. It took some jockeying around of ingredients to achieve the moistness I was looking for in a whole-grain muffin. After a couple attempts I knew I had created the blueberry muffin of my dreams; one with whole-grain goodness, the nuttiness of Omega-3 rich walnuts, and the antioxidant rich benefits of blueberries, all wrapped up into everything a muffin should be. Not only are these muffins good for you, but I promise they taste incredible too!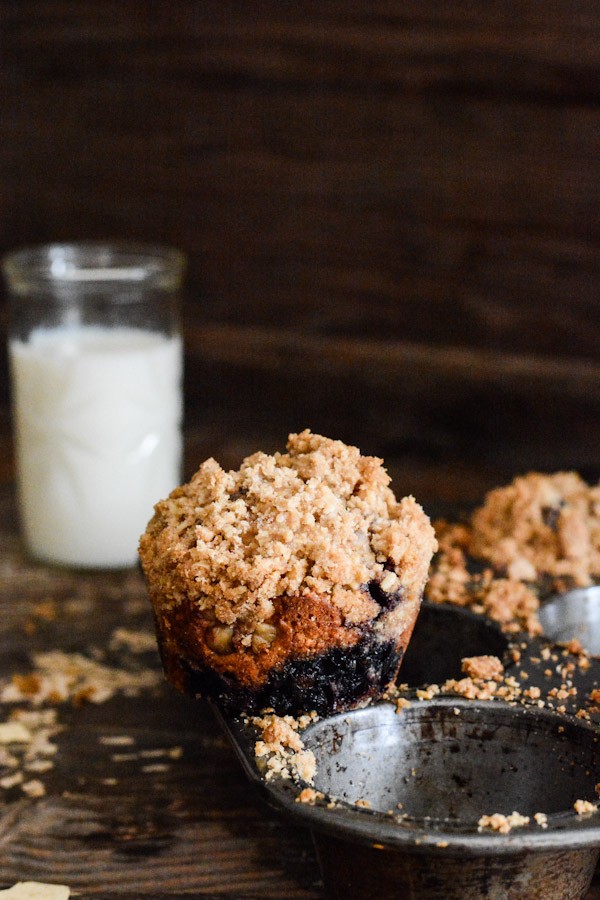 At the last minute I decided to top the muffins with a wholesome brown sugar streusel. The streusel makes the muffins a little more 'eater friendly' for those who aren't quite ready to jump from the 'yellow cake' style muffins to hearty whole-grain, but they really are just as satisfying without it. You decide. But do decide to give these muffins a try. They are sure to become one of your go-to morning recipes.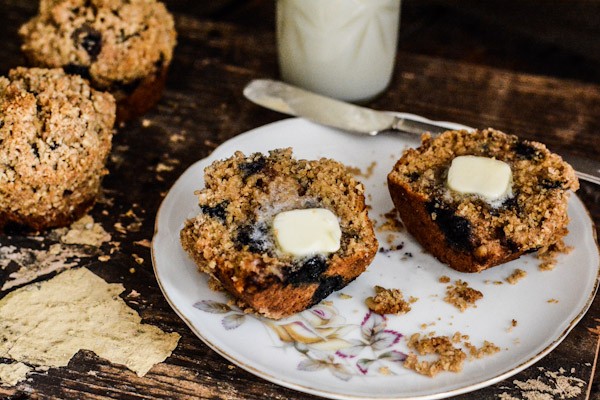 Whole-Grain Blueberry Muffins
1 cup whole-wheat flour
1 cup Scottish* oatmeal
1/2 cup cornmeal
1 teaspoon baking powder
1 teaspoon baking soda
3/4 teaspoon salt
1 cup low-fat or whole milk yogurt, or 1 cup low-fat or regular sour cream
1/2 cup tightly packed light brown sugar
6 tablespoons butter, melted and cooled
1 egg
Juice of 1/2 lemon
1 teaspoon pure vanilla extract
3/4 cup chopped walnuts
1 1/4 cup frozen blueberries**
Brown Sugar Streusel (optional)
Preheat oven to 375˚F. Spray a non-stick, or well seasoned, standard 12-cup muffin tin with cooking spray.
In a medium bowl, whisk together the flour, oatmeal, cornmeal, baking powder, baking soda, and salt.
In a large bowl, whisk together the yogurt, brown sugar, melted butter, and egg. Stir in the lemon juice and vanilla extract. Add the flour mixture and stir just until combined with the wet ingredients. Gently fold in the walnuts, followed by the blueberries.
Divide the batter evenly among the muffin cups. If using, sprinkle the streusel over-top each muffin. Bake until a cake tester inserted into the center of a muffin comes out clean, 20 to 22 minutes. Do not over-bake or the muffins will be dry.
Brown Sugar Streusel
2/3 cup whole-wheat flour
1/3 cup Scottish oatmeal
1/3 cup packed, brown sugar
1/4 teaspoon salt
4 tablespoons butter, melted
In a small bowl, stir together the dry ingredients using a fork. Add the melted butter and stir until the dry ingredients are evenly moistened.
* I used Bob's Red Mill Scottish Oatmeal to test this recipe. No grinding of oats required. If not available, substitute ground regular oatmeal.
** I prefer the smaller Wild Main blueberries in my muffins, but any frozen blueberry will do.