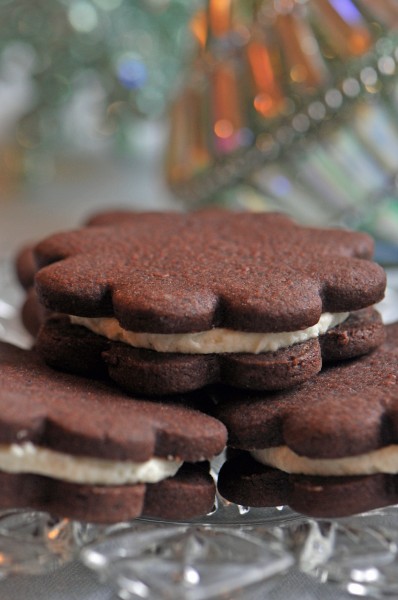 If you are assuming from the title of this post that I am one of those people who has their Holiday shopping done by July, the family photo taken by September, and the season's greeting cards addressed and stamped by November, well you would be completely wrong.  I am also not one of those last minute types either.  Especially when it comes to baking my holiday cookies, I prefer to get as many as I can into the freezer ahead of time.
Realizing that we are only twelve weeks away from Christmas, I thought I would get a jump on my baking and at the same time share  one recipe a week with you so that you too can have lots of cookies in your freezer when the holidays arrive.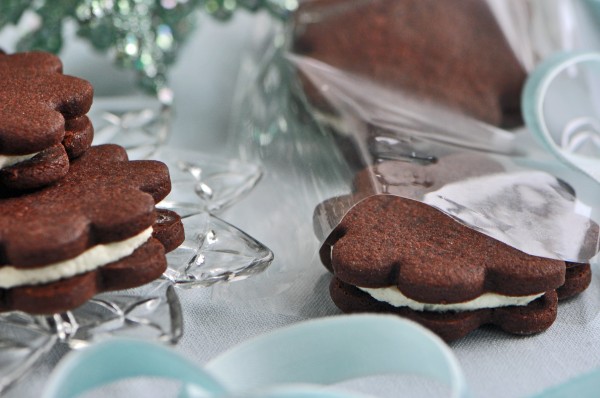 Who doesn't love a great sandwich cookie?  I have been hanging onto this recipe for ten years.  If you were to ask me why it has taken me so long to try it, I would have to say it is only because I have hundreds of cookie recipes I have clipped over the years and I simply just hadn't made it to this one.  I am so happy I finally did.  This cookie met my every requirement for a great sandwich cookie.  The dough came together in a jiffy and rolled out beautifully.  I was expecting a crispier cookie – like that of an Oreo – but was pleasantly surprised by how much I ended up liking its softer texture.  Sandwiched with a light and creamy white chocolate filling, they both combined to make a simply divine cookie.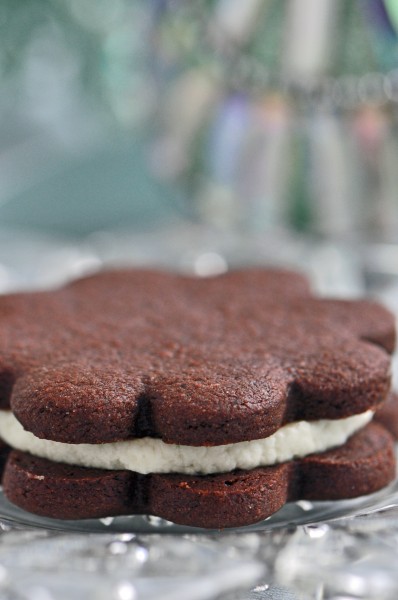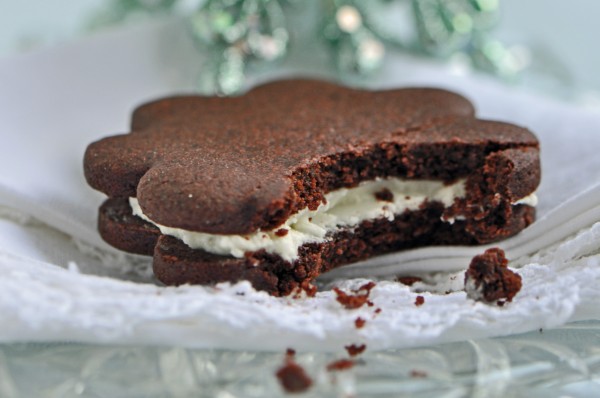 This cookie lends itself easily to adaptation.  Choose a holiday cookie cutter and tint the filling to make a Christmas Cookie that is sure to put a smile on Santa's face.  For the most sublime results, use the highest quality cocoa possible.
Dark Chocolate Sandwich Cookie with White Chocolate Filling
Cookie
1 1/4 cups all-purpose flour
2 teaspoons instant espresso powder
1/4 teaspoon salt
3/4 cup (1 1/2 sticks) butter, softened
3/4 cup granulated sugar
1 large egg
1 teaspoon vanilla extract
3/4 cup natural or alkalized (Dutch processed) cocoa powder
In a medium bowl, whisk together the flour, instant espresso powder, and salt.  Set aside.
In bowl of an electric mixer, using paddle attachment, beat butter at medium speed until creamy, about 30 seconds.  Gradually add sugar and beat until light and fluffy, about 2 minutes.  Reduce speed to low and add egg, mixing well and scraping down sides of bowl as necessary.  Mix in vanilla extract.  Gradually add cocoa powder, mixing until blended.  Scrape down sides of bowl.  Add flour mixture in three additions, mixing just until blended.  Scrape dough out onto a work surface and divide it in two.  Shape each piece into a disc, wrap in plastic wrap, and refrigerate for 2 hours, until firm.
Position a rack in center of oven and  preheat to 325˚F.  Line 2 baking sheets with parchment paper.
Place one of the dough discs on a lightly floured work surface.  Sprinkle it lightly with flour and, using a rolling pin, roll it out to a thickness of 3/16″.  (Take the guess work out of rolling dough to an exact thickness with these rolling pin rings.)  Using a cookie cutter of your choice, cut out as many rounds as possible and arrange them 1/2 inch apart on the prepared baking sheets.  (Cookie cutters ranging from 2 to 2 1/2 inches in diameter work best in this recipe.)  Gather up scraps, re-roll them, and cut out additional cookies.
Bake cookies one sheet at a time, for 7 – 10 minutes, or until they no longer look wet (the cookies should still be soft to the touch).  Transfer cookies to a wire rack and cool completely.
White Chocolate Filling
3 ounces good quality white chocolate, chopped  (I use Lindt)
4 tablespoons (1/2 stick)  butter, softened
1 cup confectioner's sugar
Pinch salt
1/4 teaspoon vanilla extract
In a small microwaveable bowl, microwave the white chocolate using 30 second intervals and  50% power until the chocolate is melted and smooth.  Stir the chocolate in between intervals.  Set aside to cool completely.
In a medium bowl, using an electric mixer or wooden spoon, mix together the cooled white chocolate and the butter.  Add the confectioner's sugar, salt, and vanilla, and continue to mix until smooth and of spreadable consistency.  Use immediately or refrigerate for up to 2 days.  Bring to room temperature before filling the cookies.
Assemble the Cookies
Spoon about 3/4 teaspoon of filling in the center of the underside of half of the cookies.  Top with another cookie, keeping top side facing out and pressing cookies together lightly until the filling spreads evenly to about 1/16 " from edge.  Repeat with remaining cookies and filling.  Serve immediately or refrigerate.  Bring to room temperature before serving.
Source:  Adapted from a recipe created by Amy Berg of Amy's Cookies as printed in the December, 2012 issue of Chocolatier Magazine