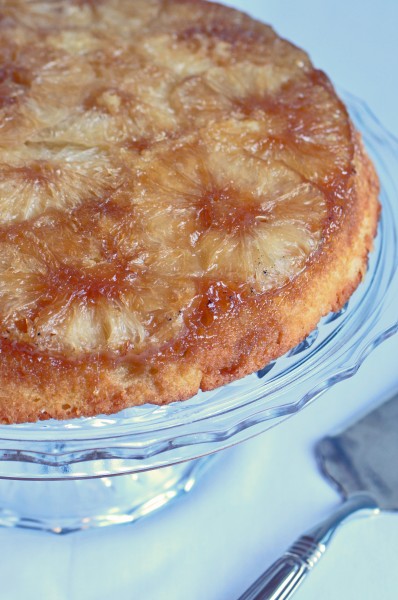 I believe strongly in the power of intuition.  After all, Oprah drilled this into our heads for years, didn't she?  99.999999999% of the time, our intuition is correct.  We just need to learn to trust it.  I knew in my gut that this cake wasn't going to work the way I hoped it would.  My intuition proved right – as per usual.  Square pegs cannot be forced into round holes.  A grapefruit is not a lemon.  Let me explain where I went wrong and why this cake was both a failure – and a success.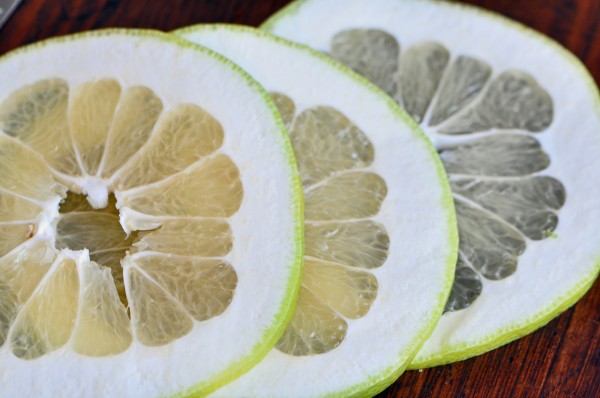 Each winter I look forward to the arrival of Oro Blanco grapefruits.  Years back, my father-in-law, also known as Farmers Market Man, turned me onto this sweet and juicy citrus.  I had never before tasted a grapefruit that didn't make my face distort when eaten without lots of sugar sprinkled on top.  I became a very happy convert.
A few weeks ago, I spied at the market the first OBs of the season.  I brought home a truckload (a large bag), and have eaten one nearly every day since.  The way I approach eating an Oro Blanco is far from the civilized approach where one cuts the grapefruit in half, and delicately spoons out the available fruit, segment by segment with a serrated spoon.  No, I take no chance at missing out on even a speck of its precious pulp.  Standing over the kitchen sink, first I peel it, and then one segment at a time, I pop the fruit from its casing and into my mouth.  Like I said, I stash my manners while consuming my Oro Blancos.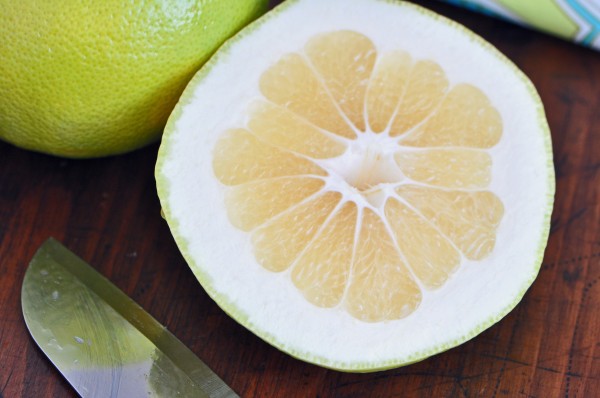 My passion for Oro Blancos got me thinking of a way I could incorporate them into something delicious from the oven.  Pie initially came to mind.  There are many versions of lemon pies that use the whole fruit.  Why not just sub in the Oro Blancos for lemons.  Lacking the tartness of a lemon, I had a concern about their flavor standing up against other ingredients.  I would need to use them in their whole form if I wanted to preserve their integrity.  Then I came across an upside down lemon cake recipe that used very thin slices of whole lemons.  Perfect.  I crossed my fingers and hoped that the bitter skin that separates the segments would mellow during the baking process.  Nothing ventured, nothing gained.  I gave it a go.
As you can see from the pictures, the cake turned out beautifully.  But looks can be deceiving.  I quickly snapped a few photos of the uncut cake, sliced it and took a bite.  The cake was soft and delicate; the brown sugar glaze was sweet on my tongue.  Then the familiar flavor of my precious Oro Blanco met up with my taste buds.  Yum.  No, no, wait….D*mn!  Yuk!  Bitterness.  Baking the grapefruit hadn't done it any great favors at all.
After engaging in a debate with my intuition, I threw the cake into the trash, but not before snapping a few more pics and drowning my sorrows in a big chunk of cake – sans grapefruit – which is where this cake was a total and complete success.  The cake part of this recipe was fabulous.  I have every intention of finding other uses for it.  I plan on turning it into a layer cake, cupcakes, and anything else that calls for a basic yellow cake.  And, I will even try this recipe in its original form – with lemons.  I've decided to post the recipe here in case you want to do the same.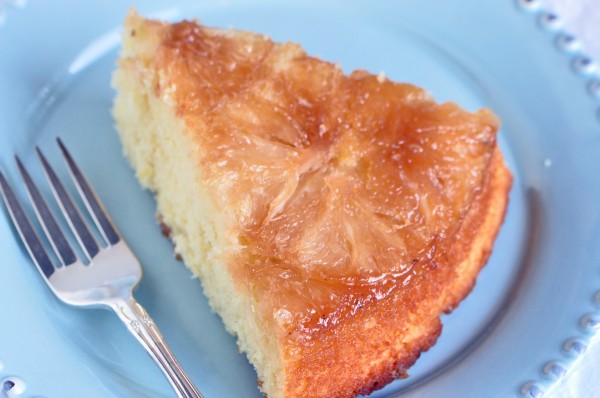 So I say to you – make this cake.  Just don't make it with grapefruit.
Lemon takes the place of pineapple in this citrus version of the classic Upside-Down cake.
Lemon Upside-Down Cake
2 lemons, plus an additional 2 to 3 lemons for zesting
3/4 cup (1 1/2 sticks) of butter, at room temperature
1/4 cup packed light brown sugar
1 1/2 cups all-purpose flour
2 teaspoons baking powder
1/4 teaspoon salt
1 cup granulated sugar
3 tablespoons finely grated lemon zest
2 large eggs, separated
1/4 teaspoon pure vanilla extract
1/2 cup whole milk
1/4 teaspoon cream of tartar
Position a rack in the middle of the oven.  Preheat the oven to 350˚F.
Discard the ends from two lemons.  Using a mandoline or a very sharp knife, thinly cut 2 lemons into 1/8 to 1/4-inch thickness.  Remove and discard any seeds.
Over medium heat, melt 1/4 cup of butter along with the brown sugar in a 10-inch cast iron or non-stick skillet.  If using a non-stick skillet, be sure the handle is oven-proof.  Add the lemon slices in an orderly fashion to the skillet and increase the heat to high.  Boil for one minute, then remove from heat.  Rearrange slices if need be.
Whisk together the flour, baking powder, and salt in a medium bowl.  Set aside.
In the bowl of an electric mixer, beat the remaining 1/2 cup of butter on medium speed until light and fluffy.  Add the granulated sugar and the zest and beat until combined.  Scrap down the side of the bowl and add the egg yolks and the vanilla.  Beat just until blended.  Reduce the speed to low and add the flour mixer in three additions, alternating with the milk, beginning and ending with the flour.  Scrap down the side of the bowl in between each addition and beat just until blended.  Do not overmix at this stage.
Using clean beaters, beat the egg whites in a medium bowl on medium speed until foamy.  Add the cream of tartar and increase the speed to medium-high.  Continue to beat the egg whites just until they form stiff peaks.
Fold one quarter of the egg whites into the batter using a whisk or a rubber spatula.  Continue to gently fold in the remaining egg whites, one quarter at a time, being careful not to overmix.
Pour the batter over the lemon slices and gently smooth the top using a rubber spatula.  Bake for 40 to 45 minutes, until the top is golden brown and a cake tester inserted into the middle of the cake comes out clean.  Remove cake to a wire rack and let cool for 10 minutes.
Run a knife or spatula around the edge of the skillet and invert the cake onto a serving platter.  Leave the skillet over the cake for 5 minutes.  Remove the skillet, slice cake, and serve warm.
Yield:  8 servings
Source:  Adapted from Luscious Lemon Desserts by: Lori Longbotham