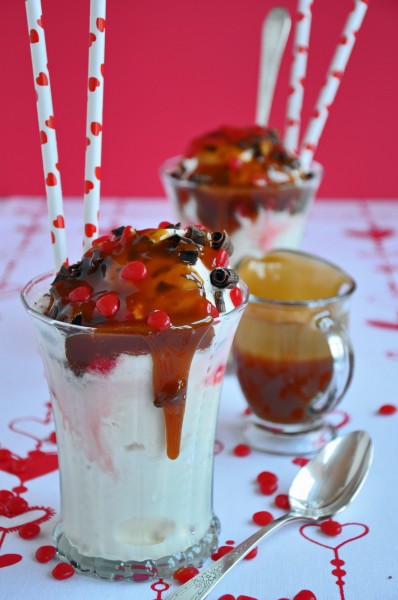 She's not a little girl anymore – which I reminded myself when she returned home from a party effusively sharing all the redeeming qualities of a new whiskey she had tasted.  "Mom, you have to taste Fireball Whiskey."  My initial reaction was a little pang in my heart.  My little girl has grown up.  She's legal now and it is perfectly normal that she would want to imbibe spirits at a party.  My second reaction was – ew, that sounds disgusting!  She insisted I had to give it a try, so off to the liquor store we went.  I must admit, she had peaked my curiosity.  I wasn't the biggest fan of Fireball Jawbreakers when I was a little girl and I am a purest when it comes to my whiskey preferences, but with one sip I was a fan.  Of course, being a baker and all, the first thing that crossed my mind was how I could use it in a recipe.  J and I tossed ideas back and forth and finally settled on Fireball Whiskey Caramel Sauce.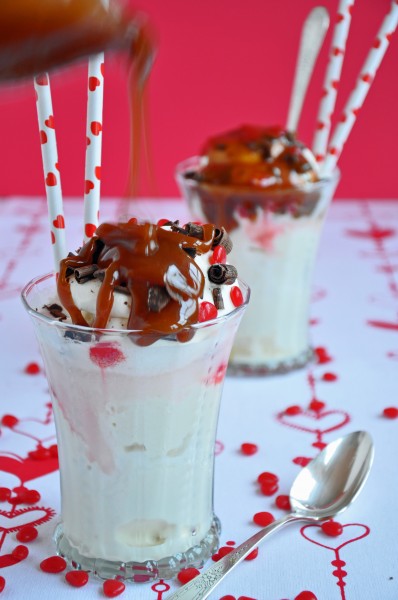 With Fireballs being all bright red and spicy; and with Valentine's Day a few days away, I devised  an ice cream float for all my favorite Valentines out there – and that means you!  The caramel sauce it crazy simple to make; no thermometers, or washing down the side of the saucepan with water.  I promise you that once you make this sauce you will want to keep a jar of it in your refrigerator at all times – with or without the whiskey.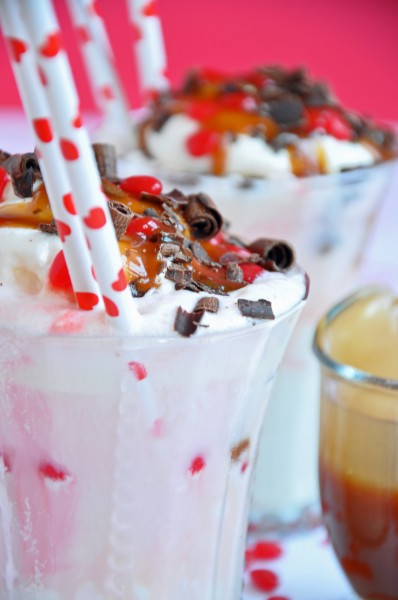 Happy Valentine's Day♥
Fireball Whiskey Caramel Sauce
1 1/2 cups granulated sugar
3 tablespoons corn syrup
1/2 cup heavy cream, warmed in the microwave for 30 seconds
2 tablespoons butter
1 teaspoon vanilla extract
1/2 cup Fireball Whiskey *
In a medium, heavy bottom skillet or saucepan, cook the sugar and corn syrup over medium heat, stirring occasionally, until the sugar has melted and turned a deep amber.
Remove from the heat and carefully add the cream and butter.  Return to the heat and stir until combined and smooth.
Allow to cool for 30 minutes.  Add the whiskey to the sauce and stir until completely combined.
Use immediately, or store in an airtight container in the refrigerator for up to 3 weeks.  The caramel will firm up when chilled and must be re-warmed before using.
*Caramel lends itself to so many different flavors.  If whiskey isn't your thing, try a liquor or brandy.  Or, you can substitute 1 tablespoon of vanilla extract for the whiskey.
Vanilla Ice Cream Floats with Fireball Whiskey Caramel Sauce
Vanilla ice cream
Vanilla soda
Fireball Whiskey Caramel Sauce
Whipped cream
Chocolate shavings or sprinkles
Red Hot candies
Place two scoops of ice cream into a tall glass.  Add vanilla soda to the glass and pour the whiskey sauce overtop.  Add a generous dollop of whipped cream and a sprinkling of chocolate and Red Hots.