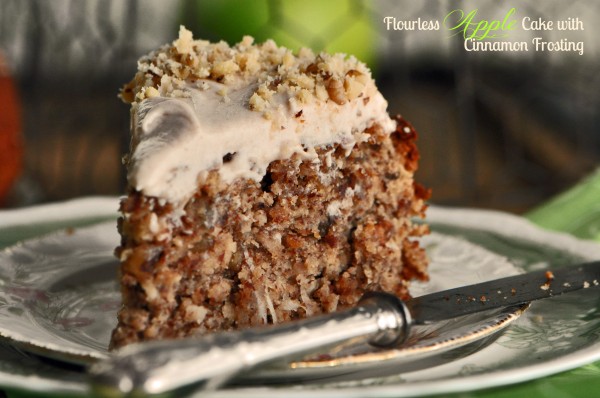 Another year and another apple cake to celebrate the Jewish New Year holiday of Rosh Hashanah. It seems nearly impossible that another year has come and gone. Sometimes I see the days of my life as pages flying from a calendar just like in old movies when the director wanted to depict the passing of time. The reality is, time moves at the same rate as it always has. The only hope in creating the illusion that time is slowing down is by living in the moment of each and every day, which we would all probably agree is easier said than done, most of the time. Endless commitments, obligations, and lists to be checked off have us racing from sun up until sundown.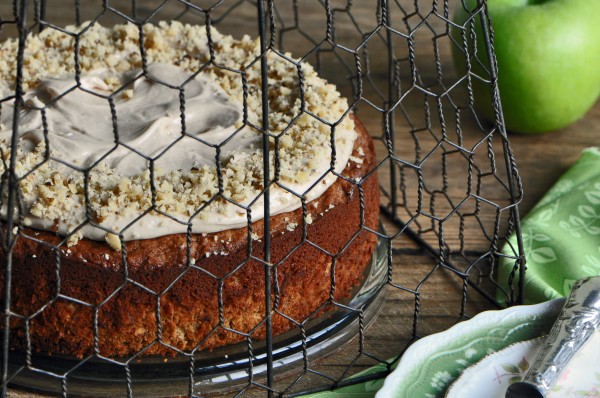 If you had read the post I wrote around this same time last year, you might remember that I set an intention for the coming year to work on my hyper-perfectionistic personality. Well, I'm still working on that. But as I set my current goals for the next 365 days, they will focus more on living life to the fullest. Sounds cliche doesn't it? And for good reason I should think. Who doesn't want to extract the most from each and every day, and yet it is so easy to waste time or to get stuck on insignificant and unimportant details that derail us from that desire.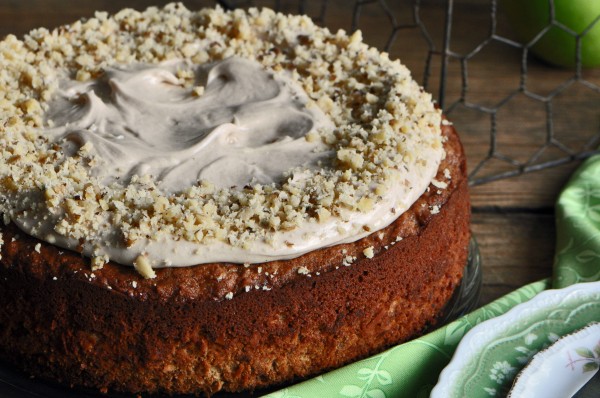 I have been saying for months that I need a schedule, a rhythm to my days. I've said it to friends and I've said it to my husband. I think it is high time that I put one together. No more wasting time. I love baking – we all know that by now. But I also love sewing, painting, and gardening. If I allocate a square on my calendar for these things, and actually honor that time, I think I might get a little closer to that feeling of fullness. And just maybe, if my theory holds water, with that fullness, each and every day will expand just a little.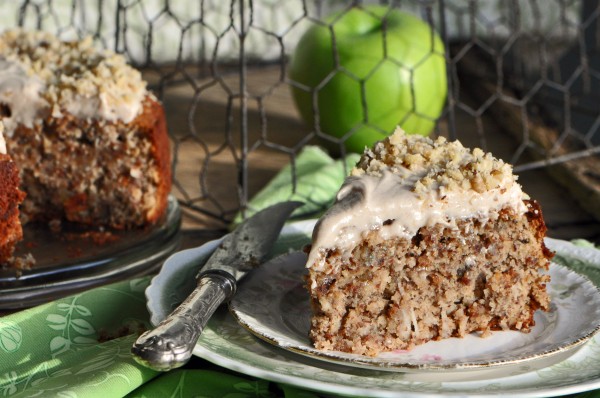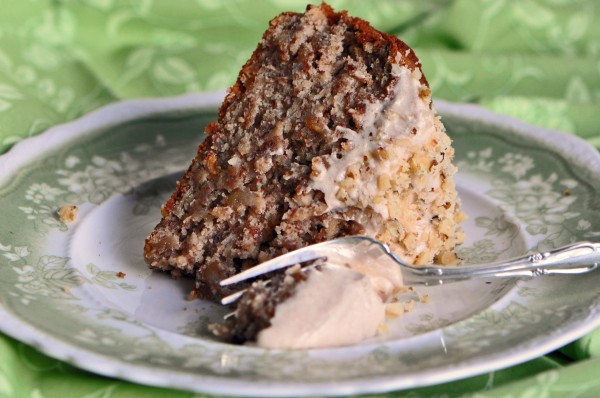 Now, about that cake. Packed with crispy apples and a touch of honey in the frosting, eating a piece of this cake will surely guarantee a sweet year to come.

Flourless Apple Cake with Cinnamon Frosting
Cake
5 eggs, at room temperature
1 1/2 cups, lightly packed, brown sugar
1 teaspoon vanilla extract
1/2 cup canola oil
3 1/2 cups almond meal *
2 teaspoons ground cinnamon
1/2 teaspoon ground ginger
1/4 teaspoon ground nutmeg
1 teaspoon baking powder
1/2 teaspoon salt
2 large apples, peeled and grated **
1 cup lightly packed shredded coconut
3/4 cup chopped walnuts
Additional ground walnuts for decorating the cake, if desired
Frosting
4 tablespoon (1/2 stick) butter, at room temperature
4 ounces cream cheese, at room temperature
1 tablespoon honey
1 teaspoon ground cinnamon
1/2 teaspoon lemon juice
Pinch salt
1 1/2 cups confectioners sugar, sifted
Cake:
Heat oven to 325˚F. Line the bottom of a lightly greased 9-inch springform pan with parchment paper.
Place the eggs, sugar, and vanilla in the bowl of an electric mixer fitted with the whisk attachment. Whisk on medium speed for 15 minutes or until thick and tripled in volume. Place the oil, almond meal, cinnamon, ginger, nutmeg, baking powder, salt, apple, coconut, and walnuts in a large bowl and mix well to combine. Fold in the egg mixture and spoon into the prepared pan. Bake for 1 hour – 1 hour 10 minutes or until a cake tester comes out with a few crumbs attached. Allow to cool completely in the pan. Top the cake with the Cinnamon Frosting and garnish with additional ground walnuts, if desired.
Frosting:
Place the butter, cream cheese, honey, cinnamon, lemon juice, and salt in the bowl of an electric mixer. Beat on medium speed until well combined. Turn the mixer to low and add the confectioners sugar, one half cup at a time, scraping down the sides of the bowl in between each addition. If needed, add additional confectioners sugar to reach the desired spreading consistency.
* I used one, 1lb. bag, of Trader Joe's Almond Meal
** After grating the apple, press between several sheets of paper towel or use a flour sack towel to extract any extra juice from the apple
Yield: 1 9-inch single layer cake
Source: Inspired by Donna Hay's Carrot Cake with Cream Cheese Icing