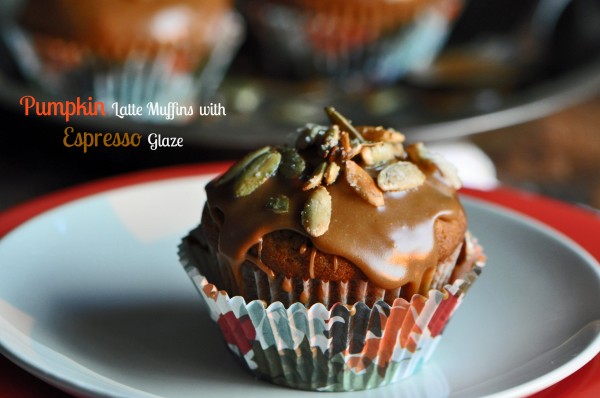 My oven and I are involved in a deep and intimate relationship. Each morning it greets me, loyal and patient, waiting in the kitchen for me to decide if we are going to spend time together. I want to. My other obligations prevent us from being together each and every day. Although the desire to spend time with Oven is always strong, the inspiration for how we will spend our time together is sometimes slow in coming. I have lists of recipes I want to share with O; struggling to overcome inertia we end up just sitting around the kitchen together not doing much of anything. We were having one of those day earlier this week. I decided a little time apart would be best for both of us so I headed out to my local coffee shop for a little head clearing and my daily latte.

Walking toward the doors of the shop, lost in the mindless ramblings going on in my brain, I almost missed the sign. Not a sign from above, but rather the big metal sign sitting next to the entrance. It read, 'Pumpkin Season Has Arrived', and then went on to suggest a pumpkin latte as the perfect drink to begin my day. I'm a purest when it comes to my lattes – extra shot, extra foam, NO sweeteners or flavorings! So no pumpkin latte for me. Then I had a moment of inspiration. What about a pumpkin latte posing as a muffin? Eee, I was onto something. As I waited for the barista to make my latte, I conjured up the details of my morning muffin creation. Oven and I were going to spend the day together after all. I was inspired and ready to bake.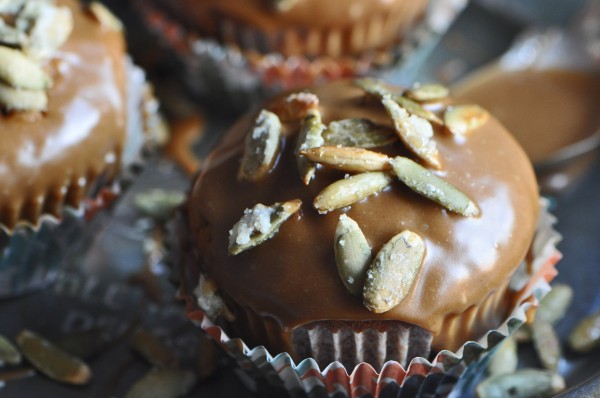 Last fall I brought you all a pumpkin muffin laced with chocolate streusel. I love that muffin – so much so that I decided to use it (minus the streusel) for my latte muffin. I added just a hint of espresso to the batter, but not so much as to distract from the flavor of pumpkin. A stronger espresso note shines forth in the glaze. For a little salty-sweet crunch, not to mention some super health benefits, I skillet toasted pepita seeds and coated them with sugar and coarse salt. Ta-dah, there you have it, a Pumpkin Latte Muffin is born.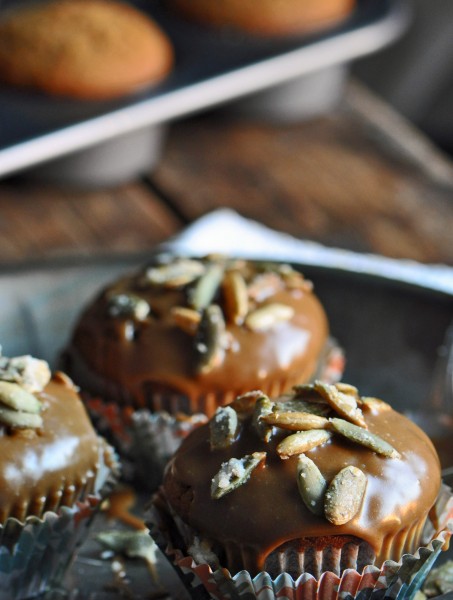 I carted my muffins right back to Peets my coffee shop so they could enjoy a pumpkin latte on me. I think they must have approved because when I stopped by today for my usual, it was on the house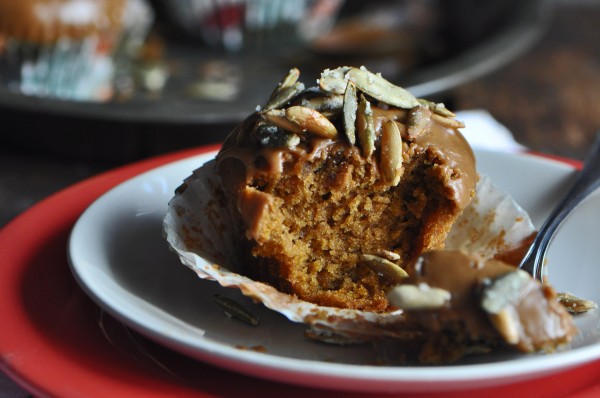 Pumpkin Latte Muffins with Espresso Glaze
Preheat oven to 350˚. Prepare muffin tins with liners.
Muffins
3 cups all-purpose flour
1 1/2 teaspoons baking soda
1 teaspoon baking powder
1 teaspoon cinnamon
1 teaspoon pumpkin pie spice
1 teaspoon salt
2 cups vegetable oil
2 cups granulated sugar
1 15-ounce can pumpkin puree
2 tablespoons espresso powder, dissolved in 2 teaspoon hot water
3 eggs
In a medium bowl, whisk together the flour, baking soda, baking powder, cinnamon, pumpkin pie spice, and salt.
In a large bowl, whisk together the oil and sugar until combined. Whisk in the pumpkin puree and dissolved espresso powder. Add the eggs and whisk well to combine.
Fold the dry ingredients into the wet ingredients, mixing only until combined.
Fill prepared muffin cups with a scant 1/3 cup batter (approximately 3/4 full). Bake for 25 to 28 minutes or until a toothpick or cake tester comes out clean. Remove to a rack and cool for 10 minutes before removing muffins from the tins to cool completely.
When cupcakes have cooled, drizzle with glaze and top with a sprinkling of pepita seeds.
Glaze
1/4 cup (1/2 stick) butter
1 tablespoon espresso powder
3 tablespoons cream
Pinch salt
1 cup sifted confectioners sugar
Melt butter in a small heavy-bottom saucepan over medium heat until just lightly browned. Pour into a medium bowl and allow to cool slightly.
In a small microwave safe bowl or measuring cup, warm the cream in the microwave for 15-20 seconds. Add espresso powder to the warmed cream and stir to dissolve.
Stir the confectioners sugar and salt into the browned butter until smooth. Add the espresso/cream mixture and stir until smooth. If too thin, add additional confectioners sugar to reach glazing consistency. If too thick for drizzling, add more cream, 1/2 teaspoon at a time until desired consistency is reached.
Pepita Seeds
Prepare a foil or parchment lined baking sheet.
1/2 cup pepita seeds
1 tablespoon granulated sugar
1/4 teaspoon coarse salt
In a small non-stick skillet over medium heat, using a heat-proof spatula, toss the pepitas around the skillet until lightly toasted. The seeds will begin to crackle and pop. Sprinkle with the granulated sugar and salt and continue to stir, moving the seeds around the pan constantly, until sugar begins to melt and adhere to the seeds. Remove the seeds from the skillet and cool on prepared baking sheet.
Yield: 20 cupcakes
Source: Mary Weinberg | Sifting Focus