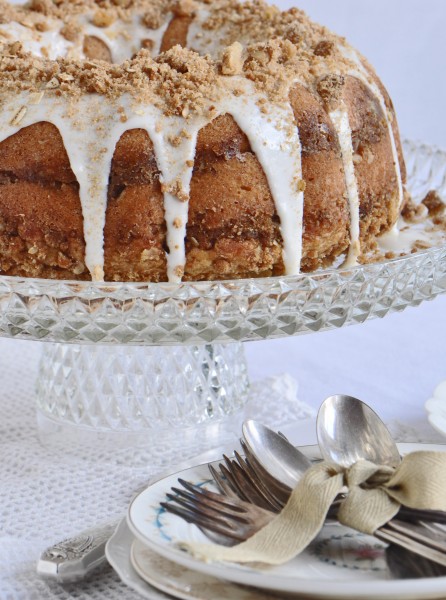 My, it has been awhile. There are many reasons for my absence from this space. Traveling, lack of computer access, and many of the other obvious holiday distractions that kept me supremely busy. Mostly though, it was more about a decision I made to detach from technology while I enjoyed my family and friends during the Holiday. It wasn't easy to be away. I missed baking just for the fun of it, photographing my creations, and especially interacting with all of you. From time to time I felt a slight pang of 'blog sickness'. Blogging has become such a part of my daily routine. Fortunately, over the past three or four weeks, there were endless distractions and so for the most part I survived my absence in spite of the occasional withdrawal symptoms I encountered.
My holidays were quite wonderful. We traveled to Kentucky to celebrate Christmas with my family. In twenty-eight years of living in California, I have only once missed Christmas at home. The highlight of it all is having my mom with us. Whether it is Gingerbread House Decorating Day, Christmas Eve at my brother's, or enjoying our traditional Christmas dinner at my sister's home, my mom is there, her perpetual smile lighting the way to fond memories, not only for me, but for the younger generations too.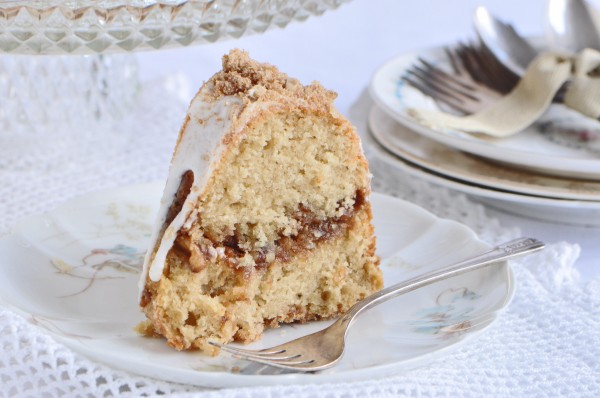 Gift giving is synonymous with Christmas and my favorite gifts to receive are always those related to food in some way. Two of my most treasured presents this year were cookbooks given to me by my sister. One of them I will tell you about at another time, but today the recipe I am sharing with you is from the Clinton St. Baking Company Cookbook. I have actually had the delightful pleasure of eating at the so named restaurant. My daughter's sophomore dorm was just blocks from the quaint little neighborhood eatery. On cold and snowy winter days we would find ourselves there filling our tummies with pancakes (for which they are famous), egg dishes, flaky biscuits, and grits :0! It is a tiny place and one can always expect a wait, but if you find yourself in Manhattan, I do suggest you give it a try.
As fulfilling as the holidays are, while in the midst of them I find myself running a video in the back of my mind of the first pajama day I get to have when all the celebrating has subsided. The temps in Southern California upon my return were way warmer than I preferred, nevertheless, I insisted on having the fireplace lit. On the first day of January I curled up on my sofa, cup of coffee nearby, and cracked the spine on my new cookbooks. Heaven!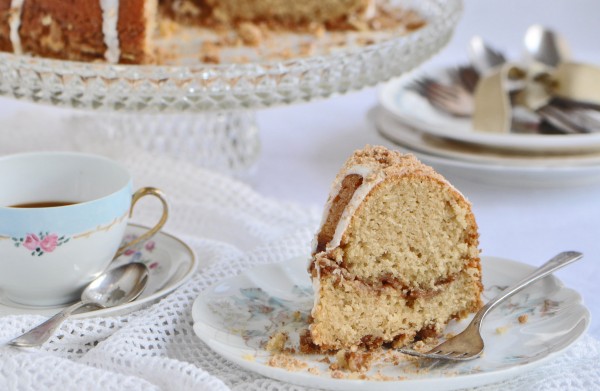 I have chosen a recipe from the Clinton St. Baking Company book to launch my blog into 2014. This cake isn't completely original. There are endless variations of it floating around and I have made many of them over the years. The reason this one caught my attention was that I found the use of graham cracker crumbs in the streusel quite intriguing. So intriguing that I doubled the amount from the original recipe to be certain their flavor stood out. I also decided to down-size the cake to more conveniently fit into a 9-inch bundt pan rather than the 10-inch cake they make in the book. I chose not to reduce the amount of streusel however, since my thinking was the more the better. And finally, the glaze and sprinkle of streusel on top were my additions. If streusel in the middle and streusel on the bottom are good, more on top would assure a little of the cinnamon-y, nutty, crunchy goodness in every bite.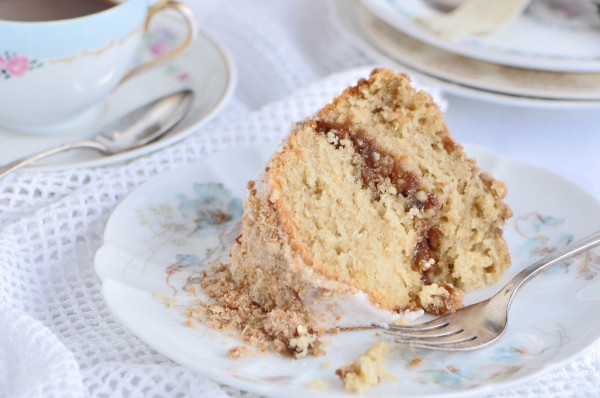 I had to smile when I read the head note the authors wrote for this recipe. They suggest that this coffee cake is so gorgeous and professional looking that we should bake it for our mother-in-laws. Funny enough, my mother-in-law LOVES streusel coffee cakes. I have made them for her many times over the years. Hopefully, this one will meet with her approval.
This cake is certainly easy enough to throw together in the morning, however, baking it the evening before insures a cooled cake ready to eat immediately upon rising.
Glazed Streusel Coffee Cake
Streusel Topping
3/4 cup light brown sugar
1/2 cup all-purpose flour
1/2 cup cinnamon graham cracker crumbs
1/4 cup rolled oats
1/2 cup chopped walnuts
1/4 cup granulated sugar
1 teaspoon ground cinnamon
1/4 teaspoon ground nutmeg
1/4 teaspoon salt
4 tablespoons butter, melted and cooled
Cake
1 1/2 sticks (12 tablespoons) butter, softened
1 1/4 cups granulated sugar
3 eggs, room temperature
1 1/2 cups buttermilk
2 teaspoons vanilla extract
1 teaspoon espresso powder, dissolved in 2 teaspoons hot water
3 1/4 cups all-purpose flour
3/4 teaspoon baking soda
3/4 teaspoon baking powder
1/2 teaspoon salt
Glaze
1 cup sifted confectioner's sugar
1 tablespoon butter, at room temperature
2 to 3 tablespoons half and half, at room temperature
Preheat the oven to 300˚F. Grease and flour a 9-inch Bundt pan.
Streusel: In a medium bowl, whisk together all the streusel ingredients excluding the melted butter. Drizzle in the butter and stir to moisten all the ingredients. Remove 1/2 cup of the streusel and reserve for sprinkling on the finished cake.
Cake: Using an electric mixer, beat together the butter and the sugar until light and fluffy. Add the eggs, one at a time, mixing well after each addition. Beat in the buttermilk, vanilla, and espresso. The batter may look curdled at this point. Not to worry.
Whisk together the flour, baking soda, baking powder, and salt. Using a rubber spatula or wooden spoon, stir the dry ingredients into the wet ingredients.
Fill the prepared pan with half of the batter. Sprinkle with a little more than half the streusel mixture. Add the rest of the batter. Top with the remaining streusel, lightly pressing it down on the batter.
Bake for 60 to 65 minutes, until a cake tester or toothpick inserted in the middle of the cake comes out clean. Remove the cake to a rack and cool. Place a platter on top of the pan and flip it, being careful to preserve the streusel.
Glaze: Place the confectioner's sugar, butter, and 2 tablespoons half and half in a medium bowl. Whisk to combine, adding additional half and half to reach the desired consistency.
To finish the cake: Drizzle the glaze over the cake and sprinkle with the reserved streusel.
Yield: One 9-inch Bundt Cake
Source: Adapted from the Clinton St. Baking Company Cookbook