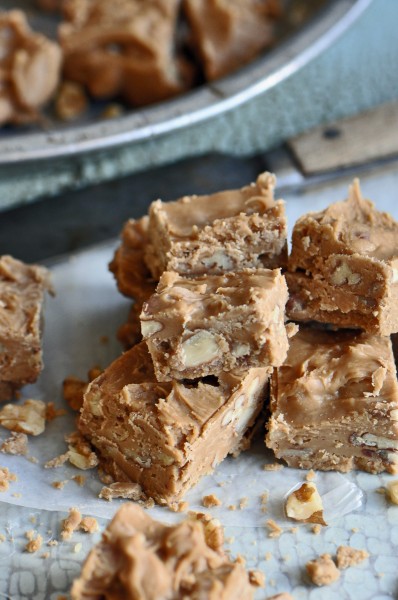 Every year around the holidays, I have this bright idea to make homemade candy to give as gifts. My intention is to make fudge, divinity and nougat, creamed candy, and brittle. I plan on wrapping it all up in beautifully decorated tins to present to family and friends. As the saying goes, 'the road to hell is paved with good intentions'. There is just too much going on and it never happens. But this year I made a different plan. Instead of trying to cram all that candy making into an otherwise crazy time of year, I decided to wait for the quieter days of January and February when I would have ample time to whip up sweet confections to my hearts desire.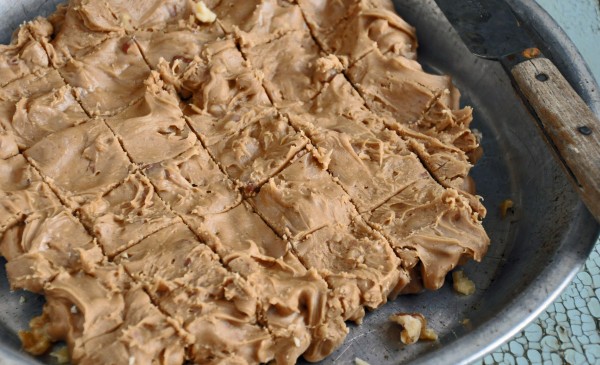 So, I've been stirring my arm off beating the sheen out of pots of boiled sugar. I haven't made fudge (Penuche is basically brown sugar fudge) in years, and although it isn't difficult, it can be tricky. There are a few rules that need to be strictly followed or disaster will ensue. Knowing when to stir, and at what temperature, is vital to the outcome of perfectly creamy fudge. It's all about the why, when, and how of sugar crystallization. This video by Fine Cooking demonstrates the process of fudge making from start to finish. It delivers all the information you need to know to make perfectly dreamy fudge.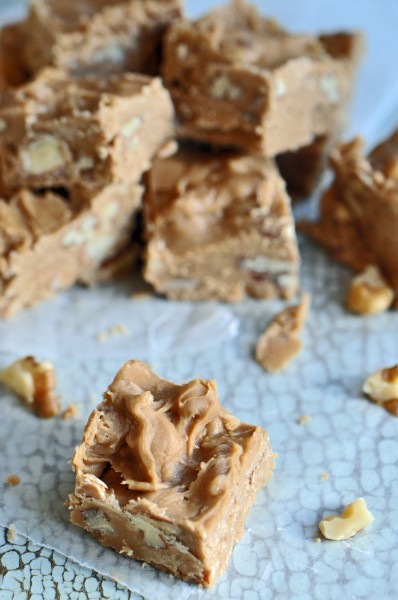 I won't be turning in my oven for the stovetop any time soon, but I will be cooking up different candy recipes and sharing them with all of you. If I plan things well, I just might have boxes of sweet treats for Cupid to deliver to my Valentines come February 14th.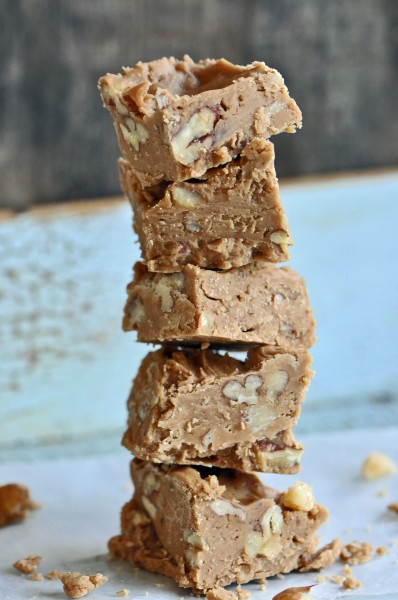 Note: You will need a candy thermometer to make this candy. If you don't have one, here are instructions for testing the doneness of fudge with nothing more than a glass filled with water.
Old-Time Penuche
3 cups light brown sugar, firmly packed
1 cup half and half (whole milk can be substituted)
2 tablespoons butter
1 teaspoon vanilla extract
1 cup pecans, walnuts, or nut of choice
Lightly butter the sides of a 3 or 4 quart saucepan. Have ready a lightly buttered 8×8-inch pan, Silpat, or piece of parchment paper.
Warm the half and half in the microwave for 45 seconds to remove the chill. (This step is not necessary but it speeds up the process of bringing the sugar and half and half to a boil.) Add the sugar and half and half to the buttered saucepan. Cook over low heat, stirring constantly with a wooden spoon or heat resistant silicone spatula until the sugar has dissolved completely. Increase the heat to medium and bring the mixture to a boil. Cover the saucepan with a lid for two minutes, then remove it. Clip a candy thermometer to the side of the pan, making sure the tip of the thermometer is not touching the bottom of the pan.
Cook over medium heat, WITHOUT STIRRING, until the thermometer registers 238˚F or 114˚C (soft ball stage). Remove from heat and add the butter. DO NOT STIR! Cool the mixture to lukewarm, 110˚F or 43˚C. This will take longer than you think, anywhere from an hour to an hour and a half. If ever you exercise patience, now is the time. Cooling the candy properly is key to its success.
Once cooled, add the vanilla extract and beat vigorously until mixture begins to thicken and 'lose its gloss'. Now, let's discuss that further. You will be beating the mixture for a while. You will think that your candy hasn't turned out and that it isn't going to lose its gloss. Don't give up. Keep stirring, and stirring. Just when you are ready to throw the whole thing in the trash, you will sense a change in the feel and look of the mixture. Don't look away, because in a matter of seconds your beautiful, creamy, pourable Penuche will solidify right before your eyes and you will be eating it with a spoon from the pan. Once the mixture loses its gloss, quickly stir in the nuts and and pour it into the prepared pan or onto the Silpat or parchment paper. While still warm, score with a knife. When completely cooled, cut into squares.
Yield: 3 to 4 dozen pieces
Source: Mary Weinberg | Sifting Focus