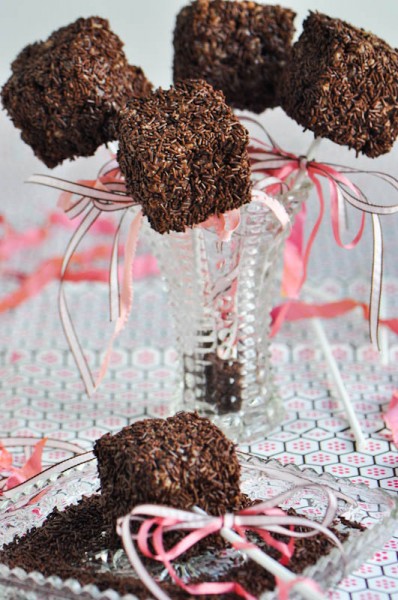 Being the cookbook fanatic that I admittedly am, I was thrilled when I received an invitation to join in a Food Blogger Cookbook Swap hosted by fellow bloggers Alyssa of Everyday Maven and Faith of An Edible Mosaic. You might remember the Prop Swap they organized last year. Quite brilliant, I'd say. Who doesn't like getting a surprise in the mail? And what better way to re-purpose a cookbook for a second life than on someone else's book shelf? So, I passed along my copy of The Splendid Table to Desi Vick, author of the SteakNPotatoesKindaGurl blog. In return, I received two books from Christy Majors of Confessions of a Culinary Diva. (Thank you so much Christy!!!) I was so please with the books Christy shared with me. The first is by Chef Brian Malarkey and is titled come early stay late. This is such a great book, and one I'm not sure I would have happened upon had Christy not shared it with me. Brian Malarkey is chef/partner in five San Diego restaurants – Searsucker, Burlap, Gabardine, Gingham, and Herringbone. Cute, right? As someone who also loves to sew, I think these restaurant names as a group are so adorable. Anyway, Malarkey's book is packed full of recipes for my kind of eating – stick to your ribs comfort food with plenty of veggies and healthy choices mixed in. Stay tuned for a post on something delectable from that book.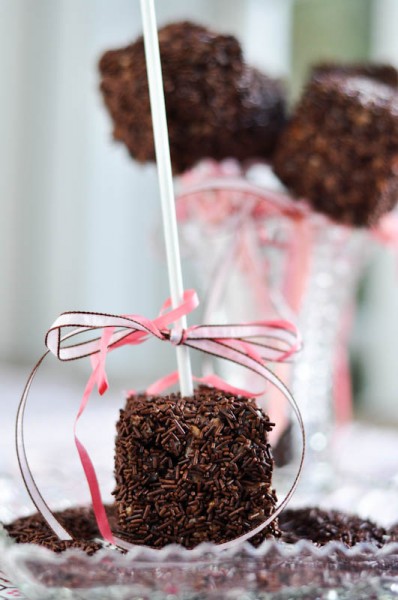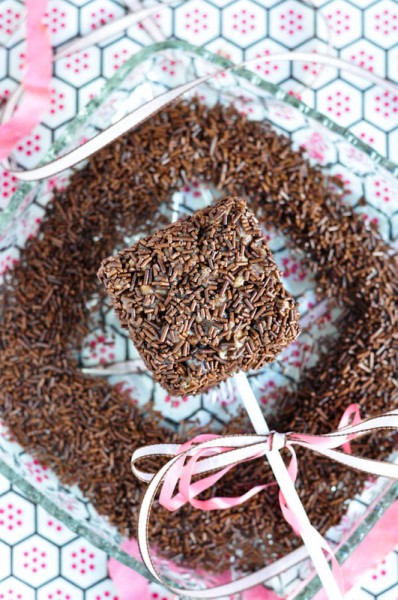 Moving onto the second book… I devoured it from beginning to end the minute I took it from the package. Titled Sprinkles! – Recipes and Ideas for Rainbowlicious Desserts, by Jackie Alpers, guess what this book is all about. Wow, let me tell you, it thoroughly covers the subject. You might be surprised at how much there is to know. After reading Alper's book, I'm completely confident I could get the Final Jeopardy question right, assuming the category was titled "Sprinkles". As I closed the cover on the book, I immediately cut a path to my baking pantry and took inventory of my sprinkles stash. I HAVE MASSIVE AMOUNTS OF SPRINKLES! My favorite will always be chocolate jimmies, particularly the kind I buy from a local restaurant supply store. They are 'real' chocolate, and the difference is discernible. So I grabbed a jar of those and put my 'recipe developer' hat on. In short-order, this is what I came up with.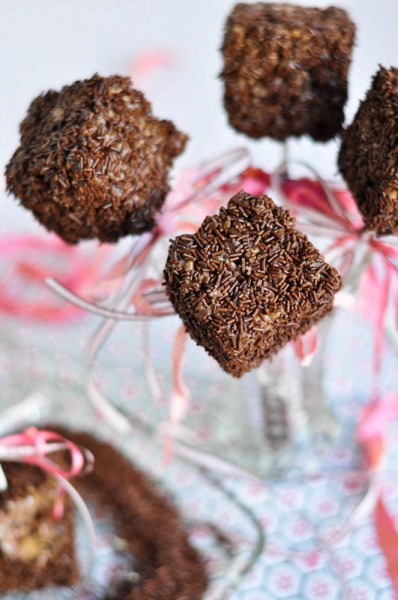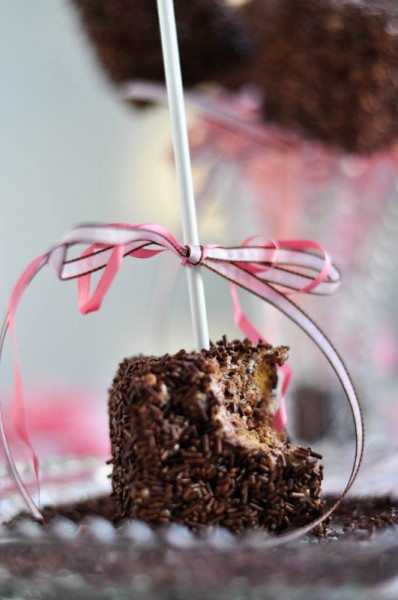 Triple Chocolate Marshmallow Treats
Melt 7 tablespoons of butter in a large pot. Add 6 cups of miniature marshmallows, and stir until completely melted. Remove from heat, and add 5 cups of Cocoa Krispies and 4 cups of Cocoa Puffs to the mixture. When almost combined, stir in 1/2 cup chocolate sprinkles. Using buttered fingers or a buttered spatula, press into a buttered 9-inch square pan. Chill for 1/2 hour before cutting into 25 squares. Pour 1/2 cup of sprinkles into a shallow bowl. Press sides of each square into the sprinkles. If desired, insert a lollypop stick into each squares.
Yield: 25 Chocolate Marshmallow Treats
Source: Mary Weinberg | Sifting Focus
Here is a little peek at the wonderful books I received from Christy along with some link love to some of the others who participated in the
Food Blogger Cookbook Swap
.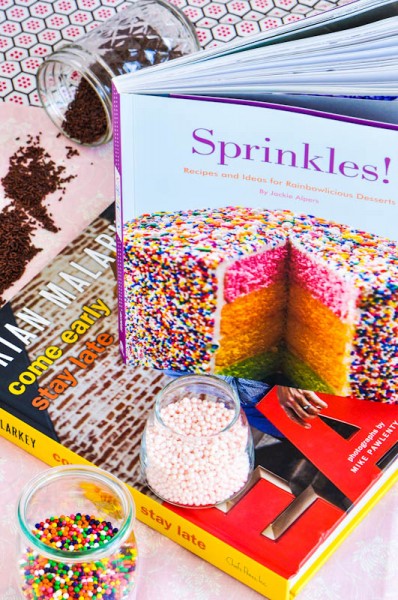 A Baker's House
An Edible Mosaic
avocado bravado
Blue Kale Road
Blueberries And Blessings
Cheap Recipe Blog
Confessions of a Culinary Diva
Create Amazing Meals
Cucina Kristina
Culinary Adventures with Camilla
Cupcake Project
Dinner is Served 1972
Done With Corn
Eats Well With Others
Everyday Maven
Flour Me With Love
From My Sweet Heart
girlichef
Great Food 360°
Healthy. Delicious.
I'm Gonna Cook That!
Je Mange la Ville
Karen's Kitchen Stories
Kitchen Treaty
Olive and Herb
OnTheMove-In The Galley
Our Best Bites
Paleo Gone Sassy
poet in the pantry
Rhubarb and Honey
Rocky Mountain Cooking
Shikha la mode
Shockingly Delicious
Spiceroots
Spoonful of Flavor
Tara's Multicultural Table
The Not So Exciting Adventures of a Dabbler
The Suburban Soapbox
The Whole Family's Food