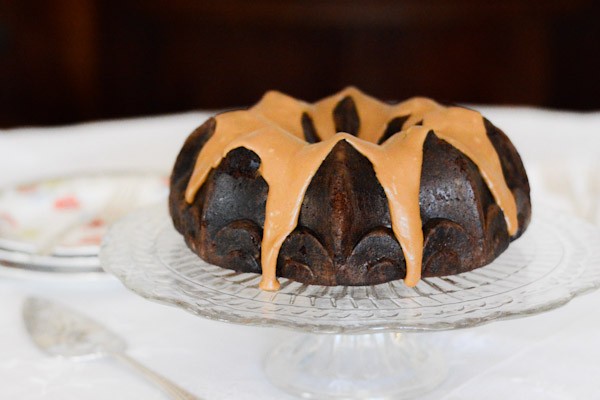 The Santa Ana winds were gusting Sunday night, and just as I had predicted, the power went out. Likely to find myself in the dark before the evening was over, I had lit candles throughout the house and tucked a small flashlight nearby. As anticipated, the lights flickered on and off as the power supplied to our neighborhood gave way to mother nature's will.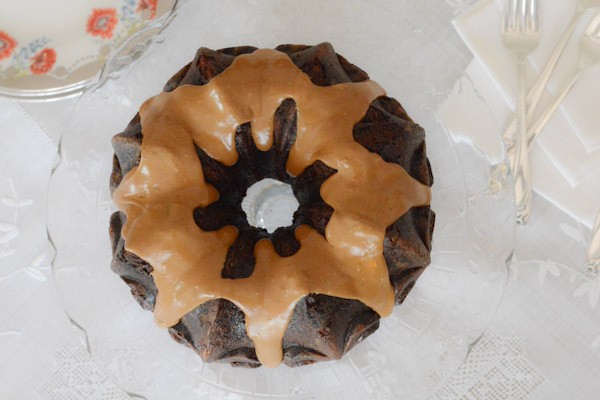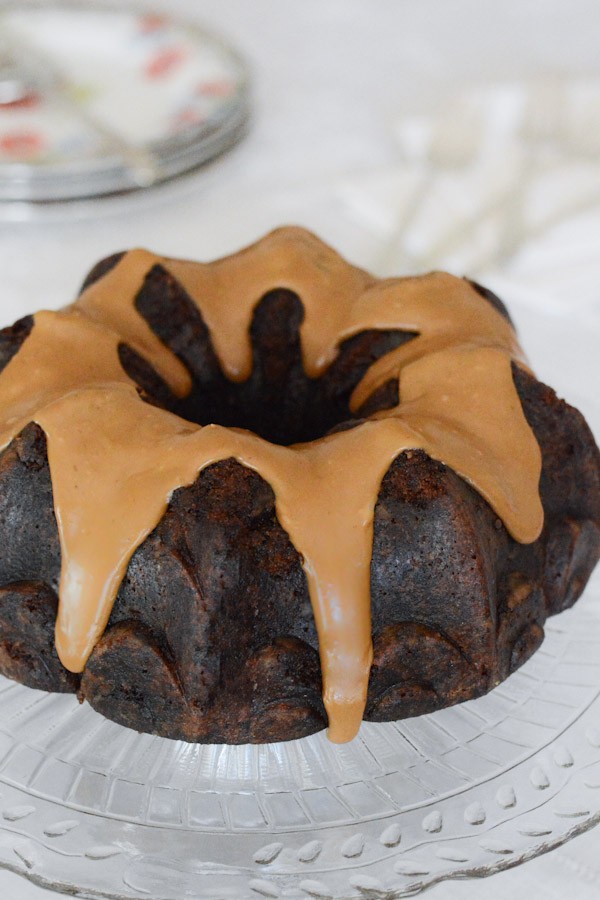 After I adjusted my evening's plans from watching television and working on my computer to reading by the glow of candlelight, I welcomed the break from routine; the mindlessness and distraction that can so often accompany the background noises in life. I curled up with old friends, holiday baking magazines I have been collecting for years. Each year they seem new again. Along the way I found this little jewel of a recipe. So simple and so delicious.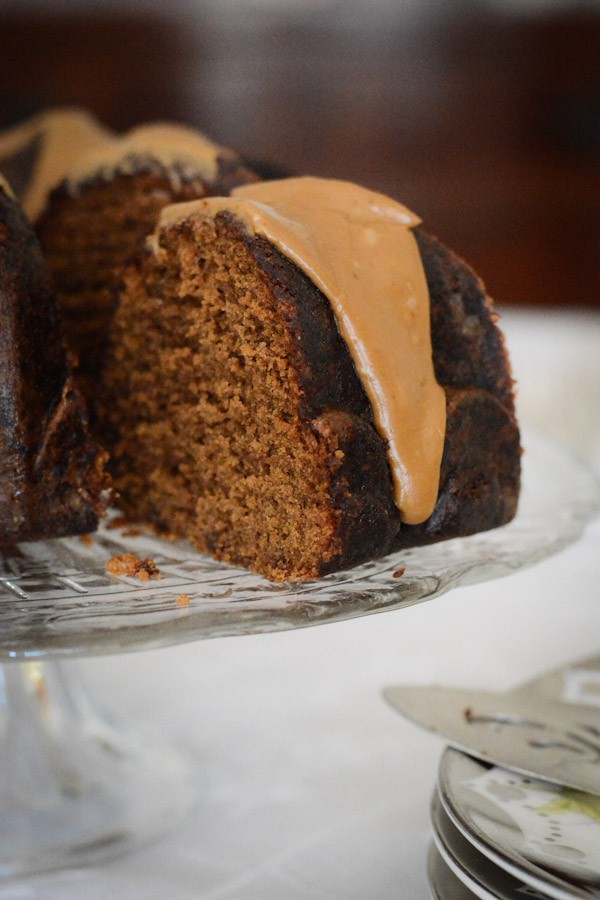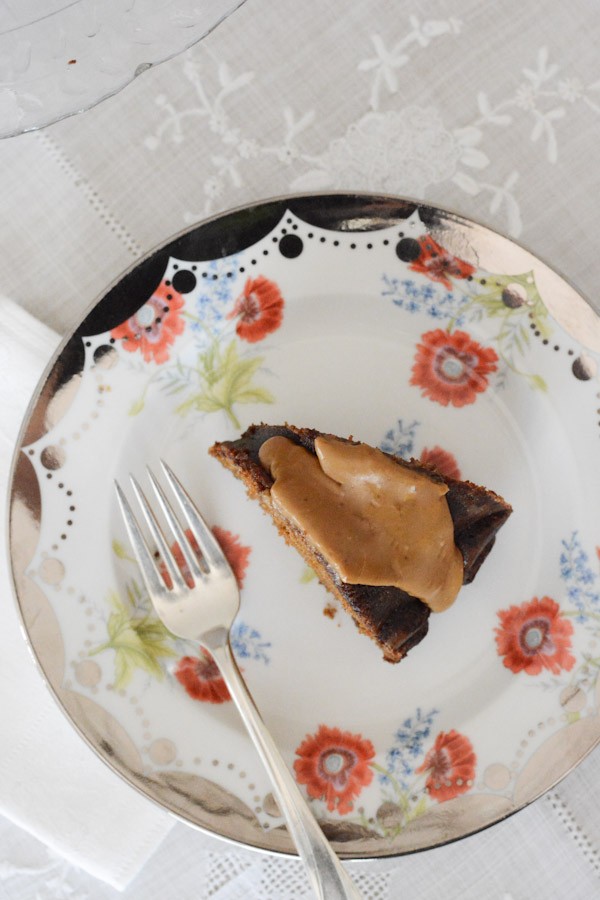 Thank you mother nature for providing a space for me to just 'be'!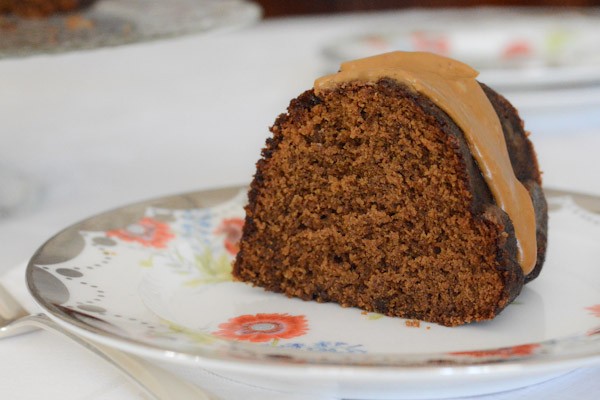 Espresso Gingerbread Cake
3 tablespoons instant espresso powder, divided
1/2 cup dark molasses (not blackstrap)
2 1/2 cups all-purpose flour
2 teaspoons baking powder
1/2 teaspoon salt
1/4 teaspoon baking soda
2 teaspoons ground ginger
1 teaspoon ground cinnamon
1/4 teaspoon freshly grated nutmeg
1/8 teaspoon ground cloves
10 ounces (2 1/2 sticks) butter, softened at room temperature
1 1/4 cups packed light brown sugar
3 large eggs plus 2 large egg yolks, at room temperature
Espresso Syrup (recipe below)
Espresso Glaze (recipe below)
Position a rack in the center of the oven and heat the oven to 350˚F. Butter and flour a 10-cup bundt pan. In a liquid measuring cup, dissolve 2 tablespoons of instant espresso powder in 1/2 cup hot water. Whisk in the molasses.
Sift the flour with remaining tablespoon of espresso powder, baking powder, salt, baking soda, ginger, cinnamon, nutmeg and cloves.
With a stand mixer or hand mixer, cream the butter in a large bowl on medium speed until smooth, about 1 minute. Add brown sugar and beat until light and fluffy, about 2 minutes. Beat in the eggs and yolks one at a time, stopping to scrape the bowl after each addition. With the mixer on low speed, alternate adding the flour and coffee mixtures, beginning and ending with the flour. Stop the mixer at least once to scrape the bowl and then beat at medium speed until the batter is smooth, about 20 seconds.
Spoon batter into the prepared pan, spreading it evenly with a rubber spatula. Run a knife through the batter to eliminate any air pockets. Bake until a cake tester or wooden skewer inserted in the center comes out clean, about 40 minutes. Set the pan on a rack to cool for 15 minutes. Invert the cake onto the rack, remove pan. Reserving 3 tablespoons of the syrup for the Espresso Glaze, brush the remaining syrup onto the cake. Let cake cool completely before drizzling with the Espresso Glaze.
Espresso Syrup
In a small saucepan, bring to a boil 1/3 cup water and 1/3 cup granulate sugar. Reduce heat and whisk in 2 tablespoon instant espresso powder. Let simmer for 2 minutes. Cool to just warm before glazing the cake.
Espresso Glaze
3/4 cup confectioners' sugar, sifted
1 tablespoon butter, at room temperature
3 tablespoons reserved espresso syrup, still warm
Generous pinch of salt
In a medium bowl, combine all the ingredients and whisk until smooth. Use immediately.
Makes 1 Bundt Cake
Adapted from Fine Cooking Holiday Baking 2004