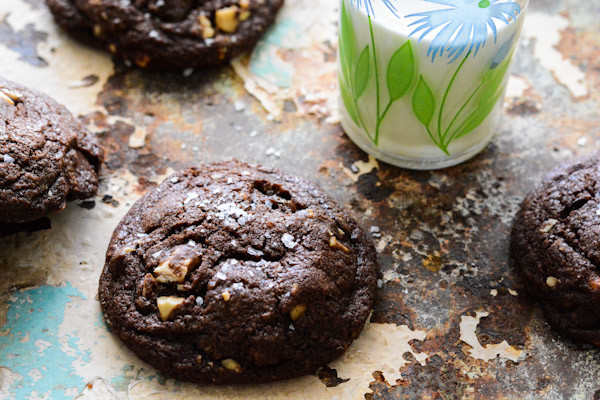 This cookie was born out of a craving for chocolate. It is what I refer to as a 'raid the pantry' cookie. I started with some deep dark cocoa and bittersweet chips. I found toffee bits, a lot of toffee bits that were suppose to have gone into holiday cookies. Oh well, they'd go into my pantry cookie instead. The reason I chose cashews comes with a confession. During a buying spree at Costco, I just couldn't say no to an extra large container of cashew that kept calling my name. They became an obsession and I soon realized I was eating way too many of them on a daily basis. I wanted to make them disappear, so into the cookies they went. Chocolate, and more chocolate, toffee and cashews. Sounded like a winning combination to me.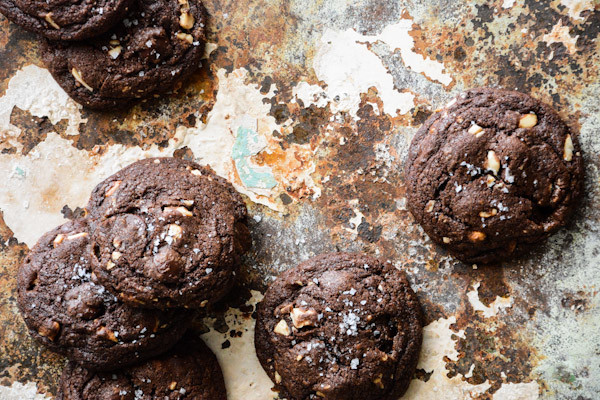 I have made these cookies with two different types of toffee. In the first batch I used Heath English Toffee Bits. And in the second batch, I used Trader Joe's Toffee Chips cut into generous pieces, about the size of a chocolate chip. Both worked perfectly well. The Trader Joe's toffee is basically sugar and butter enrobed in chocolate. All that butter and sugar melted as the cookies baked, creating buttery pockets of chewy goodness. Any toffee will work in this cookie, with slightly varying results.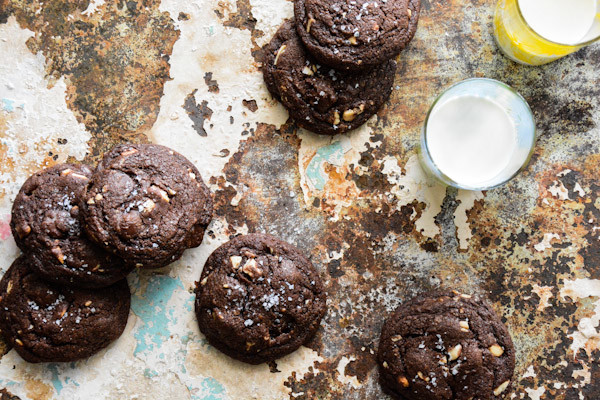 Personally, I like my chocolate chip cookies crispy on the edges and with a little chew in the center. Using half bread flour along with the all-purpose flour helps achieve that result. If you don't have bread flour, by all means use all-purpose flour for the total amount of flour called for in the recipe. One last note. If you have any self-control what-so-ever, this cookie is much better if allowed to chill overnight in the fridge. I don't want to get all scientific on you, just trust me, it's a fact. However, if you just have to have a cookie immediately, go ahead and bake off a half-dozen or so. Then, using all the self-control you can muster, put the rest of the dough in the fridge to rest until the following day.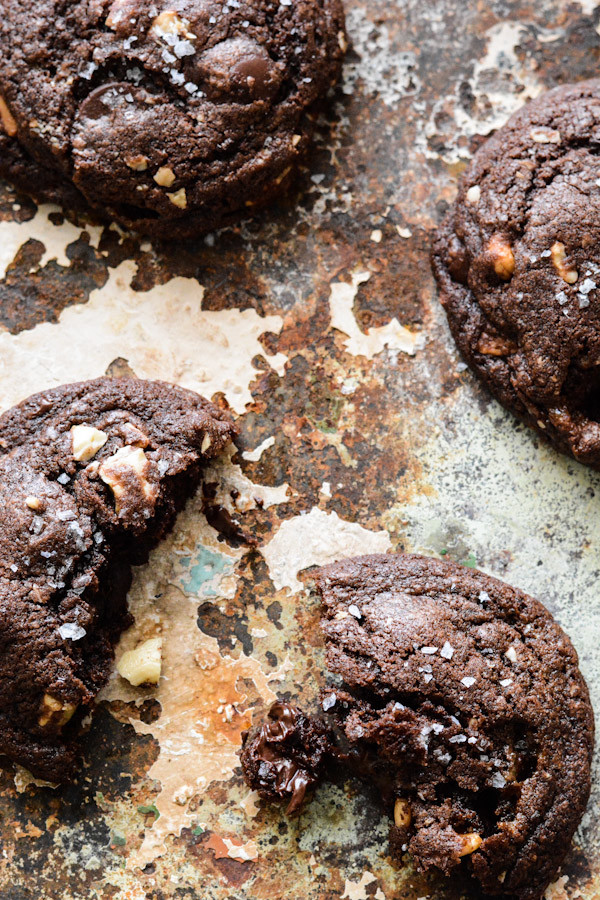 I can't think of a better way to answer a craving for chocolate than with a double chocolate chip cookie. A little toffee and a helping of nuts make it all the more satisfying.
Chocolate Chocolate Chip Cookies with Toffee and Cashews
1 cup all-purpose flour
1 cup bread flour
1/3 cup cocoa ( I use Vahlrona)
1 teaspoon baking soda
1 teaspoon salt
1 cup (2 sticks) butter, at room temperature
1 cup lightly packed dark brown sugar
1/2 cup granulated sugar
1 teaspoon pure vanilla extract
2 large eggs
1 cup bittersweet chocolate chips
1 cup lightly salted chopped cashews
1 cup toffee bits, or chopped toffee chips
Kosher Flake Salt, or any course salt
In a medium bowl, whisk together both flours, cocoa, baking soda, and salt.
In a large bowl, using an electric mixer, beat the butter, both sugars, and vanilla together on medium speed until light and fluffy, 2 to 3 minutes. Scrape the sides of the bowl and beat for an additional minute.
Add the eggs, one at a time, beating until the eggs are incorporated. Scrape the sides of the bowl before and after adding the second egg.
Add the flour mixture and mix on low speed until nearly incorporated. Add the chocolate chips, cashews, and toffee bits and mix until incorporated. Chill the dough for at least 4 hours, preferably overnight.
When ready to bake the cookies, preheat oven to 375˚F. Have ready parchment lined baking sheets.
Drop heaping tablespoons of dough 2 inches apart onto prepared baking sheets. (Using a 1 1/2-inch scoop makes easy work of parceling out the dough.) Sprinkle cookies with course salt.
Bake the cookies for 13 to 15 minutes. Do not over-bake. Allow cookies to cool on baking sheet for 5 minutes before removing them to a cooling rack to cool completely.
Makes 30 to 32 cookies
Recipe by Mary Weinberg – siftingfocus.com