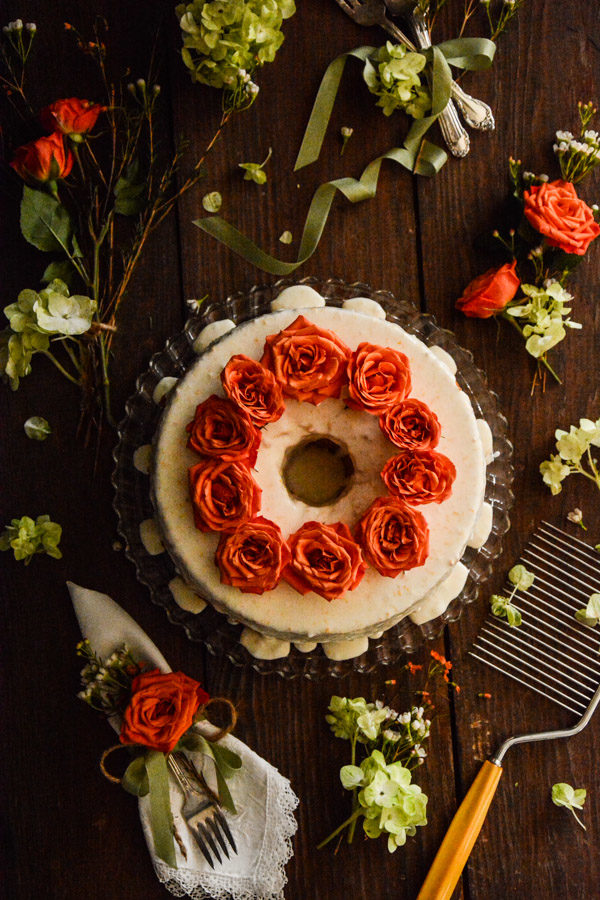 I have been thinking much lately about 'things'. I'm talking about our possessions. Those things we save, collect, and treasure that fill our homes – and our lives. I am a collector of many things, be it vintage jelly jars, old cookbooks, wooden spoons (actually spoons of all types), antique and rare kitchen gadgets – just to name a few. Among my most treasured possessions are my daughter's baby book, my Grandma's recipe jar, my Mom's cast iron skillet, and photos that reach all the way back to my youth. The list is as long as my arm. Sitting within feet of where I am typing this post, I spy a glass slipper given to me by a best friend, my Mom's turquoise encased lipliner, and a hand-thrown pottery jar accented with a bird on the lid made by my daughter. Yes, my house is filled with items that warm my heart, snuggle me in memories of those that are no longer with me, and of times shared with loved ones. They bring me joy and comfort.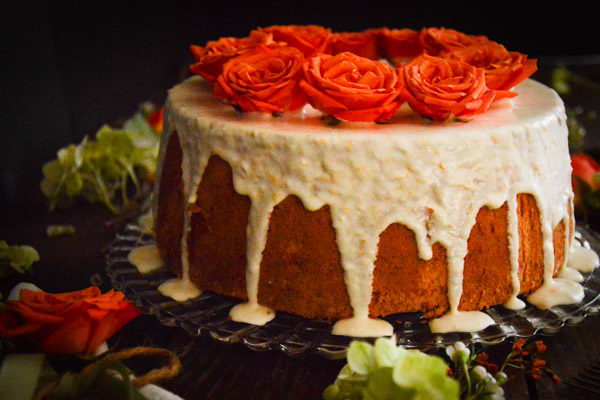 Just a few weeks back, my brother-in-law and his family lost their home in the Northern California fires. Like so many others, in a flash, everything they owned and treasured was ripped from their lives. Thankfully, they were not home at the time, coincidentally they were visiting us in Los Angeles. From a distance, a monumental loss was thrust upon them, a loss that I imagine can never fully be processed.
Over the weeks that have followed that life altering event in my family's lives, I have been pondering much about the value we place on things. As expected, in the days following my family's loss, over and over again I heard people's attempt at comforting them with phrases like 'the only thing that matters is that you are all okay', or 'things can be replaced, at least you are all fine'. Even as I wrapped my arms around my niece in a hug to convey my sadness for the loss she was suffering, she parroted back to me the words we have all been trained to say during times like these – 'it's okay Aunt Mary, all that matters is that we are all okay'. My words back to her were likely unexpected, but were intended to offer her permission to be sad for all she had lost. I assured her that it was okay to grieve the loss of 'things'. The fact that they were all safe and sound was obviously the most important thing, but I also wanted her to know that loosing the things we love and treasure, the things that tie us to the past and connect us to our loved ones, the items that fill our home with love and comfort, those things matter, and a need to grieve those losses was not only understandable but necessary.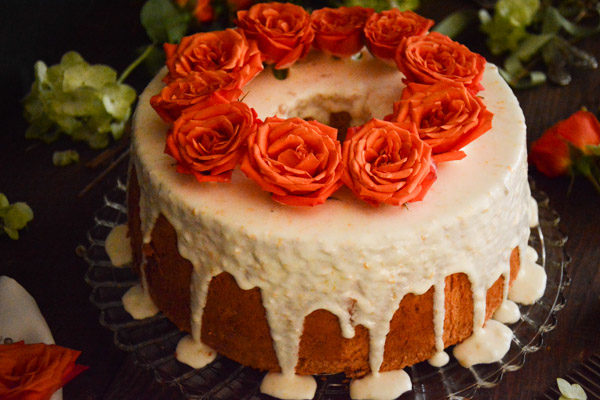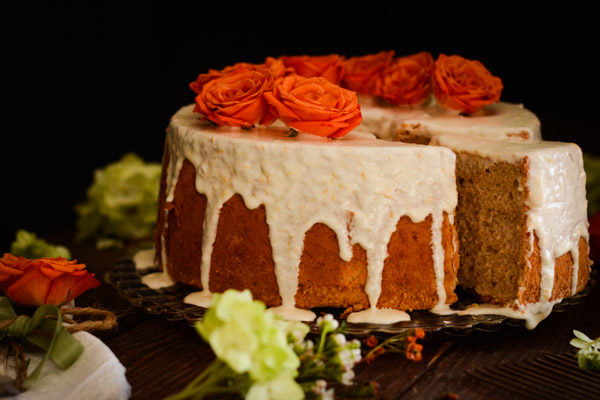 Thanksgiving is just days away and I can't help thinking about all those who over the past few months have lost so much. Sadly, the list is long, from those who suffered the wrath of Harvey, and Irma, and those deeply suffering in Puerto Rico, to the thousands who are homeless due to the Northern California fires. My Santa Rosa family will be at my Thanksgiving table this year, not originally planned but a blessing nevertheless. I have chosen one of my treasures to pass onto them, a bridge of sorts as they begin to re-build their lives. And even as we sit down to give thanks at a table adorned with some of my most treasured 'things' like silverware from my childhood, a spoon that belonged to my husband's grandmother, and a crystal bowl that goes back farther than my memory serves me, I will look into the eyes of my loved ones and know that they are what matters most to me. They mean everything to me.
Happy Thanksgiving to all!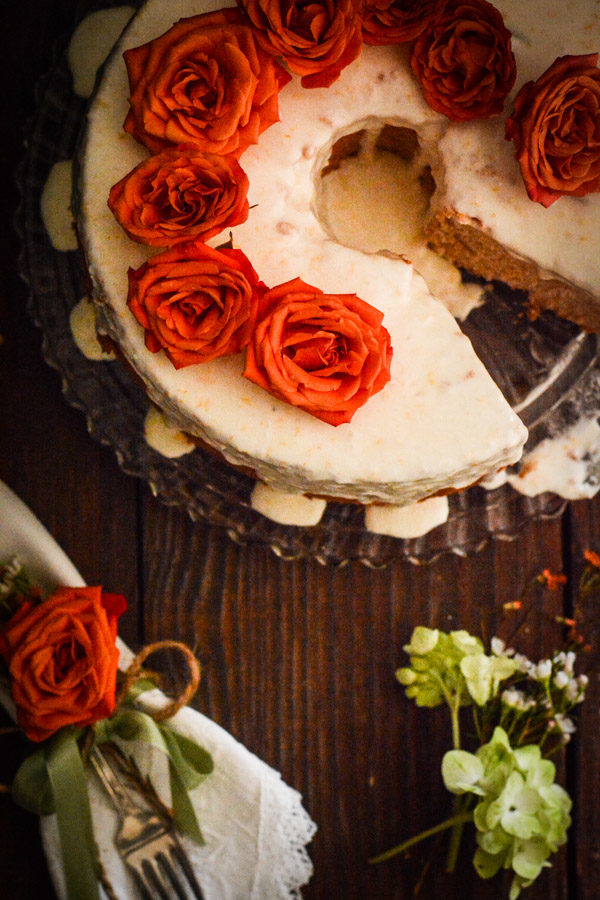 I made this cake in honor of my sister-in-law Sherry, who favors angel food cake above all others. I began with the angel food cake recipe from Bravetart by Stella Parks. She is a baking mastermind! She is the queen of American desserts, which have always been my favorite and what you are most likely to encounter here at Sifting Focus.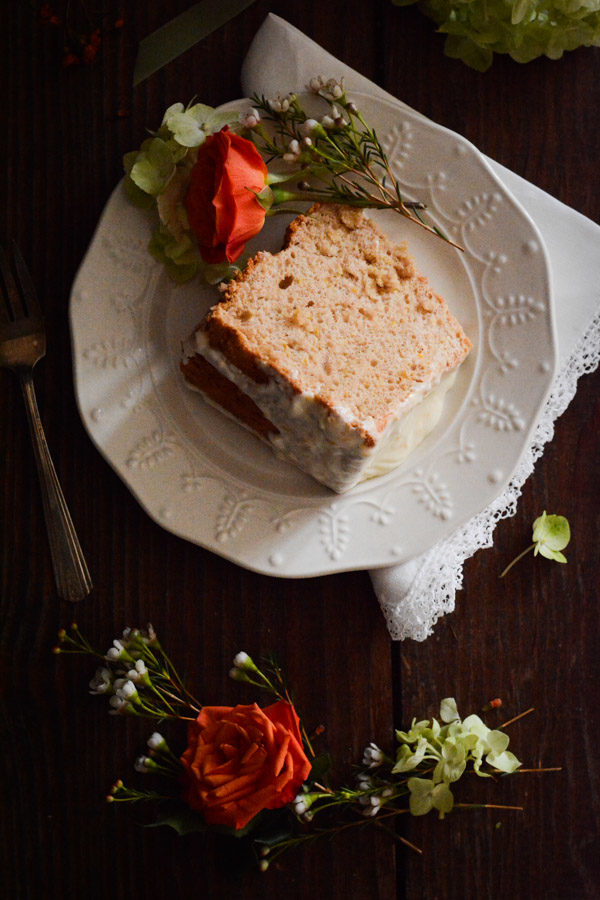 When there's just no room left for pie and ice cream following a filling turkey dinner, this light and warmly spiced Angel Food Cake might just be the perfect finish to your Thanksgiving meal.
Orange Spice Angel Food Cake with Orange Glaze
1 cup plus 2 tablespoons (5 ounces) bleached cake flour
2 tablespoons orange zest
3 teaspoons Cake Spice, or Pumpkin Pie Spice
2 cups (15 ounces) cold egg whites (from a dozen large eggs)
2 cups (15 ounces) granulated sugar
1 vanilla bean, split and scraped for the seeds (reserve the pod for another use)
3 tablespoons freshly squeezed orange juice
1/4 teaspoon salt
Adjust oven rack to middle position and preheat to 350˚F. Have ready an aluminum tube pan with a removable bottom. (Do not use non-stick)
Pulse the flour with the orange zest in a food processor for 1 minute. Add the cake spice and pulse several times until distributed throughout the flour mixture.
Combine the egg whites, sugar, and seeds from the vanilla bean in the bowl of a stand mixer fitted with the whisk attachment. Mix on low speed for about 1 minute, then increase to medium-low speed and whip for 3 minutes more. Add the orange juice and salt and whip on medium speed for 3 minutes. Increase to medium-high speed and continue whipping for another three minutes or so, until soft peaks form when the wire beater is lifted out of the meringue. (As Bravetart describes it, the meringue should retain enough body to pile up on itself when dropped from the whisk.)
Sprinkle the flour mixture over the meringue and using a flexible spatula, gently fold it into the meringue. Continue to fold until no pockets of flour remain. Pour the batter into the pan, and bake until the cake has a golden crust, about 45 to 50 minutes. Immediately invert the pan onto it's stilts, or over the neck of a bottle, and cool completely, at least 2 hours.
Prepare the glaze while the cake is cooling.
Orange Glaze
2 cups confectioners sugar, sifted
2 tablespoons butter, softened
2 teaspoons orange zest
1/4 – 1/2 teaspoon orange extract, depending on how orangey you prefer your glaze
4 – 5 tablespoons half and half, at room temperature
Combine the first four ingredients in a medium bowl. Add 3 tablespoons of the half and half. Using an electric mixer or a whisk, beat together until smooth. Beat in small amounts of the remaining half and half until the glaze reaches pouring consistency.
Remove the cake from the pan and place on a serving platter. Drizzle the glaze over the cake, allowing it to run down the sides of the cake. Use a serrated knife and a sawing motion to cut the cake. Serve.
Adapted from Stella Parks's Bravetart