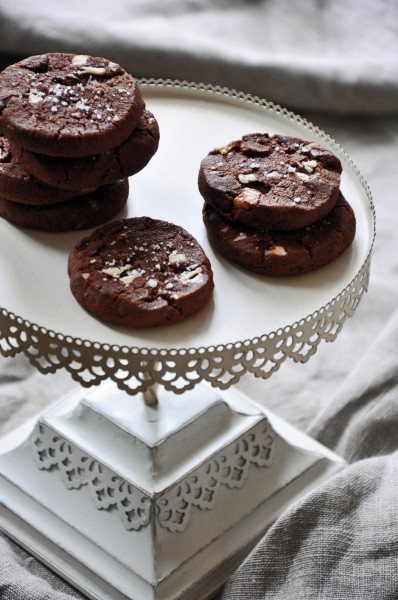 I was pretty cookie'd out after the Christmas Cookie Countdown but I knew that wouldn't last for long. Who can resist a warm home-baked cookie. Certainly not me. I have my list of old favorites that I make over and over again but it's always nice to add a new-comer to my tried and true family of recipes. This cookie definitely made it onto the list.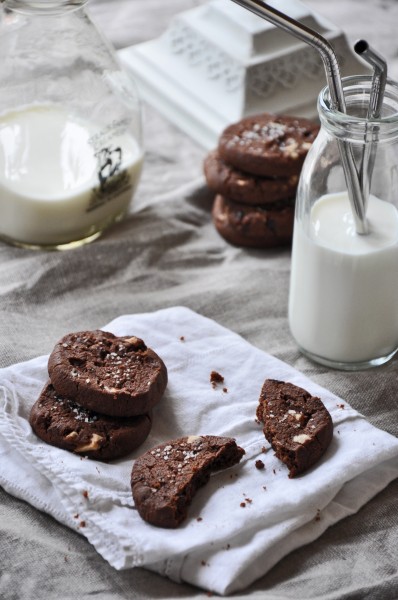 My sister-in-law Sherry always has my best baking interest at heart. In fact, she is the reason I write this blog. She pushed and pushed me and never gave up until I finally capitulated and gave birth to Sifting Focus. I will always be grateful to her for inspiring me to journal my baking adventures. A year ago, I couldn't have imagined how much fun it would be, how many people I would meet, and how much joy I would derive from blogging.
An ongoing frustration that Sherry and I struggle with is that we live hundreds of miles apart. Although we see each other fairly frequently, it's not the same as living close enough to enjoy the kind of casual visits sisters share at each other's kitchen tables. In a perfect world, she would live next door to me and we would constantly be traipsing across each other's lawns for chats and coffee talk about our husbands and children. But we have made the best of the physical distance that separates us by having long – very long – phone chats when time allows. I relish these calls and have found that sometimes they are even more intimate than our face to face time. Sometimes we solve the problems of the world, but often times our conversations are just about the day to day stuff that fills the gap in between visits to see one another.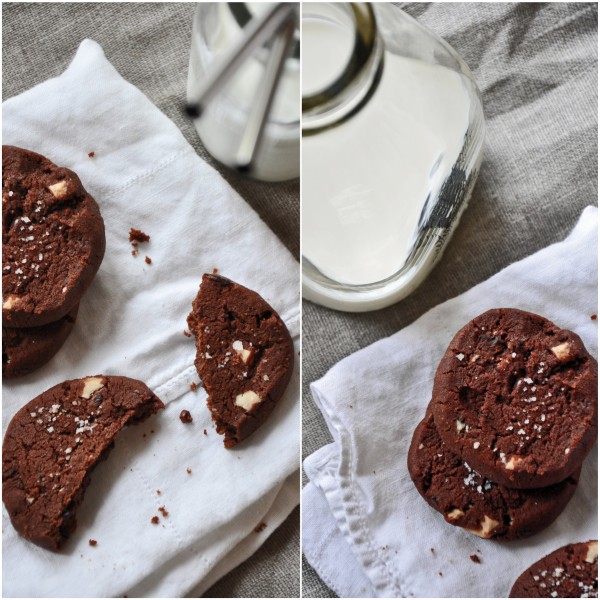 In a catch up call a couple of weeks ago, Sherry asked me if I owned The Grand Central Baking Book. What? Another baking book missing from my collection? Considering how well she knows me and my style of baking, if she was recommending it then I needed to check it out. She was right. The book is filled with recipes for good ole, all-american baking; pies, cakes, quick breads, and COOKIES! I got to work immediately testing the book's recipe for Cocoa Nib Cookies. Sea salt paired with caramel remains a favorite combination in the world of recipe creation but I have never tried it as a compliment to chocolate. This cookie lent itself beautifully to a sprinkling of coarse salt before going into the oven. I also thought white chocolate would offer a sweet balance to the bitterness of the cocoa nibs, and it did. The final result is an all-around buttery, crunchy, chocolatey, and pleasantly salty cookie.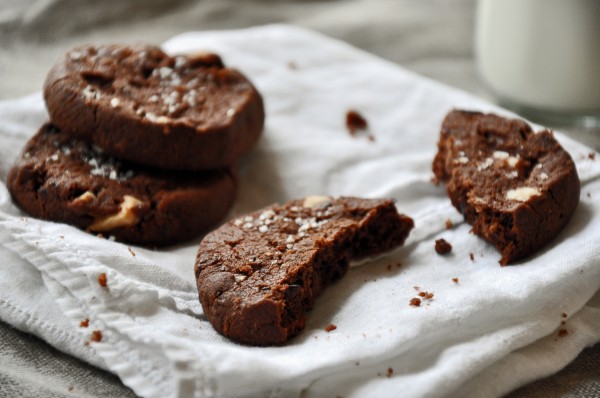 This recipe yields two logs of dough. I baked one log and put the other into the freezer. I found my self-discipline entirely challenged and had a rough time eating a modest number when they came out of the oven. I was glad the second log was tucked into the freezer. If I can harness some self-control and limit the number of slices I cut from the roll, I can bake just a couple cookies at a time whenever the craving stikes. Yeah…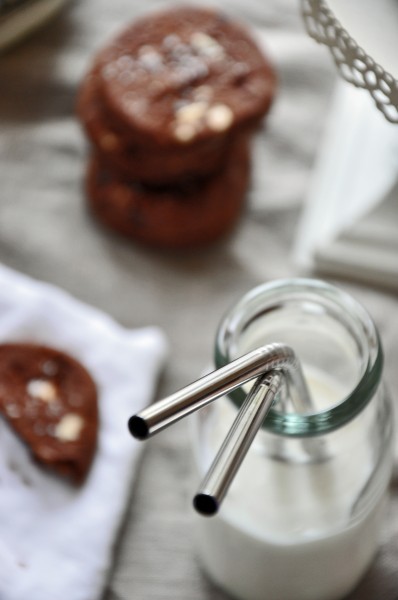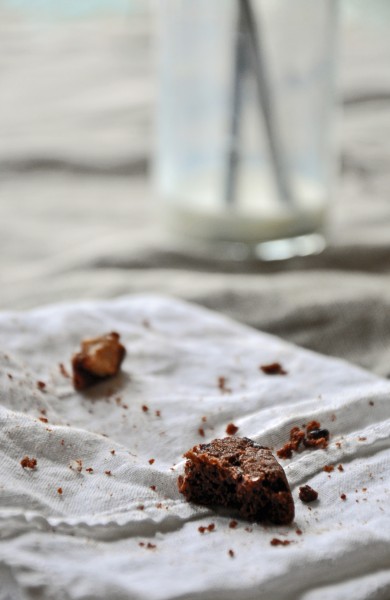 Thanks Sher for the suggestion and for knowing me so well. Thanks for your sisterly friendship. Love You!
If you are one who craves salty/sweet snacks then you will love this cookie. I bet you can't eat just one. But then, I don't think you'll want to.
Cocoa Nib Chocolate Cookies with White Chocolate and Fleur de Sel
1 1/4 cups all-pose flour
1/2 cup unsweetened cocoa powder
1/2 teaspoon salt
1/2 teaspoon baking soda
12 tablespoons (1 1/2 sticks) unsalted butter, at room temperature
1/4 cup granulated sugar
3/4 cup packed light brown sugar
1 teaspoon vanilla
1/2 cup cocoa nibs
1/2 cup (3.5 ounces) white chocolate (such as Lindt) chopped fine*
Fleur de Sel
* Chop the chocolate into small chunks just smaller than the size of a chocolate chip.
In a medium bowl, sift together the flour, cocoa, salt, and baking soda. Set aside.
Using a stand mixer and the paddle attachment, beat the butter, granulated sugar, and brown sugar on medium speed until light and fluffy, about 3 minutes. Add the vanilla and beat to combine.
Reduce the mixer speed to low and add the dry ingredients. Mix just until combined. Using a wooden spoon or rubber spatula, fold in the cocoa nibs and white chocolate.
Divide the dough in half. Place each half on 14-inch length of parchment or wax paper. Smooth and pat the dough into two 2-inch by 10-inch logs. Twist ends securely and refrigerate the logs for at least two hours and up to 3 days. (At this point the logs can be frozen for up to 3 months. If frozen, defrost the dough overnight in the refrigerator before continuing with the recipe.)
Preheat the oven to 325˚F. Line two baking sheets with parchment paper.
Slice the cookies 3/8-inch thick and place them about 1 inch apart on the prepared baking sheets. Bake for 15 to 20 minutes or until the cookies are just firm to the touch.
Yield: 3 1/2 to 4 dozen cookies
Source: The Grand Central Baking Book by Piper Davis and Ellen Jackson