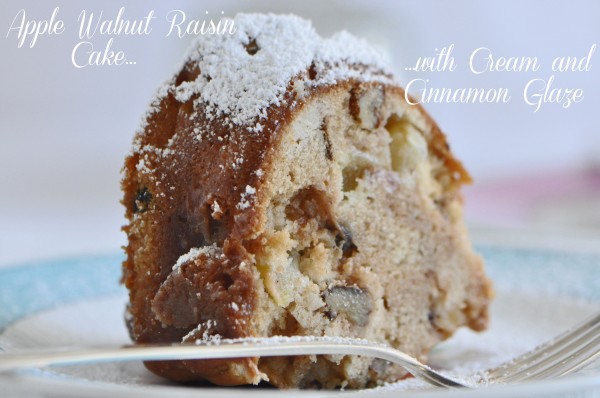 It occurred to me the other day, that from approximately March through August I don't eat apples. I never reach for one as a snack and I rarely bake anything that calls for them as an ingredient. Considering that at this time of year I can't get enough of them, I became curious as to why I rarely touch them for six or seven months of the year. Unlike stone fruits and berries, apples are a perpetually available fruit. I pondered whether or not I would crave peaches, nectarines, and cherries in December and January if I could get my hands on them locally grown at my farmers market. It's hard to say. From time to time, cherries show up at the grocery store in the middle of winter, obviously grown elsewhere in the world, and I simply turn my nose up at them and walk right by. In addition to a limited season and perishable nature, stone fruits just don't store the same as apples and so I make sure to get my fill while they last. Apples on the other hand, can be stored for months so I dare not panic that somehow during my next trip to the market I won't be able to land some. Poor apples, so sorry if I've been taking you for granted.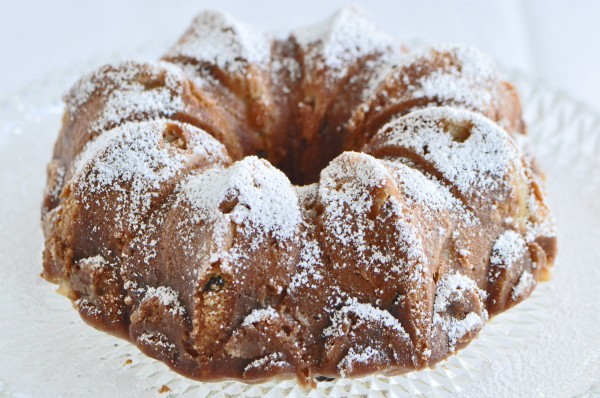 The past is the past and for now, in the height of "real" apple season, I can't seem to get enough of them. After returning from our recent apple picking adventure in CT, we had more apples than we knew what to do with. Thank goodness that J had just moved into her new apartment and her refrigerator was bare. Suddenly it was spilling over with apples – Honeycrisp, Golden Delicious, Jonagold, Empire and Macoun, the latter of which is now my all time favorite. I wanted desperately to bake with some of them but J's kitchen had yet to be outfitted with baking equipment so I soon had to let go of that idea. It was amazing just how quickly the stockpile dwindled. Like a kid in a candy store, each and every day we would open the refrigerator door and ponder which variety sounded most enticing. By the time I departed back to Los Angeles, the surplus had shrunk and I was convinced that not a single apple was going to go to waste. Did I want to pack up a dozen or so and stow them away in my luggage? Yes! Unless I was willing to leave behind some clothing, my luggage was already at the maximum weight so I decided against it.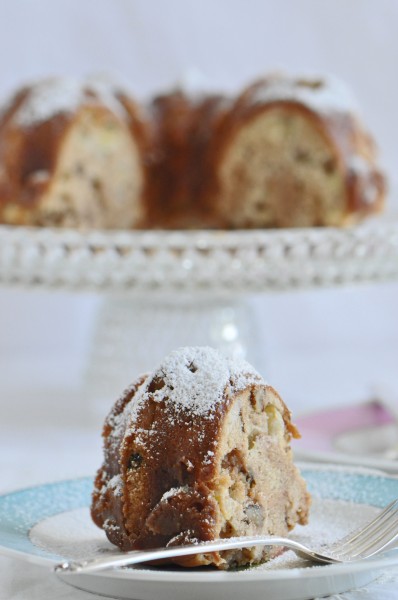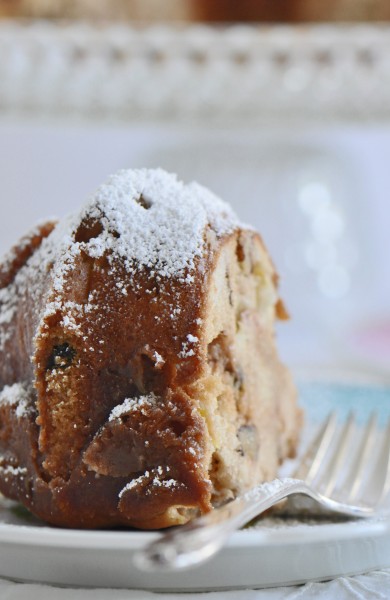 My craving for apples followed me home. The morning after my return, I headed to the market to replenish my pantry and refrigerator. Guess what was among the seven bags of groceries I brought back with me. Yep, apples. I turned on my oven, quickly scavenged through my files for a recipe, and popped this cake into the oven. Since Macouns are not available locally (please let me know if you spot any) I chose Honeycrisps for this cake. They performed beautifully, softening just enough yet keeping their shape. This is one of those cakes that actually gets better with age. Two days later and it is still moist and tender.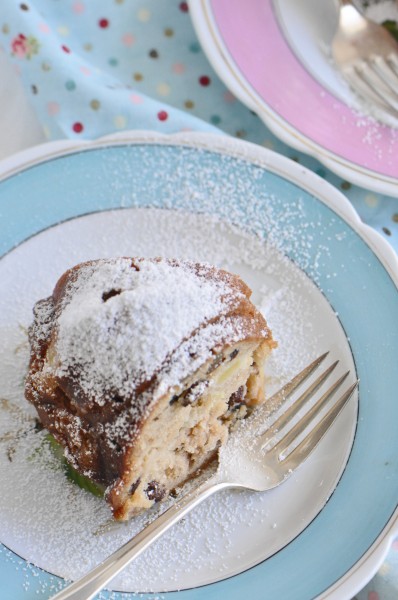 Instead of the glaze topping the cake, holes are poked into the cake so that the glaze can seep deep inside, adding additional flavor and helping to keep the cake moist for days.
Apple Walnut Raisin Cake with Cream and Cinnamon Glaze
2 cups all-purpose flour
1 cup cake flour
1 teaspoon baking soda
1 1/2 teaspoons cinnamon
1/2 teaspoon salt
8 tablespoons (1 stick) butter, at room temperature
1 1/4 cups granulated sugar
3 eggs, room temperature
Reserved apple cider from soaking the raisins (if not using raisins, 1/4 cup apple cider)
1 teaspoon vanilla extract
1/2 cup sour cream, at room temperature
2 large Honeycrisp apples, peeled, cored, and diced into 1/2-inch pieces ( you should have approximately 2 1/2 cups)
3/4 cup chopped toasted walnuts
1/2 cup raisins, plumped in 1/4 cup apple cider (See Notes)
Preheat oven to 325˚. Grease and flour a 10-inch bundt or tube pan.
Sift together the flours, baking soda, cinnamon, and salt.
In the bowl of an electric mixer, using medium speed, beat together the butter and sugar until light and fluffy, about 3 minutes. Beat in the eggs, one at a time, scraping down the side of the bowl after each addition. Beat in the reserved apple cider and vanilla extract.
Beat in the flour mixture and sour cream, alternating between the two, beginning and ending with the flour mixture. Scrape down the side of the bowl in between each addition. Fold in the apples, walnuts, and raisins. Spoon the batter into the prepared pan. Bake for 50-60 minutes, or until a cake tester comes out clean.
While the cake is baking, prepare the glaze.
Cream and Cinnamon Glaze
1/2 cup whipping cream
1/4 cup brown sugar
2 tablespoons butter
1 tablespoon lemon juice
2 tablespoons apple cider
1/2 teaspoon cinnamon
Pinch of salt
In a small saucepan over medium heat, bring all ingredients to a boil. Reduce the heat to low, stirring constantly, simmer for 3 to 4 minutes. Allow to cool slightly before glazing the cake.
Once the cake has cooled for 10 minutes, poke holes into the cake using a bamboo skewer. Spoon the glaze over the cake, allowing it to settle into the holes. Allow cake to cool completely before turning it out onto a serving platter. Sprinkle with powdered sugar if desired.
Yield: 12 servings
Notes: Although I did not test this cake using only all-purpose flour instead of part all-purpose flour and part cake flour, I do believe it would turn out just fine. I used Honeycrisp apples but Granny Smith or your favorite baking apple can be substituted. I plumped the raisins for about 30 minutes then pressed them to extract as much of the cider as possible. And if you are not a raisin lover, consider substituting dried cranberries or dried cherries.
Source: Mary Weinberg | Sifting Focus